8 Best Recliners for Short Persons: Buyer's Guide (2020)
The problem with many best recliners is that they mostly come for an average-sized person. A short person like you (no offense, though) has to do some adjustments to them to bring them under comfortable use. The thing with recliners is that they either cannot be adjusted to that degree or they simply don't come with that option.
I agree that could be a headache for you. And possibly, that is exactly why you have come here find to Best Recliners for a Short Person, right? Well, guess what? The good news is that there are thousands of recliners out there to suit your height and needs.
In this article, I'm going to talk about some of those recliners with their detailed reviews.
Let's talk about them, shall we?
Top 8 Recliners for Short Persons in 2020
 1. Esright Massage Recliner Chair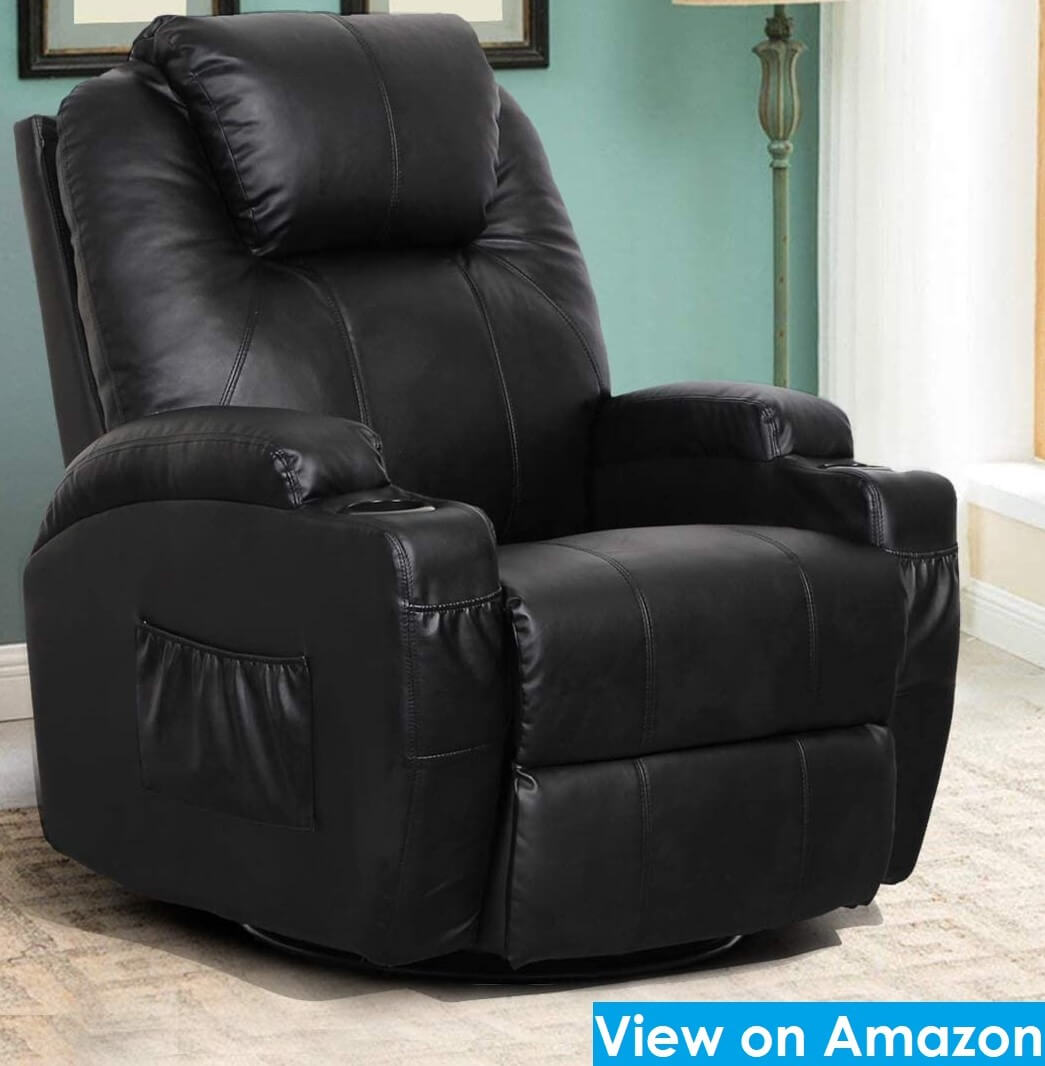 Right from the looks of it, the Esright Massage Recliner Chair tells its story of comfort and professional craftsmanship. It is wide, suitable for a short person, and entirely made to help you ward off your daily stresses. The buyers are extremely happy with it and almost 1000 people have given the rating of 4.1/5 which is excellent in my opinion.
At 33.1 x 35.8 x 43.2 inches, you know what I meant when I said "wide". You can not only couch in it yourself, but you could also squeeze in your loved ones. For a  new mom, this could be just a perfect chair to breast your baby.
Yes, it is heavy at 110 pounds (50 kg) and let me tell you that, this is the heaviest chair in this entire list. Mostly, those who get this recliner won't be moving a lot, so there won't be an issue. Here, it's Faux Leather, lightweight upholstery, and a relatively lightweight metal skeleton is to be thanked.
Coming towards its features, let me tell you why this one stays on the number one slot here. You get 5 different relaxing features that include reclining, rocking, vibrating, heating, and 360-degree swivel. All of these features can be very much controlled by its controller. There's no brainer in that. Every function is marked quite visibly. Even two years old can pull this task.
Comfort-wise, you'd love it. Nearly everywhere the chair has thick padding for extensive lumbar and head support. Even the cushioning increases in the headrest to help you drift in a worry-less slumber.
Other features include two cup holders, a footrest, and magazine holders. Almost all of these and other features make this recliner a complete all-in-all package that you can rely on. However, there are some drawbacks that you need to look out for.
Overall, I have to say this is one of the best recliners for short person in the premium category.
Pros
Highly comfortable.
Mult-function.
Easy to assemble and clean.
CLICK TO CHECK PRICE ON AMAZON
 2. ACME Arcadia Chocolate Microfiber Recliner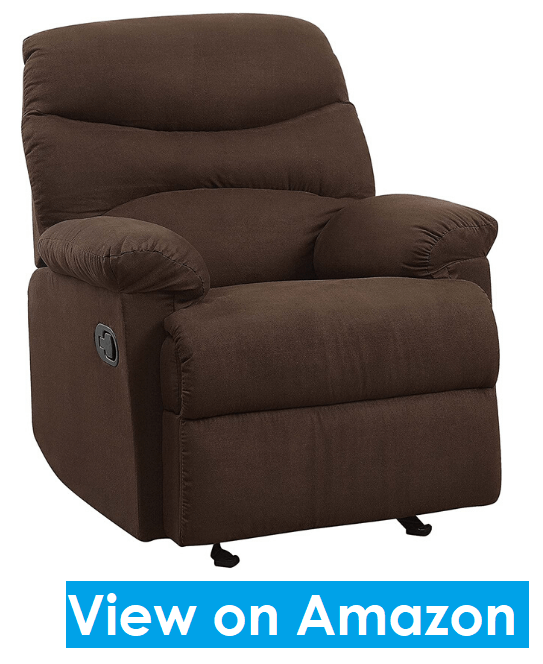 The second in this list is ACME Arcadia Chocolate Microfiber Recliner. It is unique in this own way.
Besides being less techy, the chair is relatively lightweight at 75 pounds (34 kg). You can drag it wherever you want without breaking your back. It works great with any kind of furniture in your living room because it comes in 3 colors: Oak chocolate, sage, and beige.
And did I mention that it makes a small room look not-so-small?
That's because it has the right dimensions of 38 x 25 x 40 inches. It can perfectly accommodate a short as well as a large person. However, unlike the previous one, you may not be able to let others squeeze in.
Coming towards the real thing, that is its features, you get a recliner that can rock back and forth but it no swivel like you get on a Glider. It has a footrest but it lacks cup or magazine holders. Moreover, there's no heating, vibrating, or anything of that sort.
Also, as I said, the rocking feature is manual. You can control it with a knob to the side accompanied by a level to get its footrest out like a tongue sticking out. This lack of high-end features is probably why it costs less.
There are other shortcomings as well. For example, its microfiber looks cheap and its seat is a bit narrow between its gigantic armrests. If that's not enough, some pieces might break a few days into use, as a few customers have noted, too.
That inadvertently refers to its frame, which again, is just right for the price. Therefore, I'd suggest that you don't push it to its extremes when using it.
Pros
Made especially for short persons.
Super comfortable.
Cons
The wooden frame is unreliable.
CLICK TO CHECK PRICE ON AMAZON
 3. Christopher Knight Home Teyana Recliner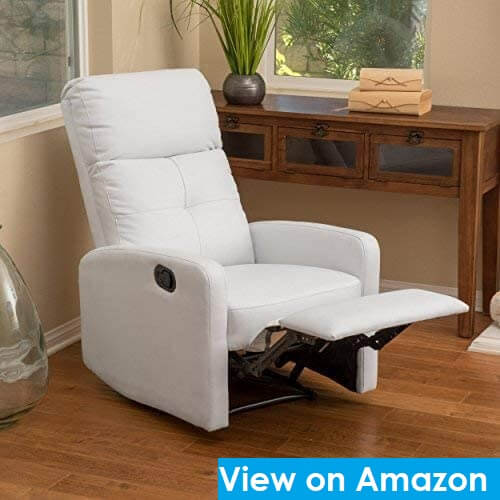 The Christopher Knight Home Teyana Recliner has a few similar features to the one I reviewed above. However, what makes it sit apart from it is its elegant design, durability, and overall quality.
I particularly liked its long backrest. A feature like this for short people like you could not be less than a wish come true. From the floor, its height is 42 inches, which is more than enough on many levels.
Its seat dimensions are equally suitable. At 35.75 x 26, you can perfectly wiggle in. There's a limit, though, as some customers have vented that they can't freely move their hips.
That takes us to its assembly, which is a breeze. You only have to spend a few minutes to bring the parts together. Once assembled, you can rely on its quality; the nuts and bolts won't come off.
When I mention quality, I mean a high-end wood frame with upholstery hidden in a PU bonded leader. All of this gives a much needed classic look to the chair. But since it is bonded leather, you may have to see a crack here and there if used roughly.
For what it's made, that is reclining, there's no doubt in its performance. A latch given to the side works perfectly to recline the chair and produce the footrest. While most customers have no problem with it, only one of them has claimed that this feature is not as fluid as the manufacturer claims.
Pros
The quality of the recliner is top-notch.
High backrest can help you take a nap.
The Reclining mechanism is great.
Cons
It cannot be used roughly.
CLICK TO CHECK PRICE ON AMAZON
 4. Flash Furniture Contemporary Blue Microfiber Kids Recliner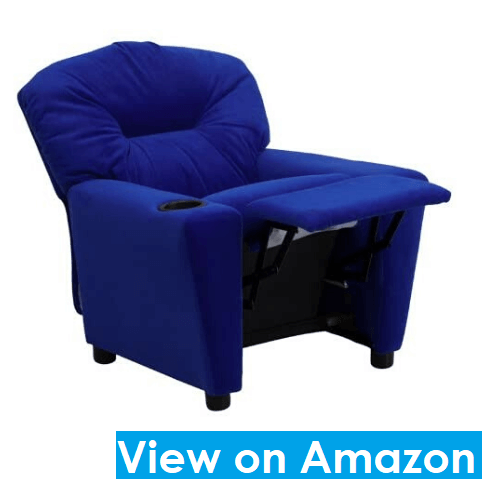 I wanted to include a couple of recliners for the kids too. So, here's the first one.
The Flash Furniture Contemporary Blue Microfiber Kids Recliner is a sturdy recliner that comes in garish colors and is one of the best option for kids recliner.
What else could you want?
It seems this chair has made many parents happy. This chair has got a rating of 4.6/ 5 from almost 1500 customers. I think the reason for this is simple: It is a children's chair and an average child is neither too heavy for this nor too wide.
That's because its dimensions are more than enough. At 39 x 24.5 x 28 inches, it stands at an appropriate size for a 6 years old child – not more than this. And I'd attribute its weight to its purpose here too.
At 25 pounds (11.3 kg), you can carry it around the house just fine. Maybe even your kid can do it too.
Features-wise, there aren't too many expectations. It doesn't have any automated functions. Just a basic recline and a footrest, all of which can be controlled by the usual levers and knobs.
The outer material is fiberglass, which does not look cheap but is also not high-end too. I mean what could you expect from a mid-range kids chair which costs around $100. The benefit of this material, though, is that you can clean it easily; so, if you have a troublesome kid, congratulations.
While your kid might not be feature-savvy, like most of them, I'm sure he/ she will be greatly attracted by the plethora of colors it comes in. There's almost every basic color in its 22 color palettes. Some have even given a touch of design to it.
At last, I just want to tell you that this is a very good recliner for a short person at this low budget.
Pros
Perfect for kids below 6.
Microfiber looks good and performs well.
Reclines to a safe limit.
Cons
The footrest gets stuck sometimes.
CLICK TO CHECK PRICE ON AMAZON
 5. AmazonBasics LeatherSoft Kids/Youth Recliner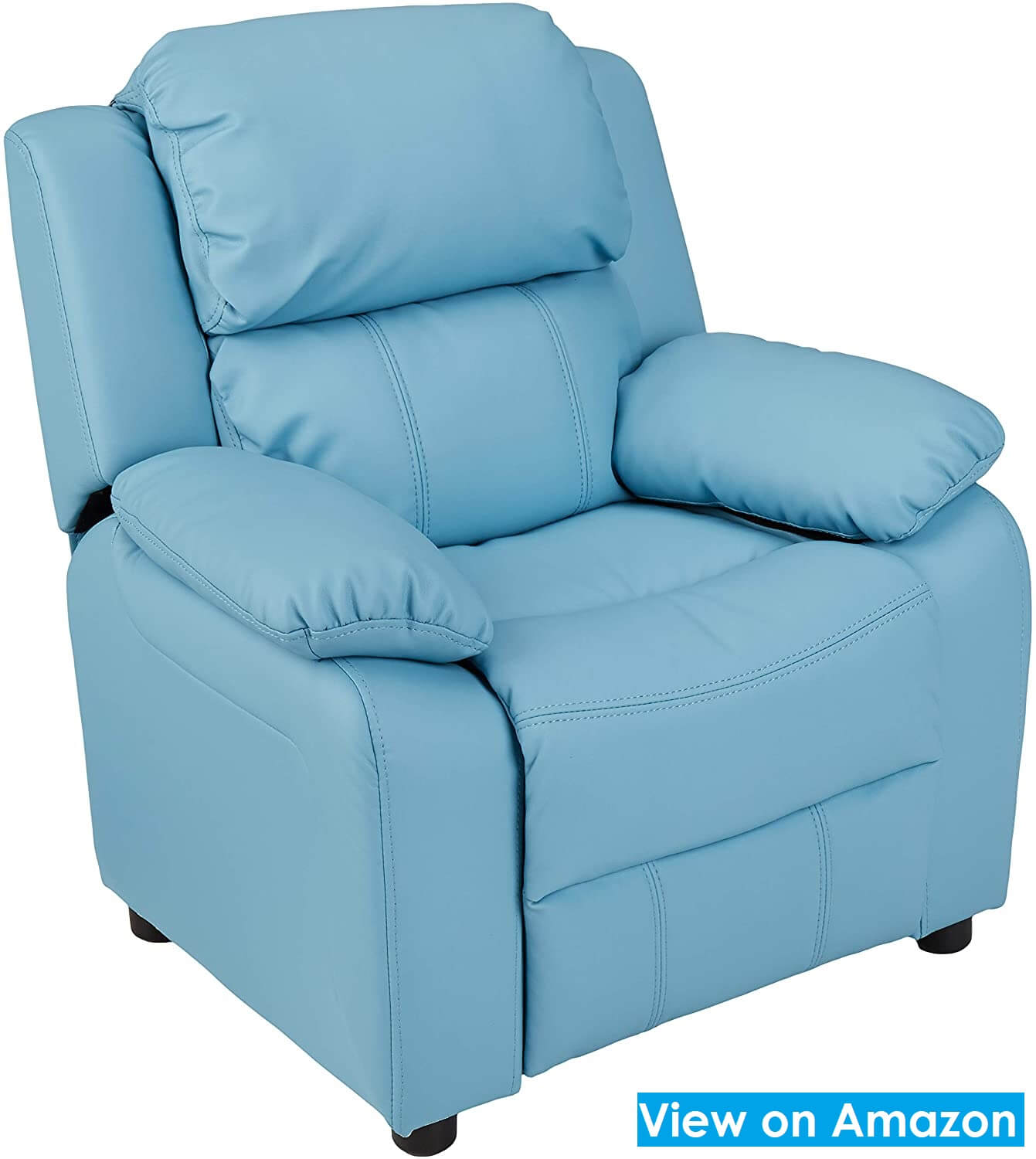 The second best option of Recliner for kids is, AmazonBasics LeatherSoft Kids/Youth Recliner. As the name suggests, it is from AmazonBasics, which means you'll get a good product for an affordable price. But as it happens with these, do not expect it to compete with a high-end chair. This recliner is for short legs especially kids of small ages.
The chair stands at dimensions of 26.8 x 27.6 x 27.6 inches, which means it can accommodate 5-and-up-aged children with about 90 pounds (40.8 kg). Its own weight is also not that much. At 29 pounds (13.1 kg), moving the recliner in your home won't be a problem.
Now, talking about its features, the one I like the most, and probably your children or you'd like too is its compartments right under its armrests. They are spacious enough for you to put things like Books, Video Games remotes, and controllers. So, as you might have guessed now, it can be your child's gameplay chair too.
The overall quality of the build of this chair is also commendable according to its price. And what's good enough is its LeatherSoft fabric (not leather) upholstery, which is somewhat fire-resistant. That means you can stop worrying about your kid burning it with matches.
It reclines just fine. However, when it does, its backcloth folds enough to make it look weird. Other than this, I don't think there are many design flaws.
This recliner cost just a little over $100 which I think is very reasonable and provides great value for money.
Pros
Sturdy for a kid's chair.
Doesn't trip over.
Affordable and reasonable pricing.
Cons
Not recommended for children above 6.
CLICK TO CHECK PRICE ON AMAZON
 6. DaVinci Piper Upholstered Recliner and Swivel Glider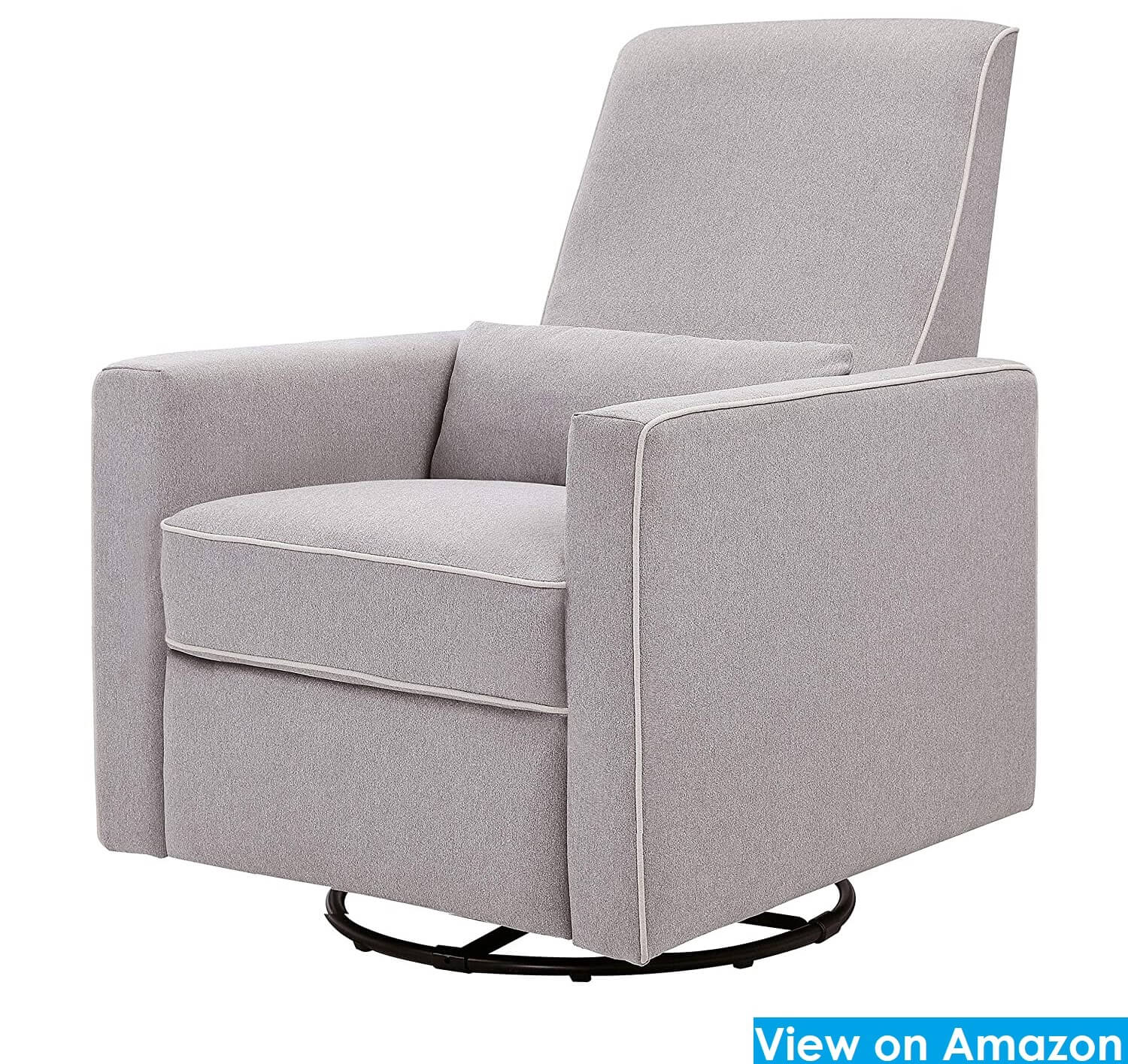 If you are a mom and you struggle with large chairs, then DaVinci Piper Upholstered Recliner and Swivel Glider just might be the answer to your problems. More than that, it is stylish, big, and made for short and busy moms.
First of all, size. At 30.5 x 34 x 39.5 inches, the chair is fairly large to hold you and your baby. Don't worry about your shortness because you will be able to use it just fine, thanks to its footrest. Just with a gentle nudge, the footrest comes out softly. Since the chair has a rocking feature along with a swivel, you can easily use it to perform these functions.
The other thing to consider about it is that it has a high backrest, which is perfect for a nursing mother. It allows you to hold your baby well while you're resting your back on it and nurse him or her while gently rocking the chair. Just imagine the peace of mind.
If that's not enough, you'll surely drool over the safety it offers. It is Greenguard protective– meaning, that it is free from harmful chemicals. Toxic chemicals like Formaldehyde and Polybrominated Diphenyl Ethers are kept away from the manufacturing process.
The only problems with this chair for some customers have been discomfort because of its metal frame pressing into the lower back and the noises that it starts to make after a few months into use.
Pros
Perfect for short mothers.
Toxic-free.
CLICK TO CHECK PRICE ON AMAZON
 7. Home Elizabeth Tufted Fabric Arm Recliner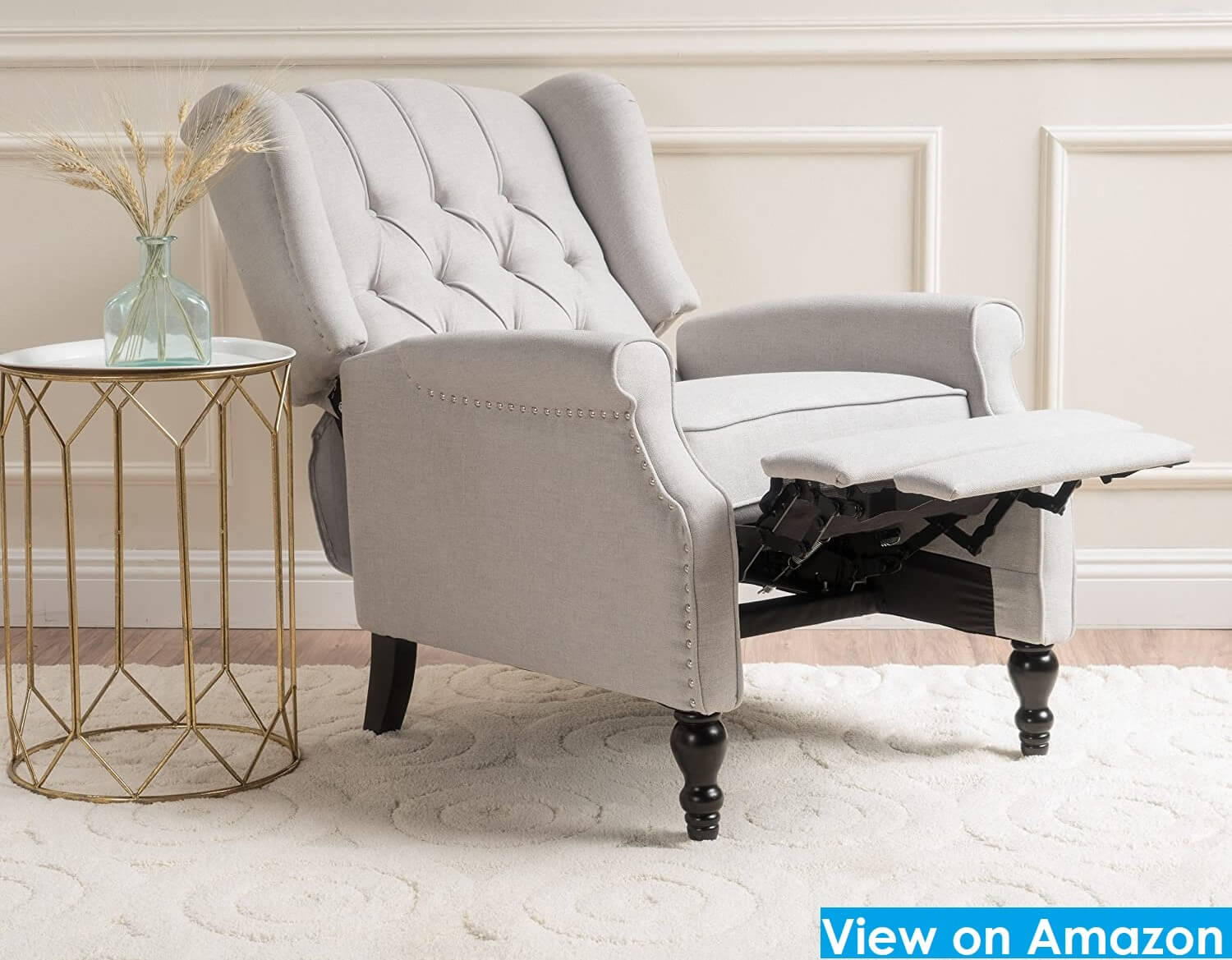 As the name indicates its royal inclinations, the Home Elizabeth Tufted Fabric Arm Recliner is a very classic looking English chair. It's like the Porsche of chairs, but only on the outside. On the inside, there are some reservations.
In the pictures, you might think it looks big, but it's not. The dimensions speak for this with 34.5 x 28 x 41.2 inches. Now, that could easily accommodate a short person, but if you are wide at the hips, then you might have some problem sitting comfortably.
While it does look sophisticated, it doesn't have too many features that could make it rival high-end models. There's no swiveling with this one, but only rocking. As you recline the seat, a footrest emerges from the bottom, which is kind of nice to look at.
Comfort-wise, you can completely rely on it. However, the quality should have been a little better considering it costs around $300.
Pros
Reclines very well.
You'd love the footrest.
CLICK TO CHECK PRICE ON AMAZON
 8. Lucas Recliner Club Chair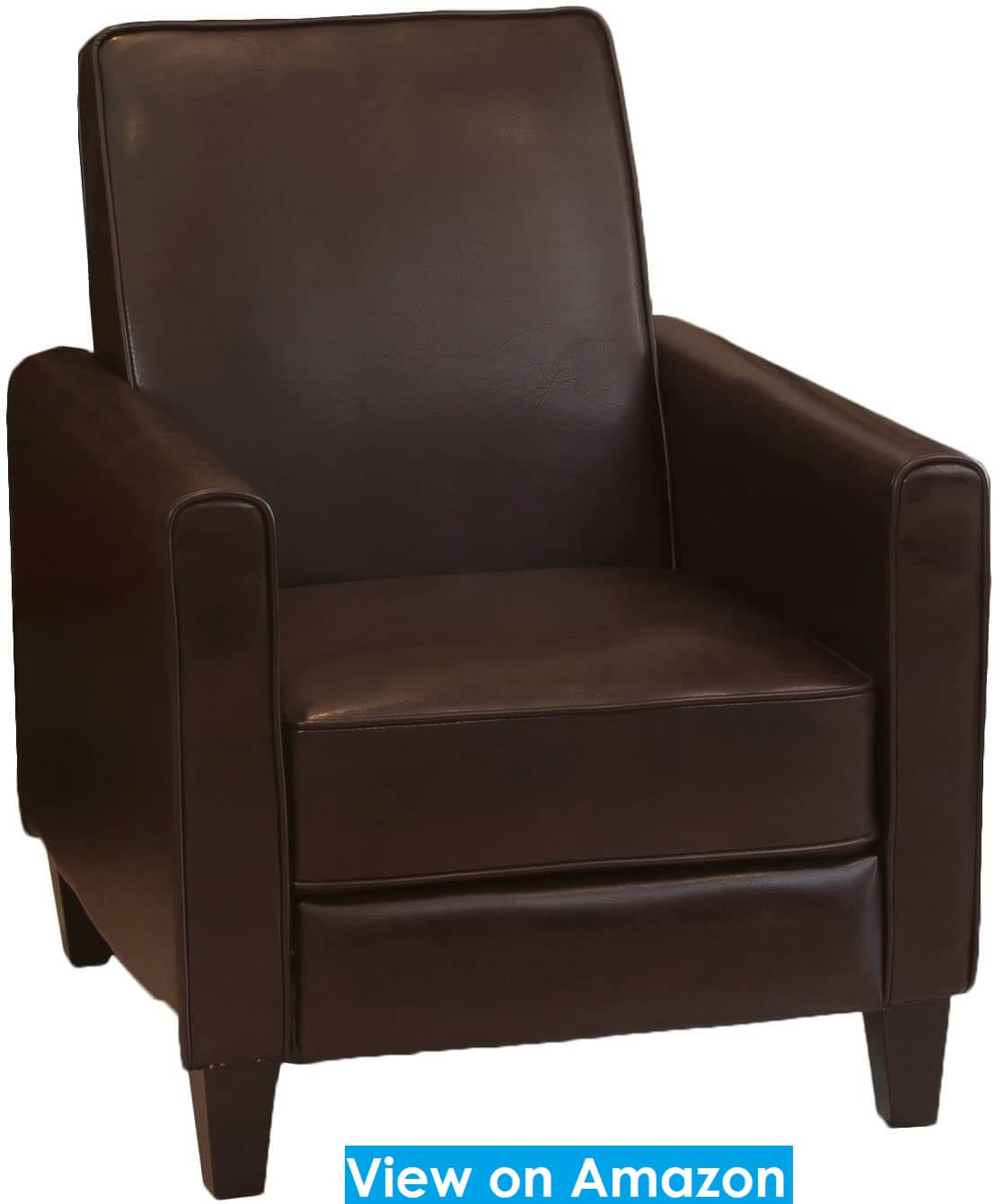 Lucas Recliner Club Chair design is a contemporary delight with smooth lines and pipes edges. Feature-wise, though, it is just a normal recliner but it is worth considering for its price.
This is a small recliners for adults like you and me. With dimensions of 26.8 x 34 x 36.2 inches, you can fit it anywhere. Got a small corner to furnish? You got it.
Since it is small, you can easily fall back and relax when you come home from a busy day. The fabric used here is soft. It could give you the comfort you're looking for.
However, expect no extra upholstery. It can be a bummer when you're thin and you need those extra cotton or polyester layers to see to your comfort. If not, however, you still need to stay away from its frame.
Hitting the frame could be a problem for heavyweight people since they can easily sag in and be uncomfortable. As opposed to this, you might be surprised to know that a few customers have termed the seat and cushion a little too tight and thus, uncomfortable. Some have pointed out its shabby frame.
Pros
Contemporary accent chair.
Reclines well and the footrest is quite good.
Cons
Not ideal for large people.
CLICK TO CHECK PRICE ON AMAZON
Final Words:
So, this was all about the Best Recliners for Short persons. All of these chairs are suitable for different cases and I think this list is diverse enough to help you pick yours. Remember, no chair can stay functional for a lifetime. If you liked this post, do share with your friends/ family so that it could be beneficial for them. Thank You.