7 Best Chairs for Soccer Games: Buyer's Guide (2020)
Soccer games can be fun, but only if you're seated comfortably, right?
All those hard benches can make things hard for you. For this reason, I have curated a list of 7 Best Chairs for Soccer Games that will have you covered in the comfort department. All of these chairs cost less than $70, hence it is affordable for most of the soccer fans.
Most of the chairs have storage capacity and cup holders. Some of them recline, while others are made to stay for long. So, delve into the list and have your pick to enjoy your next soccer game.
 Top 7 Chairs for Soccer Games to buy in 2020
  1. GCI Freestyle Portable Rocker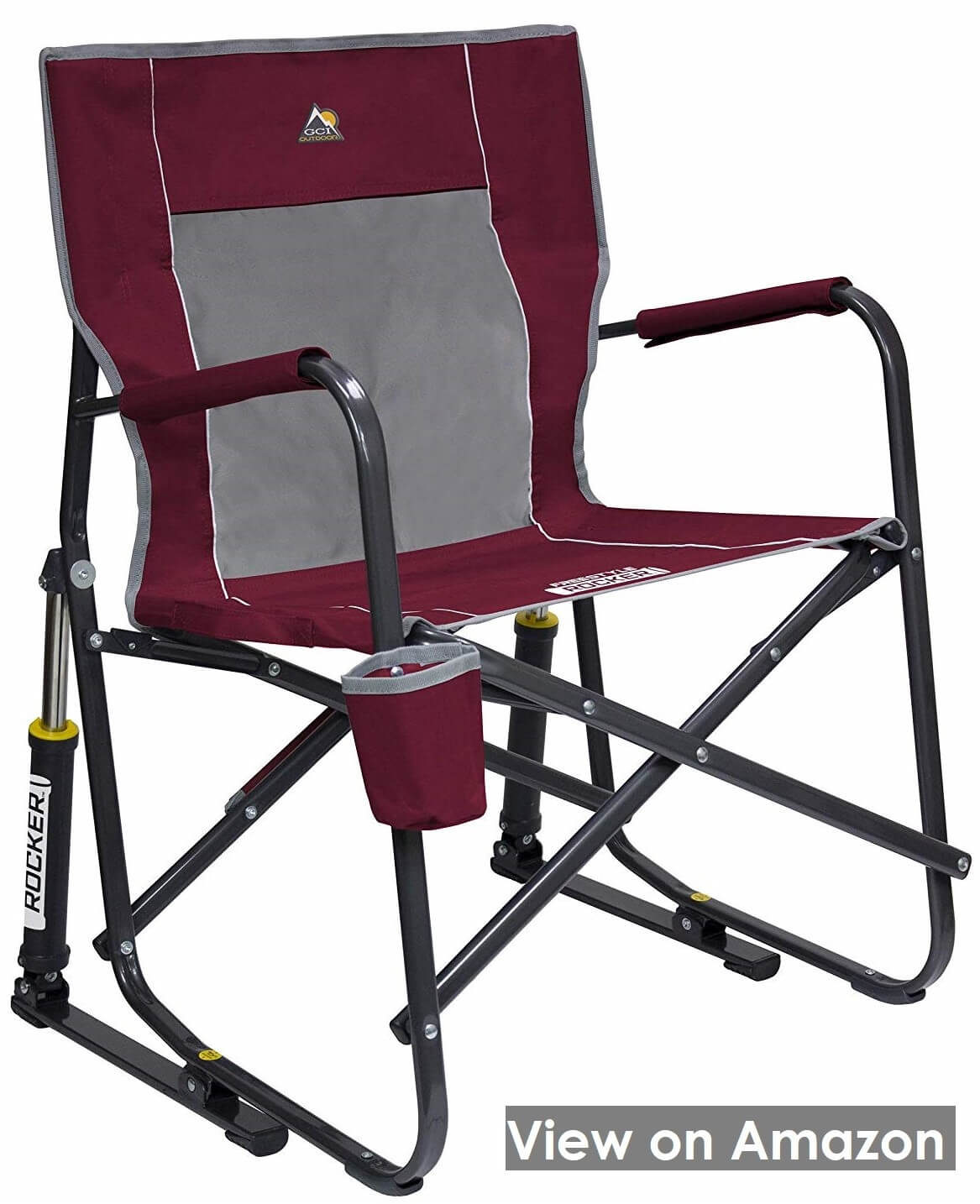 Easy to set up; easy to carry around; and easy on the ergonomics, the GCI Freestyle Portable Rocker is going to make your game days a breeze. I have also recommended this chair for watching baseball games too because it is a perfect choice of chair for outdoor games.
With a dimension of 24.8 x 24.5 x 34 inches, the technology it employs in folding is patent-pending easy-fold. What this means is that there is a dedicated handle at the side of the chair, pulling which, you can easily fold the chair and carry it around. Now, its weight is only 12 pounds (5.4 kg).
Yes, to some, that could be heavy, but come to think of it, normally every chair in this regime has a weight ranging from 10 to 20 pounds. So, no biggy. When I talk about its ergonomics, I mean the way it handles your posture.
It adequately keeps your posture upright. However, some customers have complained that it is too upright to be comfortable. That is something inevitable for oversized people (no offense intended).
Its rocking chair feature adds a bit to the incline, but again, who has the energy to hold on to the incline positions for long during a game. Talking of being plus-sized, one thing you can be sure of is the ability of the chair to bear your load just fine. The rocking feature also works fine with any weight or size.
That can be attributed to GCI's patent-pending Spring-Action Rocking Technology. You'll see cylinders at the back of the chair and that's that. Other things that need consideration are the mesh back, padded armrests, and the cupholder.
However, people have to say a thing or two about those. The mesh back is too thin, pads on the armrests are too short, and the cupholder has only one attachment point. But hey, every product has shortcomings.
Pros
Highly foldable.
Lightweight.
Relatively sturdy
Cons
Needs design revamp for huge people.
CLICK TO CHECK PRICE ON AMAZON
2. ALPS Mountaineering King Kong Chair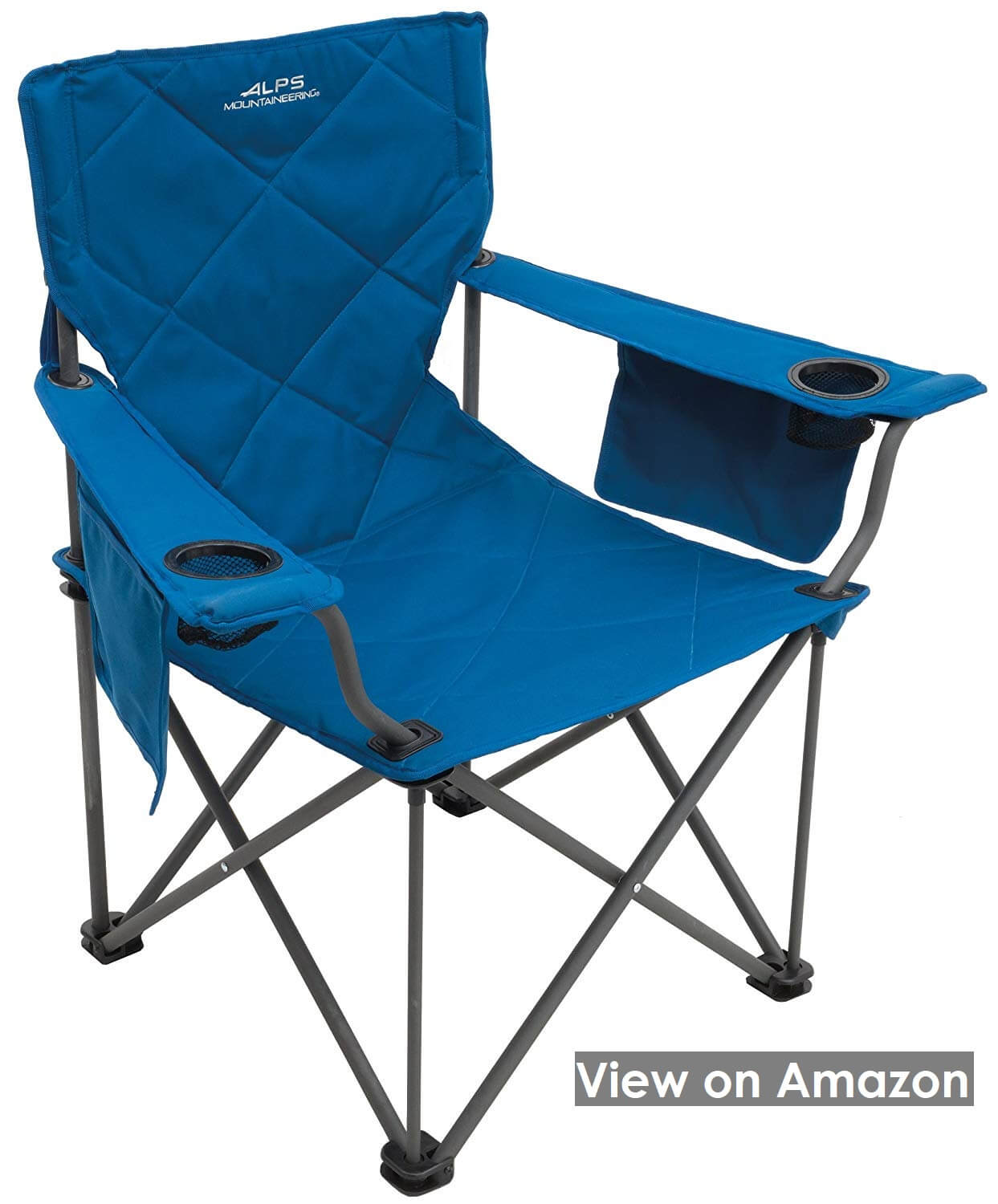 This chair might surprise in many ways because ALPS Mountaineering King Kong Chair is every bit of a king kong and more.
With a dimension of 38x 20x 38 inches and a weight of 12.5 pounds (5.7 kg), it can accommodate huge people just fine. It is as if the manufacturers had that particular thing in mind. Coupled with its space, the powder-coated steel frame can bear a lot of weight.
In all of this suitability, there's a tiny thing that needs to be addressed, though. Some customers have complained about its seat. It sags way beyond the comfort limit, thus, putting a strain on your legs.
Worry not, however, It can be corrected by inserting pegs and elevating its back a little. You can learn that by visiting its comment section.
Moreover, what I like about this chair is its space availability beyond the seat. You get two cup holders that have mesh underneath, thus, not letting your cups spill. There are two magazine holders on either side, too.
So, maximum storage is what you get with this one. And of course, it can be folded well and set up easily. There are some things you need to consider though.
Its size can become a menace in overcrowded games and some customers have received faulty products with withered surfaces. The customer service of the company is good, though. They have got replacements soon enough.
Overall, I have to say that this is one of the top chair for soccer games at any given point.
Pros
Large seats.
Maximum storage space.
Good fabric and frame.
Cons
Design could have been better.
CLICK TO CHECK PRICE ON AMAZON
 3. Coleman Portable Camping Quad Chair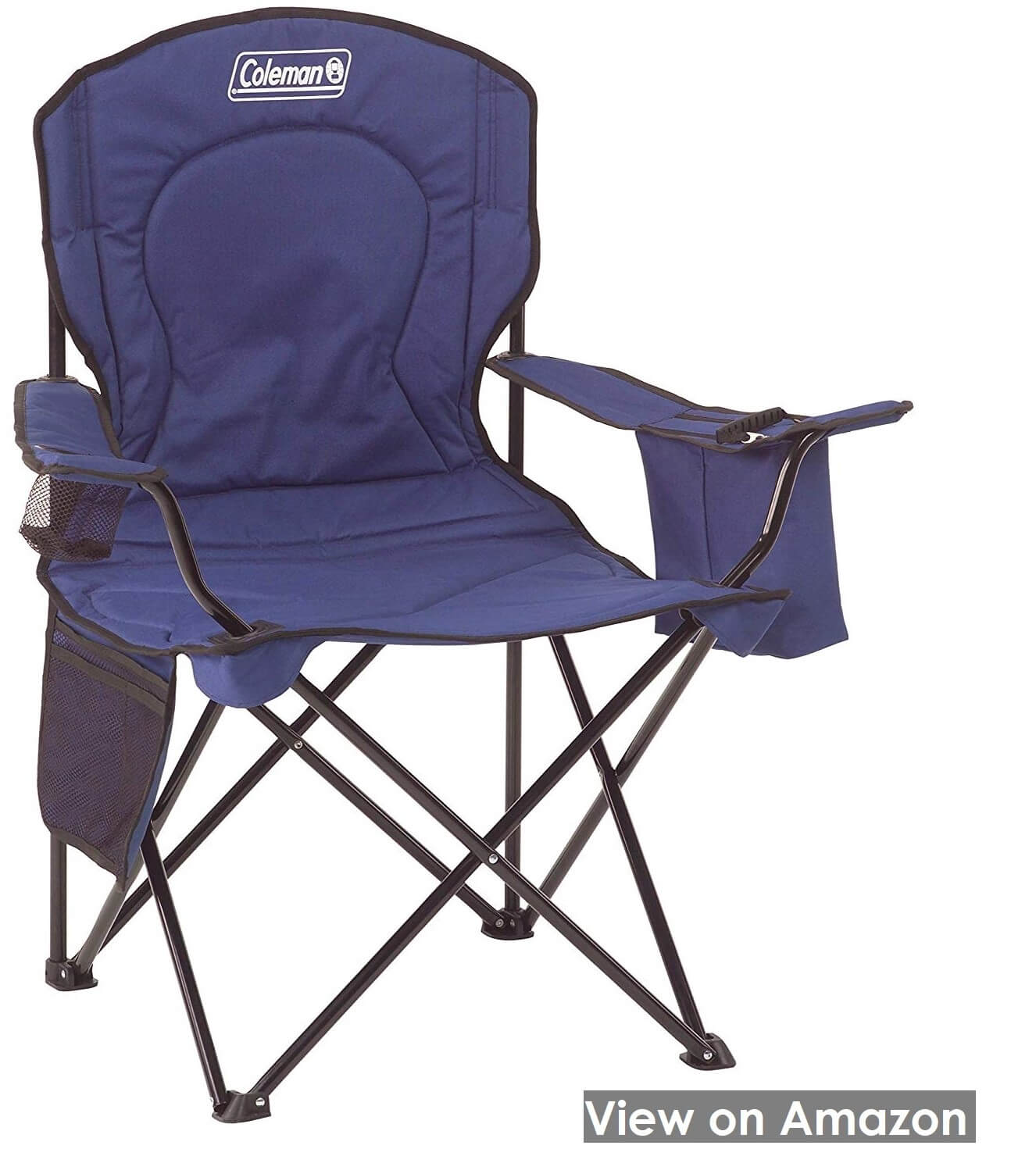 At 7.8 x 27 x 27, the Coleman Portable Camping Quad Chair is yet another big chair for big people. Don't worry about your size in your next game or about nursing your baby if you're a nursing mama. What's more, is that it only weighs 8.4 pounds (3.8 kg), so anyone can carry it around.
The colors it comes in are blue, red, gray, and black. You can also order a set of two in blue and red. There are more things than this chair that amazes me, though.
What I particularly like about it is its Cooler Pouch. The previous chairs I talked about don't have this, but this one has it hanging from the left armrest. It can accommodate 2-3 cans of anything just fine.
Coming towards the rest of the features, there is a mesh cup holder, and a magazine or general storage pouch on the right. Both of these do their jobs extremely well. They are made from the same fabric the rest of the chair is made.
Talking about the fabric, it is super sturdy and comfortable. In the seat and back, there is a small cushioning, but please don't get carried away with it. The comfort level is not that considerable.
Its frame is sturdy in the sense that the individual poles don't break in the middle. However, you'd be disappointed to know that for some customers they did come off from the joints.
This is one of the best chairs for soccer moms If your mom is a soccer fan.
Pros
Built to last.
Very spacious.
Lightweight and portable.
CLICK TO CHECK PRICE ON AMAZON
 4. Kijaro Dual Lock Portable Camping and Sports Chair
The manufacturers of this chair had a lot of things in mind. At 48 x 8 x 8 inches, they made one heck of a spacious chair. The material they used only weighs 9.6 lbs (4.3 kg), probably, one of the lightest in this list, and they inserted mesh to help your back breathe in the heat.
However, what they forgot is keeping a stern eye on quality control. Although the frame can carry huge weight, the L-shaped rods beneath are thin. They can come off or break after a strenuous use in the long run.
What's more, some customers have noted that its nuts and bolts, and rivets are loose at some places. So, you'd need to tighten every nook and corner before you can trust this thing. Given its price, you can do that, can't you?
Ok now, about the good things, the seat does not sage; as I said,
Its mesh is a blessing; it has two cup holders; and a storage pouch. All of these work just perfectly, so you can enjoy your game while taking advantage of these amenities.
Other than those, the noteworthy feature is it's one push-button lock system. This means that the chair will stay locked until you press a button located at the rear. Only then, you can set it down and fold it.
Its folding mechanism is nice since it folds lengthwise and shrinks considerably to be carried on the shoulder. Setting it down is equally easy. You only have to unfold it and press on its armrests to lock it in place.
This chair comes in loads of colors, which include Cayman Blue Iguana, Hallet Peak Gray, Hanami Pink, Ionian Turquoise, Ireland Green, Izamal Yellow, Kawachi Purple, Maldives Blue, Red Rock Canyon, Victoria Desert Orange, and Vick Black.
The chair costs only around $40 which is affordable and one of the best chairs for soccer games which provides good value for money.
Pros
Comes in multiple vibrant colors.
Great for summer games.
Durable.
CLICK TO CHECK PRICE ON AMAZON
5. Portable Ventura Reclining Stadium Seat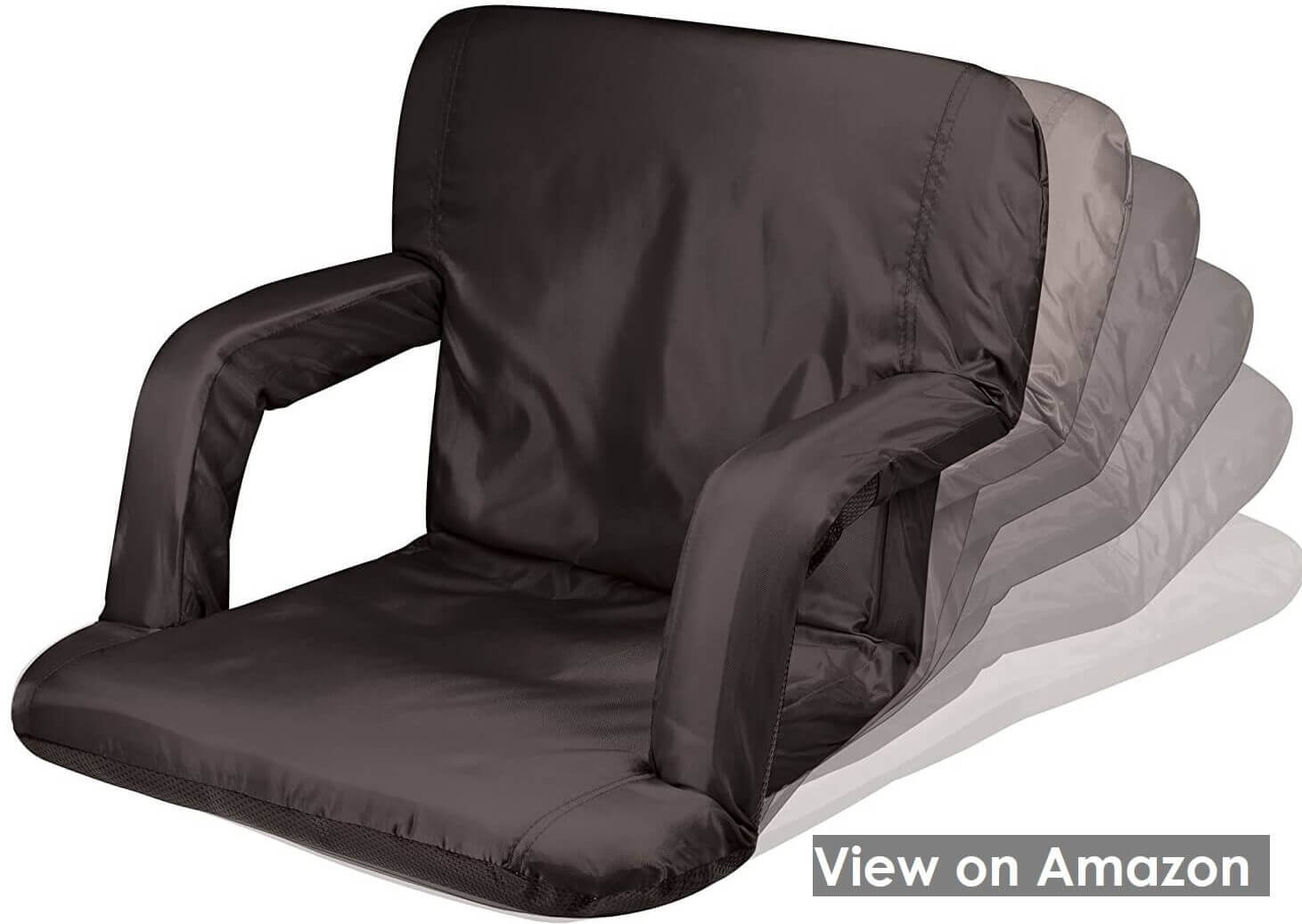 Tired of sitting on hard stadium benches? Well, cheers, this Portable Ventura Reclining Stadium Seat is here to make things comfortable for you.
At 20x 2x 32 inches, the chair has no legs and that's what makes it super suitable for stadiums. Not only that, with a weight of only 7 lbs (3.2 kg), you can carry it to the beach, or just relax on any surface like a boss. Let's get down with its features.
The foremost is its durable, water-resistant fabric. It is relatively sturdy and the company claims it is reinforced. However, some customers say otherwise.
They have their product's fabric torn off on either side because of frequent folding in and out. That's a huge bummer when it comes to the quality of anything. Besides this, it is not breathable, so you might feel the bun during long hours of use.
On the good side, the chair is super comfortable. It comes with a dedicated storage pouch of its own, and the best thing is that it can be reclined in six different positions. You can even fold in the armrests to make more seating room.
Talking about setting it up and down, it's extremely easy. The frame hidden beneath the fabric requires a slight push or pull and voila! You are done.
Once you've folded out the chair, you can carry it like a backpack on your shoulders. This goes to say, that the chair is very much portable and takes less space.
This one too comes in a great many colors like black, burgundy, hunter green, lime, navy, orange, purple, heathered grey, and red. There's also a vibe collection and wave collection with definite patterns.
Pros
Super comfortable.
Easily portable.
Has a lifetime warranty.
Cons
The material can rip along the seams of the cushion.
CLICK TO CHECK PRICE ON AMAZON
 6. MOON LENCE Outdoor Ultralight Portable Folding Chair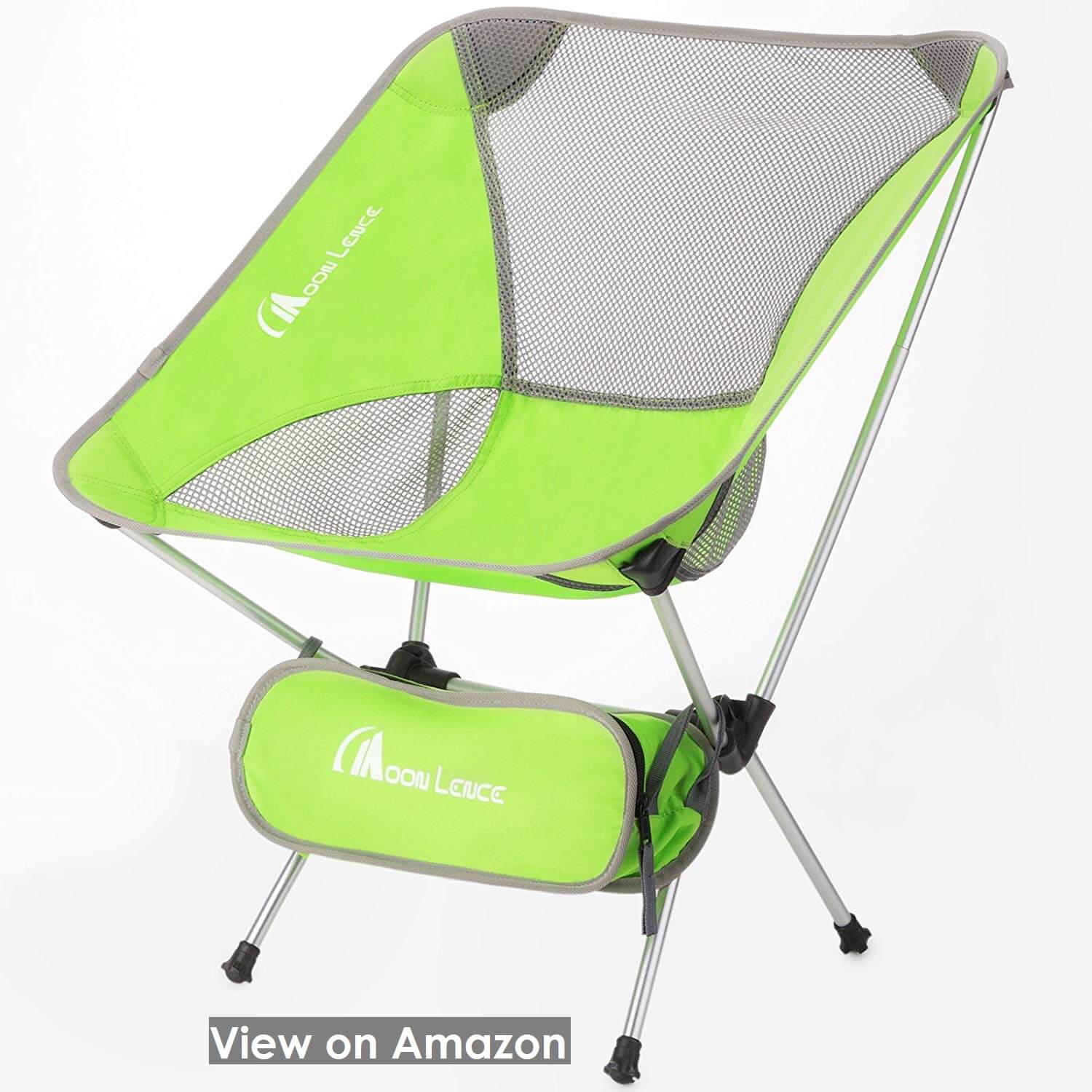 A petite chair that has a lot of promise, the Moon Lence Outdoor Ultralight Portable Folding Chair can be your go-to seat in any game, not just soccer. However, I must say here that all of that promise is for medium-sized humans. By that, I mean someone with an average height and weight.
What it does not make it bearing capacity, makes it in its own weight. At only 2 pounds, you can very much carry it around without breaking a sweat.
Its foremost feature that catches the eye is its mesh system. There's plenty of mesh at the back and sides that will definitely keep you cool throughout the game. The rest of its cloth is made from 600D Oxford Cloth, supported by a durable aluminum frame.
The frame and cloth can be folded with ease and kept in your bag or backpack. You can even clean both with a wet cloth and forget about the stains. Despite all of its features, there are certain shortcomings.
First, it doesn't have any armrests. Its design is such that you lean back as it supports your hips and back. Other than this position, you cannot use it.
Also, certain customers have commented that the fabric comes off after extensive and rough use. You might see the cloth rip off from the sides of the rivets. But again, it's a small chair with a cheap price tag.
If not in other departments, it does well in providing you a selection from a wide range of colors. You get Cyan, Dark Blue, Light Blue, New Blue, New Red, Orange, Red, and Yellow.
At last, I want to tell you that If you want a good chair for soccer games under $40, this is a great option for you.
Pros
Breathable fabric mesh.
Perfect for kids.
Cons
Poles can bend under a huge weight.
CLICK TO CHECK PRICE ON AMAZON
 7. Quik Shade Adjustable Canopy Folding Camp Chair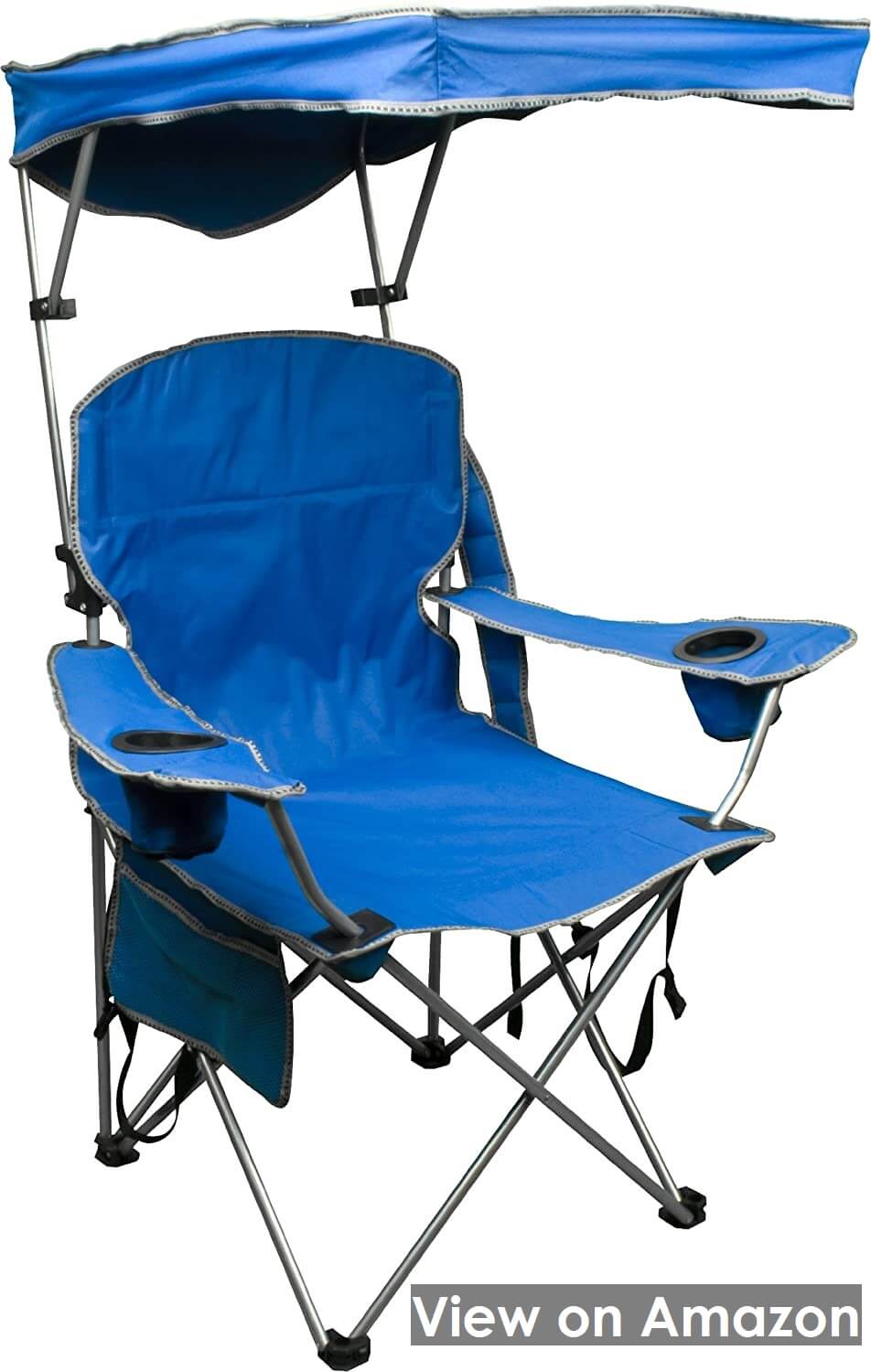 There's a little something surprising in this Quik Shade chair as well – the Canopy. Approximately, everything else is the same. Let's see how.
At 21.2 x 35.8 x 68 inches, the chair is fairly large to accommodate everyone during a heated game of soccer. Its own weight is also not that much. At 9 pounds (4.1 kg) you can lug it anywhere you want.
Since I talked about its portability, the canopy poses no hurdle at all. In fact, it is upon you whether you want it or not. You simply have to remove it if you don't want it.
When it comes to blocking the sun, the canopy comes in handy. You can even tilt it to either side to block the sun from teasing your eyes and face. However, some users have had problems with keeping it up, probably because of its lose attachments.
Other than this, the usual features include two mesh and cloth cup holders, one storage bag, and two folding straps, which indicate that you can fold this one from either side. Besides its canopy, what has nagged customers are its armrests. For some, they are too wide to actually support their arms comfortably.
Colorwise, you get only two options: blue and green.
Overall, this is one of the best folding chair for soccer games available on the market today.
Pros
Has a canopy.
large size.
Sturdy frame.
CLICK TO CHECK PRICE ON AMAZON
Final thoughts:
Soccer is an amazing and interesting game but you can't enjoy it by sitting and watching in a poor chair. This list will surely help you get any of the Best Chairs for Soccer Games at very reasonable and affordable prices. If you want me to add any more suggestions in this list or have any queries, do let me know in the comments below. I'll get back to you ASAP.