8 Best Chairs For Baseball Games: Buyer's Guide
Baseball – there's no team game that requires as much skill and finesse like trying to hit the old snowball clear out of the park with a bat. As a fan, parent, or spectator you might not need any of the regulation gear (save for the raglan T-shirt if you can get one). However, you will need a kick-ass chair to enjoy the game in all its glory. If you are a player or fan who wants the best chairs for baseball games, you came to the right place.
In this post, I've got 8 sweet seats that'll cradle you for years of baseball roughousing. I've explained the Pros and Cons of each chair so you know what to expect. Brace yourself baseball lovers, I'm pitching 8 fast ones to yah back to back.
Top 8 Chairs For Baseball Games
Highly Rated Chair

Best Selling

Affordable Pricing


GCI Outdoor Freestyle Rocker Portable Rocking Chair & Outdoor Camping Chair, Cinnamon
Kijaro Dual Lock Portable Camping and Sports Chair, Cayman Blue Iguana
Coleman Portable Quad Camping Chair with Cooler , Red, 37" x 24" x 40.5"
MOON LENCE Outdoor Ultralight Portable Folding Chairs with Carry Bag Heavy Duty 242lbs Capacity Camping Folding Chairs Beach Chairs
Highly Rated Chair

GCI Outdoor Freestyle Rocker Portable Rocking Chair & Outdoor Camping Chair, Cinnamon
Best Selling

Kijaro Dual Lock Portable Camping and Sports Chair, Cayman Blue Iguana
Affordable Pricing

Coleman Portable Quad Camping Chair with Cooler , Red, 37" x 24" x 40.5"

MOON LENCE Outdoor Ultralight Portable Folding Chairs with Carry Bag Heavy Duty 242lbs Capacity Camping Folding Chairs Beach Chairs
 1. GCI Outdoor Portable Folding Rocking Chair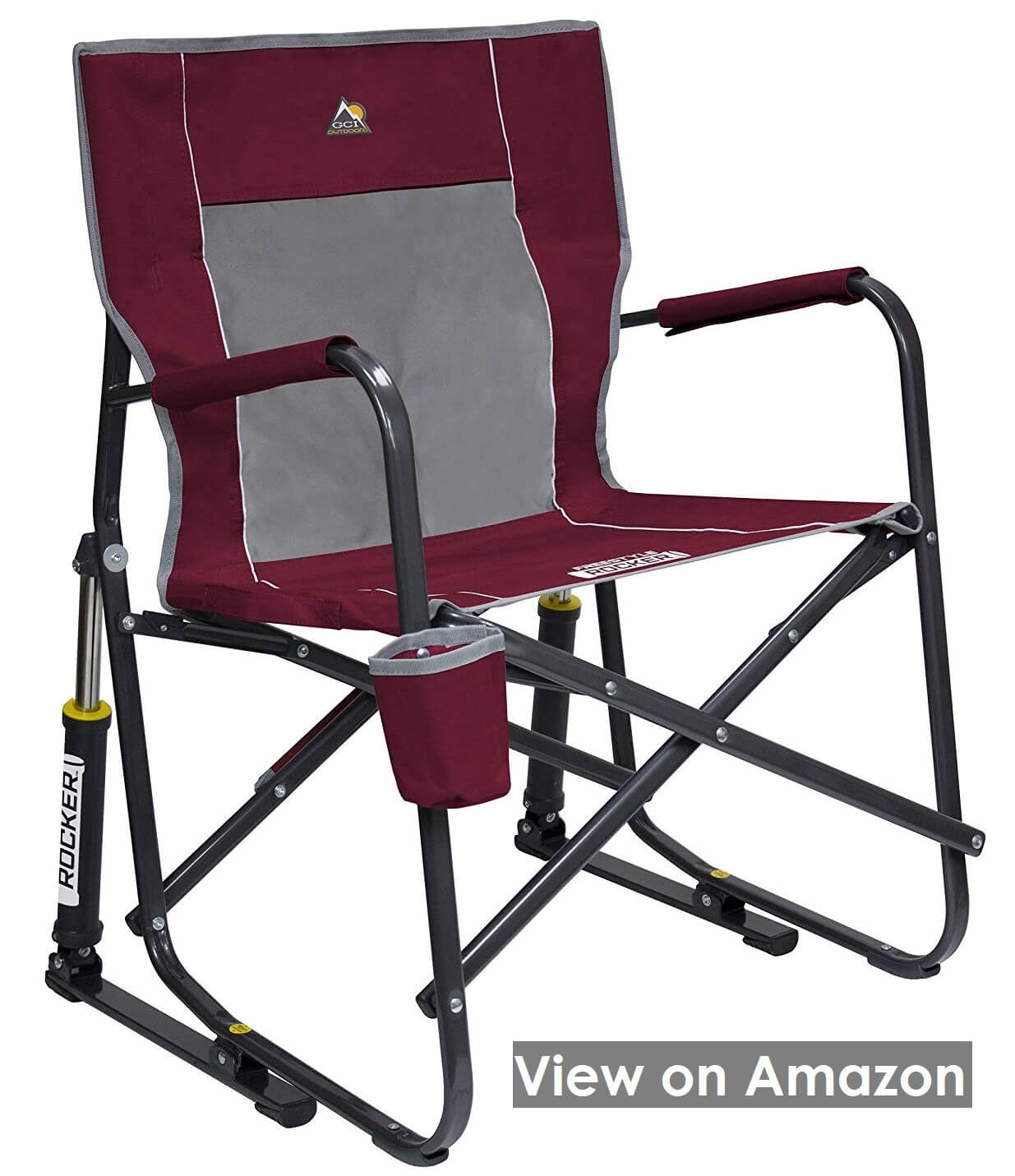 The GCI Outdoor Chair is a lightweight beauty sitting easy at 12.2 lbs (5.5 kg). It does not take up a lot of space (24.8 x 24.5 x 34 inches dimensions) and it is super portable. I'll discuss its portability in detail, but first, let me clear up something. I agree that space is not much of an issue when you are attending an outdoor game. However, you still need certain limitations.
Point is, you want a chair, not a sofa bed. The dimensions are just fine.
Now, the portability. The chair has a powder-coated steel frame which gives it the freedom to be folded as the frame is jointed. The technology called Eazy-Fold relies on these joints and in synchronicity – they close as you pull the chair from a fabric handle to the right/left of the chair.
But here's the kicker:
You can carry it around by the handle at the back once it is folded as I said in the beginning that it is quite lightweight and easily portable.
Because it's made of steel, that doesn't mean that it cannot carry heavy loads. In fact, its maximum weight capacity is 250 lbs. Some customers weighing 260 lbs have not experienced any problems but still, it's always good not to overwork the joints.
Currently, this chair is available in Cinnamon and indigo blue colors – both colors look amazing.
For a baseball game watcher, there's no way you're going for a chair without its own beverage holder. Do note that some customers have complained about its rocking feature, which is more like you're exercising than relaxing.
Also, personally speaking, the pads on the armrests are quite thin and small. You may have to compromise on that, too.
What about the pricing?
Well, you can get this amazing chair for a great price, which is a pretty sweet deal in my opinion. This is one of the highly-rated chairs on Amazon with more than 1000 customer reviews and has a rating of 4.7/ 5. That's quite outstanding I would say.
Overall, I have to say this is a very good chair for baseball games.
Pros
Very comfortable.
Affordable pricing.
Durable.
Cons
Rocking feature may not impress you.
CLICK TO CHECK PRICE ON AMAZON
---
 2. Kijaro Dual Lock Folding Chair
The Kijaro Dual Lock Folding Chair is again, one of the best selling product which is suitable for baseball games and it doesn't cost very much.
The chair comes in more than one color, the top three being Cayman Blue Iguana, Hallet Peak Gray, and Hanami Pink, the chair is everything you can call portable. Just one push of a button located on the levers and you can easily bring together the two sides and the chair folds.
You can carry it like a bag on your shoulder once folded. To use it, you only have to place the chair and press on its armrests to lock it in position.
The dimensions of the chair are 26 x 35.4 x 35.7 inches which can accommodate any body size. Its 9.5 lbs (4.3 kg) weight poses no hurdles in being carried around on your shoulders. All of this does not mean that it can't bear heavyweight.
Here's the deal:
You'll be surprised to know that it can support a maximum of 300 lbs. So, whether you're a player or a parent watching your child's game, you would have yourself seated more comfortably than ever before.
Besides, you get to have an organizer for your stuff, a beverage holder, and a seat that never sags. The angle between that and the back is not upright, which means you won't feel as if you're sitting in a bucket.
Many of the features seem attractive for such an inexpensive chair. There is a major problem with the quality control of this manufacturer. So, unless you're an engineer, you may have a hard time with its screws, pipes, and rivets. Overall this is a good folding chair for baseball games I would say.
Pros
Super comfy.
Has a breathable mesh.
Comes with a carry bag.
Cons
The quality control might make you cry.
CLICK TO CHECK PRICE ON AMAZON
---
 3. Coleman Oversized Quad Chair With Cooler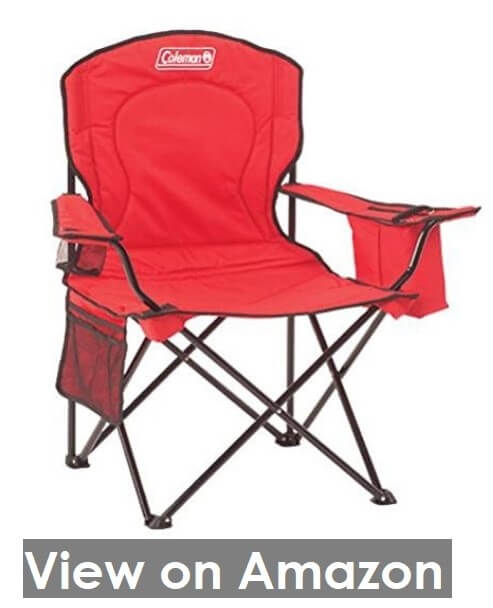 The Coleman Portable Camping Chair is very lightweight for a baseball chair at 8.2 lbs (3.7 kg). But it's not very large and accommodating at 7.5 x 7.7 x 27 inches. The frame is steel and it can support a maximum of 325 lbs. Even customers of about 350 lbs have fared quite well with it.
But if you're anywhere near that limit, you may experience a lot of sagging. The seat's not invincible, you see.
You have a lot of color choice with this one as well, the top three being black, blue and a mixture of gray/black.
You may think that is irrelevant to your comfort and purpose, and I agree. However, you'd totally agree when I say that it has a cushioned seat and back. And for the purpose, you get a perfectly insulated can cooler to get you going through the intense heat, a media holder to help you stay excited, and a beverage holder to quench your thirst.
The armrests are height adjustable, but at the same time, they are its weakest link. You may see them break off or bend in the very first use. Also, the frame has some discrepancies as well.
Overall, the chair serves its purpose and surely it is one of the top chairs for baseball games at this price point. Don't get too excited as its built quality is quite mediocre, but you get what you pay for.
Pros
Offers lot of features.
Lightweight and portable.
Cons
Build quality should have been better.
CLICK TO CHECK PRICE ON AMAZON
---
 4. MOON LENCE Outdoor Portable Folding Chairs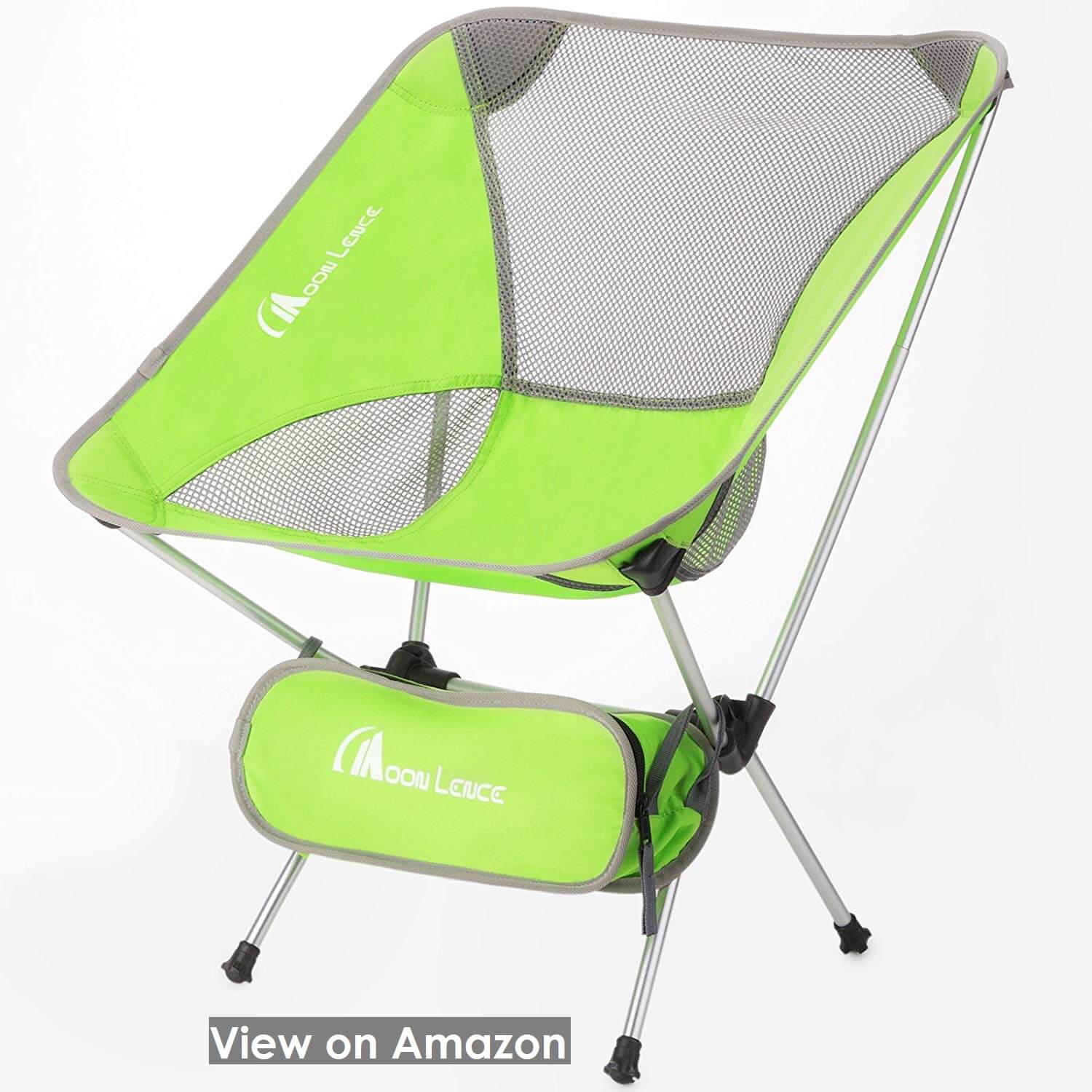 The MOON LENCE Outdoor Portable Folding Chairs is another good option for you if you want decent features at a very reasonable price.
The size of the chair is enough to house a normal-sized person. But you are tall, and anywhere above 242 lbs, then you might want to check out other chairs in this list.
Want to know the best part?
You'll be shocked to know that this chair weighs only 2 lbs (0.9 kg) which means you can use it anywhere you want without too much trouble. It's not only lightweight, but also quite stylish with a range of colors, mainly shades of cyan, dark blue, and light blue.
You may not have noticed in the previous chairs, this one has got a mesh back and a mesh seat, which collectively forms one hell of a breathable seat. This could be your call if you're going to a baseball game where the sun talks more than the commentator. You would have absolutely no problem in letting out the steam. There are no additional pockets, media holders, or anything of this sort with the bag, so it may pose some problems for you during the game.
Pros
Cheap price.
Very sturdy for a wireframe.
Cons
Legs sink in soft ground.
CLICK TO CHECK PRICE ON AMAZON
---
 5. AmazonBasics Camping Chair

AmazonBasics products are time tested. They are basic in nature but prove to be big bang for your buck. However, do expect some shortcomings on this AmazonBasics Camping Chair.
The product in question here can rally up your baseball game and make it more interesting. First of all, it is huge at 34 x 20 x 36 inches dimension. But even with a huge size, it is lightweight at 7.4 lbs (3.3 kg).
I've mentioned the size and you might have started worrying about its portability. Relax, Amazon provides a packing bag and like the rest of the chairs, you can fold it just by pulling a hook located on its armrest. But some customers have complained about the poor quality of the bag, so you may have to compromise on that.
The maximum weight capacity of the chair is around 225 lbs, which is pretty decent, given its size and all. However, you don't get a myriad of color choices. Only black and blue colors are available right now.
Coming towards the real purpose of the chair, let me tell you that it will surprise you. If you can ignore its poor bag, then you'll love its cushioned backrest and seat, spacious armrests, media holder, and the beverage cooler. All of these can be your perfect partners in making you comfortable and provisioned during the game.
Pros
Cheaper than its competitors.
Rich features.
Cons
Bag quality is quite poor.
CLICK TO CHECK PRICE ON AMAZON
---
 6. GCI Outdoor Pico Compact Folding Camp Chair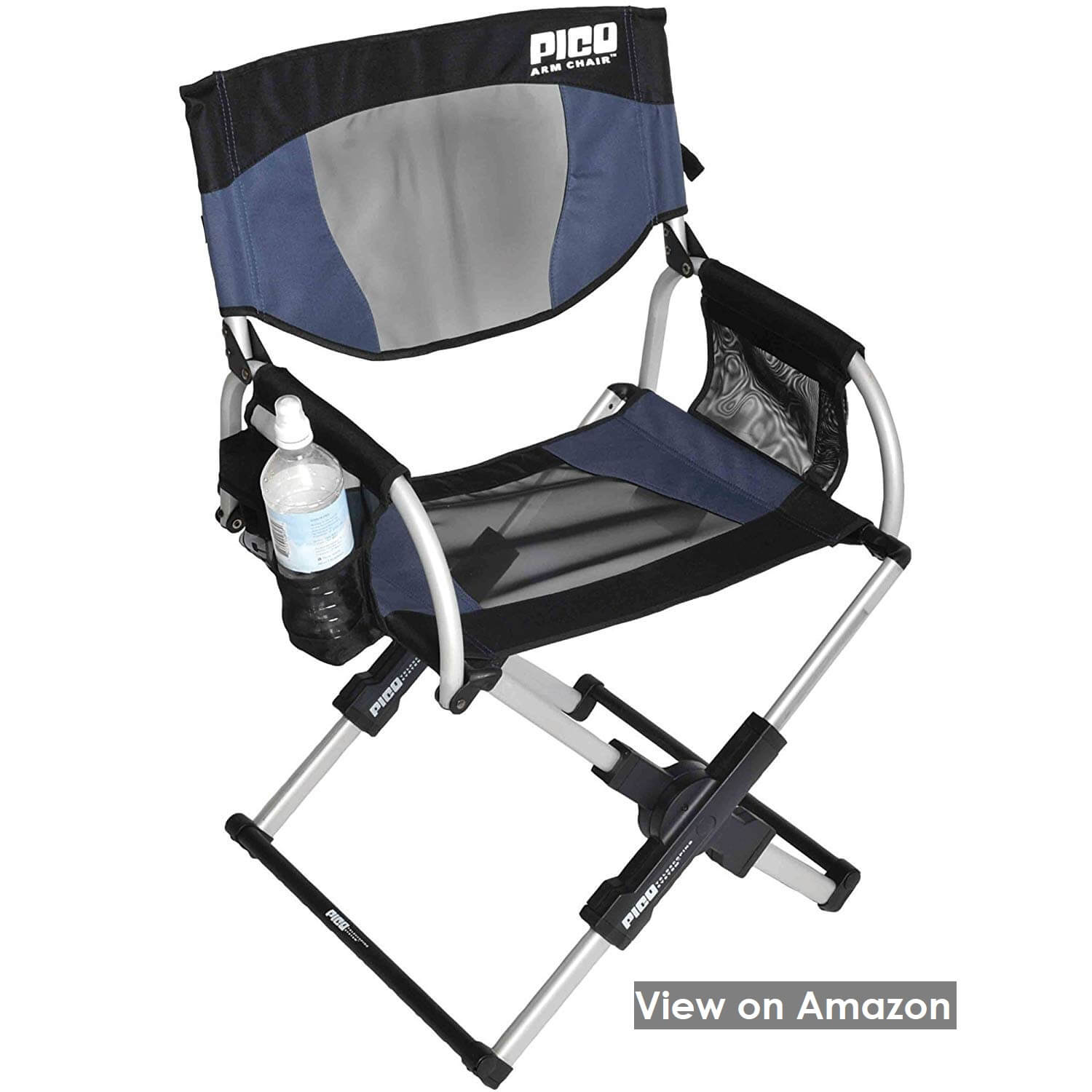 The size of the GCI Outdoor Chair is is 17 x 22 x 34 inches which is more than enough to accommodate you – that's for sure. And the weight of the chair is also not too much. You should be able to carry 10 lbs (4.5 kg) around just fine when you're on the ground checking out your kid's baseball game.
Talking of carrying around, the chair is so portable, it literally packs into a laptop-sized case. A few folds here and there and you can pack it and carry it in its dedicated bag. That goes to say that you should keep your heavy friend away from it as it can only bear 250 lbs and no more than that courtesy of a not-so-hard frame.
If you're not very choosy when it comes to colors, then you'll fare well with two choices of colors available with the GCI. You can either choose Navy blue or Sage and that's it.
Now:
You may not care too much about the colour, but you'll surely care about the capacities it comes with. You get a breathable mesh back and seat, cup holder, can holder, and the bag I've talked about reverse folds to become a weird storage caddy. All of these come at a price that will help your pockets stay in the game too.
Finally, I want to say this is one of the best chairs for baseball games in the premium category.
Pros
Easily assembled and folded.
Plenty of space for magazines and all.
CLICK TO CHECK PRICE ON AMAZON
---
 7. NFL Folding Chair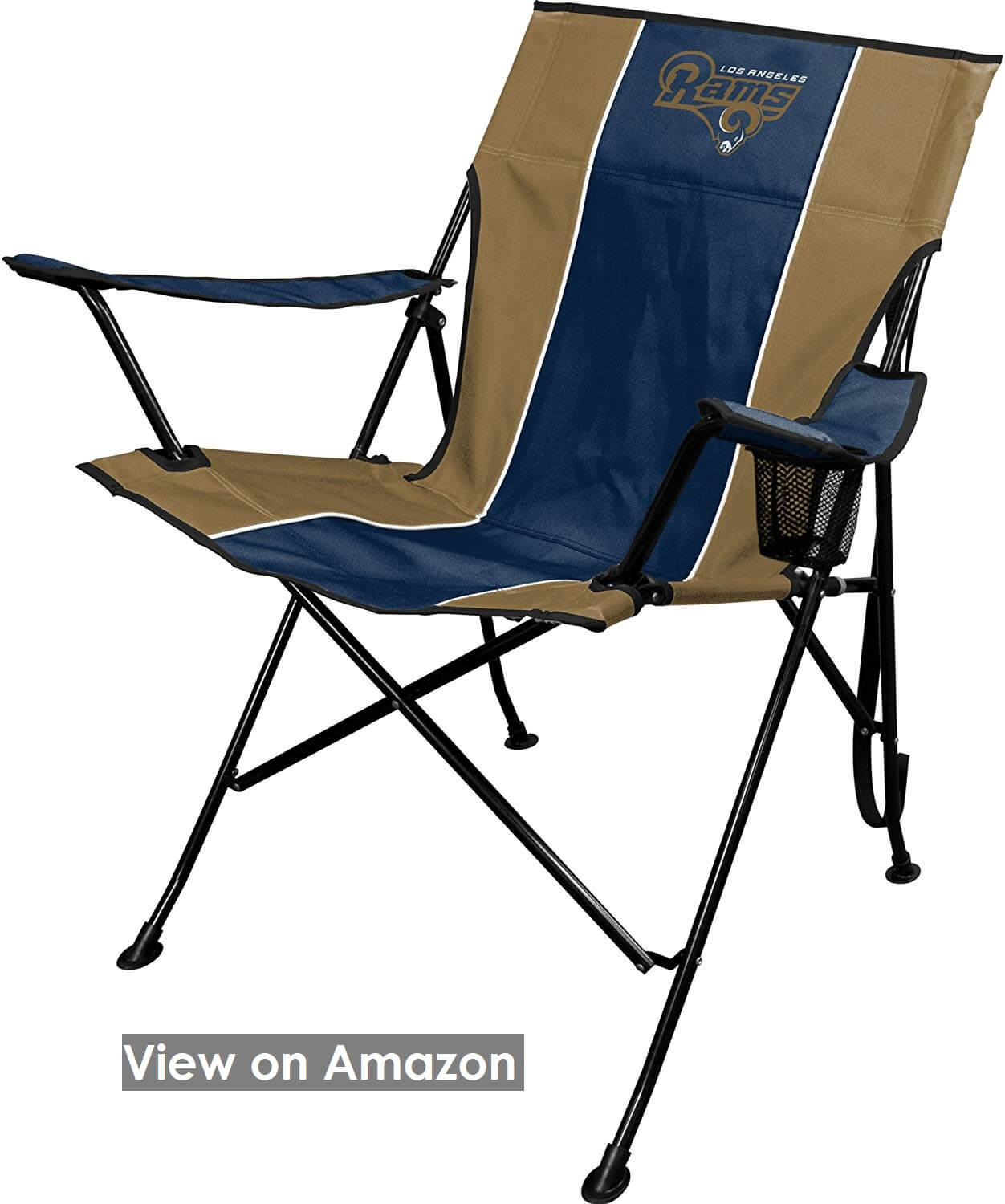 Are you tall? Like 6" and above? Then please look no further than this NFL Folding Chair.
It really is for tall and big people as it supports a weight of about 250 lbs and has dimensions of 10.9 x 5.5 x 46 inches. Almost miraculously, its own weight is just 4 lbs (1.8 kg). That definitely makes a great case for being easily carried around.
However, know that it does not do well in the folding compartment. Unlike the rest of the chairs, it can be folded into a long piece with a handle to hold it from. No bag, nothing.
Even if there aren't a lot of color choices the manufacturers make it up to the customers by relying on complementary dual colors: Caramel and Navy blue.
Overall, just like I said, if you're a large and a tall person, you may want to go for the NFL chair. It will probably suit you better if you're a player who wants to relax on the sidelines. The seat does not sage, you got a cup holder and the armrests are not bad also. Even the frame is somewhat sturdy.
However, there's always a catch. Sometimes, during prolonged use, you may feel there should have been a rod or something to support your feet. Since you keep them on the ground for long hours, they tends to fall asleep easily and that's where the discrepancy of the chair appears to nag.
Other than this, this is one of the best multipurpose chairs you could get on the market.
Pros
Suitable for huge person.
Seat and back material is commendable.
Cons
There should have been at least a can cooler.
CLICK TO CHECK PRICE ON AMAZON
---
 8. G4Free Lightweight Portable Camping Chair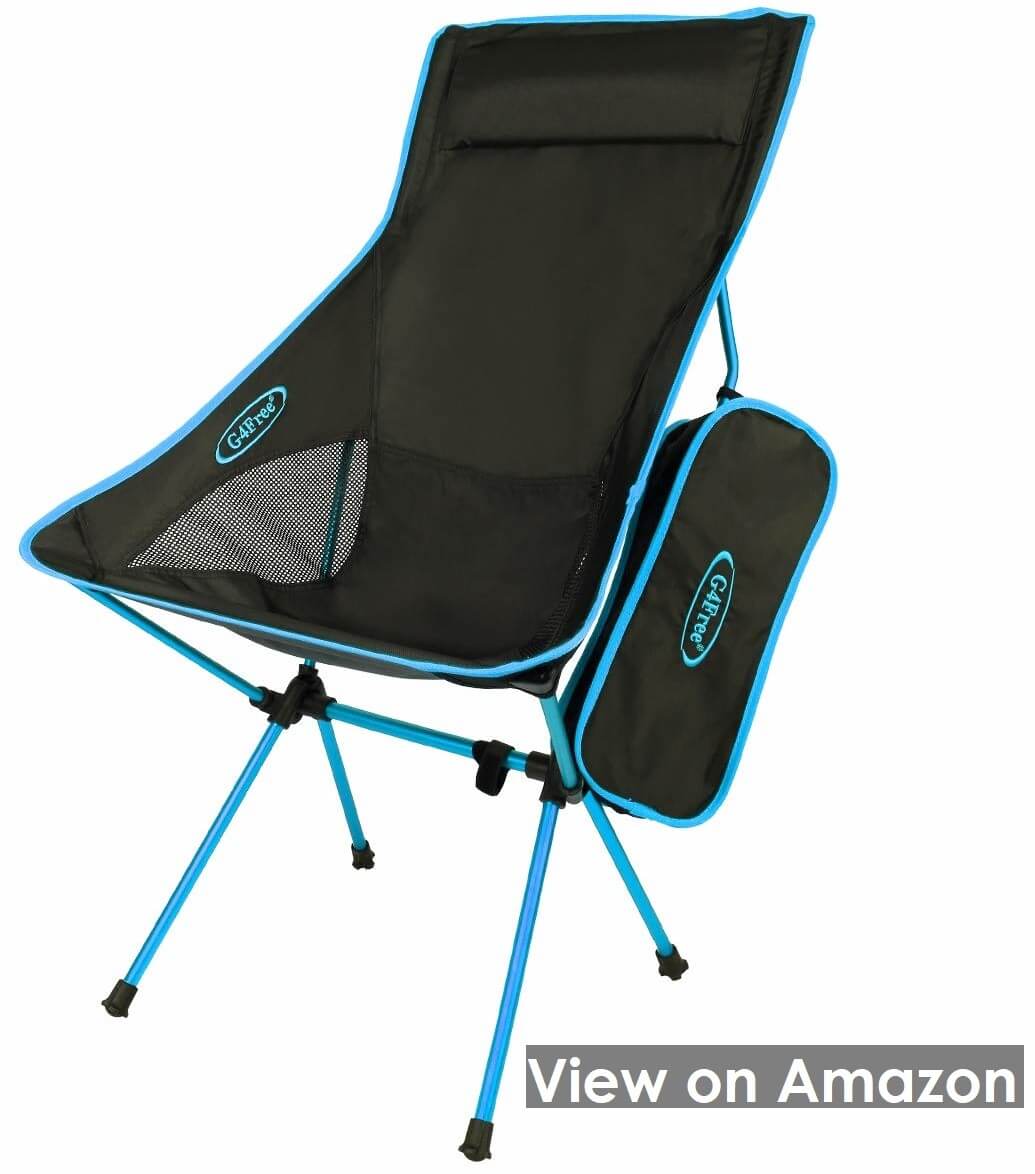 The G4Free Lightweight Portable Camping Chair is comfortable, has a high backrest, and sits high above the ground. Available in blue, dark blue, and orange colors, the chair is super lightweight at only 2.3 lbs (1 kg) and is very spacious. I already mentioned the high back, which most of the chairs in this list lack.
The durability of the chair is relative – meaning that you can't trust it all the time. Some of the customers have been there and they complain about its poor craftsmanship. It can only take up to 220 lbs and this pretty much explains all the snapping and cracking most are talking about.
This product of all is a little difficult to assemble and it may take more time if you mess up the steps. But once packed, it can easily fit into a tiny bag that you can otherwise use to keep your things while it clings to the middle pole.
So, for a game of baseball, this could bear your weight and keep you comfortable, but don't expect it to last for eternity. A minority of customers say it gave way right after the first use. Of course, this is often the case with inexpensive products.
Pros
Comfortable.
Has double stitching and better joints.
Cons
Lacks major compartments or storage.
CLICK TO CHECK PRICE ON AMAZON
---
Final Words
After doing a lot of research, I've compiled this list of the best chairs for baseball games. Most of the chairs on this list are highly rated on Amazon. Therefore, you can buy any of them without giving it too much thought. If you have any questions related to any of the above chairs, just shoot them in the comments below. I'll try to get back to you as soon as possible.