7 Best Chairs For Teachers: Buyer's Guide
As a teacher, you probably spend an unusual amount of time on your feet passing on knowledge to your students, right? Commendable job. However, even teachers needs to take brief breaks while teaching so they can relax and get some energy to march onward.
Today, we're going to talk about the 7 best chairs for teachers you can get for yourself. Or buy for your teachers if you are in charge of any school or teaching institution. Most of the chairs on this list are budget-friendly i.e under $100. Therefore, you can opt for any chair without having to worry about the budget.
Top 7 Chairs For Teachers This Year
Table could not be displayed.
If you want to know about the remaining 3 chairs which are not listed on the Amazon table, I would highly recommend reading this entire article.
1. Smugdesk Mid-Back Big Ergonomic Office Chair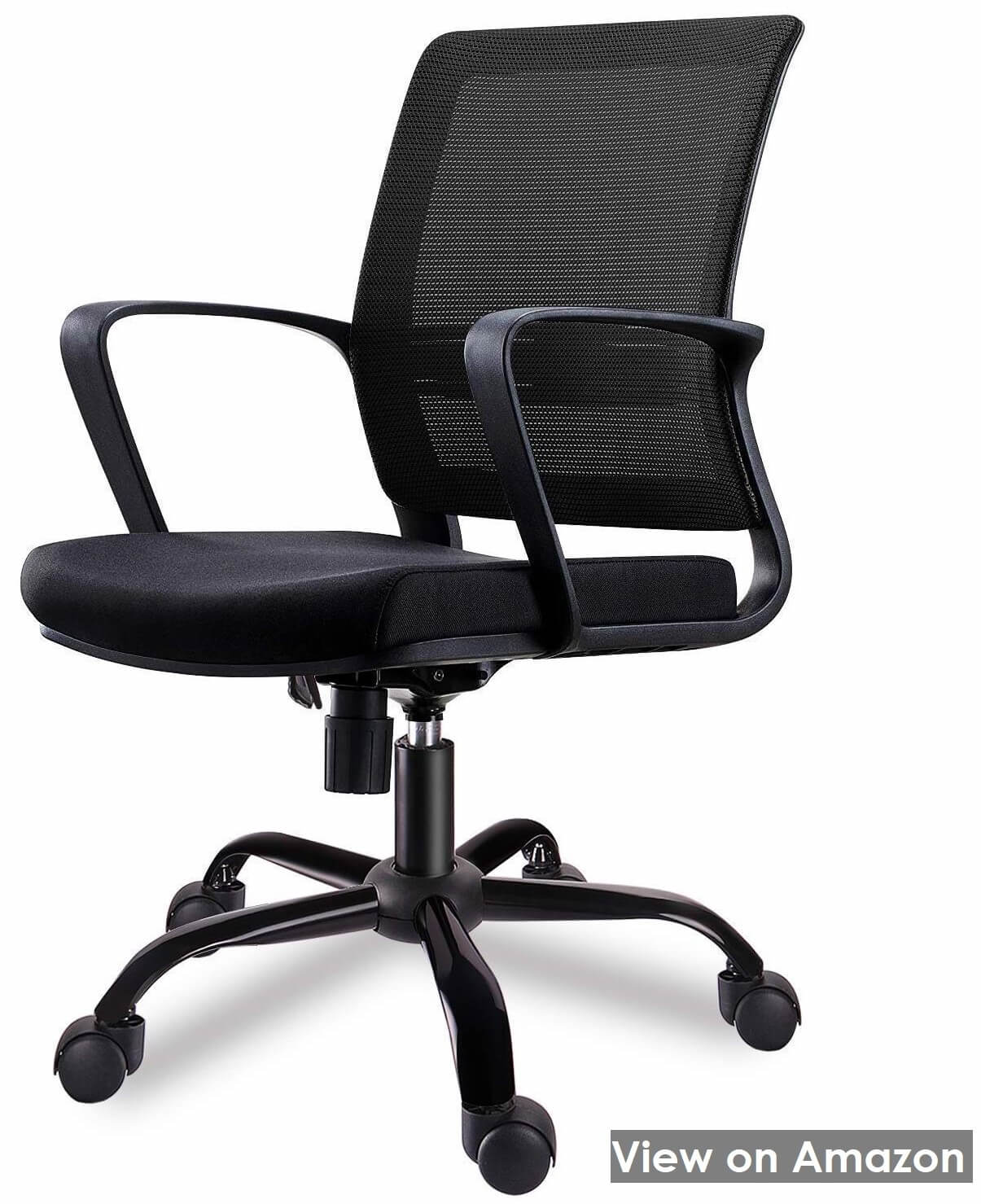 One of the most notable feature from this Smugdesk Mid-Back Big Ergonomic Office Chair is its ergonomic design. It is most pronounced on the mesh backrest and armrests as well. The design is meant to ensure comfort and support which means less back and arm strains from pulling all-nighters grading exams.
It is also a great option if you have back problems that may flare up with long periods of being seated. This is because of the presence of additional support through the lumbar cushion which makes all the difference.
The seat measures 16.33″ in depth by 18.5″ in width which makes it one of the larger seats. This contributes a great deal to the comfort that you will get to enjoy as you have room to wiggle around and find your comfort zone. The best part is that despite its size, it is a pretty light seat weighing only 19 pounds.
Another set of features you can look forward to enjoying are the 360 degrees swivel and the pneumatic adjustment feature. The swivel allows you to move around and rotate to reach something on the other end of your desk.
Overall, this is a very good chair for teachers at a very affordable price.
Pros
Large chair.
It is built for comfort.
Cons
The back rest only reaches the mid back with no head and neck support.
CLICK TO CHECK PRICE ON AMAZON
---
2. Executive Leather Chair By Flash Furniture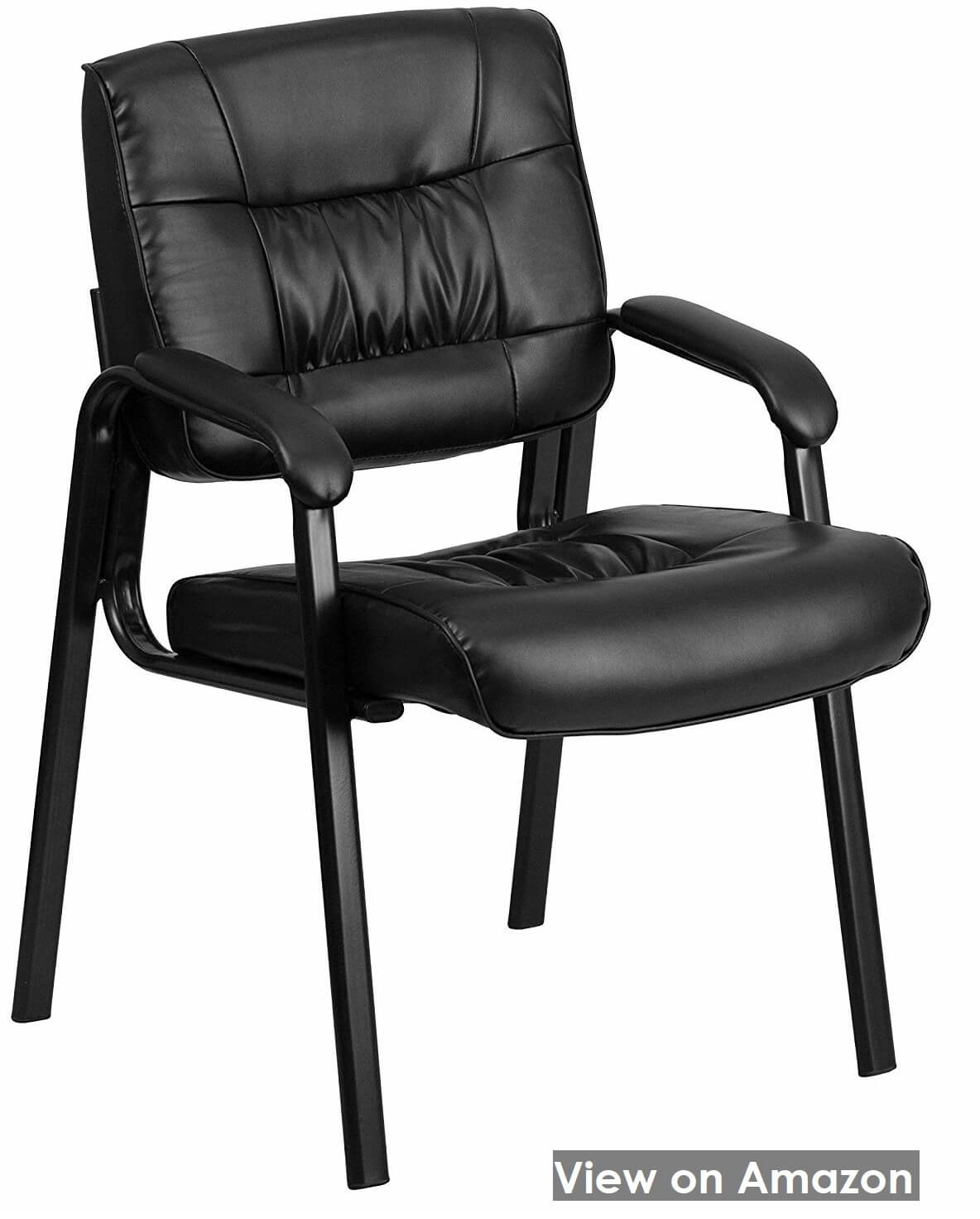 The Executive Leather Chair by Flash Furniture would be a great chair for a coach, a school counselor or any other teacher with an office. The reason is because of its general office guest chair vibe. It lacks the grandeur of pneumatic adjustments, swivels and wheels that many office chairs for teachers have. However, if you want something simple yet comfortable and functional then this is definitely something you should look into. Not only for your guest but also for yourself as a teacher.
Don't take the lack of swivel and wheels as a handicap for this chair. Despite the absence of these specifications, the model definitely holds its own with its amazing features. One is the leather upholstery over the back, arm, and seats. These give the chair a bold and classy aesthetic that you definitely want to be associated with as a professional.
You also have the thick padding to look forward to should you go for this chair. What is interesting with this model is the fact that even the armrests are padded! This ensures that you have nice and comfortable padding for extra support and coziness everywhere you lean, turn or rest.
If you have no carpets on your floors, you are probably worried about what the stands could do to your wood panels, laminate boards or even tiles. Don't fret about it. The chair features plastic floor guides that allow you to drag the chair across the floor without causing any damage to the latter.
If you are a mother and looking to get yourself a "teachers rocking chair", then this might a decent option for you. You can't breastfeed your baby on this chair regularly but you can do it occasionally for sure.
Pros
It is made from high quality leather.
It offers great aesthetic value.
Cons
The leather hinders aeration which may lead to a ton of uncomfortable back sweat.
CLICK TO CHECK PRICE ON AMAZON
---
3. AmazonBasics Classic Leather Chair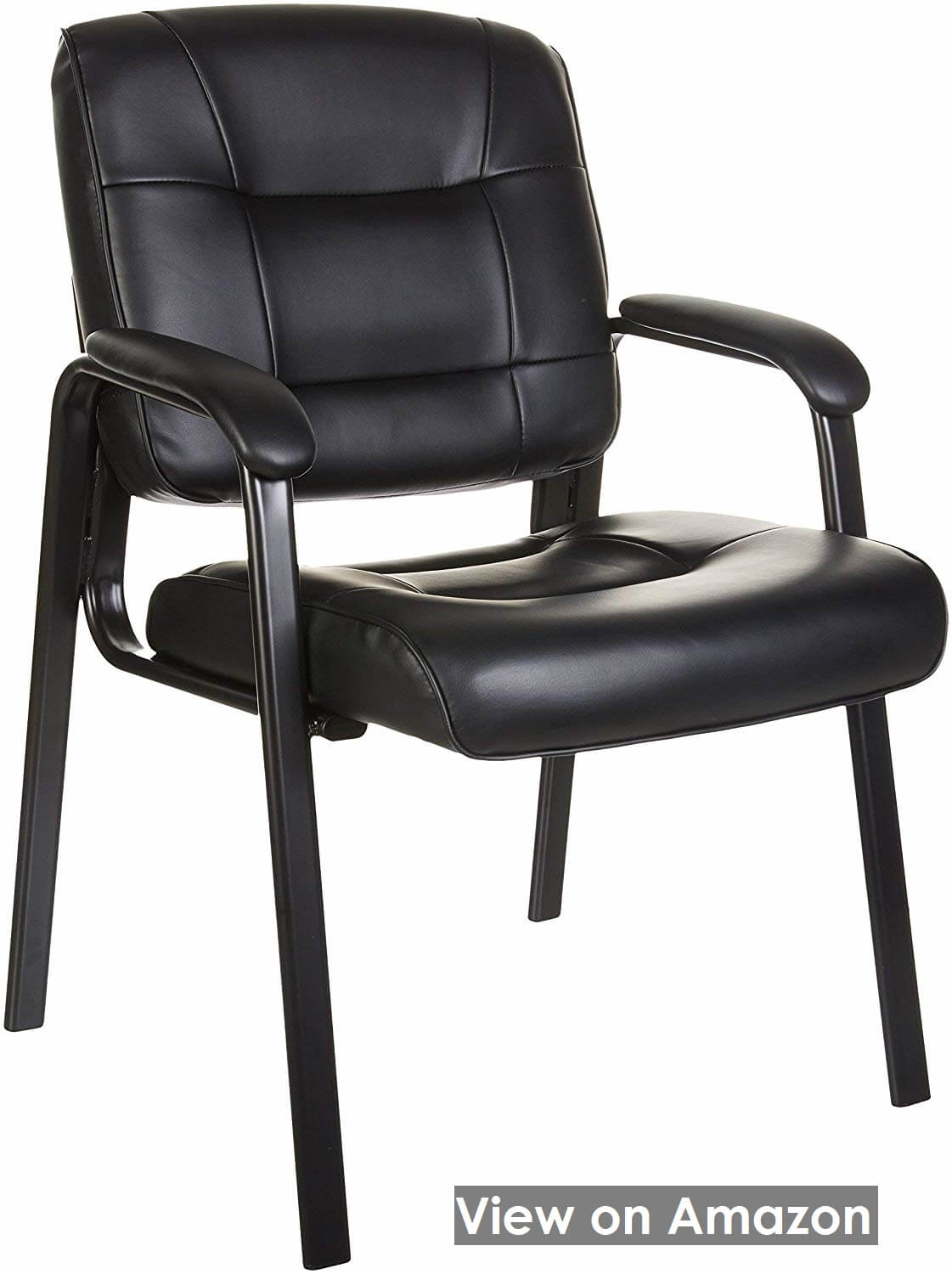 The AmazonBasics Classic Leather Office Desk Guest Chair is an another great alternative if you are in the market for something super simple but still practical. At first glance, the chair is just like any other office leather chair. It offers great comfort with its thickly padded and ergonomically designed back rest. This makes it a great option for teachers who may have back problems where maximum support is a huge priority.
You also get to enjoy a thickly padded seat with a waterfall design. This is meant to mimic the curve of your thighs thereby preventing leg numbness which may happen if you spend a lot of hours seated. Your arms are also not forgotten as the armrest features thick padding for maximum all-rounded comfort.
This is also a great option if aesthetics are a must for you. The leather upholstery will turn your simple home office or teacher's desk into a professional hub that will definitely inspire you to get the work done.
The best part is that the leather is very easy to keep clean. So if you spill your coffee or drop crumbs as you grab lunch at your desk, you just need to wipe it away and you are good to go. This is a huge bonus if you're getting chairs for the teacher's lounge where there are bound to be some coffee spills.
This is definitely one of the top chairs for teacher which you can get for yourself or your staff without givign it too much thought.
Pros
The seat is very good.
Extremely cheap and affordable.
Cons
The back rest only offers support up to the mid back region.
CLICK TO CHECK PRICE ON AMAZON
---
4. Adjustable Height Black Student Chair By Flash Furniture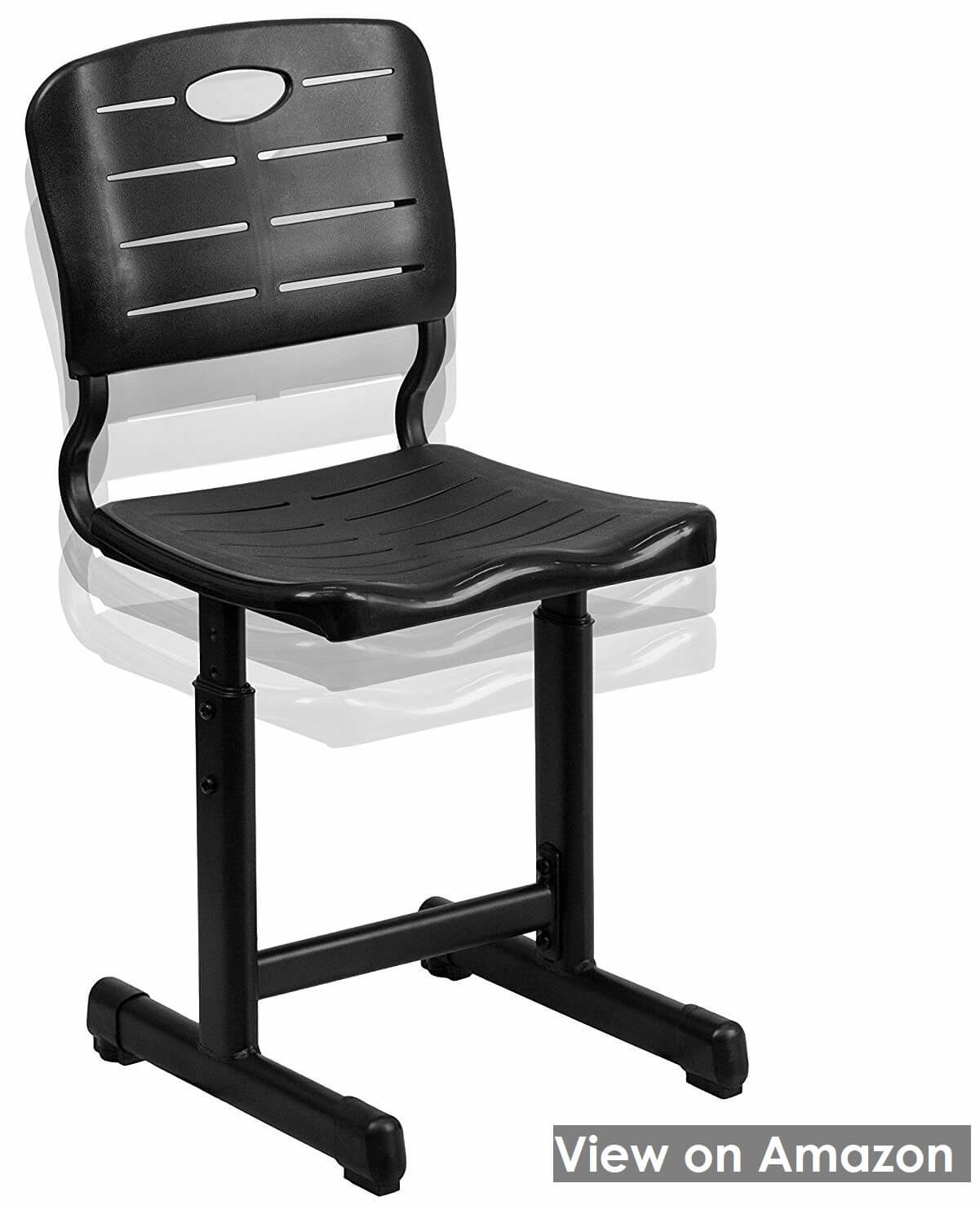 Technically, this is not a chair that would be practical for use as a teacher – you'll see why in a little while. It is designed and marketed as a chair for students in which case its design features and specifications make it a perfect fit in any classroom.
One of the best things about this chair is it is hands down one of the most affordable options that in the market right now. It is, therefore, a great option if you need a quick fix on a really low budget. So what exactly is it that you get with this barely-over-30 budget find? Well, let's see.
It features an unpadded design on the backrest and seat. However, this does not mean that it's not comfortable. It features a very ergonomic design which makes up for the lack of cushions.
It also offers great airflow keeping things nice and cool during those long classes for your students. This is made possible by the slates in the back and seat panels that allow aeration. This continuous little breeze might just be the secret to keeping the kids awake during those after-lunch sessions am I right?
Pros
Very affordable.
Sturdy.
It is easy to assemble.
Cons
It is not very comfortable to seat on for long periods of time.
It does not offer great head, neck or arm support.
CLICK TO CHECK PRICE ON AMAZON
---
5. Furmax Ribbed Office Desk Chair
The Furmax Ribbed Office Desk Chair is as sleek as it is beautiful. Looking at the different color combinations as well as the curvy ergonomic design, the Furmax is quite the head turner. For this reason, it would probably be best in your home office setting where you take care of all your schoolwork. That way you are in full control of the aesthetic and you can design the space as you wish with the chair and desk as the focal point.
One of the best features of this chair is the backrest. The ergonomic design adds a lot more than aesthetic value. The curves mimic the natural curves of your back ensuring optimum support on those long work nights and weekends.
It also stands out with the 25.7 inches of height which ensure that your shoulders, neck, and head also enjoy the support. This is great if you tend to suffer upper back pains as well as shoulder and neck straining.
The manufacturer of this chair definitely did not skimp on comfort.In addition to the great backrest, you have a nice and thick seat to look forward to – 3.15 inches of thickness in padding to be precise. Your legs will definitely thank you for this.
The upholstery on this model also makes it stand out both in terms of aesthetics and functionality. The pliable leather not only adds to the overall visual appeal but also makes the chair very easy to maintain.
Overall, this is one of the best teacher chairs for the classroom which also has a very attractive look.
Pros
It features high quality construction.
It has 360-degree swivel capabilities..
Cons
Dirt tends to accumulate in the ribbing.
CLICK TO CHECK PRICE ON AMAZON
---
6. Giantex Set Of 5 Conference Chair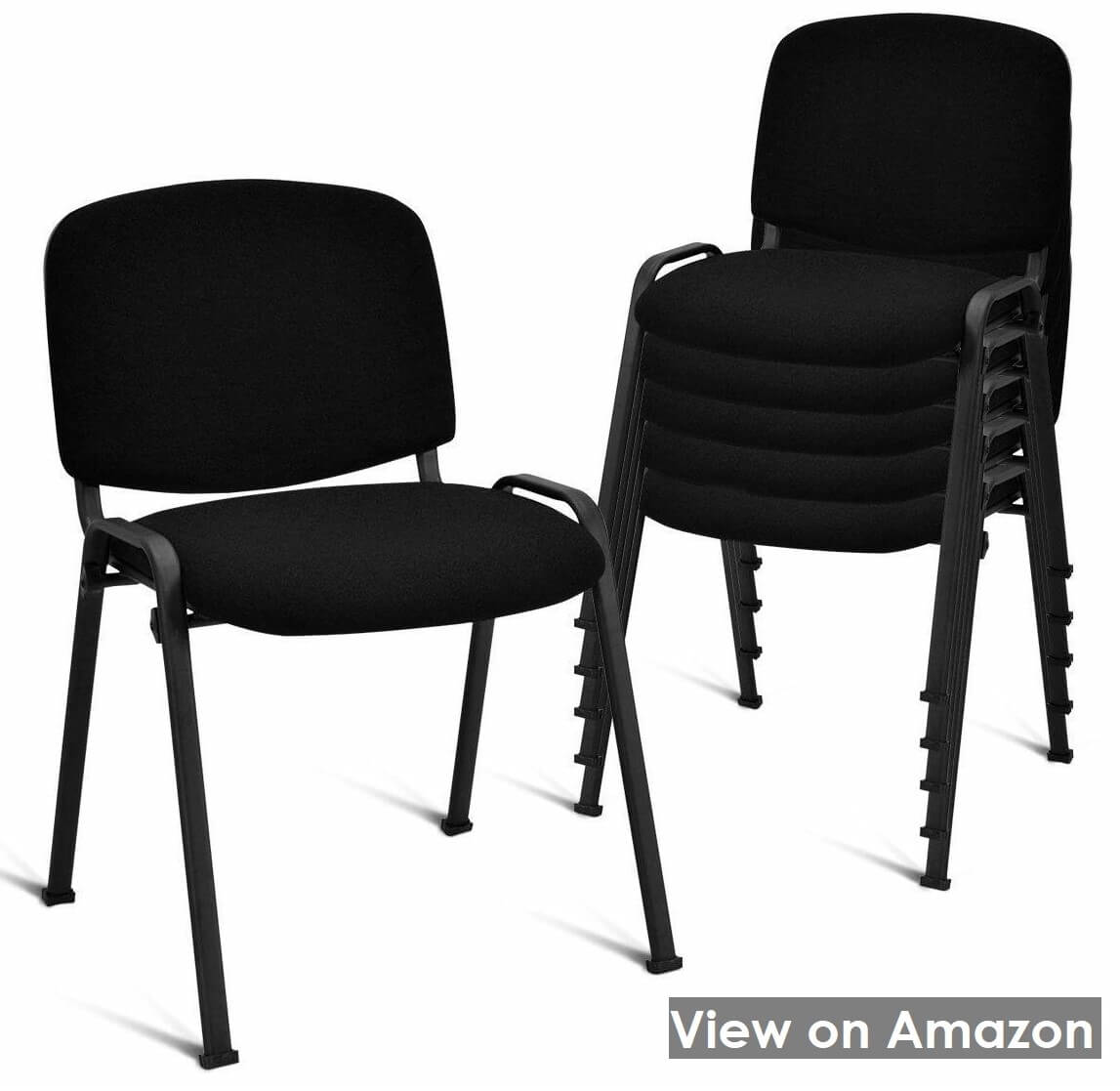 Here's another great option to consider if you are in the market for guest seats for your office whether you are the principle or department head at your school. It is also worth considering for communal teacher spaces like the staff room or the break room.
The set comes with 5 chairs and one of the most convenient features is that they are all stackable. That way, you can easily have them put away when the office is being cleaned or when you do not need them all out at once. This could also make it easier to transport during events like staff trips or to spaces like the gym or auditorium for teachers' seating.
The chairs are pretty decent as far as comfort is concerned. This is largely due to the thick padding both on the backrest and on the seat portion. That way, your students and your guests can feel comfortable during your session or as they wait out at the reception for you.
Another unassuming feature that contributes a great deal to the comfort is the material. It is soft and breathable which ensures great aeration. That way, you do not have to worry about uncomfortable back stuffiness and sweat as with leather guest chairs. However, you will have to compromise on maintenance as these seats are vulnerable to seeping stains from liquid messes.
Pros
It features foot pads for additional stability.
They are stackable for convenient storage.
Cons
It is easy to stain and therefore challenging to maintain.
CLICK TO CHECK PRICE ON AMAZON
---
7. OFM Essentials Collection Bonded Leather Chair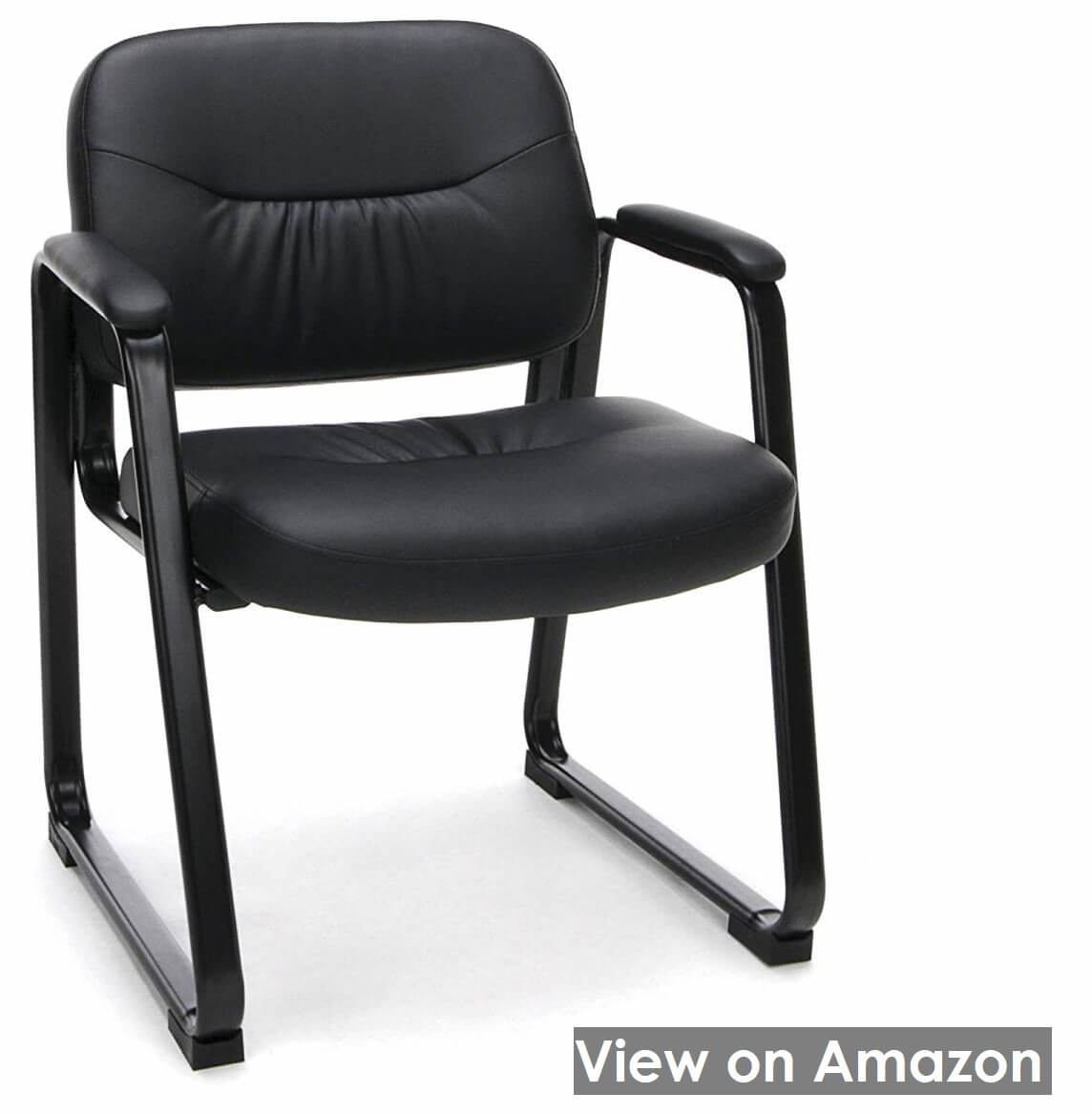 This is a great chair if you are not looking for an overly large option. It is an awesome option for small at-home offices, tight teachers' lounge areas and classroom teacher's desks. It's dimensions stand at 25.5 inches× 25 inches× 32.75 inches which would comfortably fit most small spots with little space allowance.
This, however, does not mean that you have to squeeze yourself into a tiny little seat with hardly any room to move around. On the contrary, this teacher's chair has a large and comfortable seat despite the compact dimensions,.
The OFM is also very comfortable thanks to the thick padding on both the backrest and seat portions. The ergonomic design features also contribute to this comfort ensuring that you definitely enjoy your time on it – especially if you will be seated for long periods. Your arms also enjoy the same luxury and comfort with the thick padding that covers the surface of the armrests.
This chair also happens to pack a lot of heat when it comes to aesthetics. The compact design is itself a unique concept that will add visual appeal in a subtle yet appreciable way. However, it is the soft leather upholstery that is the star of the show as far as aesthetics are concerned. It is, therefore, a great option to think about if you really like the clean black leather look with your furniture.
Pros
It is compact and lightweight therefore easy to carry around.
It is super comfortable.
Cons
It may be a little challenging to assemble.
CLICK TO CHECK PRICE ON AMAZON
---
Final Words
As we mentioned in the introduction, you should always choose the right chair as a teacher because you need to take some breaks. It doesn't matter if you're in class, the lecture hall, or at home; you can't afford to overwork yourself.
I hope you've found your perfect chair from this list of 7 best chairs for teachers. If you have any suggestions or questions, feel free to drop your thoughts in the comments section below. Thank You.