7 Best Potty Chairs For Big Toddlers: Buyer's Guide
Dealing with a squirmy child can be exhausting. All caregivers say aye? But did you ever stop to think about the discomfort babies experience? Especially when transitioning from milky liquid goodness to boring solid foods. It takes a while for their little systems to adjust. But once they do, it's all yummy in the tummy. Now, there's just one more part of the routine to master – making boom boom in the potty. Sorry for the baby talk guys, too much time with the wee ones.
Back to business. The best way to make your kids enjoy their regular, mandatory routine is by making it fun. For that, you'll need one of the best potty chairs for big toddlers. Hey, your little ones won't always be little. So you might as well buy something they'll use until they graduate to the big boys/girls room. Even before they can say their first word, you can already tell that no baby likes waddling around in a full, dirty diaper. Train them on their special chairs and you'll see how relieved they'll be in just the first go. It's no wonder some cultures in India and Asia start potty training children right when they are 3 months old.
Now, I'm not saying you draw up a timetable like Sheldon (Big Bang). But if you can have your kids on a pooping schedule, it's much better for their bowels than having eratic or random movements. That ultimately translates into peaceful nights for both you and your children. That's a discussion for another day.
Today, I've done all the grunt work (pun intended) to find and review some of the best potties out there so you don't have to. Let's check em out.
Top 7 Potty Chairs For Larger Toddlers
1. BABYBJÖRN Potty Chair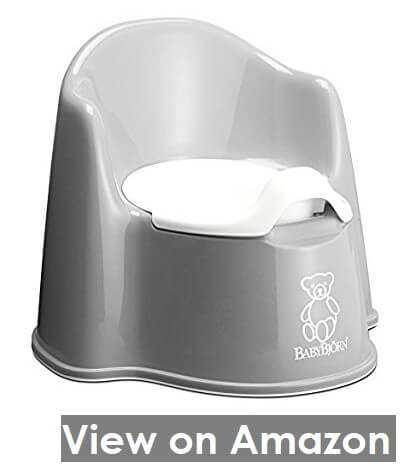 The BabyBjorn Potty Chair brings ergonomics to something as  simple as a potty chair. Your kid needs that, of course. The age he/ she is in demands that posture is always right.
Therefore, this chair helps your baby maintain good posture while getting their business done. You can thank its high backrest for that. It's literally like a cocoon, holding your baby throughout his shenanigans.
But more than that, the way its manufacturer includes an extention to its seat to give room to the legs of a toddler. It definitely adds comfort to the whole design.
This is not one of those potties where you've to take the whole thing to clean it. Instead, its potty is separate from the seat. You can just pluck it out carefully and clean it at your convenience just like you clean a glider.
That and its anti-splash guard are the two things that make this product super easy to manage and clean. Toddlers learn to fire in the hole right after a few day's use, so this could help save you a lot of time and effort.
Talking about the material, it is a 100% safe plastic i.e Polypropylene. I don't know why they've mentioned PVC on their Amazon page because on their website it says plastic. And it is plastic for sure, I can guarantee it.
Also, your big baby can easily sit on it, for it has the dimensions of 14 x14 x13 inches. At 1.8 pounds (0.8 kg), it also stays slightly heavy for your kid, which kind of discourages him or her to play around with it. But hey, it's not heavy for you.
Here's a video review by Know How Reviews to learn more about this potty chair.
Pros
It is quite sturdy.
It comes with anti-splash technology.
Cons
It could be for big toddlers but not too tall ones.
CLICK TO CHECK PRICE ON AMAZON
---
2. Summer Infant My Size Potty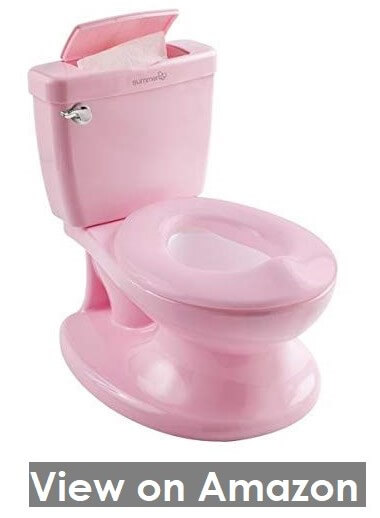 It's totally fine if your toddler finds this cartoonish potty very interesting. That actually points towards the opportunity for you to train him or her on a realistic throne. The Summer Infant My Size Potty is just that kind.
Starting with the basics, at 15.8 x 13.3 x 9.4 inches, the product is a perfect choice as a large potty chair for a big toddler. And since it weighs 2.9 pounds (1.3 kg), he/ she won't be able to drag it out of the toilet an make a mess. That's relieving, trust me.
What makes it a look-like of an adult potty, you ask? Its design, first of all, and then this interactive flush handle to the right. Pressing it produces sounds similar to a flushing toilet, which could be a good lesson for your toddler from Day 1. Of course, It doesn't really flush.
To make the flush sounds work, you'd need to get 2 AAA batteries and install them.
Recommended: If you are still breastfeeding, then you should check out these great chairs for yourself.
Other features that contribute to its realistic design are a flip-up lid and a make-believe water tank that is for storing clean wipes and undies.
Besides these, the chair comes with a splash control or guard and a removable pot for hassle-free cleaning.
While everything works fine, there are two things that pose hurdles. First, the splash control comes off as much as 10 times per use. Second, storing normal-sized baby wipes in the "water tank" is hard.
The first problem can be corrected by securing the guard with glue, which again, could be a bummer when cleaning the toilet. And when it comes to storing baby wipes, you can do that easily by removing the whole lid.
With all these features and a weight limit of 50 pounds, you can easily train boys or girls of 18 months or less.
This is one of the top-selling potty chairs on Amazon which has got a rating of 4.6/5 from more than 10,000 customers. This tells you a lot about this amazing chair.
Overall, it is surely one of the best potty chairs for big toddlers at any given time.
Watch the below video to know more about this chair.
Video by: Princess Kylie Ann
Pros
Better for training toddlers in realistic ways.
Has interactive flush sounds to acquaint your baby with the process.
Cons
Comes with a buggy splash guard.
CLICK TO CHECK PRICE ON AMAZON
---
3. OXO Tot 2-in-1 Go Potty For Travel: A Stylish Big Kid Potty Chair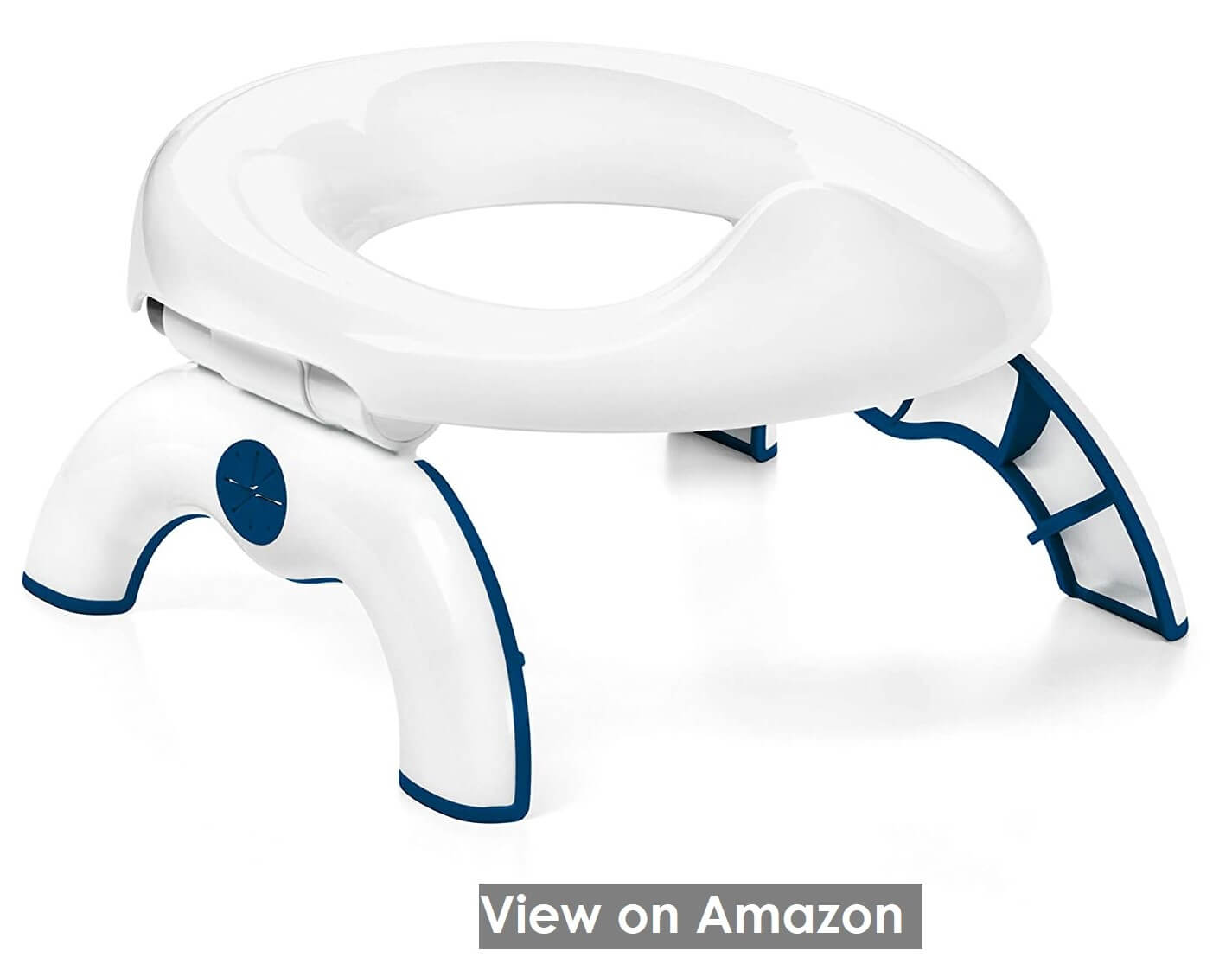 Who says potties cannot look futuristic? Just check out the OXO Tot 2-in 1 Go Potty for Travel, and you'll understand what I mean. Besides looks, this potty chair has futuristic features, too. Kind of.
A travel potty has to be lightweight and super manageable. This one is just that. At 1.4 pounds (0.6 kg), it barely has any notable weight, which could be marvelous for long trips with your toddler.
Needless to say, its dimensions of 11x 11x 2.5 inches are more than enough to house a fairly large toddler.
About managing it, the magic is in its feet. They can be folded and the product stays one-piece for easy storage in its storage bag. They can also be extended in case you run into a public toilet that you want your toddler to use.
You simply have to snap extend its legs and place it on the adult toilet seat. That's it. However, it might not always work. Especially, if your child is above 40 pounds or so. The extra weight makes the potty wobbly on toilet seats.
When managing your kid's business in the wild, you can use a disposable plastic bag as its bowl. The plastic, or whatever you deem right to use, can be secured easily by the flexible flaps in its legs. That totally wards off any possibility of a spill or splash.
You shouldn't judge its comfort because of its simple looks. It has smooth edges that, obviously, cannot be compared to the comfort of a sofa, but cannot be disregarded completely. It's just safe to say that for an outdoor potty, those edges work great.
This is one of the highly-rated chairs which has a rating of 4.8/ 5 from more than 1600 customers. You should definitely consider this chair for your big toddler If you want a stylish potty chair at a very affordable price under $25.
Pros
Unique and attractive design.
Fairly large.
Flexible and purposeful.
CLICK TO CHECK PRICE ON AMAZON
---
4. Little Colorado Personalized Natural Potty Chair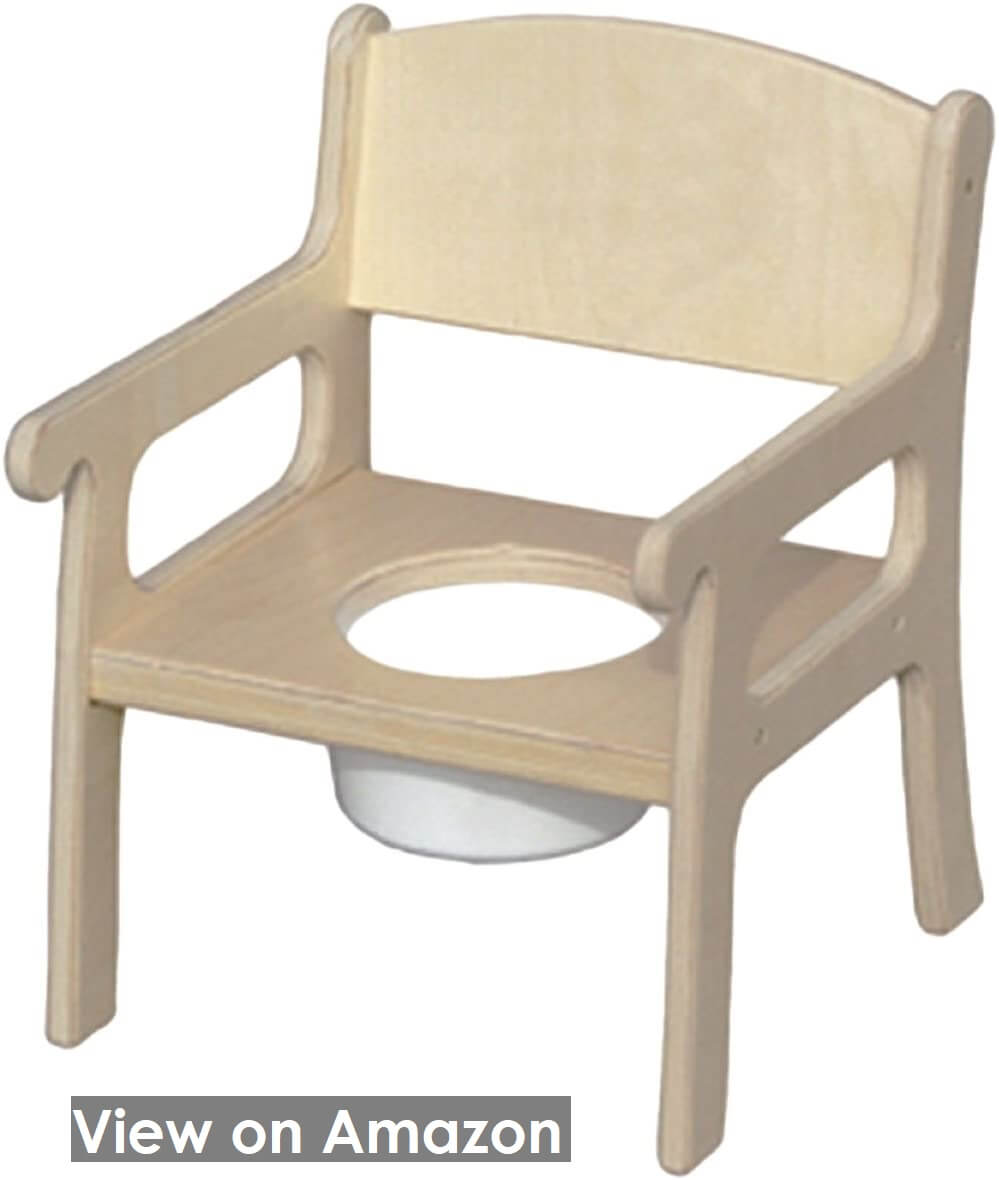 For a large toddler, the Little Colorado Personalized Natural Potty Chair could work like a miracle. It is sturdy as hell, well-built, and completely convenient for you and your kid.
At 16x 12x 13 inches, you can guess what I meant when I said it is built for big toddlers. With a larger size comes more weight and that's exactly the case here. At 6.3 pounds (2.9 kg), it is a bit heavy, but as I discussed above, that could be a revelation.
The chair doesn't have a lot of sophisticated features. It is a simple plywood chair with a circle pot. But all of its aesthetics make it worthwhile.
You see, its sophistication is evident in the way it looks and functions.
The plywood makes it sturdy to the extent that you can use it for toddlers who are more than 40 pounds.
When your baby is relieved, you can clean it by removing the pot, which kind of detaches easily. That could be a menace since it might come off when your baby is filling it. So, do buckle up for some spills if you are not careful.
Even the rest of the chair can be cleaned easily if you need to. Since its plywood, you'd only have to wipe it with a damp cloth and that's it.
Talking about its design, it is not a usual potty chair. I mean it looks like a rocking chair. For a mother who wants to help her toddler train well, this might not be a good choice.
But what could you possibly do when your toddler is heavy and plastic potty chairs just don't last? Buy this one, of course.
Pros
Extremely sturdy.
Easy to clean and maintain.
Suitable for kids up to 8 years.
CLICK TO CHECK PRICE ON AMAZON
---
5. Summer 3-in-1 Train With Me Potty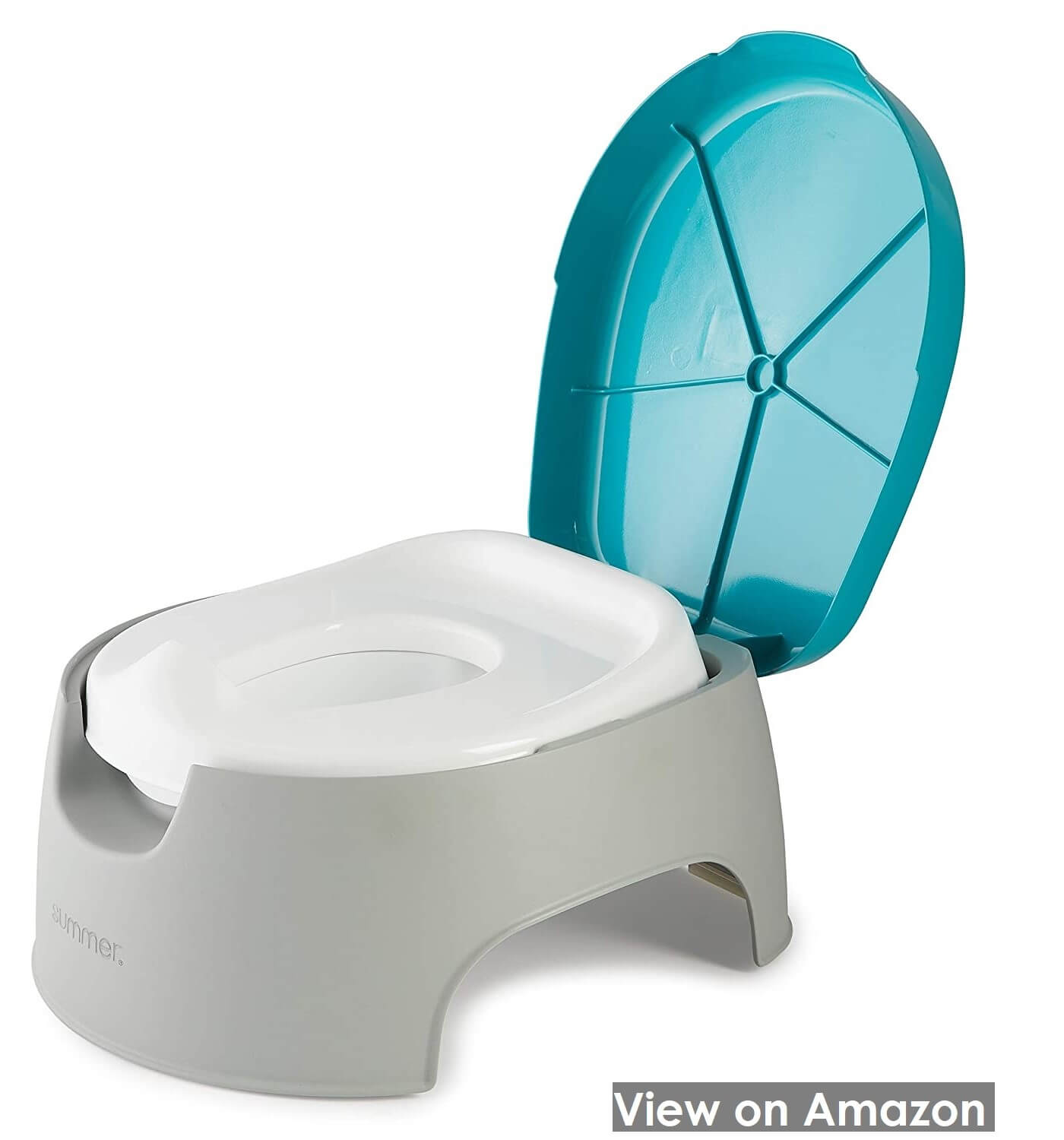 As if 2-in-1 was not enough, the Summer 3-in-1 Train with Me Potty is here to bring more versatility to your toddler's potty transitioning days. It does that well, Really.
First, the technical nitty-gritty.
It comes with dimensions of 12.7x 7.7x 14.8 inches, which is enough to even accommodate a 3 years old toddler. It also doesn't weigh a ton. At 2.2 pounds (1 kg), this potty chair can be carried around the house.
It can even become your travel mate if you understand what I mean.
But what makes it special? We must look at its 3-in-1 use.
It can be used as a standing stool when not in use.
You can use it as a stand-alone potty chair.
Since its detachable seat can be placed easily on an adult toilet seat, you can help your toddler transition to it easily.
These features do not make the chair hard to clean. In fact, the pot comes with a pour spout, which makes emptying super easy. You can even clean the rest of the chair with a damp cloth.
However, before buying it, know that there are some caveats. If you're training a boy, you might see pee spills from the front end where the pot meets the seat. Also, there's no backrest, so your kid cannot lean back at all.
That doesn't mean it's not comfortable, though. Smooth pot edges and premium plastic finish seat make up for that pretty good.
At last, I just want to tell you that this is a very good potty chair for big toddlers looking for extra features.
Pros
Convenient for big toddlers.
It comes with rubber feet for secure sessions.
It works great also as a standing stool.
Cons
Some design flaws such as the space between pot and seat.
CLICK TO CHECK PRICE ON AMAZON
---
6. Potty Training Seat by ilin:  A Perfect Potty Seat For Big Toddlers
For a 1 to 7 years kid, the Potty Training Seat by ilin could be the perfect transitioning buddy (can't believe I just said that). It is basically a toilet ring, which fits perfectly on an adult toilet.
That makes it super light. With a weight of only 1.4 pounds (0.6 kg), removing and installing it is a breeze. The installation mechanics, of course, play a huge role in that.
Its dimensions are just appropriate. That goes to say that it is neither too large nor too small. Your kid will be just fine using it for relieving himself or herself. In fact, he or she might go for it on their own after using it for two to three days.
The magic really lies in its 3 layer protection. First, it has 4 strips on the bottom to hold it from sliding and then adjustable arms to keep it from wiggling. The last layer is the handles.
For a kid who's afraid of falling into the toilet, these protective measures could do wonders. You can tell him to hold the handle and once he realizes the safety it provides, he'd just go for it without asking you.
With security comes comfort and in this case, the padded cushion backrest provides all the comfort your toddler needs.
Other features include a splash guard, a wall mount for storing the ring, and a brush for cleaning.
Pros
Perfect for kids of ages 5 to 7.
High-quality materials used.
High splash guard.
Cons
Removing and installing it is inconvenient.
CLICK TO CHECK PRICE ON AMAZON
---
7. Potty Training Seat by VIBOE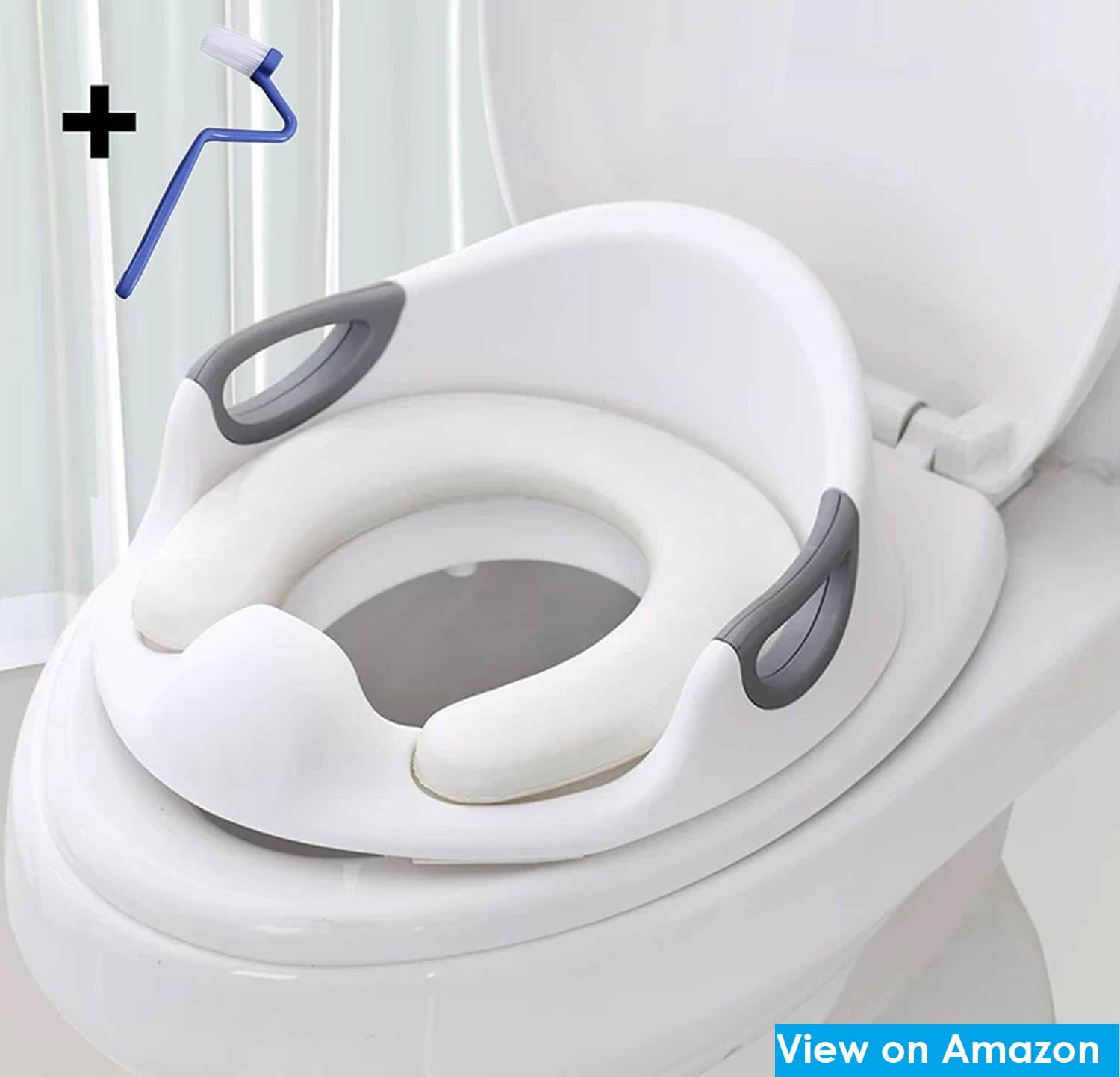 The Potty Training Seat By VIBOE comes with similar features as the previous potty trainer I talked about. However, there's a small twist, and that's in their warranty. This one comes with a life-long warranty.
How cool is that?
This potty seat is a 1.2 pounds trainer with dimensions of 14x 13x 8 inches. That means boys and girls from ages 1 to 7 can easily use it to self-potty. You know what I mean.
Installing it is quite easy. There are grip handles underneath that hold it in the right position; two handles to help your child with his or her toilet insecurity, and a comfortable water-resistant seat cushion.
Ok, that's a lot of differences.
But when it comes to the difficulty of installing and removing it, both toilet rings share some menaces. For example, you'd have to slide your hands into the toilet to remove the grip handles and hooks. Gross, I know.
Still, if you've got a clean toilet and a nice pair of gloves, that shouldn't be a problem.
Besides this, there is a second bummer. This product is not as versatile. It works fine on a round or U-shaped toilet, but it does not fare well with a V-shaped seat. There's always a small opening between it and the seat.
And yes, the splash guard works well enough.
Pros
Can last for at least couple of years.
Super easy to clean.
Cons
Doesn't come with a storage hook
CLICK TO CHECK PRICE ON AMAZON
---
Final Words
So, that was all about the best potty chairs for big toddlers. Of course, each of the above products has its merits as well as negative points. You'd just have to look at your needs and then weigh those to get to the right product. I hope this list helps you with your search.
Do let me know in the comments which potty has caught your attention or suggest some you think this list should include.
Good luck with training your little one!