10 Best Swivel Glider Recliner Chairs (Top Picks)
If there's one thing we can all agree on, it's that we live very hectic lives. But after a busy day at the mines, nothing feels better than kicking back and relaxing at home. This is why you need to transform your home into a sanctuary where you can relax and find escape from today's fast-paced world. And what better way to kick back and relax than in a super comfortable recliner chair?
A swivel glider recliner offers a cozy space where you can relax, nurse your baby to sleep, or simply sit back comfortably and enjoy your favorite movie.
The best part is that these chairs provide you with more than just reclining features. They also come with convenient swiveling and soothing gliding functions which take relaxation and lounging to an entirely new level.
The good news is that there are dozens of swivel chairs in the market to choose from. However, these chairs vary greatly in terms of prices, style, and features, making it hard to choose the best one for you. But don't worry, we've got you covered every step of the way.
Best Overall
DaVinci Olive Upholstered Swivel Glider
The DaVinci Olive Upholstered Swivel chair gets the top spot on our favorites list. This glider has a high backrest with an added lumbar pillow for lower back and head support. It glides gently and offers 360 degrees of swivel motion in addition to reclining with ease. The upholstery is of high-quality and free of chemicals, and it comes with a bonus ottoman for your feet.
Best Value
Baby Relax Mikayla Upholstered Swivel
A good swivel recliner shouldn't cost you a fortune. That's why we recommend this recliner as the best value swivel chair. The Baby Relax Mikayla is the best budget chair as it comes packed with some nice features for maximum comfort including 360 degrees swivel motion, 135 degrees recline angle, smooth glide, padded footrest, and a stylish and classy design.
10 Best Chairs Swivel Glider Recliner Reviews
---
1. DaVinci Olive Upholstered Swivel Glider Recliner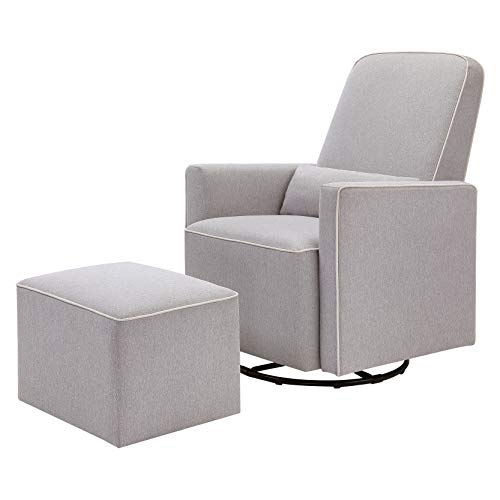 Probably the coziest recliner you could ever have, the Davinci Olive is a great  option with a high-end design. What's more, it comes with a versatile ottoman that you can use as a footrest or small table.
Key Features
When it comes to quality, the Davinci Olive recliner doesn't disappoint – it's made of 100 percent polyester material that's not only thick and durable, but also comfortable and soft on your skin too. It also doesn't contain flame retardants and toxic chemicals which makes it a baby-friendly chair.
It boasts a thickly padded high backrest with a soft lumbar pillow, giving your back, neck, and head maximum support and comfort. The seat itself has a decent size and is thickly padded, making you super comfortable even when relaxing for longer.
The sturdy metal base lets you enjoy smooth swivels of up to 360-degrees and gentle gliding for the ultimate comfort as you lure your toddler to sleep. The armrests are thickly padded to provide ample support to your arms too.
What I Like
This recliner is made using materials that are free of chemicals making it a safe chair for nursing your baby. It's made from sturdy and quality materials that ensure the recliner's durability.
This chair is specially designed to provide caregivers with maximum comfort and back support while nursing. It also allows for a smooth and gentle swivel and gliding to rock the young ones to sleep.
You don't have to worry about dirt and stains as its polyester covering is stain-resistant and effortless to clean. The ottoman ensures your feet are cozy and well-supported -plus, you can use it as a side table.
Downside
The chair's seat might be a tight fit if you're a plus size. There are no side pockets for convenient storing of your essential items.
Verdict
This is the best option if you're looking for a chair that's safe, practical and comfortable to relax on when breastfeeding or rocking your baby.
CLICK TO CHECK PRICE ON AMAZON
---
2. Baby Relax Mikayla Upholstered Swivel Gliding Recliner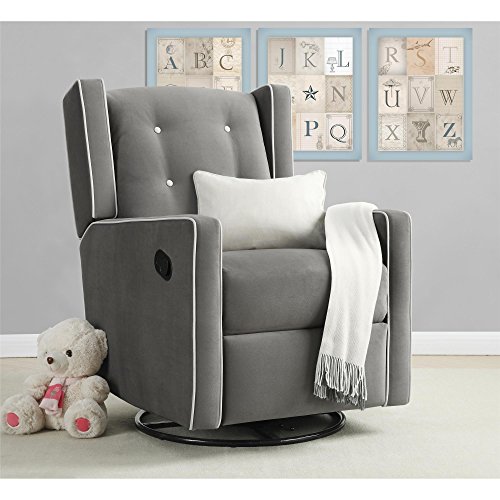 Baby Relax Mikayla is a stylish glider chair that gives you up to 3 different recline positions for a remarkably comfortable nursing experience.
Key Features
The Baby Relax Mikayla features an elegant design with a square shape and track arm style. The button tufts and welt trims add to its modern look. The chair also comes in four different color options to choose from.
Weighing about 89 pounds, this chair can comfortably support a weight capacity of up to 225 pounds without any issues.
One of it's notable features is a ball bearing design that's nicely enclosed so users can enjoy gentle swiveling and smooth gliding while comfortably lounging. The microfiber upholstery is quit durable, soft, and easy to clean.
The lever is conveniently positioned, allowing you to easily make adjustments as you wish. The chair has a spring core seat with thick foam padding for the ultimate comfort and support.
It offers 3 different recline settings, making it easy for you to achieve the most cozy resting position when you need to take a nap or when feeding your little-one. It also includes a built in leg rest that keeps your feet well-supported even while in full recline position.
What I Like
To start with, this chair is made super-easy to assemble. Similarly, the square design along with the thick padded back provides ample support and comfort to your back and head while reclining.
The seat is super comfortable and soft, which also makes it easier for you to get in and out.
The adjustable recliner enables you to make adjustments to suit your needs whether sleeping or reading. And the fabric used is easy to clean.
Downside
It might get unstable when used by heavier people. The armrests are not adjustable and may be uncomfortable while in a reclined position.
Verdict
With practical features and stylish design, this swivel recliner makes a great addition to your toddler's room or even living room. This chair is sure to keep you and your baby comfortable and well supported.
CLICK TO CHECK PRICE ON AMAZON
---
3. Naomi Home Odelia Swivel Rocker Recliner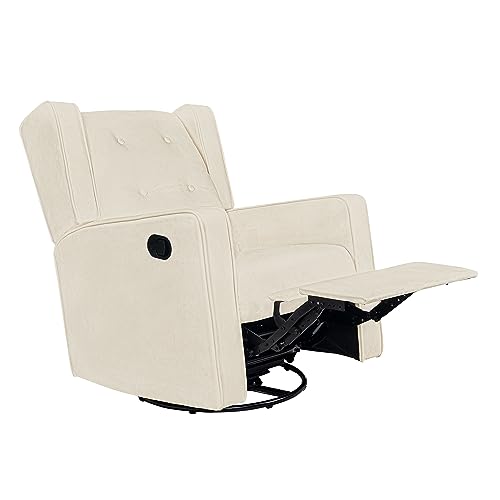 Third on our list is a product from Naomi Home, a manufacture that's well-known for producing affordable yet incredibly comfortable recliner chairs. Their Odelia swivel recliner is a stylish and classy chair packed with some amazing features for your ultimate comfort at an affordable price.
Key Features
This stylish looking swivel recliner has a square shape with an elegant welt trim, arm track, and button tufting design for the perfect finish. It boasts a plush microfiber fabric that's strong enough for longevity and incredibly soft to your skin.
It allows you to swivel 360 degrees smoothly and is designed to recline to an angle of up to 135 degrees to provide you with unmatched comfort. The lever is strategically positioned on the side, making it convenient for you to adjust the recline angle and lift the footrest for the ultimate relaxation experience.
Measuring 21 inches wide, the seat has a decent padding and provides ample room for you to comfortable sit while nursing your young one.
The padding is not overstuffed but is dense and soft enough to offer you maximum back support for endless relaxation.
What I Like
The overall design is elegant and eye-catching, making it a superb addition to your living room or kid's bedroom. The fabric is of high-quality, super soft and easy to clean. It delivers a smooth and gentle swiveling and gliding.
The footrest is not only well-padded but also adjustable for utmost comfort while reclining. This chair is also pretty easy to assemble. The lever gives you total control of the chair.
Downside
This chair may not accommodate plus size people as it has a standard size.
Verdict
This is the perfect option if you're on a tight budget and you want a reliable swivel chair for tight city living or for placing in a nook of your baby's small bedroom as it doesn't take up much floor space.
CLICK TO CHECK PRICE ON AMAZON
---
4. JC Home Swivel & Glider Recliner
A great product from JC Home's menet furniture line, this is a creamy white recliner chair with a contemporary design and nice features meant to bring comfort right into your home.
Key Features
The chair has an overall sleek and contemporary design, making it a perfect addition to your modern bedroom, living room, nursery, or even your office.
This chair has a strong chromed metal base that ensures it remains stable and sturdy enough. The seat, headrest, and backrest are thickly cushioned providing you with remarkable comfort once you sit in this recliner.
The PU bonded faux-leather upholstery is soft on your skin, spill-proof and easy to clean. The chair's recliner boast easy to use controls, allowing up to 150 degrees recline. The footrest comes up easily with just a single pull of the lever.
Besides reclining, this chair also allows you to swivel 360 degrees or smoothly glide back and forth until you fall asleep.
What I Like
This chair has attractive sleek design and upholstered leather feels nice to the touch and is quite easy to clean. The sleek design is sure to blend perfectly with your home décor. It's thickly padded, ensuring you remain super comfortable.
This chair leans back gently and smoothly, with just a touch of a button. Its metallic base ensures this chair is sturdy and can last long. The gliding and swiveling features make this chair pretty cozy and fun to relax in.
Downside
The chair's armrests could be wider for extra comfort. The material used is not genuine leather and is quite delicate.
Verdict
The JC Home Swivel & Glider recliner is an elegant and aesthetically pleasing piece of furniture with decent functionality but is sure to deliver great comfort, recline and gentle glide plus swivel.
CLICK TO CHECK PRICE ON AMAZON
---
5. Signature Design by Ashley Renley Swivel Glider Accent Chair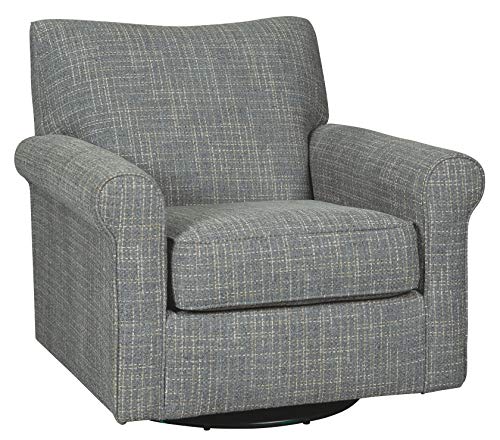 This piece of furniture is designed and made by none other than Ashley, a trusted source for stylish and affordable furniture. The Renley swivel glider accent chair features a modern-design with classical roll arms and smooth swivel feature for a casual-seating experience.
Key Features
This glider accent chair features a 360 degree swivel as well as a gentle and smooth gliding movement. It comes upholstered in polyester with a tweed weave finish.
The product weighs a mere 80 pounds and comes with a dimension of 37 x 36 x 36 inches. The backrest measures 22 Inches high and has a thickly seat cushion that ensures you enjoy utmost comfort and sufficient back support.
The swivel section is designed nicely hidden underneath the chair, which is important when you have kids in your house.
At 25 inches high, the armrests are well padded to ensure complete arm support as you relax. This glider comes already assembled, making it an easy addition when you want a last-minute purchase for your home.
What I Like
It comes already assembled, eliminating the hassle of assembling it and giving you instant enjoyment. It also has a perfect size that can fit even small spaces without any issue. The overall design looks amazingly beautiful, adding a touch of style to your living room or office.
The seat, cushion, and armrests are thickly padded, offering you extreme support and comfort. It also smoothly glides and swivels for unmatched comfort.
Downside
Not a super comfortable back – but then again, I also just got it today and i think it'll soften up as it's sat on. It has limited color options, so you might not find one that matches your home décor.
This chair doesn't include footrest support, so it may be less comfortable.
Verdict
This is a great option if you want a simple but quality glider with everything you'd need in a recliner minus the extra fancy features.
CLICK TO CHECK PRICE ON AMAZON
---
6. Madison Park Brianne Swivel Chair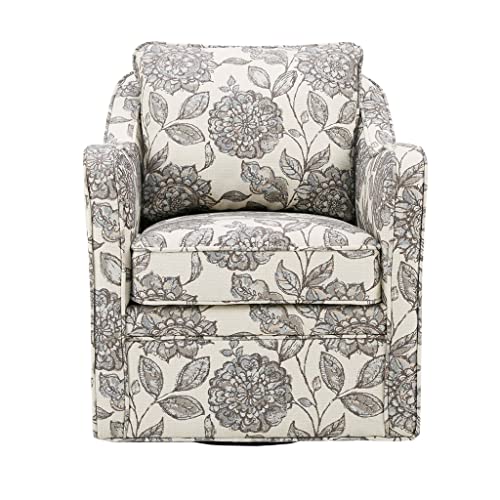 A stylish recliner is a great addition to almost any home. This chair not only boosts your bedroom's aesthetic appeals but also offers you exceptional comfort and support while relaxing.
Key Features
The Madison Park Brianne has a strong frame made from solid plywood and a metallic base for improved durability and stability.
The overall design strikes a great balance between modern and classic features, making it a great chair for nursing, lounging, or even reading.
The fabric has a multicolored floral print and is sure to match nicely with your bedroom décor.
Probably the lightest chair in this list, this recliner weighs only 70.5 pounds and can comfortably hold a 300 pounds weight capacity.
It also offers some great ergonomics for comfort such as the 360 degrees swivel motion. It measures 33 x 29.5 x 34.8 inches, offering you enough room for a great seating experience.
What I Like
The chair's upholstery is beautiful yet remarkably durable. It's designed to feel comfortable and well-supported when you're sitting. Its stylish looks make it a perfect furniture addition to your home.
The chair is stable and sturdy enough, thanks to its metallic base. It also enhances your lounging experience with it swivel feature and high-density foam filling. Similarly, there's also ample room for comfortable lounging.
Downside
The backrest could be a little higher for ample back support when used by taller individuals. And it doesn't include a foot rest.
Verdict
Despite its few cons, the Madison Park Brianne swivel chair is truly a bargain. Its design is unique and will definitely make a statement to your bedroom.
CLICK TO CHECK PRICE ON AMAZON
---
7. Monarch Specialties (White) Recliner Chair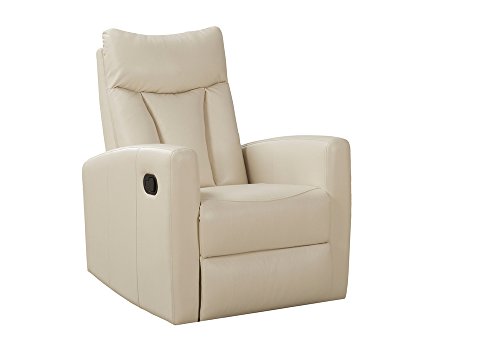 Another great budget recliner, the Monarch Specialties chair packs some outstanding features and stylish design that's sure to transform your living area into a luxurious getaway.
Key Features
The Monarch Specialties comes made from high quality bonded leather upholstery that's durable enough to withstand normal tear and wear as well as being spill-proof.
It also incorporates a retractable footrest mechanism that's strong enough to support your legs and nicely hides out of view when not in use.
A closer look at the chair's armrests and you'll realize they are not overly stuffed, which gives it a sleeker look without compromising on your comfort. The backrest, headrest, and seat are however thickly padded to provide you with luxurious comfort as it molds perfectly to your body's shape.
The lever is well-positioned close to the armrest, putting you in total control of the chair at all times. It smoothly glides back and forth, which is vital when you need extra comfort and also swivels 360 degrees without any issue.
Measuring 36 x 29 x 40 inches, this chairs not only gives you ample back support but also enough room to fit when seated.
Moreover, this swivel glider recliner is good for not only relaxing or for living room but also for nursing the baby. Other than that, the company also provides you with better customer services.
What I Like
This recliner has a quality construction that can last long and its elegant design can easily complement your home décor. It includes a cozy headrest that's not overly stuffed. The recliner works perfectly without any issue. It's also pretty easy to assemble the chair.
It offers you tremendous versatility in terms of swiveling, reclining and gliding, making it ideal for nearly any purpose. The lever is strategically position for convenient control. The metallic chrome base is sure to keep the chair stable throughout.
The chair is not overstuffed and uses soft material for endless comfort. It's also designed using a material that's easy to clean just by wiping it down with a wet cloth.
Downside
This may not be the best swivel chair for heavy usage as it can malfunction at times. The footrest could be made better when it comes to ease of closing.
Verdict
This can be the perfect option if you're looking for a compact stylish chair with features such as swiveling, reclining, and gliding along with not being overly stuffed.
CLICK TO CHECK PRICE ON AMAZON
---
8. Pulaski Gliders Strathmore Ocean Recliner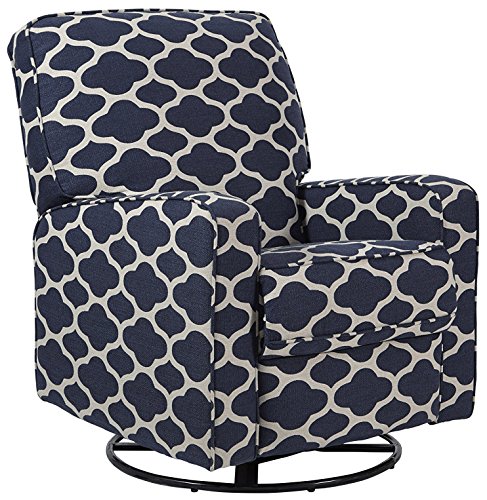 Pulaski is a reputable manufacturer in the furniture industry, and this contemporary swivel glider chair is a masterpiece with incredible features.
Key Features
First, this chair boasts thick padded arms, backrest, and seat to ensure your get maximum comfort whenever you sit on it.
The chair is made with hardwood frame, while the upholstery material is soft, long lasting, and detailed with chic Moroccan quatrefoil pattern to add charm to your interior décor. These unique elements are perfect for a living room.
In addition, the seat has heavy-duty drop-in pocketed coils to ensure the seat does not sag over time. And its reclining mechanism offers smooth reclining, rocking and swiveling as well. This feature makes it ideal for nursery use and relaxation.
Another cool thing about this chair is that the backrest is fully adjustable, which allows you to easily lean back as you rock your baby.
What I Like
The generously cushioned arms provide more comfort and relaxation, while its premium fabric is easy to clean and durable.
The chair's smooth gliding and 360 degrees swivel features allows you to move easily.
The recliner is quiet and applies a pull string to recline and it's quite easy to put it down as well making it a great option for rocking sleeping babies.
Moreover, it has a visible hoop at the bottom, which allows you to see anything that falls underneath and you can get them without moving the chair.
Downside
It is a little difficult to close the footrest and requires you to use more force, which can wake the baby up.
Verdict
This chair is affordable, reliable and simple. The finish – breathtaking, and it comes with incredible features making it ideal for nursing parents or for casual relaxation.
CLICK TO CHECK PRICE ON AMAZON
---
9. Ravenna Home Pull Recliner With Rotating 360 Swivel Glider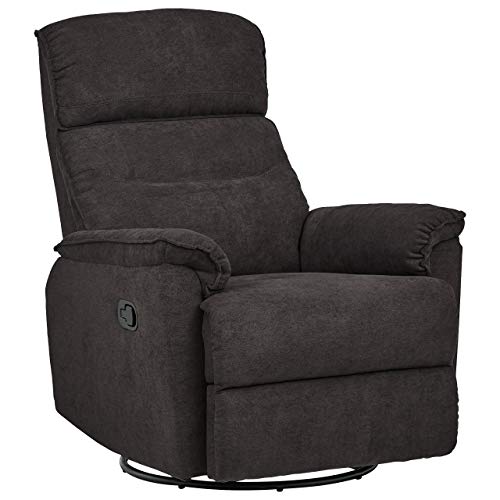 Key Features
The Ravenna Home Pull Recliner is a simple, dark grey chair made from a hardwood frame, microfiber upholstery and generous foam padding. This guarantees that it is not only sturdy, but also quite soft and comfortable. Similarly, the manufacturer made sure to build a smaller model that won't crowd your living room or nursery. The dimensions measure 32.3" by 39.4" by 40.9" making it the best option if you want something that will blend into a room.
This modern recliner boasts of reclining features in addition to rocking back and forth and a 360 degree swivel function. The fabric upholstery might seem like a cleaning nightmare, but it's actually quite easy to clean.
As for the assembly, it only takes 10 minutes and you can enjoy your new chair.
What I Like
If there's one thing that Ravenna is good at, it's building furniture that lasts with a unique, timeless style. Not only does the company make great furniture for lower prices, they also make sure their chair look good year after year.
But what I really like is just how much weight this small recliner can haul. Looking at the reviews, customers as tall as 6 ft and as heavy as 225 pounds managed to use the chair quite comfortably. The seat is also firm while the footrest pops out like a breeze. All in all, the manufacturer definitely didn't lie to their customers about the sturdiness of this beauty.
Downsides
Some customer have complained that there are a few issues here and there. For instance, the reclining mechanism pops up hard as opposed to easing you into it. Fortunately, that's not a really huge problem once you get used to it.
Verdict
If you are looking for a chair where you can enjoy watching, reading or to just chill as you talk with family or friends, you can never go wrong with this Ravenna chair. And don't worry too much if you're a bit on the plus size side. You can recline and swivel in the Ravenna all you want without having to worry about toppling over.
CLICK TO CHECK PRICE ON AMAZON
---
10. HOMCOM Polyester Linen Fabric Recliner Chair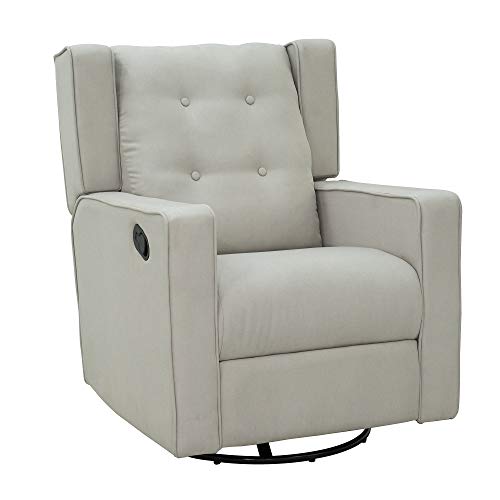 If you are hunting for a swivel glider recliner to relax after a long work day and to alleviate pain on your lower back, this is your perfect choice. Among the many appealing features of this chair, the most striking is the massage feature incorporated into its design.
Key Features
The recliner has four robust massage motors with a wired remote control, and comes with various massaging options depending on your needs. For example, five massage modes, four target zones including thighs, upper and lower back and curves, two levels of intensity (high and low) as well as heating for lumbar support.
It comes with comfortable upholstery made with soft polyester linen material. Besides, the seat, armrests and backrest are padded with high-density and fireproof foam sponge to offer maximum comfort and relaxation. The pitch-perfect lines and the attention to detail on the upholstery add elegance and class any room up.
The best part? It comes with a side pocket and front pouches, where you can put all your accessories. As an added bonus, there are two cup holders for your drinks as you relax. In addition, its quiet and sturdy construction makes this chair an ideal option for rocking.
What I Like
The upholstery materials are fire-retardant to ensure increased safety. Plus, it is adjustable to fit your needs and the swivel mechanism ensures you have maximum comfort.
Downside
It is difficult to close the foot recliner and it's quite loud when shutting it.
Verdict
If you are looking for a recliner that will take away all your stress as well as make a statement in your house, this is your go-to option.
CLICK TO CHECK PRICE ON AMAZON
How To Choose The Best Swivel Glider Recliner?
For the past few decades, swivel glider recliners have consistently become the most coveted spot in a home. They are their owner's buddy because it is exquisite, offers unmatched comfort and comes with functional and appealing features.
It is a comfortable chair that you can hop into and make a huge difference after a long day. And with rapid improvement of technology and new trends, recliners have transformed as well. From powerful features to the ability to save space, this masterpiece continues to be a reigning champion in most households.
However, when it comes to choosing the right swivel glider recliner, you will stumble upon many different chairs from different brands. Although price is often the main decisive factor, it doesn't mean that you sacrifice your comfort.
And since most swivel glider recliner have the same design; don't rush to make your decision. You need to consider the following features to choose the right recliner that meets your needs and comfort. With this information on your fingertips, you will be a step further from choosing a glider that best suits you.
A. Fabric Options
When it comes to upholstery of a recliner, you will find a wide array of options to choose from. There are natural fabrics such as cotton, synthetic option like microfiber and there are leather options too. However, the best material solely depends on your personal preference and lifestyle.
B. Armrests
Armrests are important elements when choosing your recliner. Armrests should be comfortable and spacious with enough padding. You can also consider an adjustable armrest so that you can raise it as high or as low as you desire.
C. Durability
Recliners are pieces that people intend to use for several years. So, choose a sturdy and durable glider with a reinforced steel frame, high-quality and heavy-duty components, high-quality cushion material and robust motors that can last for long and offer you great service.
D. Easy To Wash
Any chair is prone to dirt and that's why you need a glider that's easy to clean. So look for one that has a washable and detachable cushion cover.
E. Locking Mechanism
Although not all gliders have this feature, it is an incredible one to have. A great locking mechanism ensures the seat is steady enough and can stay in one position when you recline. It also makes sure that you are balanced so you can easily get on or off the seat. It also prevents the seat from moving when not in use.
F. Size
Gliders are available in various sizes. That's why you need to consider the proportion between the size of your body and that of the seat. It's advisable to choose a glider that comfortably fits your body size.
G. Versatility
Choose a chair that features swiveling, reclining and gliding mechanisms. Swiveling offers you a 360-degrees view of your room while a reclining chair offers you with different reclining positions for optimum comfort. Also ensure that the recliner has locking mechanism on each recline to enhance steadiness.
FAQs About Swivel Glider Recliners
1. What is a swivel glider recliner?
A swivel glider recliner is an ergonomic chair with a sturdy circular base that features a unique mechanism with ball bearings allowing the chair to rotate 360 degrees. It also reclines often up to 150 degrees and can gently glide back and forth.
2. What are the differences between a glider and a rocker chair?
A rocker chair typically features a base with two curved bands that allow for a smooth rocking motion in an arched path. A glider chair, on the other hand, allows for smooth back and forth motion while the base remains stationary.
3. What are the benefits of a swivel recliner glider?
There are numerous benefits that come with using a swivel recliner glider. Some of these include;
Since they are ergonomically designed, recliners provide full body support, taking the pressure off your back while you're reclining or seated upright.
This can hugely help relieve your back pain, improve blood circulation, and alleviate migraine pain.
The smooth gliding motion can help you soothe your baby during feeding or help lure them to sleep pretty fast and effortless.
The chair is also designed to keep you comfortable and well-supported while nursing your baby, keeping you less tired for a longer time.
With thickly padded armrests, footrest, seat, and backrest, this chair eliminates stress on your knees, feet, ankle, elbows, and thighs, ensuring you're comfortable as possible.
The reclining function allows you to rest in a flat position, which is great when you need to take a nap.
4. Is a rocker or glider better?
While both offer a great rocking motion, gliders seem to offer a smoother and gentler ride. Unlike a rocker, a glider is designed not to trap your toes underneath.
Conclusion
There you have it! We hope our guide has helped clarify things for you before going out to shop for the best swivel glider recliner out there. Whether you're on a tight budget or you're ready to spend on a high-end product, we believe our selection has the best swivel recliners you can find out there.
These chairs are elegant and incredibly durable for long term usage. Choosing one of these chairs you're guaranteed of getting a comfy and pocket- friendly recliner for your needs.