12 Best Chairs For Studying: Buyer's Guide
Studying can last for just several minutes or stretch for hours on end. Instead of being uncomfortable and always adjusting your posture, you need a comfortable chair to focus on your studies. This is one of the most important aspects of studying that many people ignore at the earlier stage only to face many issues while studying. Don't be one of them. Instead, Get yourself one of the best chairs for studying by investing a reasonable price and forget about those long, uncomfortable and painstaking hours.
You don't need to have a big budget to get the best chair. You can easily get a decent chair at an affordable price. I'm sharing both cheap and premium chairs on this list. So be sure to choose the right option based on your requirements and budget.
Let's see which chairs made the cut this year…
Top 12 Chairs For Studying
Preview
Affordable Pricing

Value for Money

Name
Office Chair Ergonomic Cheap Desk Chair Mesh Computer Chair Lumbar Support Modern Executive Adjustable Stool Rolling Swivel Chair for Back Pain (Black)
Duramont Ergonomic Office Chair - Adjustable Desk Chair with Lumbar Support and Rollerblade Wheels - High Back Chairs with Breathable Mesh - Thick Seat Cushion, Head, and Arm Rests - Reclines
Affordable Pricing
Preview

Name
Office Chair Ergonomic Cheap Desk Chair Mesh Computer Chair Lumbar Support Modern Executive Adjustable Stool Rolling Swivel Chair for Back Pain (Black)
Value for Money
Preview

Name
Duramont Ergonomic Office Chair - Adjustable Desk Chair with Lumbar Support and Rollerblade Wheels - High Back Chairs with Breathable Mesh - Thick Seat Cushion, Head, and Arm Rests - Reclines
Note: Due to some technical restrictions, I have added only the top 5 products in the table. You can read about other products after those ones.
 1. Raynor Ergohuman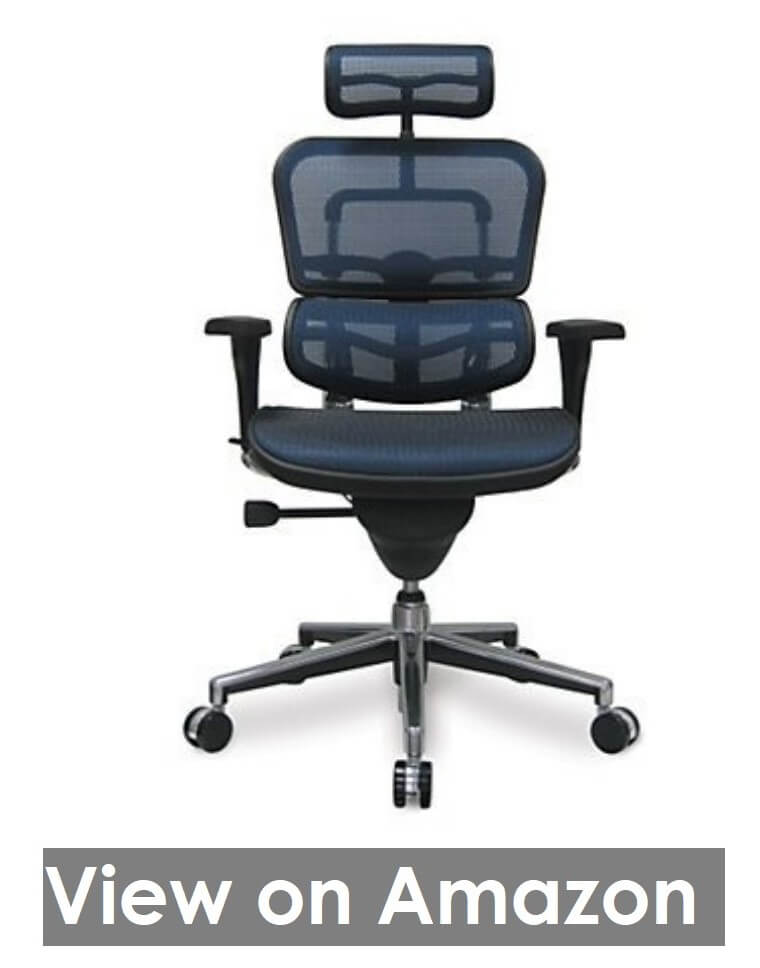 The first slot belongs to this amazing Raynor Ergohuman. At 64 pounds (29 kg) and 26 x 27.5 x 51 inches, this is surely one of the best chairs for long hours behind a book. This is a premium chair that costs around $700 but I have to say – its worth the price for sure. This could be a great investment at least for a decade.
First of all, everything from its frame to its mesh is built to provide comfort. You get a frame that can be easily assembled with 2 bolts, and casters that roll like butter on a pan.
Next, your body can breathe a sigh of relief because it won't be suffocated anymore, thanks to its breathable mesh. The chair is perfect for frequent sweaters. Besides its super comfortable mesh, its versatile adjustments can help you sit comfortably at a variety of angles.
You can literally adjust the back to 3 positions that will help you change your positions and fend off boredom. Not only that, if you've slouching problem, then the chair comes with a tension control adjustment that can help you sit straight by keeping the recline stiff. You can, of course, adjust it otherwise if you want to recline a bit.
However, know that some of the customers have mentioned you cannot recline far enough to be in a comfortable position.
This chair would work for you no matter what your height is. This is courtesy of its adjustable height and armrests. But if you don't need the armrests at all, you can simply get rid of them for your own good.
Pros
Ergonomic chair with high headrest.
Durable.
A lot of adjustment options.
CLICK TO CHECK PRICE ON AMAZON
---
2. BestOffice Black Desk Chair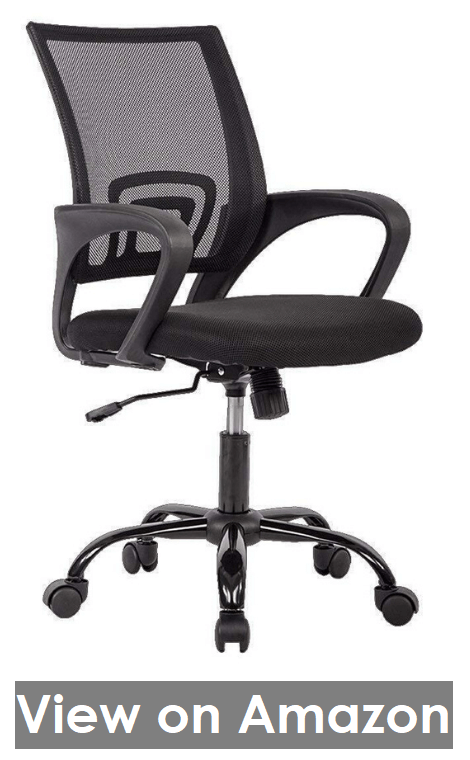 At 26 pounds and with a good price point, this is one of the lightest and the cheapest models in the market right now. Also, it is one of the bestselling and top-rated Home Office Desk Chairs with a 4.2 average rating from over 4500 reviewers. It is, therefore, safe to assume that the price is not a reflection of the quality. So what is it that makes this chair special? 
As far as the design goes, it has a pretty classic padded chair, mesh back and plastic armrests. These offer decent amounts of comfort but nothing too special; especially when compared to other models on the market.  
The mesh back in particular features a convenient ergonomic design that offers additional lumbar support. This comes in handy if you have back problems but you still want to put in long study hours without hurting yourself.  
It also comes with 360-degree swivel wheel casters on the starfish base. This offers sturdy support and the convenience of mobility but again there is nothing special about it. You also get a pneumatic height adjustment system to alter the height for perfect reach to your desk.  
What is probably the only unique feature with this chair is the versatility when it comes to aesthetics. It is available in a wide variety of colors which offers you options based on your preferences. You can go with classic black for a muted effect or you can go for scream energy with a pink or orange option – whatever your heart desires.  
After all is said and done, there is no specific feature that stands out that would explain this chair's popularity. If you are looking for something well-built and with as many comfort features as possible then this might not be the chair for you. However, if you want a decent and low budget buy then the Best Office study chair will definitely not disappoint.
Pros
Very easy to assemble.
It comes with important spares.
Extremely cheap and affordable.
Cons
Might not be very durable.
No additional neck support.
CLICK TO CHECK PRICE ON AMAZON
---
 3. Hbada Ergonomic Office Recliner Chair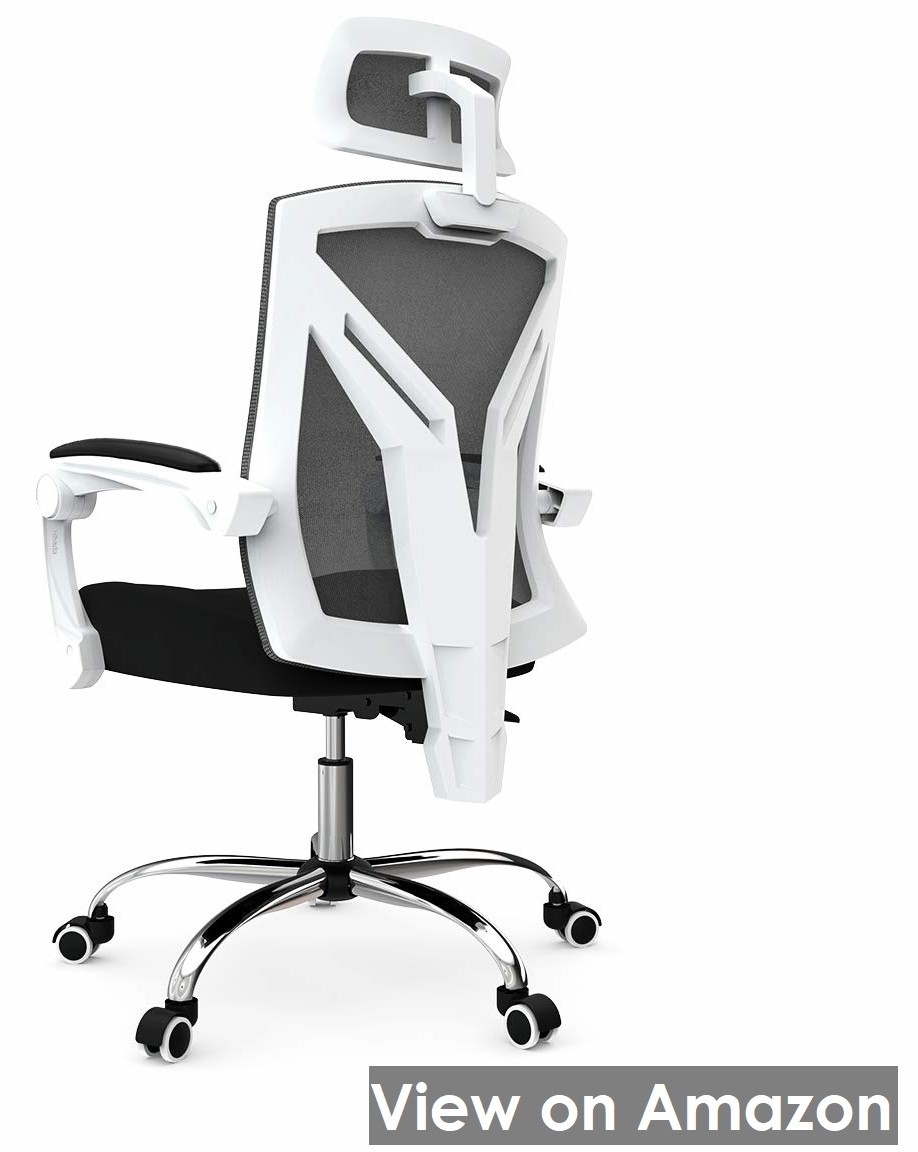 Right off the bat, the Hbada Ergonomic Office Chair stands out with its reclining capabilities. This is controlled by a flexible tilt and lock mechanism that allows you to find the most perfect position for you to be comfortable in. That way, you can easily turn your study desk into an entertainment space to reward yourself for your hard work. As if this wasn't enough, you also get to enjoy the benefits of an adjustable headrest and footrest. That way your entire body is supported when in the reclining position.  
However, it was not built just to be reclined on. When you do decide to get some work done, you will have the ergonomic backrest and thickly padded seat to look forward to. These are designed not only to offer comfort but support your back. That way you don't have to worry about things like leg numbness or back strain from seating too long.  
In terms of aesthetics, this chair looks like something right off the set of a Star Wars film. The mesh back is reinforced with a deep V frame that in addition to offering support fives the chair a cool look. You will appreciate this feature on the white and black options with the contrast doing a lot to enhance this feature.  
And the best part?
You get to enjoy all this at a good price.
I would suggest you watch the below video to know more about this amazing chair.
Video by: JeremySiers
Pros
Cheap pricing.
Very attractive and good looking design.
Cons
It is not very stable in full recline position.
CLICK TO CHECK PRICE ON AMAZON
---
 4. Herman Miller Sayl Task Chair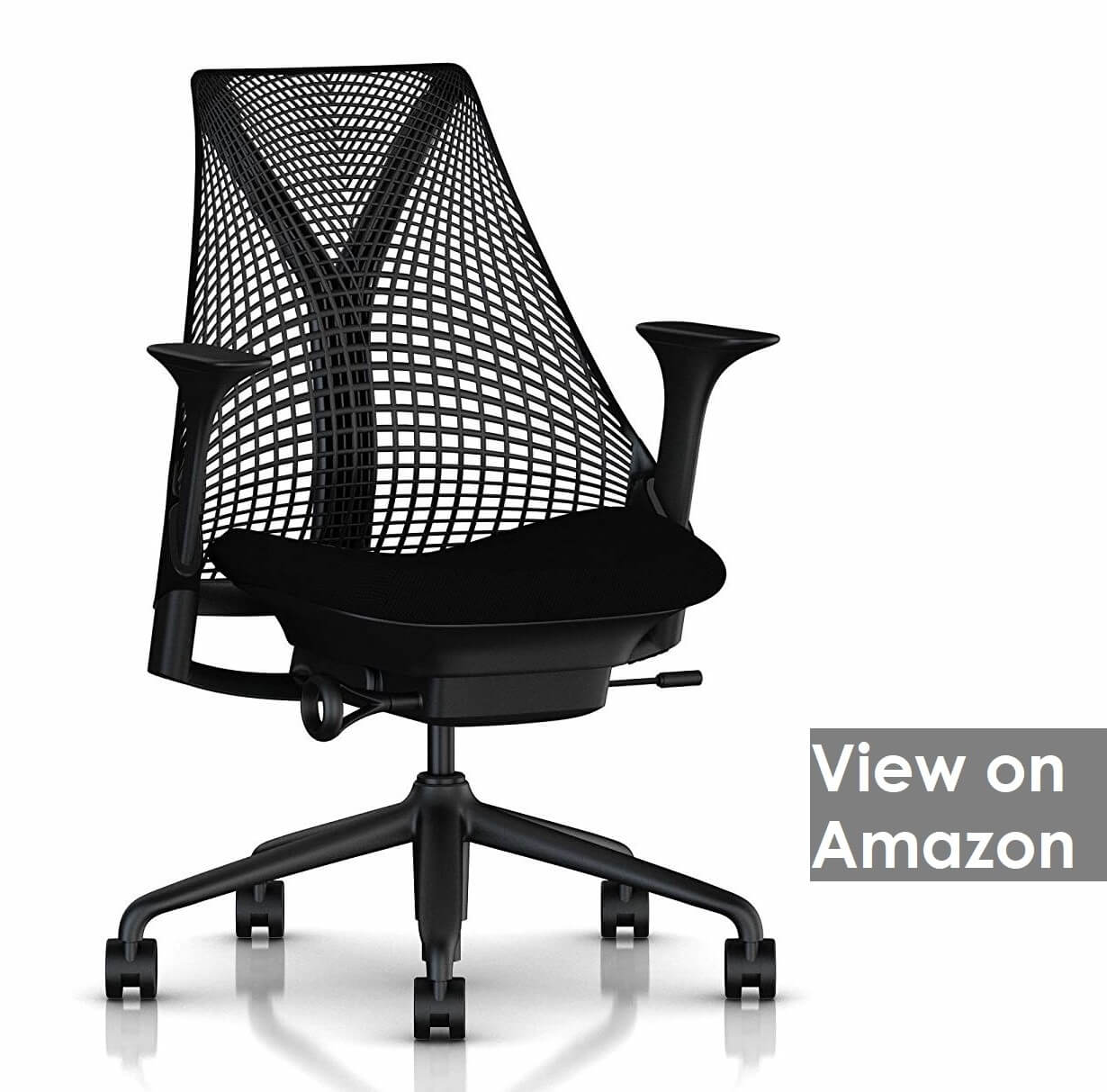 Who says you cannot study in style? The Herman Miller Sayl Ergonomic Office Chair is meant to deliver style along with comfort and limited adjustment options.
This chair is less expensive than the first one I've talked about above, although it's still going to be heavy on your pocket for a chair. But again, it's totally worth it.
38 pounds (17 kg) of weight and 26 x 24.5 x 37 inches of dimension says a lot about its unfriendliness when it comes to moving it or the space it requires. However, if you're only into features that could help you study well and for long, then know that Herman Miller has made this chair suitable for that.
Talking about the suitability, the first thing that comes in my mind is its ArcSpan and Y-Tower. You may say they are just fancy names, but they aren't. As soon as you sit on it, you'll feel how it takes the shape of your back and how relaxed your spine feels.
But don't over expect from it as some customers have complained about the stiffness of its back and its shortness – which together makes a good case for neck stiffness.
They have also complained about the quality of the overall material used. Its plastic mesh that can help you stay active for long hours, but at the same time, you'll get the imprints of it. If you can live with that, the chair is nothing short of a classy miracle.
I call it classy because of its design and I have mentioned this earlier as well. It is a modern-looking chair. This vibe will make you study well enough.
With all of its prettiness, though, in a year or two of use, you may find its armrests disintegrating. Many customers have talked about this in length. Since they are sort of rubber pads with short rigid plastic underneath them, you may see them go in pieces from the front.
Overall, I have to say that this is a very good chair for studying.
Pros
Incredibly comfortable.
Stylish and unique.
Breathable mesh.
CLICK TO CHECK PRICE ON AMAZON
---
 5. Mid-Back Black Mesh Swivel Task Chair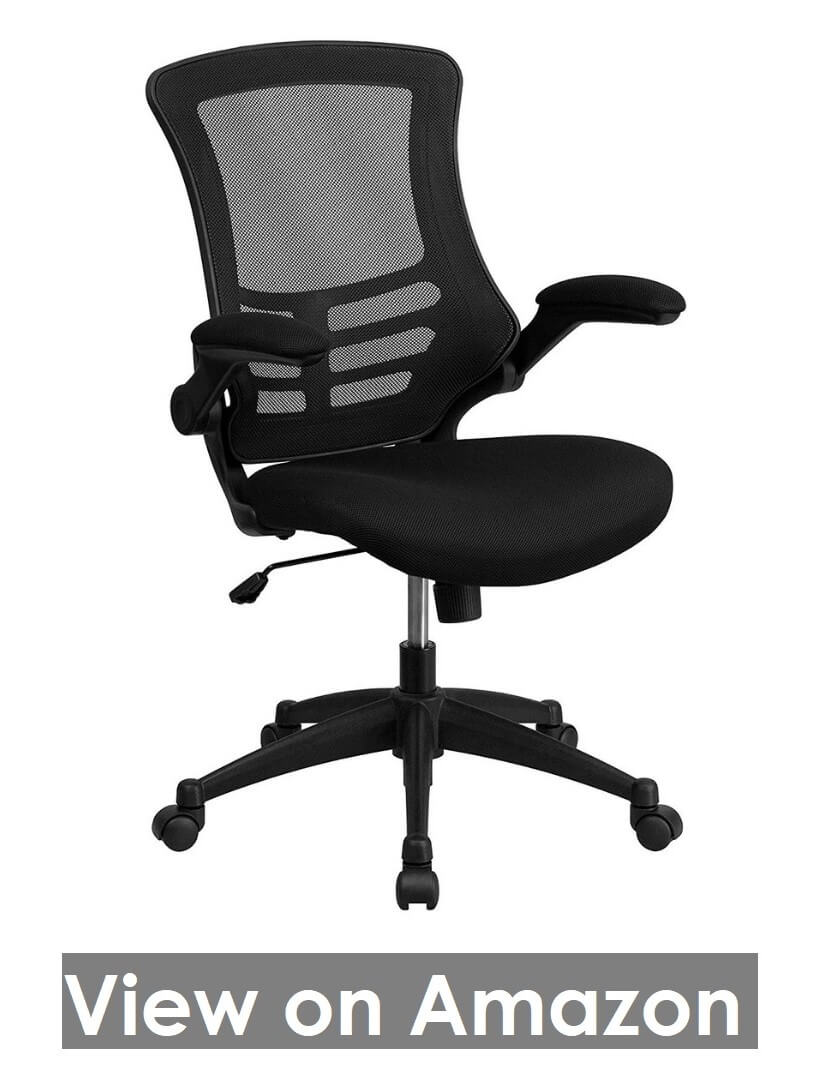 If you have a very small budget like $100 or so, we've got you covered with the Mid-Back Black Mesh Swivel Task Chair. It is one of the best chairs for study you can get right now. At the price, it offers a lot of stuff which you simply can't ignore. This chair is rated by over 2000 customers and has 4/5 ratings on Amazon which tells you the popularity of this amazing chair.
This is surely one of the best study chairs for students at a very low price.
Let's see what features you got to look forward to.
This is another chair to correct your posture if you slouch a lot. Whether you are studying or doing some other task, it will keep your back upright. However, for its price, it lacks some adjustment options and the material is cheap.
The chair is super light at only 11 pounds (5 kg) and it is the lightest chair on this entire list. Coupled with that, its dimensions of 34.4 x 26.2 x 25 inches will not keep you from studying in small corners. This means it won't take a lot of your room space.
All is not lost in the seat compartment as it has a "waterfall design" that removes excessive pressure from your thighs and legs and lets the blood flow well enough. You can sit at a medium height desk, but if you're using a tall desk, you'd find the seat can't be adjusted much higher.
Moreover, the armrests will also tend to hit your tall desk and sorry to say, they are not height adjustable. I like how you can flip them up if you don't want to use them, but at the same time, I hate that you'd have to keep them there because of their awkward height.
Other features include a tilt mechanism, which functions well. However, as much as it's mentioned, there is no tilt-lock in it. I mean you can lock the chair in straight position but not in tilt position.
Pros
Perfectly suitable for studying.
Extremely lightweight.
Cons
No tilt lock mechanism.
Low seat height.
CLICK TO CHECK PRICE ON AMAZON
---
 6. AmazonBasics High-Back Executive Chair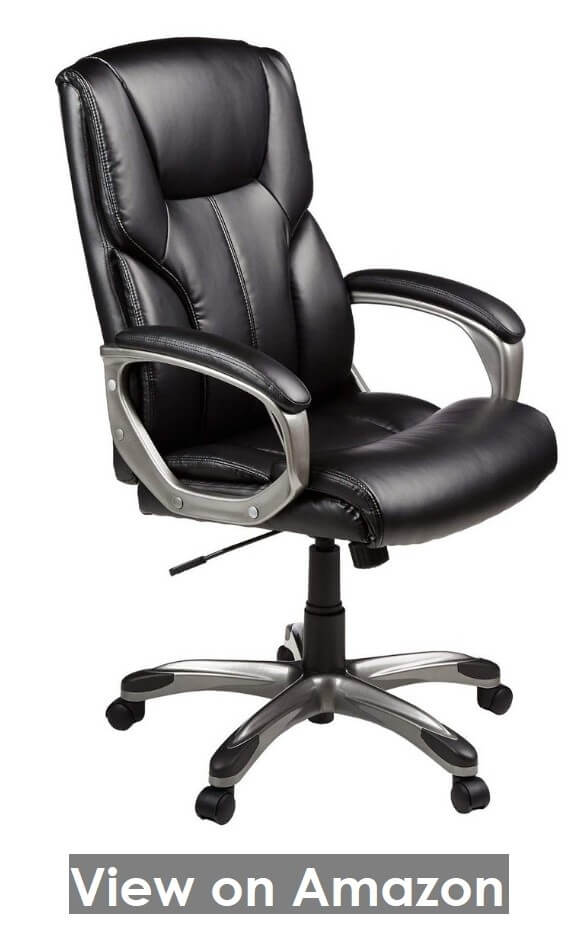 You are now looking at the majestic AmazonBasics High-Back Executive Chair which holds the #1 position in the best selling chairs list on Amazon right now. It is rated by over 3500 customers with the rating of 4.1/5.
Let's dive into the details of this chair.
As you may have noticed, the chair is humongous with dimensions  30.7 x 27.6 x 45.1 inches. Unless you can spare a large space in your room, you may want to buy a smaller chair.
Its huge size does not make this chair unusable. In fact, Amazon has managed to make it super comfortable for its price. You will find studying on this chair comfortable even if it's for 10 hours.
Also, this comfort will still feel as new even if the chair gets 5 years old. However, as the chair gets older, you might see its fake leather coming off and cracking. You need to keep this thing in mind before getting this one.
That's a bummer, indeed.
You have to give it to the manufacturers for making this chair very adjustable. You can adjust its height from 41.34 to 45.08 inches. Also, there is a tilt mechanism in it and you can control its tension with a knob.
That could be good for you if you fidget a lot or change positions. However, if you are looking for adjustable armrests, you might be in for a disappointment.
It can support your neck and head well and give you the comfort you need. However, it's going to start squeaking as it gets older.
Overall, I must say that this is one of the top chairs for studying at a very cheap price. Even If you are a teacher, this chair will be suitable for you.
You can read more about this on BusinessInsider.
Pros
Great value for money.
High backrest.
CLICK TO CHECK PRICE ON AMAZON
---
7. Duramont Ergonomic Adjustable Office Chair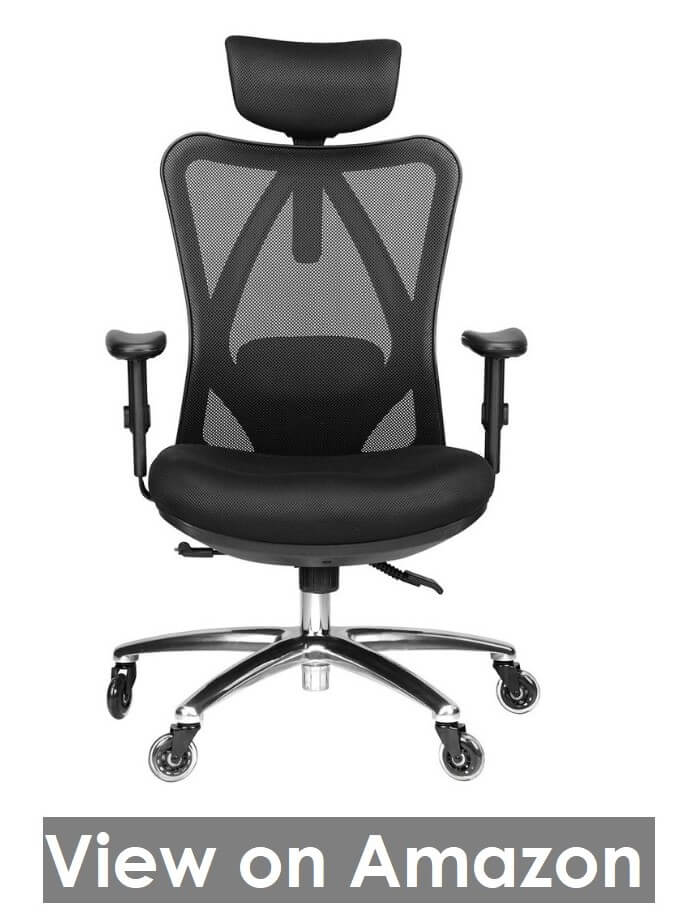 At its current price point, this is easily one of the most expensive options on this list of study chairs. But is it worth it? Does it offer enough comfort, convenience and aesthetics to  justify the tag? Well; you're about to find out.  
At first glance, this Duramont office chair has a pretty quintessential look to it. It has all the makings of a classic desk chair from the padded seat and mesh back to the simple black finish and pneumatic height adjustment feature.  
However, on closer inspection of its specs, you will notice that this is not an ordinary chair. One of its main standout features is the rollerblade design of the caster wheels. These offer smoother gliding both on the carpet and bare floors. This will make that quick slide to the other end of your table for a book you left behind a lot easier.  
If you are one to take long study sessions then you will definitely appreciate the presence of a headrest on this chair. This is not a very common feature in both old school and modern designs. Hence, it makes this model stand out. The best part is that you can easily adjust the height of the headrest. That way you do not have it awkwardly sitting on your neck or the top of your head because of your height.  
Pros
It offers great lumbar support.
It has multiple adjustable dimensions for customized comfort.
Cons
Low quality construction which compromises on the durability.
CLICK TO CHECK PRICE ON AMAZON
---
 8. Furmax Ribbed Office Desk Chair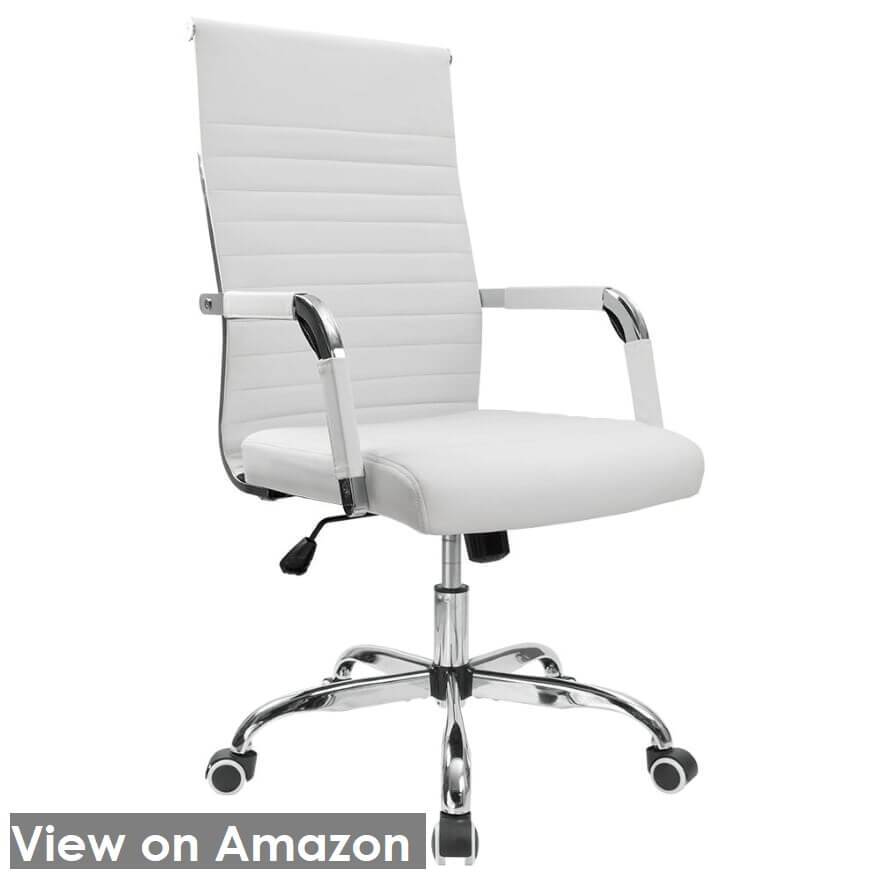 The first thing that hits you about Furmax Ribbed Office Desk Chair are its aesthetics. The white Pu leather gives it an elegant and professional finish. This might be a little bit much for your simple at-home study space but if you are looking for that extra touch then, by all means, go for it.  
You would think that something that white is just one spill away from being your worst nightmare. However, the leather is water, stain and fade resistant. So you don't have to get a heart attack when you spill some coffee on it on that all-nighter.  
This chair is designed for comfort and convenience with features like the wheeled legs and 360 degrees swivel. This is ideal for you if you are a restless study and you like to have breaks where you just lean back and move around. You will also really enjoy the study chair's rocking mechanism that allows you to rock back and forth between 90 degrees and 120 degrees.  
If you are a fan of thickly padded chairs then you appreciate the 3.15-inch thickness of the seat. However, you might be disappointed by the fact that the chair's backrest and armrests are unpadded. Fortunately, it makes up for this with the ergonomic design meant to complement your natural body contours.  
Pros
It offers great aesthetic value.
The leather is durable and easy to maintain.
Cons
The comfort on this chair is limited.
CLICK TO CHECK PRICE ON AMAZON
---
9. Alera Elusion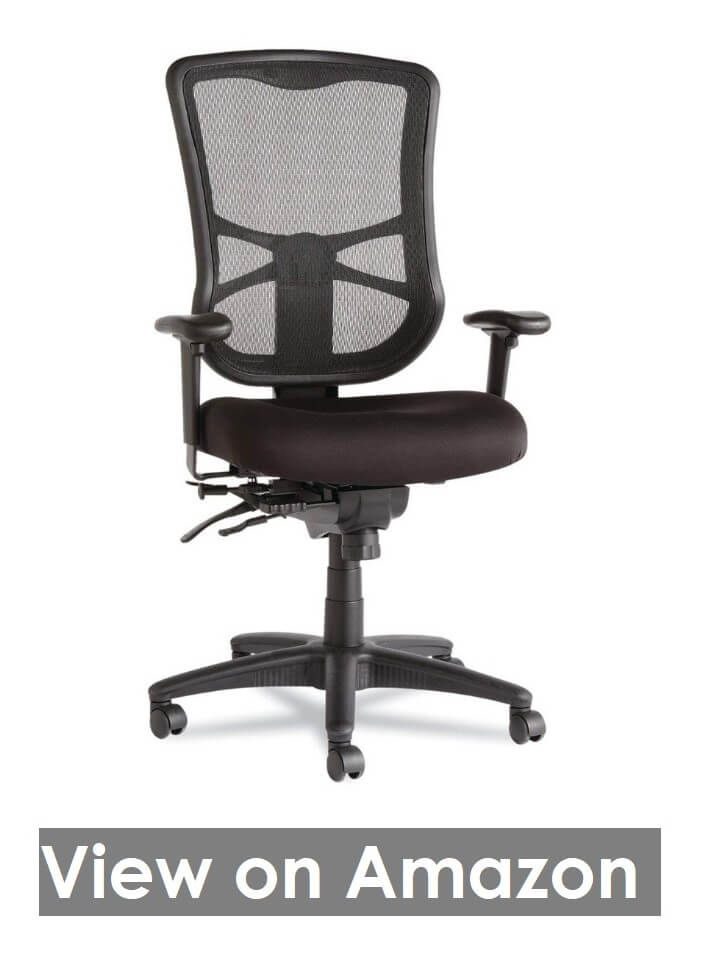 Alera Elusion is the kind of chair that stays with you for a long time. It is highly adjustable and incredibly ergonomic. It is priced reasonably well and offers you great comfort while studying.
Weighing 57 pounds (26 kg), the chair is a bit heavy. Moving this chair in your home or room could be a headache for some people. Unlike the chairs I have reviewed so far, this one is smaller. It won't take much space in your study area.
You can adjust its lumbar support relative to the seat. You can slide its seat forwards or backward, and you can even adjust its armrests for your liking.
The casters are well placed and fluid and you won't have problems dragging it. You'd also have no problem sitting comfortably at a tilt position and locking it. But there are some caveats.
For example, all of these drool-worthy features will give up on you as the chair gets older. Its comfort will stay intact, as it has for some customers, but its adjustment options won't be "lock it and forget it" anymore.
You may have to compromise on constantly adjusting it and listening to its squeaking. And possibly, that's why you'll buy a new one or claim your warranty.
In the end, I just want to say that this is one of the best chairs for studying which is affordable and provides great value for money. You can also read my full review of this chair to know more.
Pros
Highly adjustable.
Perfect ergonomic.
Cons
The overall quality should've been better.
CLICK TO CHECK PRICE ON AMAZON
---
 10. Bellamy Executive Bonded Leather Office Chair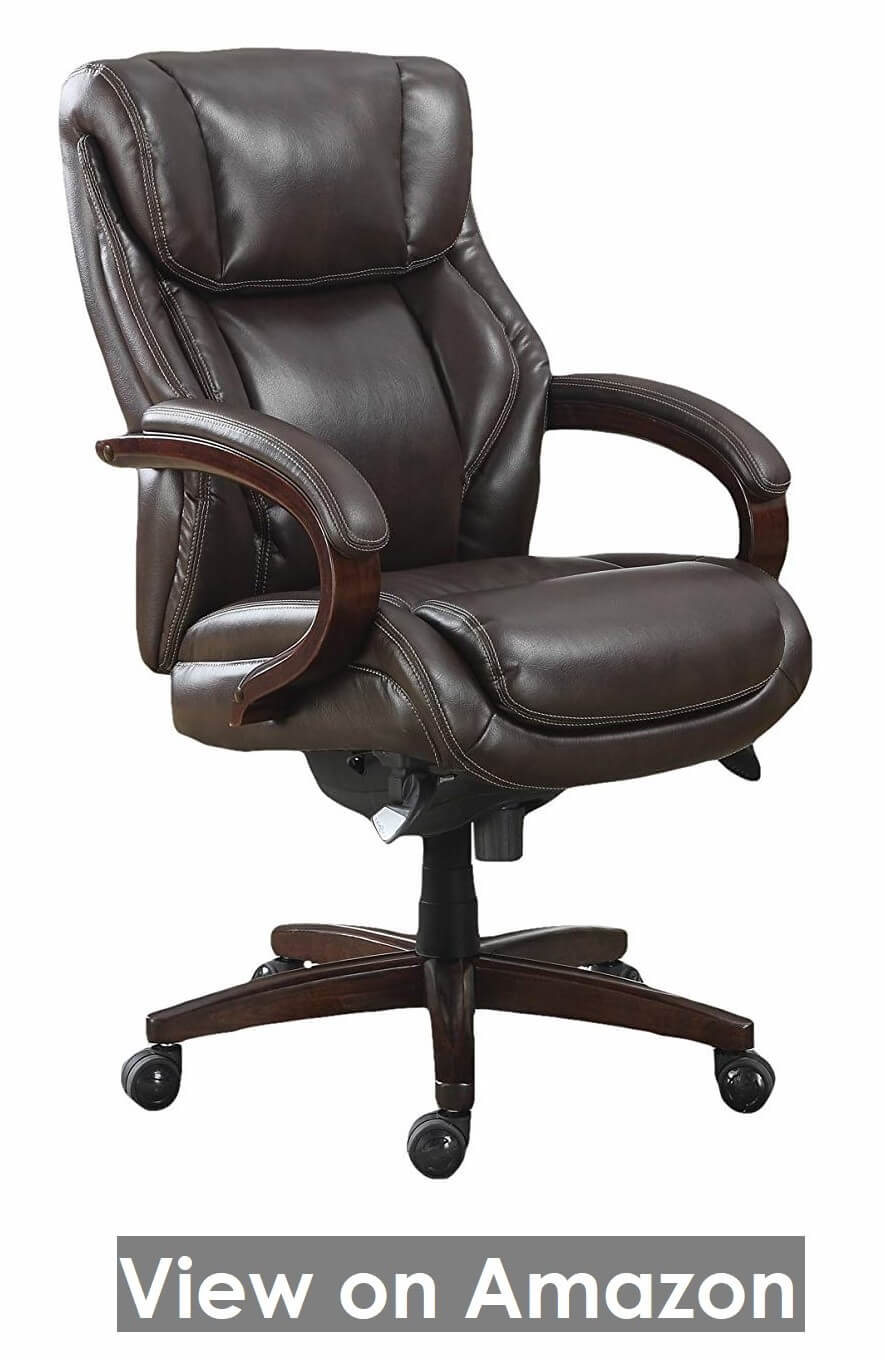 While the chair I talked about above is big on adjustments, the Bellamy Executive Bonded Leather Office Chair is big on comfort.
Let's see what this chair has to offer.
The chair is quite big, weighing 57 pounds and covering a space of 31.2 x 27 x 41.5 inches. Considering the normal desk sizes and heights, it can still fit snugly.
As I said, comfort-wise, the chair will keep you happy for a long time, thanks to its ComfortCore Plus with "Memory Foam". It is a fancy name for a series of layers and foams supporting each other and providing extra comfort.
But as it happens, the layers have been stacked up quite high at the edge of the seat. Contrary to what Lazy Boy claims, the so-called waterfall edge can actually put pressure on the back on your legs on extended use.
The seat is also very nicely tucked in and sewed. The cushions simply surround your back, holding it firmly for a nice posture. However, few of the customers have complained about its sinking in with time.
Some have said that their versions have less padding (courtesy of luck).
The padding could be inadequate for a heavier person. So, if you are more than 6" and weigh more than 250 lbs, you should opt for the bigger version. It is available here.
There aren't as many adjustments, but you get the basic tilt and tension control mechanisms, which unfortunately also give up with time. That's not the only thing to be worried about.
Although the chair has wood finishes on its frame and armrests and the leather is unspeakably premium, the base plate consists of plastic. For some customers, it has broken or cracked with time and for others, it has tilted the chair to either left or right.
Pros
Comfortable for studies.
Decent wood finish.
CLICK TO CHECK PRICE ON AMAZON
---
 11. Herman Miller Embody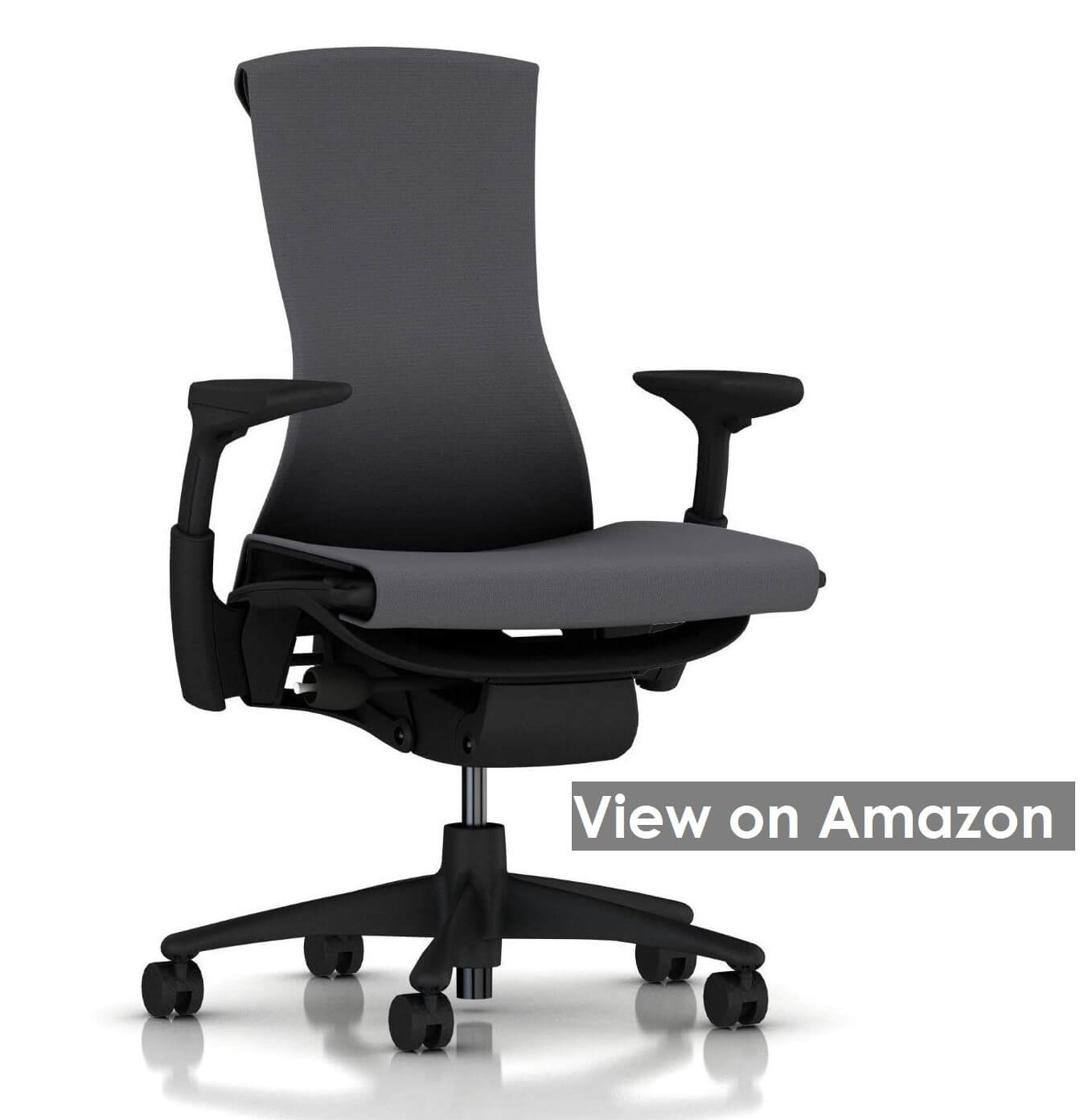 Herman Miller's Embody is the most expensive yet one of the top-rated chairs you can get right now. It costs almost $1300 which is a huge amount to spend on a chair. If you have a budget like this for a chair for studying, then there are many reasons to invest in this chair.
There are more than 10 colors to choose from. You can pick your color as per your choice.
The first thing to talk about this chair is its weight and dimensions. It is slightly heavy 52 pounds (23 kg), but it does not take a lot of space (28 x 28 x 24.5 inches). If you have got a normal-sized desk, it won't budge.
It won't bother you even if your desk is higher than normal. Thank its wide options for adjustments. There are 3 zones of tilt support in it, you can increase or decrease the height of the armrests and you can adjust the lumbar support as per your liking.
When you do that, not only will it level up to your desk but also take your body shape, which might take some time because, for some, the adjustments could be a little complex.
Once you hit the sweet spot, your days will change. The ultimate comfort of the chair will speak to you. That's the sole reason why Herman Miller calls this chair "stress reducer".
As soon as you sit perfectly, it allows natural blood flow and so, your energy won't dwindle down by sitting for long hours.
The seat is again very comfortable. And the overall skin-like textile lets your body breathe. However, you may find it annoyingly smooth enough to slide around in depending on what you're wearing. For you, that could mean constantly sliding yourself back up.
Also, if you're on the heavier side of the weight spectrum, you may feel the padding of the seat a bit inadequate to support your tailbone. A few customers have mentioned that so far. They've also complained about the armrests.
They can be adjusted height-wise and rotated sideways, but they cannot be moved back and forth. So, that could be a bummer as for some, they constantly bumped with their desks.
Know more about this on this extensive review of this chair.
Pros
Ergonomics at its best.
Premium textile and foaming
CLICK TO CHECK PRICE ON AMAZON
---
 12. Steelcase Leap Chair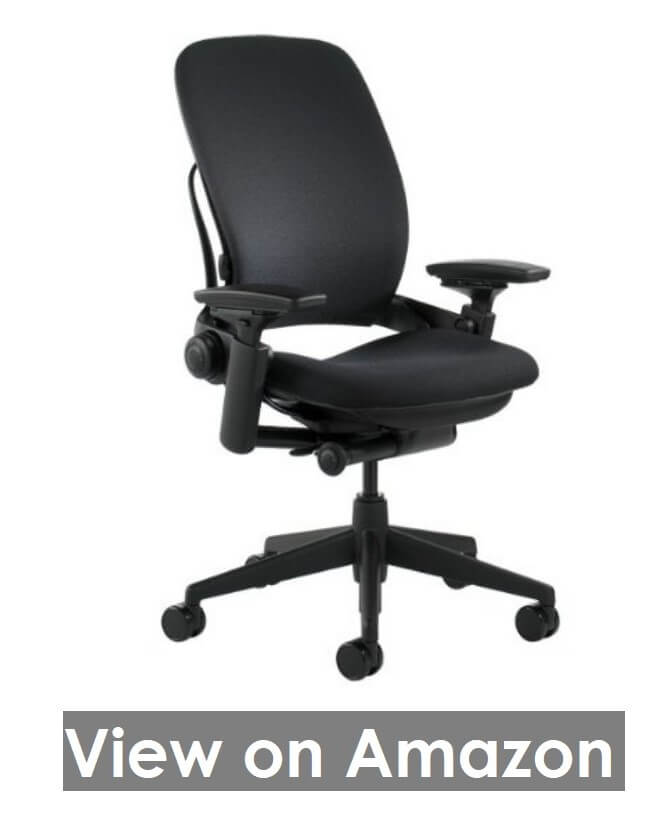 The Steelcase Leap is again one of the most expensive chairs on the market right now. It is suitable for almost any kind to tasks – be it, for office, studying, gaming and more.
The Steelcase Leap delivers what it says. However, in all of its premium features, you should be wary of the retailer you are buying from. You'll find out why I said this.
Just like Herman Miller Embody, the Leap has all kinds of adjustments. You can adjust its lumbar support, lower back firmness, armrests, and recline support as per your liking. One perfect adjustment (on a trial and error basis) will lead you to your comfortable position.
That could be just what you want if you study for 10+ hours. You won't experience any pain, only if you buy it from a trusted retailer. This is because a lot of customers have complained about the poor quality of their versions.
They've found less padding in the seat and the back, which altogether gave them a painful experience. Also, some of the models had ridiculous armrests. One of the customers received his chair with the right arm higher than the left.
Obviously, for a premium chair that could only mean disappointment.
What's more, is that you might have problems locking the armrest swing. Besides this, you won't find any problems in the tilt mechanism or the lumbar adjustment. In fact, Leap comes with Live Back technology that lets the back move as your spine moves.
So far, I can vouch for this chair to be perfectly ergonomic and suited for you if you study and thus, sit a lot. However, considering what customers have said so far, be wary of the retailers and also bear in mind what I said about its armrests.
Pros
Premium materials.
Takes small space.
CLICK TO CHECK PRICE ON AMAZON
---
Final Words
As I said in the beginning of this post, every student needs a comfortable chair to focus on their studies. Picking the right one could be a big task for many people and that's why I created this post to help everyone out. So, what do you think of these best chairs for studying? Did you find your right choice from this post? Do let me know by shooting a question or comment below.