Chair Gym Review – The Total Body Workout System
In today's fast-paced life, we spend most of our time at the office and just can't get enough time for working out to keep our bodies in good shape and healthy. Or even your age and motion limitation simply can't allow you to head to the gym for a workout session no matter how much you may want to stay fit.
The good news is that you don't have to give up on your fitness goal as a home gym device such as the Chair Gym can help you overcome this hurdle. The Chair Gym offers you an inexpensive solution to getting your daily workout without sacrificing plenty of time. This innovative chair offers you an easy and convenient way to achieve a nice workout for your full-body a lot faster and at the comfort of your home.
So, whether you lack the funds for a fully furnished home gym, or you just don't have the time and money to enjoy a workout session at the gym, this chair is sure to give you a complete body workout.
Not convinced? Here's a detailed review on the Chair Gym, to help you better understand the amazing features and convenience this chair provides in helping you achieve your health desires and goals.
What Is Chair Gym?
Chair Gym is a workout tool that's specially designed to deliver the most convenient and easiest way to achieve a full body workout right in your home. It comes in a compact and lightweight design. This makes it ideal for use by almost everyone, especially, seniors, people with mobility issues, and even those with sedentary jobs.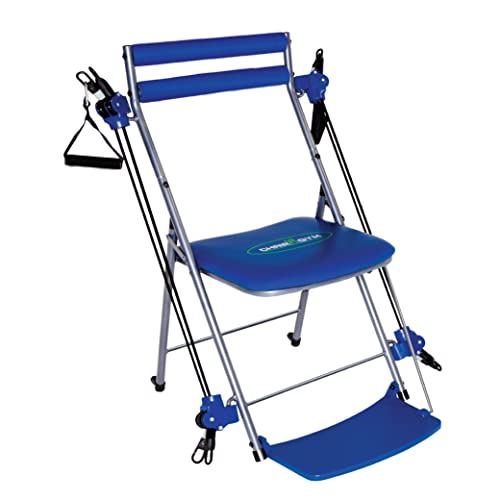 How Does It Work?
Instead of heavy weights this fitness chair is well-equipped with resistance bands and other accessories that provide you with over fifty different exercises to try out. This fitness system, allows you to target specific body parts you wish to work on or even entire body workout while sitting comfortably with exception back support.
With this chair you're able to perform total body workout- from resistance training to stretching and core conditioning. This chair works to helping you improve your stamina and health, build strength, gain flexibility, as well as lose weight.
Notable Features And Specifications
Offers over 50 different exercises
Features 3 different levels of resistance
Folds and unfolds effortlessly for easy storage
Designed easy to set up
Features a backrest for back support and footplate  for improved stability
Supports 350 pounds maximum weight capacity
Dimensions: 21 x  6 x 34.5 inches
Weighs about 14 pounds with accessories fitted
In-Depth Review Of Chair Gym
Below is a comprehensive review of chair gym to help you make an informed decision:
1. Design
The chair gym has a compact and lightweight design for improved portability and easy storage. It boasts a high-quality, reinforced folding frame with tension bands that run on a pulley on the sides.
The structure is durable and strong enough to securely and comfortably support up to 350 pounds of weight capacity. The chair has dual cushion padding on the back rest for endless comfort and maximum back support.
The handles are foam-covered for comfortable workouts. The seat itself is thickly padded to eliminate any discomforts; burn or even body pokes even during prolonged workout sessions.
2. Target Customer
Packed with some great ergonomic features along with every essential component for a full body work out, this fitness chair is a great option for seniors who want to stay fit.
Or those who live sedentary lifestyles and want a convenient exercising tool to help shed some weight, gain strength, and improve flexibility without going to the gym.
This can also be a great solution for anyone with sciatic nerve pain and need maximum back support while exercising.
3. Durability
When it comes to durability, this workout chair is made from high-quality materials. The joints on the frame are reinforced, making it incredibly strong and sturdy to hold nearly 350 pounds of your weight without any issue.
The tension bands are securely fitted on a strong pulley system on both sides of the chair. These tension bands are strong enough to give you a nice stretch and resistance workout without losing elasticity or getting damage even with heavy usage. Also, the ankle bands feature durable Velcro fabric that's tough and less-prone to damage.
4. Ease Of Usability
One main thing that makes the chair gym super easy to use is its foldable design.  This chair folds up nicely into a compact size, making it less bulky and effortless to carry while travelling. This also makes it pretty convenient for you when it comes to storing it as it takes up much less space.
This chair comes almost fully assembled, all you need to do is to add a few components and it's all set. You also don't need to worry about assembling tools since the package comes with an L wrench, which is the only tool you need to put everything together.
The resistance bands are color coded, making it easy for you to achieve multiple combinations depending on how easy or challenging you need your workout to be. This also makes it easy to use by anyone looking to enjoy a full body workout whether they're just starting out or more advanced gym users.
It also comes with five instructional DVDs, twister seat, a meal plan, and a workout guide for enhanced convenience and exceptional ab formation. This makes your work out sessions pretty easy and convenient, helping you improve your fitness.
5. Portability
With a compact and lightweight design, the chair gym folds up easily into a compact size for fast and convenient storage. This feature is great when you're not using it or when you're planning to travel with it.
Its lightweight design also allows you to use it wherever you wish. You can even use it in rooms with limited floor space.
6. Pricing
This is one of the best inexpensive workout devices you can rely on when it comes to full body exercises. It's available for purchase on Amazon and costs around 160 dollars plus shipping costs. The chair comes along with additional items including 5 instructional DVDs, a workout guide, an extra twister seat, a nutritional guide, and workout bands.
What's more, the company offers a 90-day money back guarantee if you are not satisfied with the purchase.
7. Customer Support
Chair Gym has a team of professional sales representatives and fitness gurus in place to answer any question that you may have with their products.
Their support service is friendly and committed to helping their esteemed customers. So, in case you have any question about their product you should be able to reach them via phone or mail provided on their website.
Pros And Cons
Pros
Offers an easy and convenient way to get a full body workout in only a few minutes.
Offers you more than 50 workout exercises.
Designed to offer maximum comfort and back support while seated working out.
Portable design allows for easy and quick storage.
Have a quality and durable construction.
Super easy to assemble for a quick work out.
It can be customized for versatile exercises.
Great for everyone no matter their fitness levels.
It comes at an affordable price.
Cons
Though incredibly comfy, the seat may be somewhat small for larger users.
The material used on the seat can become sticky in hot environment.
Is Chair Gym Perfect For You?
If you want an easy and convenient way to get a complete body workout in the privacy and comfort of your home, then chair gym is the perfect option for you.
This fitness chair can also be incredibly beneficial if you're a senior, you suffer from back problem, or even have an inactive lifestyle as it enables you to improve your health and fitness as you're seated comfortably.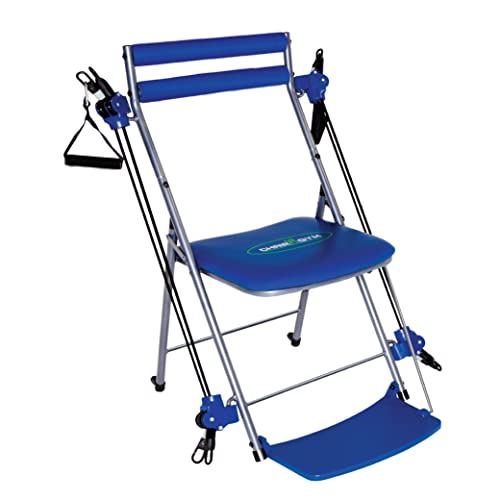 Chair Gym Accessories/ Chair Gym Replacement Parts
Another great thing about the chair gym is that it comes with additional accessories and replacement parts in case it gets worn out or damaged. Some of the replacement parts include:
A twister seat- you can use this piece of equipment for your lower back, core, and abs. It can be used on the seat, on the floor while seated, or even in a standing position.
A set of resistance bands; level 4(blue), level 5 (black) and a resistance chair plastic seat, which come in handy in case the bands lose elasticity.
There is also an anchor assembly comprising 1 anchor and 2 screws
Dual pulley and saddle hook
Posture prop and health attachment
Posture prop clips consisting two clips and four screws
Chair Gym Exercise Chart
With a workout guide chart, you're sure this chair will help you achieve the most out of your exercises.
The exercises are typically split into body parts and you may decide to do a complete body workout or choose a specific part of your body you wish to improve.
As a beginner, you can begin with12 reps of every exercise, 15 reps if you're in intermediate level, and increase the number as you progress to advanced level. Here are some of the exercises you should try out when you're using the chair gym:
Overhead press
Seated incline press
Ab crunch
Seated bicep curl
Seated lateral raises
Raises seated front
Seated tricep extension
Seated bent over row
Front step
Knee bend  and twist
Side step
High kick
FAQs About Chair Gym
When choosing a chair gym, it is important to read the review of previous customers to see how it works:
1. How Much Does The Chair Gym Weigh?
Weighs just about 14 pounds, making it incredibly lightweight and portable to carry it with you. It's sturdy enough to support your weight.
2. How Do I Switch Tension Bands Out?
Chair Gym's patented cable system is robust yet easy to change since you don't need any tools. All you need to do is to clip the handles and ankle Velcro straps onto a new resistance band. This depends on how gentle or challenging you want the resistance to be.
3. What If I Want To Make My Workout Harder?
The Gym Chair comes with 2 resistance bands (Grey band for easy stretch and the black band for medium stretch) that offer you 3 different resistance levels Each Resistance. Depending on your strength, you may choose a harder resistance workout by combining both bands and clipping the handles and ankle wraps on the ends.
Conclusion
Packed with all features you might need for toning your body, the unit is a great home gym tool for everyone. As you've seen in this review, this inexpensive chair gym is remarkably easy to use and setting it up will only takes you less than five minutes. With such convenience, you don't have any excuse for not staying fit.
Investing in this fitness chair is sure to help you reap the many health benefits that come with a full body workout such as improved circulation and flexibility. It also offers you a superb and convenient way to cut weight and boost your energy in the shortest period possible, making you feel and look better. We hope you find this chair gym review helpful and make an informed decision.