15 Best Chairs For Programmers: Buyer's Guide
Programming is not an easy job, especially, when it comes to sitting on a chair for long hours. One thing I've learned (the hard way) over the past 15 years of my programmer career is that you should definitely get a good quality, comfortable chair for this profession.
So I've created the following list of Best Chairs for Programmers since I know how important good, ergonomic chairs are in keeping your posture straight. When your posture is right, you're less likely to experience any sorts of back pain, shoulder stiffness, or neck pain problems.
Once you scroll down, you'll see that I discuss every chair on my list in a great detail. I've also included both the pros and cons of each chair, so pick your choice wisely after reading all the advice.
Without further ado, let's get started, and find out which the best chair for coders on the market is at the moment.
Top 15 Chairs For Programmers (This Year)
Preview

Name
Alera ALEEL41ME10B Elusion Series High-Back Multifunction Mesh Chair - Black
Preview

Name
Alera ALEEL41ME10B Elusion Series High-Back Multifunction Mesh Chair - Black
The comparison table above only shows the 5 top products on my list. You can find my other product recommendations below.
1. Herman Miller Embody Chair – A Complete Chair For A Programmer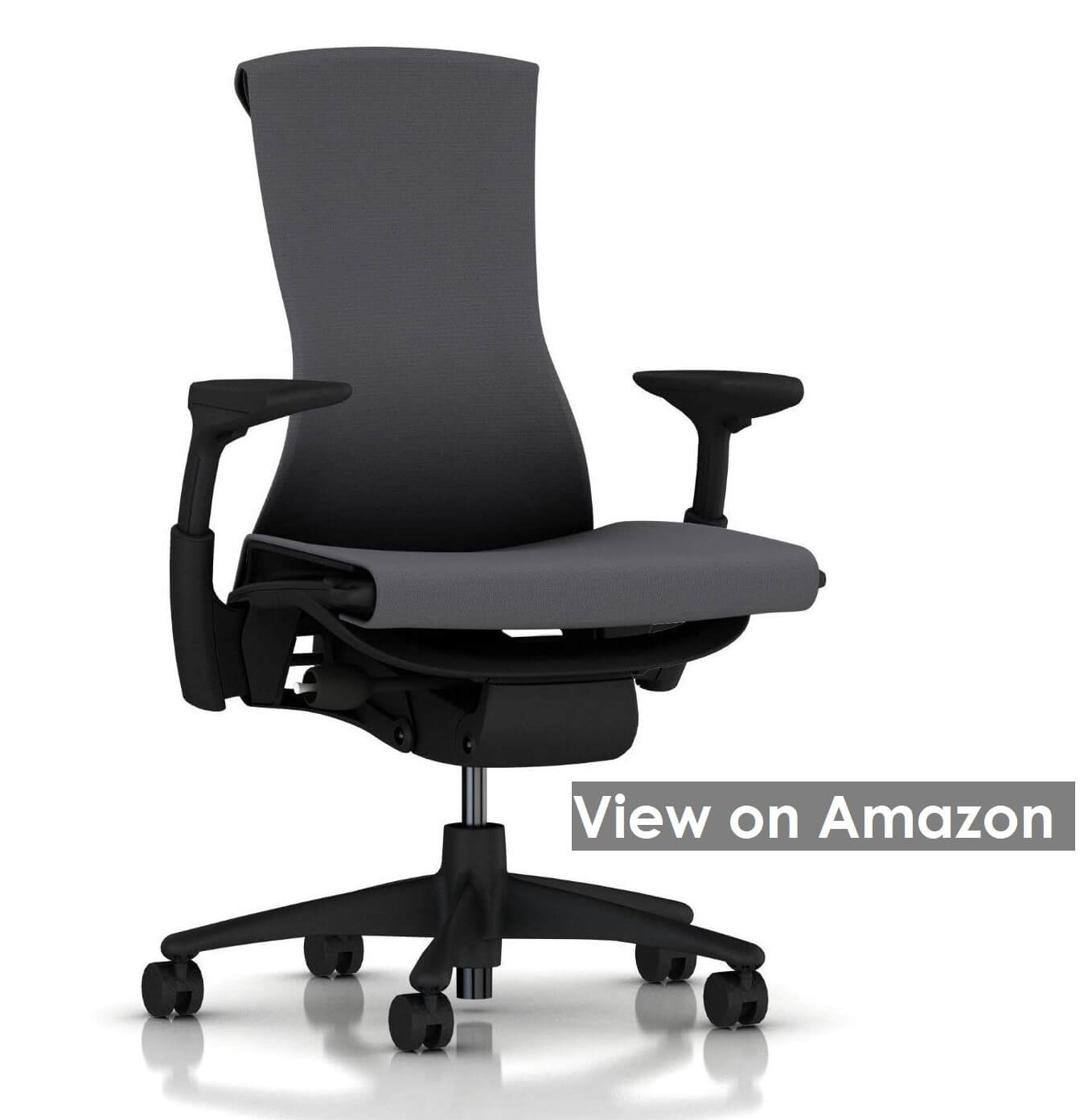 Having created a number of successful ergonomic chairs, Herman Miller is generally considered as an expert in the field. More than 20 physicians and experts have worked on creating this masterpiece and that's why it tops my list of chairs for a programmer like myself or yourself.
Though it costs a little over $1k, it'll be a good investment for you in the long term. Weighing approximately 52 pounds (23.6 kg), the Embody Chair is loaded with amazing features, for which I think the manufacturer can be applauded. Below are some of its features worth mentioning.
The chair has a length of 29 inches, a width of 29.5 inches, and a height of 43.5 inches, which altogether makes this chair occupy less space and deliver more. This chair is available in 16 different colors. You can choose any color you want; however, please note that the price varies for each color.
Embody Chair's seat and back are made with a Pixel matrix – a dedicated structure that apparently lowers your heartbeat and helps you control your stress so that you can work with more concentration. In layman terms, it basically helps you move more swiftly, and you know how that is important for keeping your oxygen flow in its optimal state.
The Backfit Adjustment in the backrest is there to position it in line with the curve of your spine. This also helps your head to be directly in front of the screen of your laptop or PC; thus, making you less prone to various neck and shoulder problems.
What it also does it supports three key areas of your body: thighs, thorax, and sacrum. This means that your pelvis won't see any rearward movement and your hands and legs would feel less pressurized.
The textile that is used to cover the whole chair is breathable, which means you won't see any fuzzy sweat stains on your clothes. Instead, you'll feel cooler and ready to take your tasks heads on.
Overall, I can tell you that this is one of the best chairs for a programming career you can get right now.
Pros
12 years of an official Herman Miller warranty.
Durable.
Highly ergonomic.
CLICK TO CHECK PRICE ON AMAZON
---
2. Ergonomic Office Chair by Best Office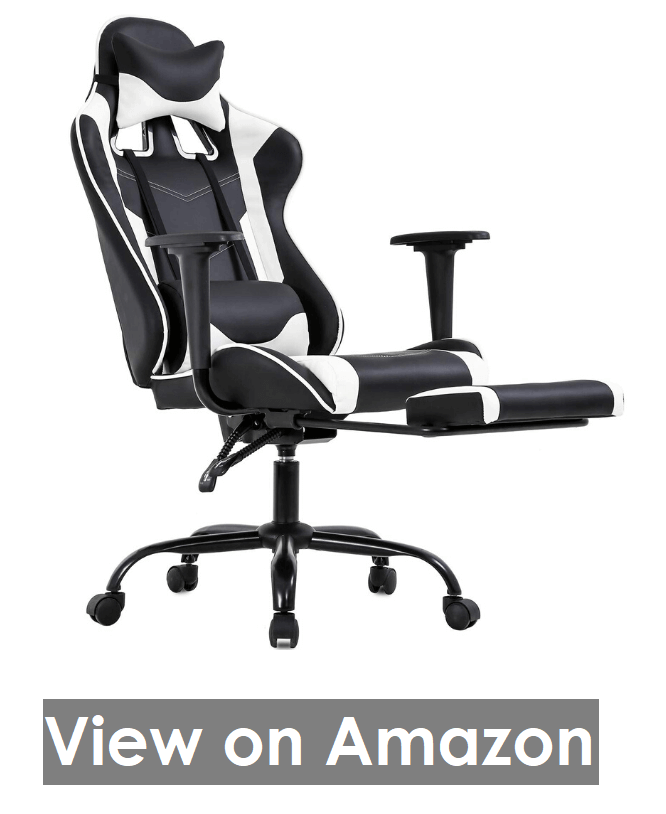 You might know or have used those chairs that stand out in almost every office department. The Ergonomic Office Chair by Best Office is one of them.
The height of the chair is from 19.5 to 23.2 inches from the ground which will arguably keep you at the right distance and height from a standard table. Next, its length is 48.5 to 53.5 (courtesy of its high back) with a seat length of 20.9 inches and a foot extension of 15.5 inches. It can hold up to a maximum of 250 lbs and its own weight is around 40 lbs.
As a programmer, you'll be happy to know that this chair is highly adjustable. It has all the gimmicks that make sure of that. For example, you can tilt the chair from 90 degrees to 180 degrees and lock the mechanism at your desired angle.
Especially, you can take a respite for a few minutes from your hectic work by lying reclined at 180 degrees. While doing that or staying in another tilt position, the chair will always take care of the support of your back and your neck with its lumbar support system and neck pillow, respectively. Add the dedicated foot support to this, and what you get is one hell of a comfortable chair that takes care of you while working and while resting.
However, be aware that the back can be a little snug for a large person. Also, some customers say their chairs started squeaking 2 to 7 months in use. I also hate to break it to you that its armrests are not adjustable and pathetic.
Pros
Inexpensive.
Good adjustable options.
Highly comfortable.
Cons
Armrests are not adjustable.
May not be suitable for heavy persons.
CLICK TO CHECK PRICE ON AMAZON
---
3. Herman Miller Sayl Task Chair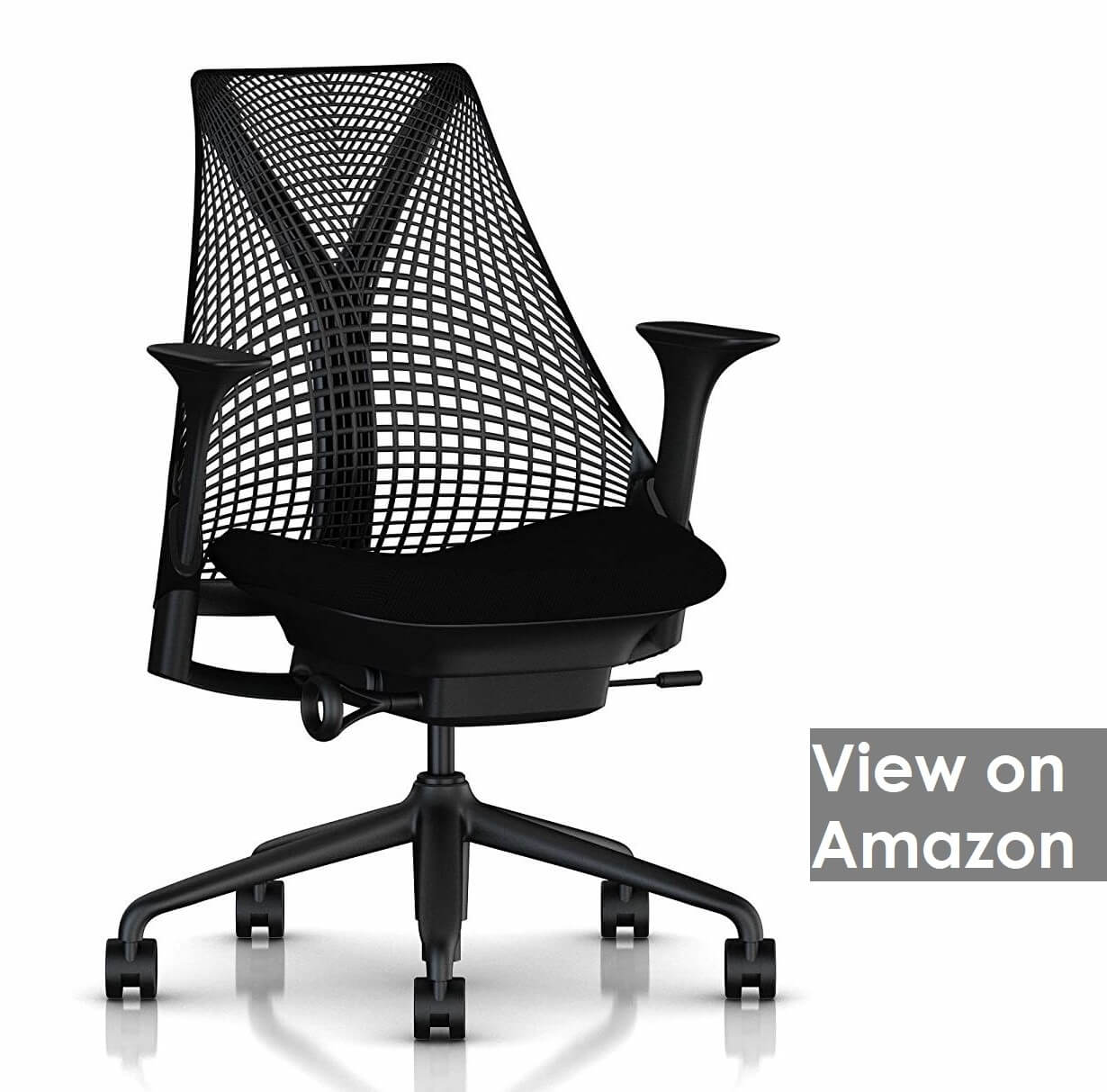 Again, this is a chair from the same manufacturer i.e Herman Miller but it is a different model and costs $800 less than the above chair. It'll cost you under $500 and It has good ratings of 4/5 on Amazon right now which is a good sign that the majority of the buyers are happy with this chair.
As the name says, Sayl is for those who do the job like you and sit for hours creating innovative things. Herman Miller has not backed off on adding features in this model as well. You get a perfectly shaped chair with features that support hours-long work.
If anything makes this chair worthwhile are two of its most compelling innovations. The first one is the ArcSpan – a unique structural integration that supports the suspension fabric and shapes according to your back. The second one is the Y-Tower – another innovative integration that is built to keep your backbone in its original state without letting it deform.
These features are not the only ones, though.
It has a length of 26 inches, 24.5 inches width, and a height of 37 inches. Thus, if dimension wise, you're looking for a chair that you can introduce into a cramped up place, if you've got one.
Also, the chair's adjustable seat height between 15.5 and 20 inches will eliminate any need for you to change your desk according to the chair.
Have you ever had a chair whose back took the shape of yours? I bet not. But don't worry because now, you can have one. Sayl comes with a legendary 3D Intelligent Suspension that is made of flexible elastomer. It is this elastomer that replaces the rigid frame for good and instead, it itself adapts to your structure.
The designer (Yves Behar) had only one thing in mind when he designed this chair: To keep it as lightweight and environment-friendly as possible. He eventually made achieved his goal by dematerializing the chair that is creating ArcSpan, armrest, and its tilt mechanism in one single structure and hollowing out all the structural parts.
The chair weighs 38 lbs (17.2 kg) which is easy to move around in your room when it needs to be moved.
If you are are looking for an inexpensive gaming chair for programming, then I have to say this one of the best option you have got right now. If you are also into video editing stuffs, then this chair is perfectly suitable for you.
Pros
Breathable fabric.
Very affordable and stylish.
Cons
Armrests are not durable.
CLICK TO CHECK PRICE ON AMAZON
---
4. AmazonBasics High-Back Executive Chair – A Great Budget Option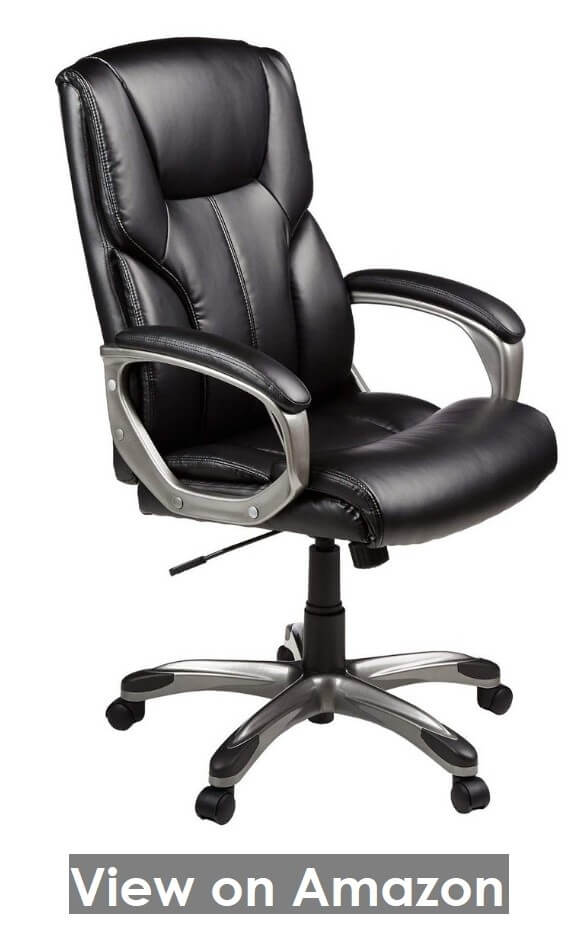 If you are on a very tiny budget, then AmazonBasics High-Back Executive Chair would be the perfect choice for you. This is the cheapest chair on this list and also one of the best selling chairs you on Amazon right now with the rating of 4.1 out of 5, rated by 2800 customers.
From the world's biggest retail manufacturers comes this chair with all of its pomp and show. That's right. AmazonBasics is inching closer to making a highly competitive product to those of the likes of Herman Miller.
The chair is built for executive tasks in its own sense. But when it comes to things made for corporate functions like those, they always come with luxury.
Let's have a look at its features that grant it that luxury.
Just because it says "executive" does not mean you cannot buy this chair for programming. As I said, it promises luxurious comfort and if that's what you seek, you should seek out this product immediately.
I have been talking about its comfort so far and that is because of the amalgam of Black Leather and PVC. Both of these substances are known for tenacity and comfort more than anything. So, even if you sit for longer periods of time, you won't experience the tiredness most probably.
With a weight of only 35.3 pounds, it has a length of 30.7 inches, a width of 27.6 inches, and a height of around 45.1 inches. All of these dimensions combined with its lightweight nature make for a perfect and the best office chair for programmers.
With a butterfly seat plate and curved edges, the Executive Chair is highly adjustable, thanks to the pneumatic controller it comes with. With the help of it, you can easily adjust and control the height of the chair, which is adjustable from 41.34 to 45.08 inches.
The pneumatic controller also controls the tilt of the chair and that's a plus point. I call it that way because it can save you the frustration of a wobbly, rocking chair. You can completely control that with the handle.
If you want to know more about this amazing chair, do watch the below video.
Video Credits: Is it Worth it?
Pros
Very affordable and value for money.
Easily movable.
CLICK TO CHECK PRICE ON AMAZON
---
5. Smugdesk Office Chair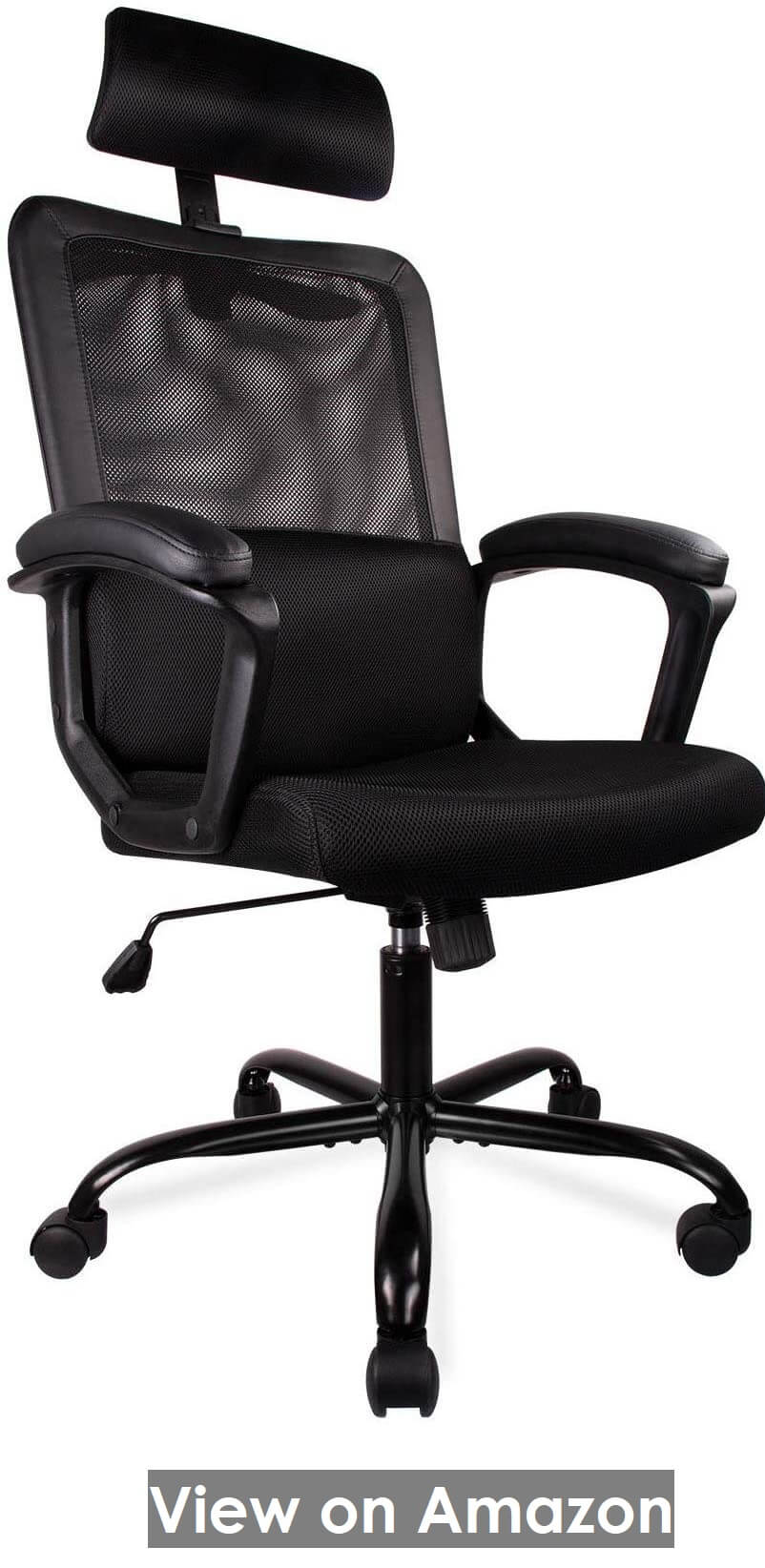 Like other chairs in this list, Smugdesk Office Chair also boasts features that are suited to programmers and there is no doubt that it is one of the best chair for computer programmers right now. The chair is perfectly ergonomic; there's no major issue. However, you cannot out rule the hiccups.
First, it is roomy. The dimensions of 25.5 x 20.2 x 9.5 inches say much about that. And on top of that, it only weighs 27.2 pounds (12.3 kg).
That means you can easily move around your cabin, room, or workstation – something that you do on a daily basis.
Secondly, it is pretty much ergonomic for its price. I mean you get a reinforced framework with lumbar support and a neck support system that has no rival. But at the same time, no matter how much the manufacturer claims about the ergonomics of its armrests, I don't think they live up to the promise.
They are made of cheap plastic, which brings down the whole feel of the chair, not to mention its ergonomics for your arms.
Among other things I most like about this chair are its two-layer cotton breathable cushioning along with the meshwork in the back; its superb adjustable headrest; 120-degree tilt mode, and last but not the least, a dedicated coat hanger.
The major let downs are its cheap armrests as I mentioned and its stiffness. Other than these, the chair won't disappoint you at all.
You could also buy this chair If you are a student as it costs a little over $100.
Pros
It has a solid construction.
The 360-degree swivel feature of this chair is quite useful.
Efficient lumbar support.
Cons
Might be too stiff for some people.
Armrests are quite low.
CLICK TO CHECK PRICE ON AMAZON
---
6. Raynor Ergohuman
The name of this chair says a lot. Ergohuman is ergonomic in all its senses and features and it is definitely the chair designed by keeping human postural needs in mind. So, you as a programmer can count on this chair for keeping your bones in perfect structure while you work hard to do what you're best at.
Talk about every adjustment that is in chairs and you'd find that in Ergohuman. That's one thing that makes this chair worthwhile for people who sit for long hours on their desks writing things for the people to wonder about.
Other things are: 3 positions tilt-lock system
You got it right – 3 different tilt-lock positions so that you can find your perfect tilt and lock it there as you work without losing any concentration. Not only this, but the system also enables you to lock the amount of force needed to tilt or rock the chair, or keep it straight.
The cylinders installed in the chair are pneumatic, which means you can lower or raise your chair quickly with minimum force.
It has a lumbar support system with adjustable seat, cushion, and headrest to give your body the support it needs in strenuous situations. The icing on the cake is that all of this system is contoured and that's one of the things you'd want to stay in your comfort zone.
This chair does come with pivoted armrest. This feature of Ergohuman takes it to the next level and frees the chair of any movement restrictions. Your hand would stay where you want them on the armrests by simply adjusting the very structure of it.
Ergohuman's seat comes with an adjustable height between 18.5 inches and 22.2 inches, the overall dimensions of the chair being 26.5 inches wide, 29 inches length, and 52 inches height.
At last, I just want to say that this is a well-priced and one of the best chairs for programmers in the market these days. Don't miss out on this offer before its too late.
Pros
Highly adjustable.
Breathable seat and cushion.
Dedicated headrest.
CLICK TO CHECK PRICE ON AMAZON
---
7. Ergonomic Gaming Chair by Royaledirect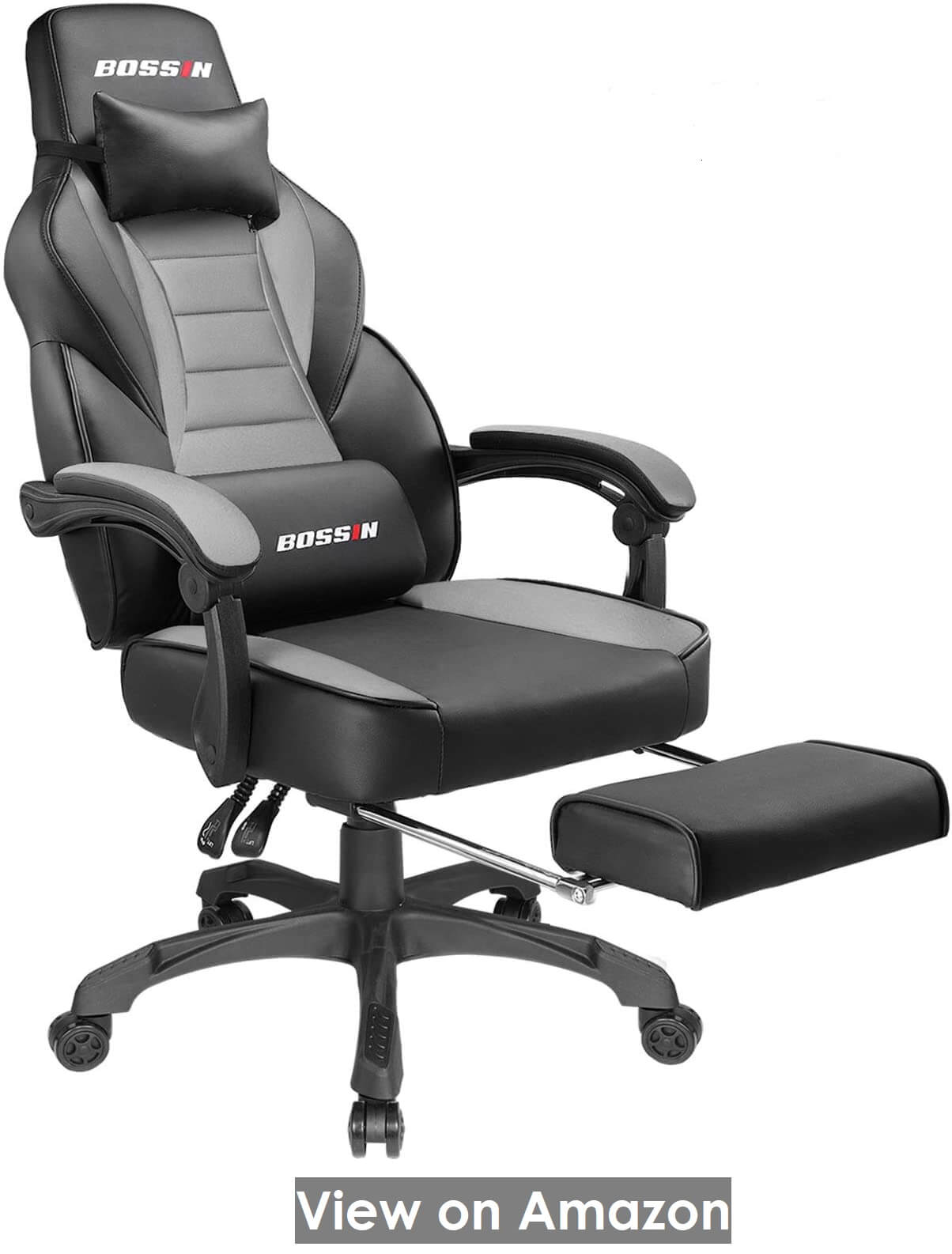 The Ergonomic Gaming Chair by Royaldirect can also be your programming chair as it has everything in store to be that – save for the meshwork.
And that could be a bit of nuance in hot weather. Yes, the fabric is skin-friendly, but it's PU leather for god's sake. It will burn.
Nonetheless, in temperate and cool conditions, you can trust this chair with blind eyes. That's because what it lacks in fabric, it makes up for in its design, ergonomic features, high adjustability, and dedicated footrest.
At 33.1 x 25.6 x 12.6 inches, the chair stands one of the roomiest chairs in this list. As it stands, the manufacturer says true about its wide seat. You'll love it.
Couple that much of space with height adjustability and what you get is a perfect combination for whatever height you have.
I'm not overstating, but the chair is pretty much for everyone. And I'm particularly a fan of its tilt lock mechanism. You can even lay the backrest flat for a quick nap and that's cool.
Talking about its backrest, it is designed in such a way that it completely hugs your back; thus, taking its shape and providing ultimate comfort.
Other things worth mentioning here include the usual lumbar support and an adjustable footrest. But be wary of its quality control issue. Things don't go well in that department.
Pros
Has highly adjustable backrest.
Extremely comfortable.
Has a dedicated footrest.
Cons
Not breathable mesh.
Tricky assembly.
CLICK TO CHECK PRICE ON AMAZON
---
8. Steelcase Leap Chair – The Best Chair For Software Developer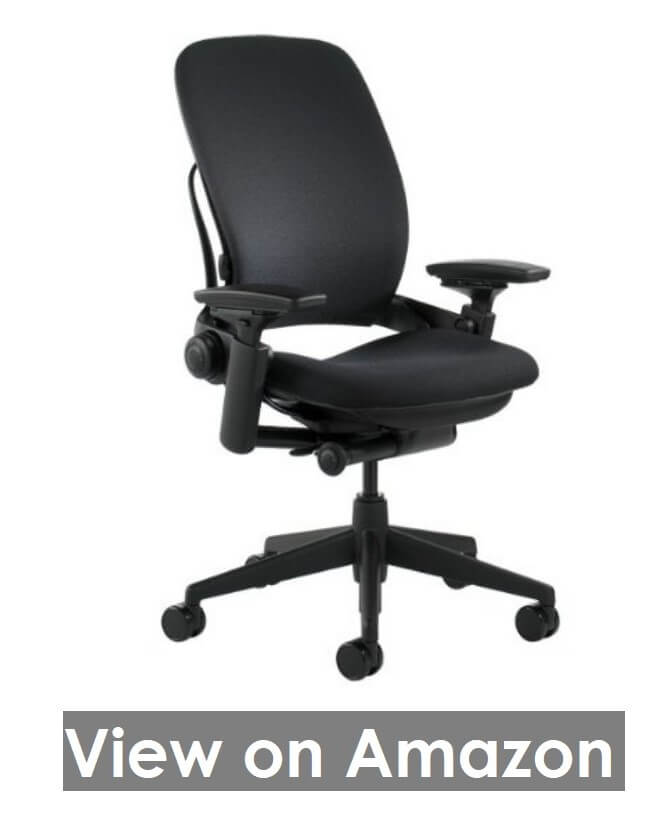 Do you move a lot while working? If Yes, then Steelcase's Leap Chair should be your pick if you don't want to ruin your spine at all.
The chair has quickly become what the company calls its flagship. Why shouldn't it be that way? The chair literally steals the show from its competitors with superior ergonomic features.
You need to keep in mind that it costs over $900 which might be a lot for many people who are in the limited budget. If you have a budget for a premium chair, then there is no reason not to pick this chair.
Have you ever seen a chair that could mimic your movements and provide you ample comfort based on how you move? If you haven't, get Leap Chair as it has subtle adjustments tailored to the human body structure – especially the spine.
One of the useful features of this chair is Live back. It lets your back live healthy and that's just about it. This technology mimics the shape of your spine and moves with it, literally. So, what you get as a result is freedom in moving here and there without worrying about losing fluids from your spine.
This chair focuses on your spine health more than any other part and this can be observed from this feature (Dynamic Lumbar) as well. An adjustable lumbar, for that matter, means that you can position yourself comfortably by positioning the lumbar support to fix your lower back. It works like magic for lower back pain.
The firmness I talked about above can be controlled by the help of a dedicated knob situated at the bottom of the lumbar support. The knob allows you to set the amount of firmness needed to maintain your lower spine in its optimal position.
Plausibly, the best feature yet to be talked about is its adjustable armrests. By giving you the freedom to adjust them in four directions: height, width, depth, and pivot, you can forget about kinks.
Pros
Adjustable armrests.
Superior back support.
Flexible.
CLICK TO CHECK PRICE ON AMAZON
---
9. Space Seating Office Chair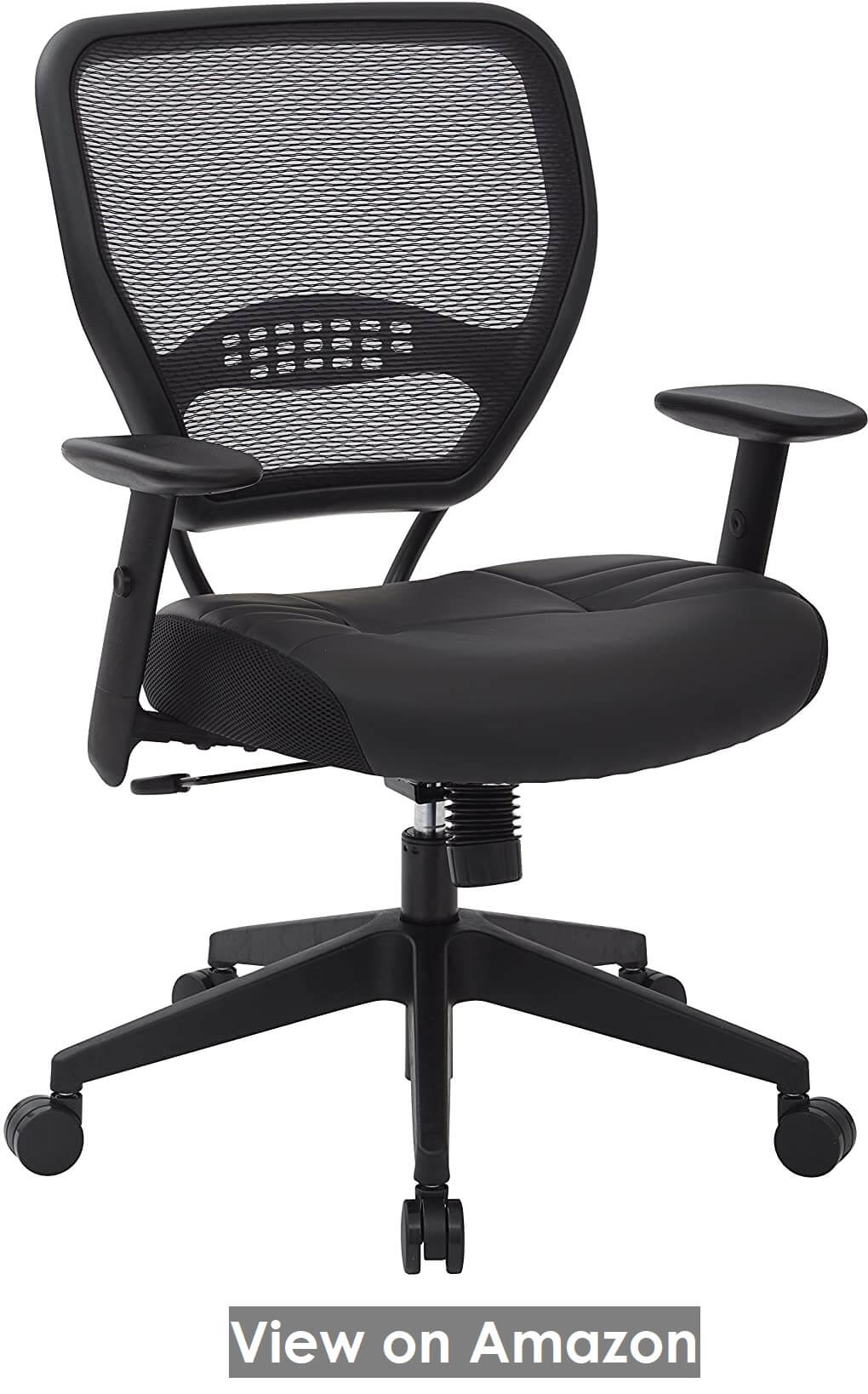 The 24 pounds Space Seating Office Chair has nothing special in-store, but it isn't outright rubbish either. In fact, quality-wise, it outshines many top brands. This chair has got a rating of 4.1/ 5 is rated by more than 1200 happy buyers which clearly states that it is one of the best coding chairs at very reasonable pricing.
The dimensions of this chair are pretty impressive at 25x 27x 42 inches with its large seat and an awkwardly large backrest. The seat has a water flow touch to it with breathable mesh works to the sides. It is comfortable, but prolonged work could make you uncomfortable.
As many have noted, including me, the seat is a bit elevated from the front, thus, rendering the whole waterfall feature is useless for longer hours of work.
The backrest reaches up to your neck if you're more than 5'10", but people with heights below this threshold can even rest their heads. However, doing that might be not plausible at its highest seat adjustment as I've noted. Instead, shorter people will have to keep it in its lowest setting.
Of course, the uneven seat height adjustment poses no problem for tall people.
Other adjustments include a tilt lock mechanism, which isn't as versatile as I've seen in other chairs; height-adjustable armrests, which kind of wobbles when you set them at their highest; and that's it.
No other commendable adjustments to talk about here.
The armrests are not made from cheap plastic. Actually, the material is neither plastic nor soft cushion. It's something in between, but I'm sure you'll like it.
Pros
Built to last longer than a year or even more.
Lightweight at 24 pounds.
The wide backrest allows for a comfortable work session.
Armrests can be adjusted according to your arms' height when you sit
Cons
Poor casters; have to buy good ones separately.
Does not have color choices.
CLICK TO CHECK PRICE ON AMAZON
---
10. Hbada Ergonomic Office Chair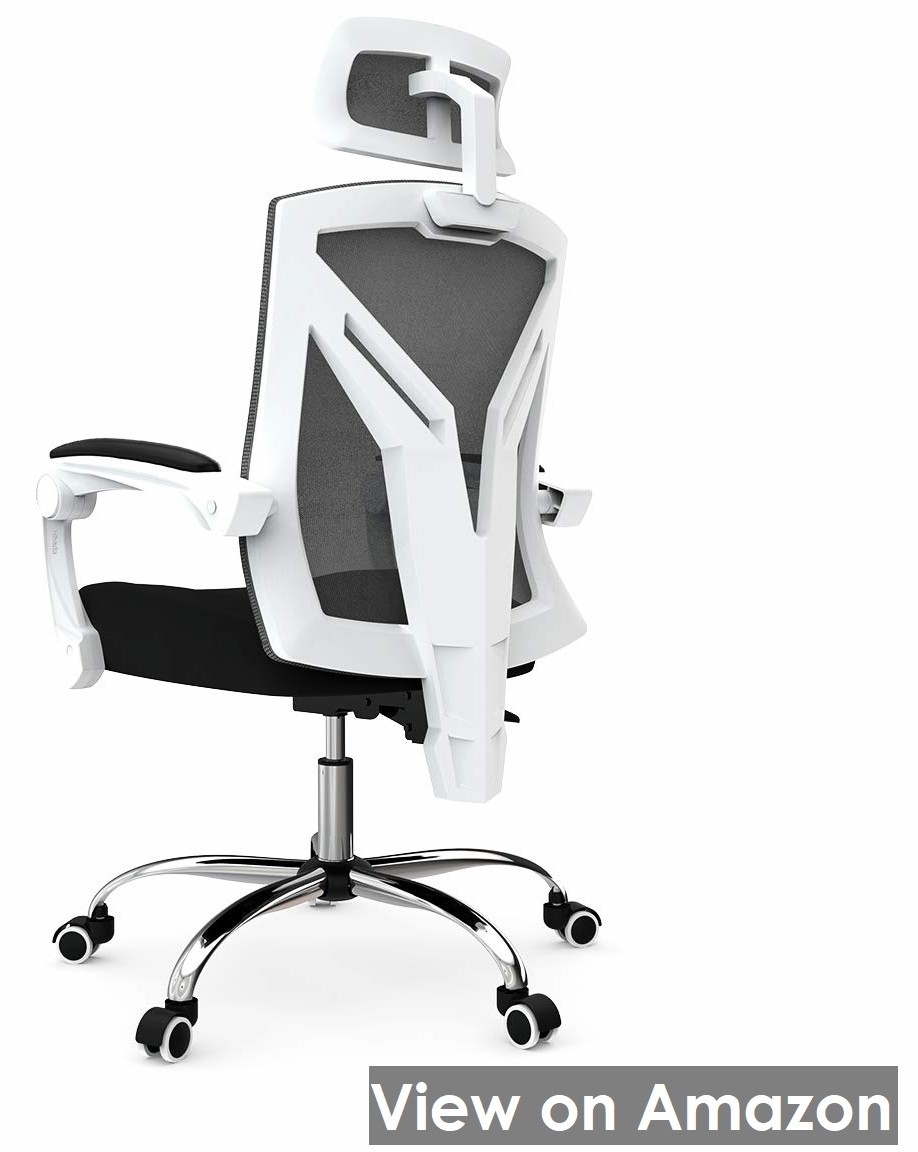 The Hbada Ergonomic Office Chair is not as big as some other chairs on this list and It also does not hold that much promise. However, you cannot completely rule out its features.
It comes in white and black colors with footrest variants. The colors are odd, but odd enough to compliment your modern surroundings (if you have any). It also does not take much space as the chair measures at 25.2 x 19.7 x 13.1 inches. Its own weight is 34.6 pounds and the weight it can hold is under 280 lbs or even less.
That is because despite not being mentioned by the company, customers definitely complain about its tilt mechanism giving away because it can't support their heavy bodies. So, if you are anywhere that size, you may want to consider another chair.
Besides that, as a programmer working for hours, you'll particularly love its breathable mesh and headrest. The latter rotates some degrees to give you the freedom of moving your head while resting it. Its 8 cm foam padding with breathable mesh also compliments the comfort it gives.
However, from time to time, you may feel sunken in it. Your blood flow will not be hindered, though, thanks to its waterfall design.
This chair's main drawback is that it does not live up to its advertisement for a lumbar system. In effect, there isn't any of that, and no matter how fancy its back design may seem, it adds little to your comfort.
So, all in all, consider this chair if you're small, like otherworldly design, and can live up with small drawbacks.
Pros
It is breathable.
The built quality of the is commendable.
CLICK TO CHECK PRICE ON AMAZON
---
11. Essentials High-Back Executive Chair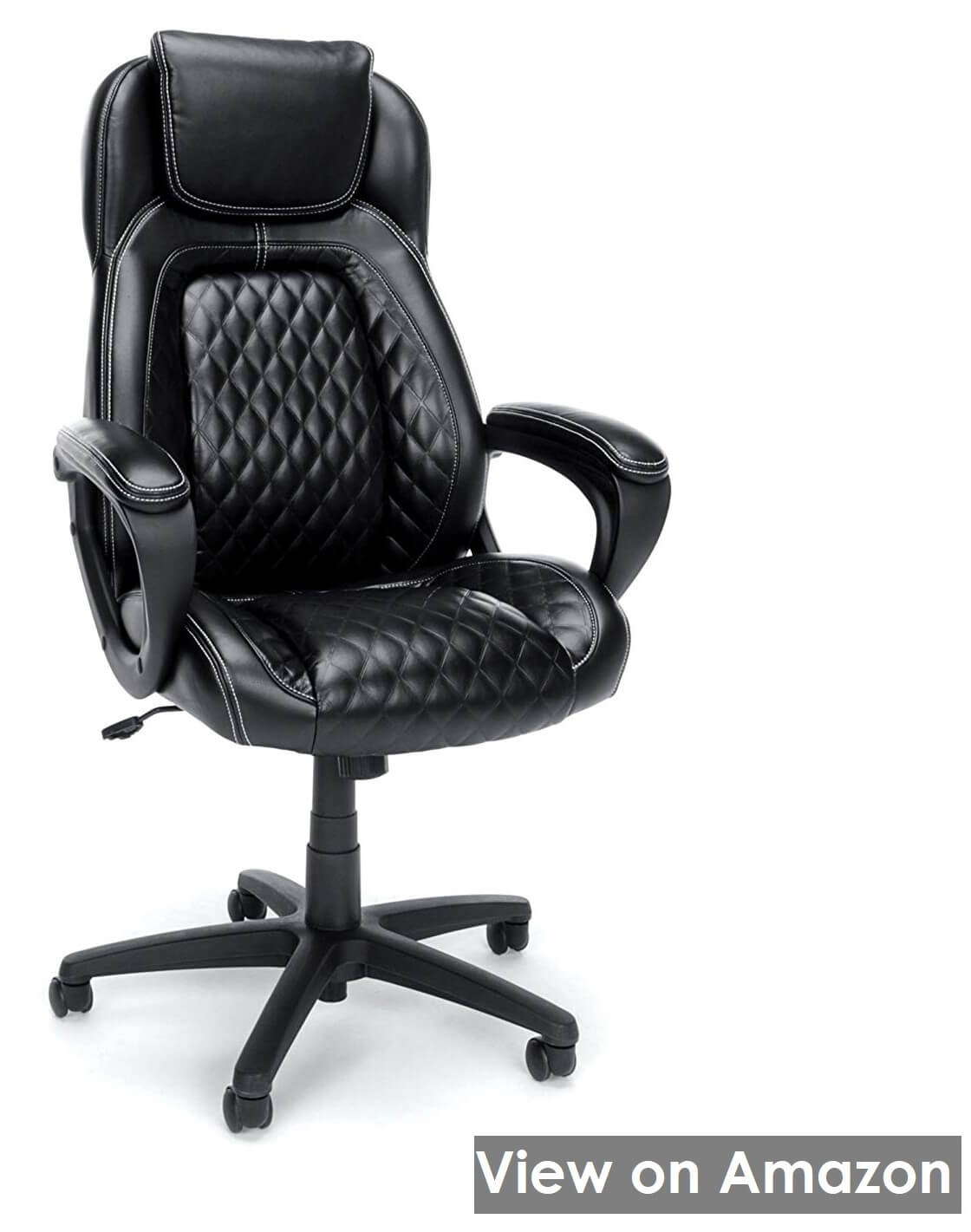 If you're tired of all those neon gaming or programming chairs, then you'll simply love the aesthetics of this Essentials High-Back Executive Chair. It's not genuine leather, mind you. But still, you can bet your money on its comfort.
It comes in black color. That's why it has more of an executive office chair look. Like those chairs, it also takes up pretty decent space as it stands at 29 x 28 x 44.8 inches dimensions.
Now, if you've got a large build (around some 250 pounds), and you're anywhere close to 6" and above, you should definitely consider this. Its back and seat will perfectly accommodate you and you won't have to restrict your movements at all at the behest of small space. Also, its own weight is around 42 pounds, which means you would not have that much of a resistance in pushing or pulling it.
You can work for long stretches and this chair will perfectly take you through them. However, if you don't take short respites, you may see it screeching and cracking after one year of use. Therefore, if you think of buying this one, keep this in mind.
There are some customers that say it reclines fine and locks at your desired position. It's not like that. You'll not only have a hard time reclining it but you'll also see that the tilt lock mechanism won't work after a certain time.
The chair also has no superior adjustments. You can tweak its height and there's a recline lock. However, what's really superior about it is its comfort.
Nearly its every part is cushioned with a memory foam (superior quality) from its dedicated headrest to its back and seat. The manufacturers have not compromised on that part at all.
Pros
Champion in comfort.
Sturdy; can last longer.
Armrests are cushioned but immovable.
Suitable for heavy people.
Cons
Not a genuine leather.
Lacks major adjustments.
CLICK TO CHECK PRICE ON AMAZON
---
12. Alera Elusion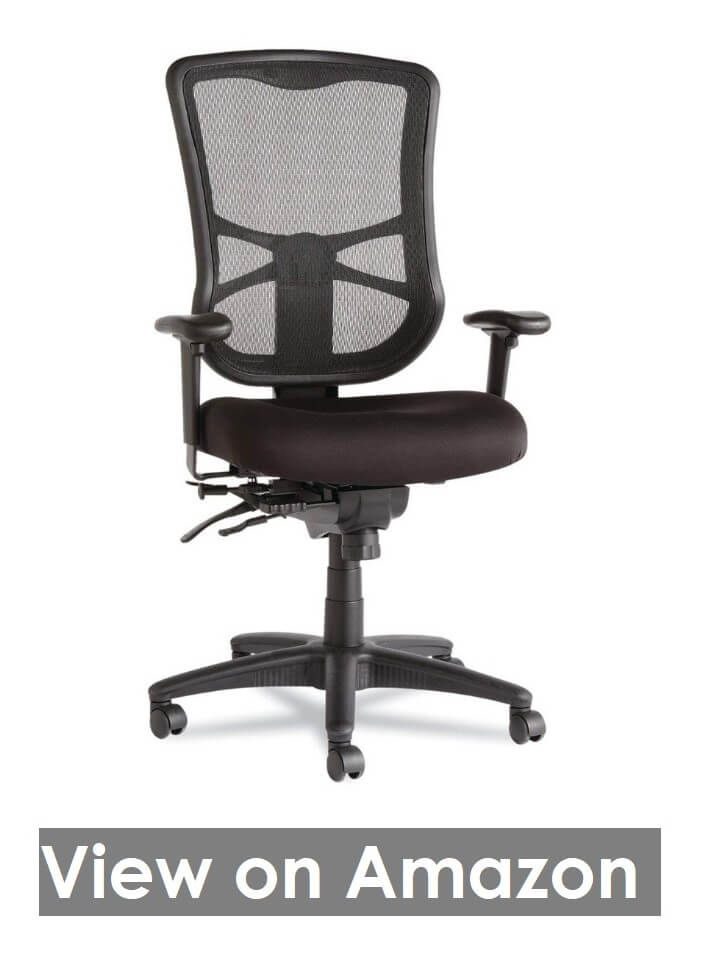 This is an affordable yet one of the top chairs for programmers which costs a little over $200. Alera has given a major focus on legs in this model. However, that's not the only thing you can cherish. In fact, there are more features in this chair that makes it worthy of its price.
There is a feature called Waterfall Edge that alleviates any extra pressure off your legs and helps you sit for a longer period without experiencing any numbness in your feet. Particularly, mitigation of pressure on your legs also serves to mitigate your chances of contracting sciatica.
Like the previous models I talked about, this one too has a dedicated tilt-lock mechanism relative to its seat. What it does is help your lower backstay in its natural position relative to your hips even if you choose to forward tilt it, let it free float, or lock its tilt.
Anything that saves you from over sweating is welcomed, right? If that's the case, then welcome the Mesh Back of Elusion. While you work, it will keep you cool, calm, and collected through the duration.
Some of the chairs I've so far reviewed lack a high back. If you're a tall person, that's the last thing you'll want in a chair. However, rest assured because Elusion has a whopping 24 inches back that can support you from the lower back to head without any problem. Also, it is wide enough to encompass all of your waist nice and easy.
Just like its back, its armrests can also be adjusted to your discretion. You can easily tweak their height and width. They are also very soft, thanks to the polyurethane pads they are made of.
I have written a separate review of this chair. If you want to know more about this amazing chair, then I would definitely suggest you read that review.
Pros
High back.
Waterfall edge.
Flexible.
Cons
Might be slightly uncomfortable for a person below 5'8"
CLICK TO CHECK PRICE ON AMAZON
---
13. Duramont Ergonomic Adjustable Office Chair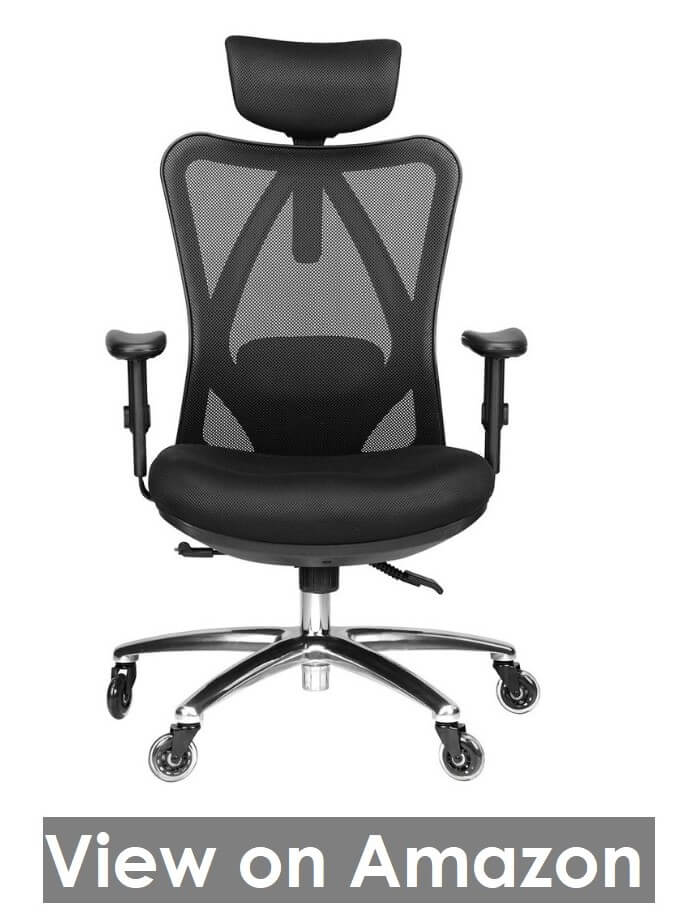 A very tough candidate for the top brands, the Duramont Ergonomic Adjustable Office Chair is a very good chair for coders which is super adjustable or should I say too adjustable to be easily tamed?
The chair is heavy 44.6 pounds (20.2 kg) and it would be not easy to move around in your office. But if you don't need that kind of movement, then rest assured because the dimensions 29.88 x 26 x 12.63 are enough to let you shift comfortably in the seat.
Its major selling factor, and what I like about it as per its price, is its adjustments. You can adjust the depth and height of the lumbar support; adjust the armrests and seat height, and even control the angle and height of the neck rest.
However, all these adjustments make the chair too complicated, and if you use it for longer periods – say 2 or 3 years – they'd simply give their ways.
The result?
A wobbly chair with a poor tilt and lock mechanism and other annoying adjustment related problems.
If you can live with them, then go for this chair. Of course, this is just speculation. Not every piece would go in vain.
Other common features include a meshed backrest and good casters.
Pros
You can adjust possibly anything.
Dedicated neck rest provides extra comfort.
Good frame.
Cons
Might not last for lifetime.
CLICK TO CHECK PRICE ON AMAZON
---
14. Steelcase Gesture Office Chair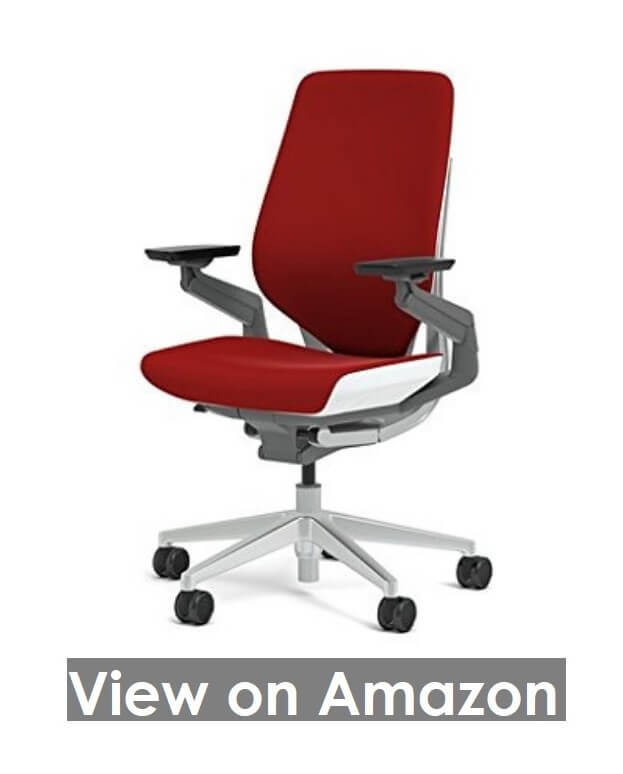 Yet another model from Steelcase but this Steelcase Gesture has even more premium materials and of course, it comes at a little higher price than the above model.
As the name indicates, Steelcase has designed a chair that matches and mimics the gestures of the human body, particularly the back and the neck. It shares a few of its features with Leap Chair, but it also comes with its own unique subtleties.
It can be said that Steelcase, in this model, has refined and added the movement and gestures a chair can perform. Alternatively, this means that this model augments the features of the previous model from the same company I've reviewed above.
So, savvy programmer, behold, here's another chair that can copy your movements.
Again you are getting a Live back feature on this chair too. I know I have already talked about this feature while discussing Leap. However, it's worth mentioning that in Steelcase Gesture, this technology has been taken to the next stage. It has been made subtler so that when you move your back and neck, it moves with you to support both of them.
Ask what makes this chair human and I'll tell you that its armrests do. Comparing them to the chairs above and its own sibling, they can move 360 degrees. This means only one thing: You can move your hands anywhere and still get them supported by the armrests.
This can be particularly good if you get tired in one position and want to sit relaxed in any other position.
I've taken care of the back and the armrests and now let's talk about the seat itself. The gesture comes with a flexible seat to the perimeter, which goes to give you a freedom of moving in any direction while seated comfortably. Just like the back, it also mimics your body and adjusts to it accordingly so that you don't experience any kind of stiffness in your muscles.
Pros
Highly flexible and adjustable.
360 degrees rotating armrests.
Cons
It is premium but comes at an expensive price.
CLICK TO CHECK PRICE ON AMAZON
---
15. Herman Miller Aeron Chair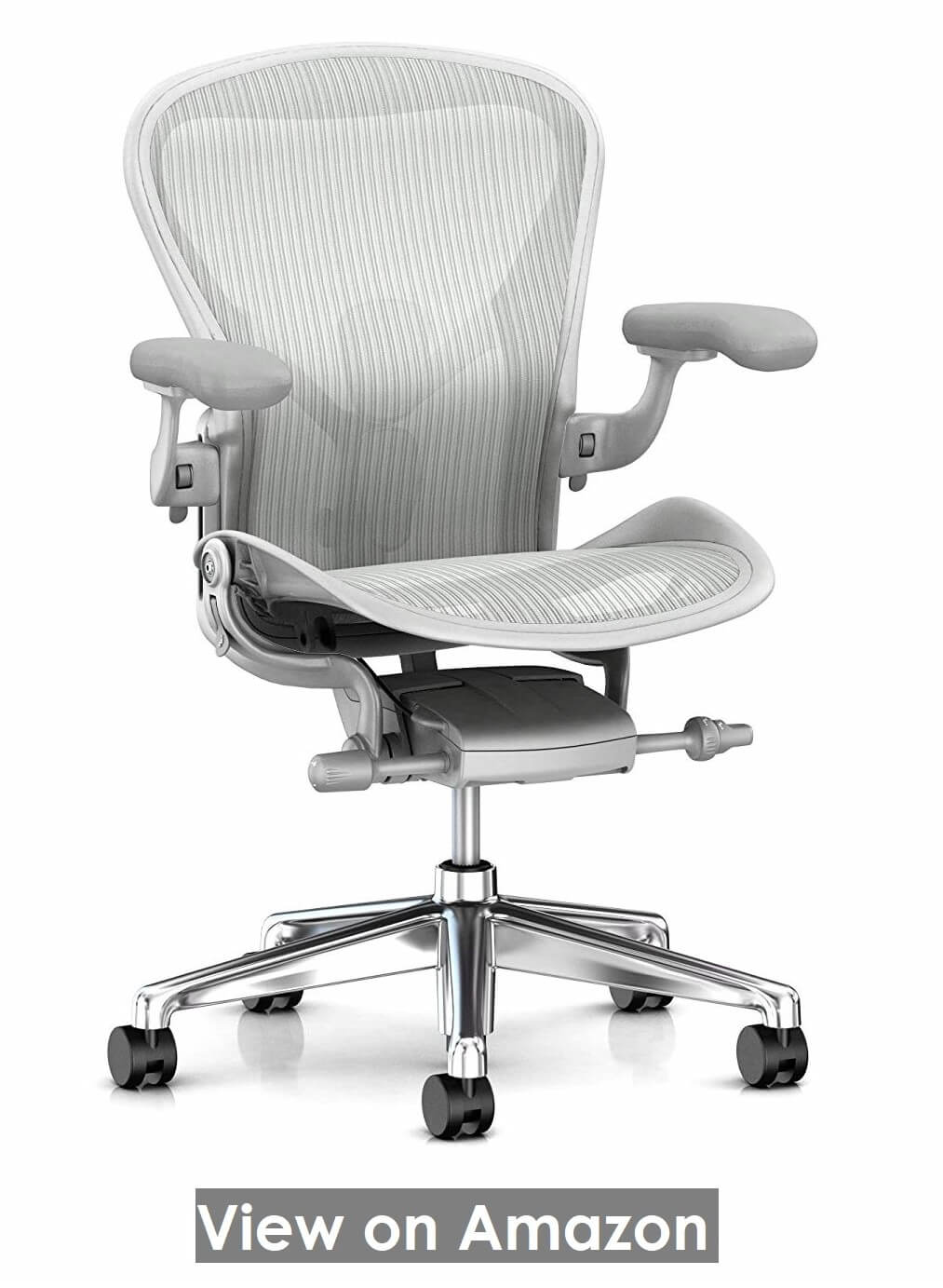 Don Chadwick is known to come up with designs that incorporate year's long research and avoids all trivia. Herman Miller's Aeron Chair is the exact product that he has designed based on this norm. Every inch of the chair speaks of the dedication of the designer and the manufacturer to human comfort.
Ergonomic become a small word while describing this chair as it has literally taken everything to the ultimate level.
The first feature that is the evidence of the dedication of Herman Miller is the 8Z Pellicle elastomeric suspension seat and backrest. The 8Z refers to the 8 positions across the latitude of the backrest where special structural integrity captures your body, envelops it according to its shape; thus, giving you maximum comfort as you sit.
Aeron's tilting or reclining mechanism has been developed by keeping the anatomy of the human back in mind. So, no matter which position you are in, it will always keep your posture smooth and balanced.
The design of Aeron is such that it allows every possible movement of your body in a range of activities encompassing working on a desk. For a programmer, this could be nothing short of a heaven because we know how strenuous your work is in terms of movement of your body while sitting.
Pros
Lightweight.
Comes in three different sizes.
Cons
Might not be affordable for everyone.
CLICK TO CHECK PRICE ON AMAZON
---
Buyer's Guide
Now that I've reviewed all the best chairs on the market, here's what I think you should look for in a chair before buying it.
A. Lumbar Support Mechanism
This is the most important aspect of ergonomics that you should consider. A lumbar support mechanism does not only give support to your lower back, but it also corrects your overall posture. A balanced and shaped spine holds your body straight and up to the mark.
So, whichever chair you've chosen from the above list, make sure it has efficient lumbar support. And if that support is adjustable, go for it without any second thought.
B. Cushioning
Seat cushion is another important thing to look for because you put all of your weight on it. There's no doubt, thus, that it should be comfortable. However, make sure that it doesn't sink too much.
As a programmer, that could make working for long hours impossible as you'll experience continuous tingling to the sides of your legs and hips. Along with comfort, look if it is breathable.
Of course, it cannot be completely made out of mesh, but at least it should have some features that allow that. For example, the Smugdesk Office Chair has double cotton that allows some air exchange if not completely.
C. Posture Adjustments
The next thing to look for is a complete adjustment as per your posture. By that I mean the chair should have an adjustable seat, armrests, neck support, backrest, and whatnot. Nearly everything should be adjustable so that you have no problem sitting in the chair for too long.
Also, with that, you should see if the chair is durable enough to carry out those adjustments later in its life. Oftentimes, they wear out and the chair is left all wobbly and inefficient.
D. Height Adjustments
Height adjustment is particularly important for short as well as tall people. If you cannot adjust the height of the chair, what good will it give? As a general rule of thumb, you'd have to make sure that you can put both your feet flat on the floor relative to the height adjustment of the chair.
Reading all the reviews and keeping a close eye on my blog can help you with that.
E. Base Quality
A sturdy base guarantees a longer life of the chair overall. Therefore, make sure the chair has a solid base made from steel framework and not plastic. Even if it's plastic, it should have good reviews.
Casters are also a part of the base. So, make sure these are of good quality as well. You would not like changing them in the future, trust me. I've been through that.
Also, confirm that the casters can withstand hard floors and carpets alike. Most manufacturers only give away basic casters and sell the ones suitable for hard floors separately. The Space Seating Office Chair is an example.
Final Words
A chair is a very important part of a programmer's life as they spend most of their working time in it. After spending a good amount of time in research, I've made this list of Best chairs for programmers. If you have found your perfect choice based on this list, I'll be glad to hear about it in the comments section below.