Alera Elusion Review: Is this the Best Value for Money Chair?
These days the majority of our working hours are spent on chairs. Even if not, our sedentary lifestyles have made us so prone to back pains and aches originating from numerous flash points that we find it hard using chairs for an hour or so. I can feel you and that's why I've brought to you this Alera Elusion Review.
Alera is famous for producing chairs that fare well with people sitting for long hours in their chairs. It has become almost a staple brand for them and the number one reason for that is its chairs' unmatchable ergonomics. The Alera Elusion is everything you could ask for to sooth your back pains and work for endless hours no matter where you work from.
I have talked about this amazing chair several times and have recommended as a good chair for students for studying and programmers as well.
However, let's not get carried away because the product is far from perfect. Let's delve deeper to know more.
Alera Elusion Review in Detail: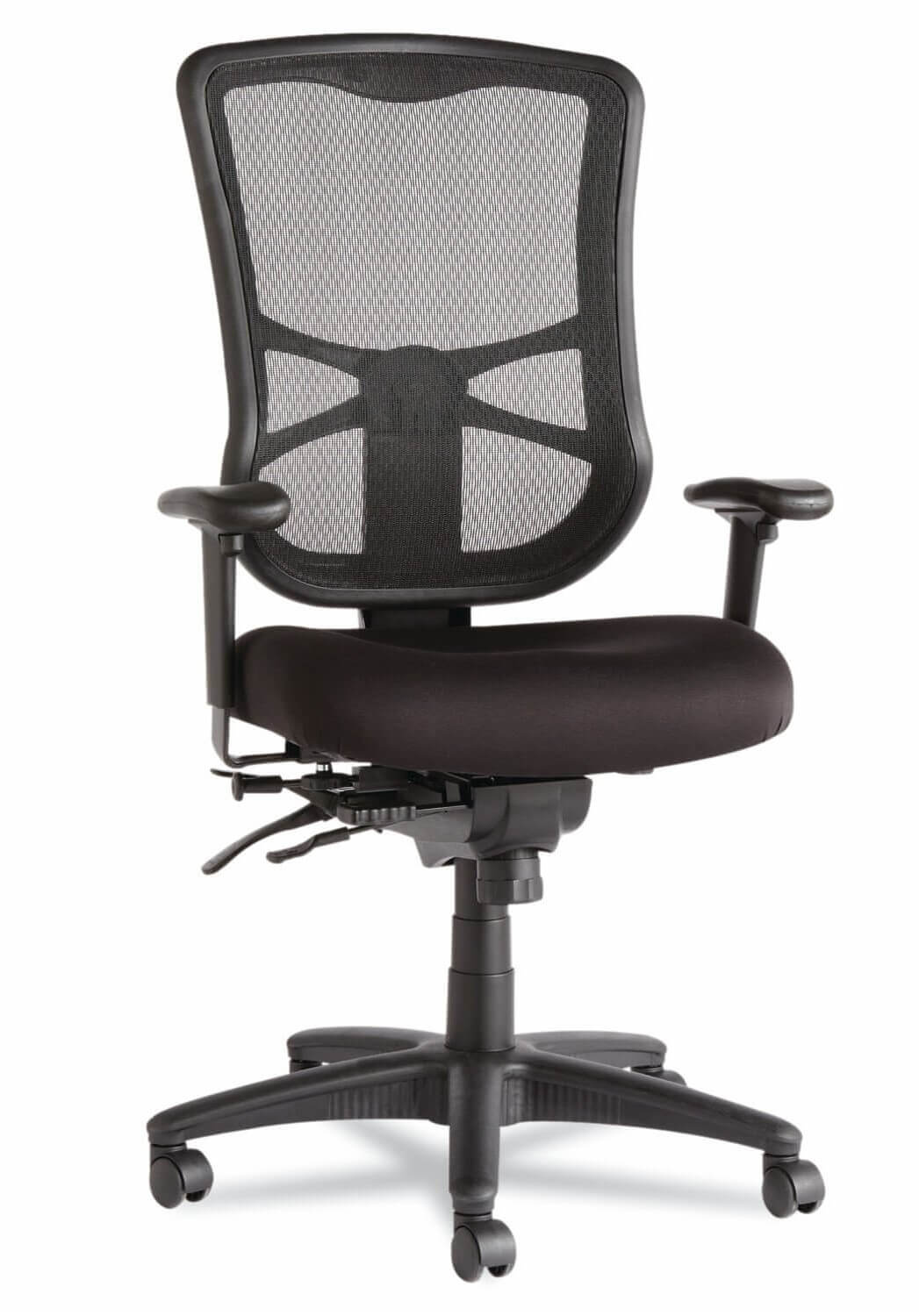 1. Design and Build Quality
The first and foremost feature of a chair that hits the eyes is its design. Alera in this sense really captures the eyes of a buyer. Needless to say, its first impression always wins hearts.
At 57.2 pounds (26 kg) and dimensions of 28.4 x 25.2 x 16.5 inches, the chair stands tall and wide enough on the ground. While its first impression may be demanding, as soon as you touch it and feel its material, you get a slight shock. I mean a chair above $500 and it's all plastic and fiber?
But again, it's the way $500 or below chairs are made. Probably the companies want to save costs. Also, that's what explains why the chair is lighter than its competitors.
Starting from its high back, it has a mesh for keeping you cool throughout summers. The mesh is supported at the back with a lumbar mechanism that can be adjusted relative to the plastic seat. Not to mention, through dedicated controls beneath the seat, you can control its tilt as well (free floating and forward tilt).
That goes on to say that the chair is highly adjustable. Even the armrests can be height and width adjusted and that's pretty good. The rest of the design features are characterized by a waterfall seat, an efficient support system for the small of your back, and smooth casters for easy mobility.
As you can see, there are no apparent flaws in its design. However, its built quality is a little disappointing. For example, some customers have complained about receiving its seat broken or breaking after a year in use.
Also, a lot of customers find this chair almost crying and yelling. The squeaking never stops, but that may be due to overuse. Average people with average weights have little to say anything like that.
So, all in all, I'll like to give 8/10 for its design, and 6/10 for its built quality.
2. Comfort and Portability
After its design, Alera Elusion stays on top of its game comfort-wise and portability-wise. Some people even go as far as to compare this one with Aeron in all three departments. You know Aeron, right, the super expensive Herman Miller chair?
Anyways, like those people, I'm too happy with its comfort. The seat is although a bit hot, considering its thick med/ firm density cushion, but it is sure very comfortable. Especially, when we couple its waterfall edges with a higher seat cushion material density in the middle as compared to its sides, we get one hell of a seat.
This very combination has worked for some customers with sciatic nerve problems. The fact that it can be well adjusted relative to the back gives those customers a higher degree of freedom in relaxing their feet on the desk for better blood flow.
Talking about its back, its numerous adjustments and meshwork are the winners. Even people more than 250 pounds and 6'2" find it appropriate for their size because they can adjust the seat, back, and armrests with respect to their requirements. The added comfort for back pain (a few customers say) can be attributed to its lumbar system undoubtedly.
No, I haven't forgotten about its armrests. They are not really impressive, but one thing is for sure. You won't go home with chaffed elbows, that's for sure.
Coming towards its portability, well, its casters are pretty good to make you feel as if you're gliding on butter. However, that is only when you're not gliding it on a dense carpet. Also, the weight of the chair is not that much and since you can dismantle it pretty easily, you can take it around without any problem.
Beware, though. Doing that too often may loosen up the cylinder and the tilt-lock mechanism. Some customers have had these problems.
3. Worth buying?
You could buy Aeron or other Herman Miller chairs only if you could buy them. They are very expensive, that's what I'm trying to say. As compared to those chairs, Alera is a good choice – of course, at the expense of its many shortcomings.
So, it is worth buying? If you ask me, I'd hesitate to pay $500+ for a chair of this caliber, but again, what choice do I have? Its contemporaries are far mediocre and not up to the mark.
Summing it up, here are its pros and cons.
Pros
Affordable and value for money.
It is highly adjustable.
Extremely comfortable.
Cons
The base is not very sturdy.
CLICK TO CHECK PRICE ON AMAZON
---
Final Thoughts:
In all its entirety, this chair is a fair bargain. You take some and leave some. I hope this Alera Elusion Review shed enough light on that. Also, remember your choice of a chair will make or break your days ahead, so always be prudent.