8 Best Chairs for Writers: Buyer's Guide (July 2020)
A writer needs to have a proper setup to write anything peacefully. One of the most important aspects is having a good chair. A good chair will help you do the job smoothly without feeling tired. If you have landed here to find the Best Chair for Writers and Writing Desk, then you will surely find your next chair from this post.
No what matter what type of writer you are, these chairs would be perfectly suitable for you. You can choose the right option by reading about them.
Top 8 Chairs for Writers in 2020
Preview

Best in Premium

Value for Money


Name
Alera Elusion Series Mesh Mid-Back Multifunction Chair, Black
Duramont Ergonomic Adjustable Office Chair with Lumbar Support and Rollerblade Wheels - High Back with Breathable Mesh - Thick Seat Cushion - Adjustable Head & Arm Rests, Seat Height - Reclines
OFM Essentials Collection Racing Style Bonded Leather Gaming Chair, in Gray (ESS-3085-GRY)
Office Chair Ergonomic Computer Bonded Leather Adjustable Desk Chair, Swivel Comfortable Rolling, Black
Preview

Name
Alera Elusion Series Mesh Mid-Back Multifunction Chair, Black
Best in Premium
Preview

Name
Duramont Ergonomic Adjustable Office Chair with Lumbar Support and Rollerblade Wheels - High Back with Breathable Mesh - Thick Seat Cushion - Adjustable Head & Arm Rests, Seat Height - Reclines
Value for Money
Preview

Name
OFM Essentials Collection Racing Style Bonded Leather Gaming Chair, in Gray (ESS-3085-GRY)
Preview

Name
Office Chair Ergonomic Computer Bonded Leather Adjustable Desk Chair, Swivel Comfortable Rolling, Black
Note: Due to some restrictions, I have added only 4 chairs in this table but you can read about the rest of the 4 chairs in the below article.
 1. Herman Miller Sayl Task Chair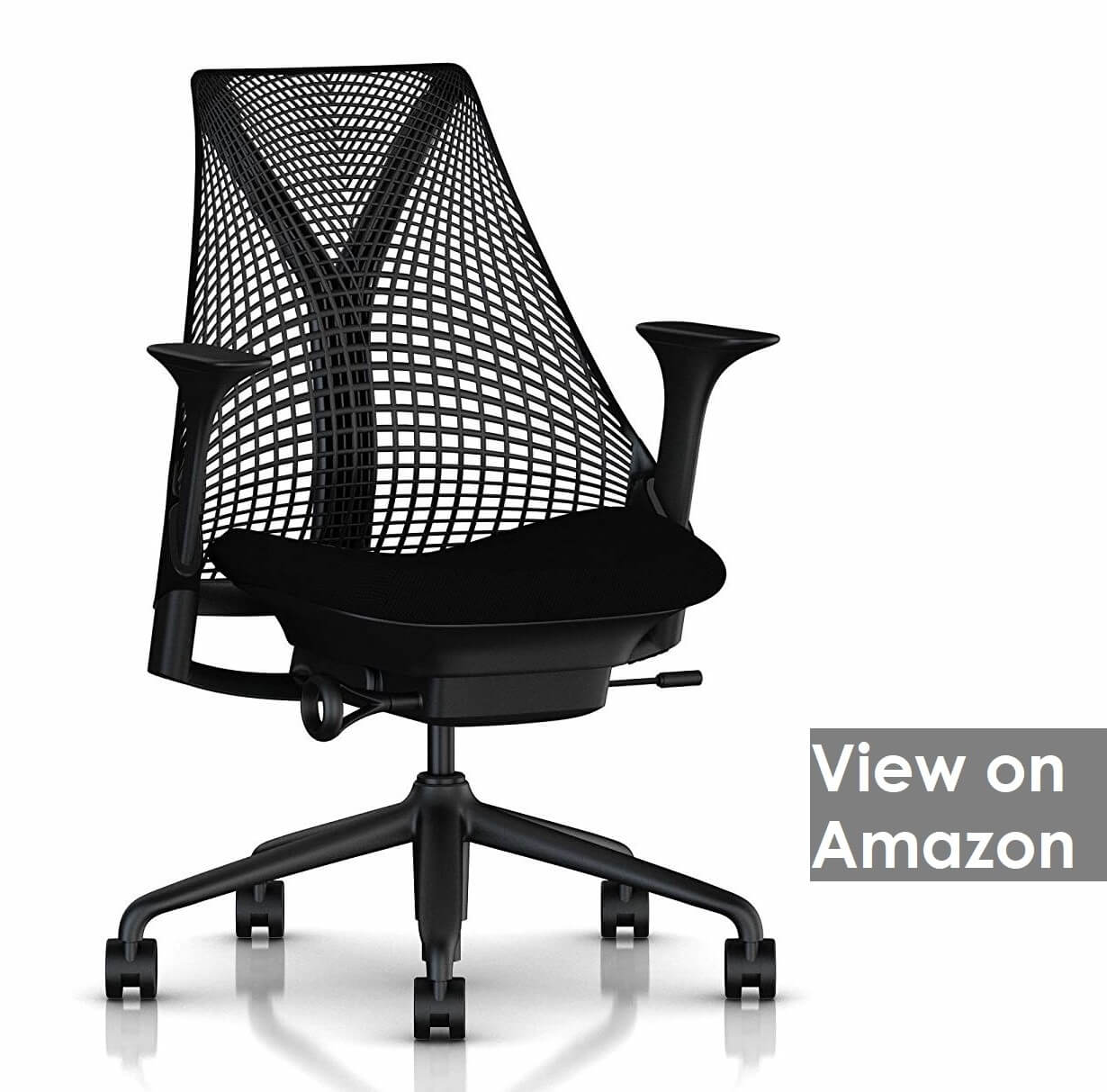 The Herman Miller Sayl Task Chair is an affordable masterpiece designed by world-famous designer Yves Behar. The most attractive features of this ergonomic chair are its great design, superior spine support, and exceptional value.
The chair's revolutionary 3D suspension back is dynamic and flexible enough to mold itself as per one's need. This means it adjusts automatically as you shift your weight while typing or writing by hand, sketching, programming or even reading a book.
Excluding the need for a bulky frame, this frame-less design chair occupies minimal space and can be easily stored in small spaces. You can seamlessly glide across the office space without hindrance. The flexibility of its suspension back adapts to each person's shape providing comfort and support to all the body types.
Nature lovers will love the fact that this product is designed with a great sense of protecting the environment. Having been made with fewer parts and lesser material also creates a positive environmental impact. The structural components are fused into a single unit making it more durable and reducing the weight of the chair.
Be it around a table at your office or in your living room, the organic shape of the chair makes it able to write anywhere with elegance.
With the motive of "The best for the most for the least" Sayl has made a product that is the best design at the smallest cost. Be it in terms of ergonomics, elegant styling, superior engineering and ecological responsibility, the Herman Miller chair is everything a writer's chair should be.
This chair is super light and weighs only 37 pounds. The product dimensions are W 24.5" D 16- 18" H 33.75 to 40.75". The Seat Height can be adjusted between 15.5 to 20" which will be really helpful for writers while writing anything on this amazing chair.
With regular care and maintenance, the chair comes with a 12-year warranty providing many years of quality performance and satisfaction.
As you may already isn't an ordinary brand. It is a premium brand which costs a little expensive but they are famous worldwide for its quality products. The Herman Miller Sayl Task costs around $500 which is a decent investment for your writing career and it will surely last for a long time.
If you have a budget lower than this, then you don't have to worry because there are many other options available for you at a cheap price.
Pros
Extremely ergonomic.
Lightweight and portable.
Adjustable Height and Tilt.
CLICK TO CHECK PRICE ON AMAZON
 2. Alera Elusion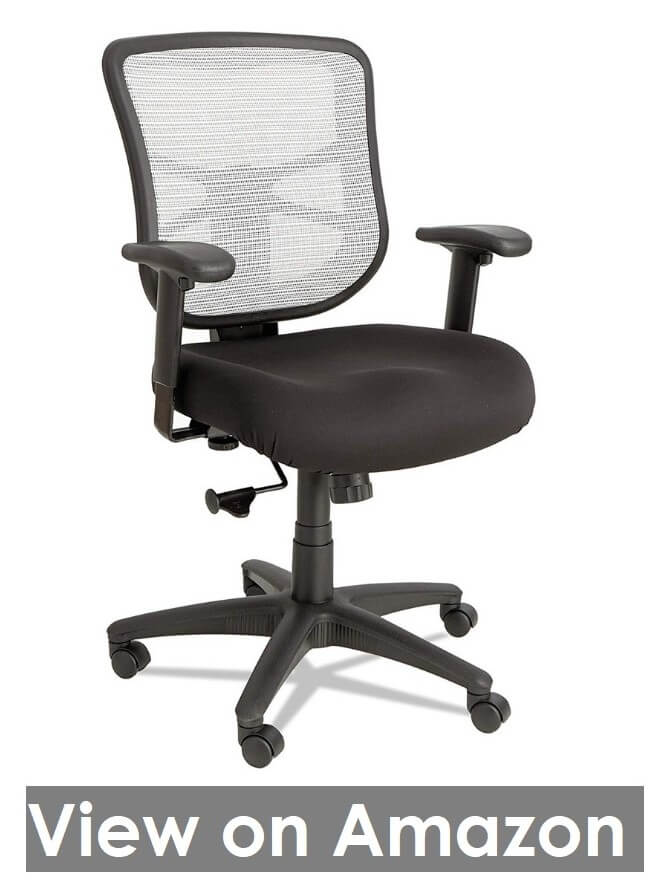 This chair comes with an innovative ergonomic design making it fit for a variety of uses and of course, it is perfectly suitable for writers like you.
The Alera Elusion Chair comes in a combination of two attractive colors (black and white) and has a contoured seat cushion with Waterfall Edge. This unique design helps relieve pressure on legs and is particularly helpful for those who have to sit on their desk for long hours.
With a 5-star base with smooth wheels for easy mobility, the product meets ANSI/BIFMA standards and is in league with the best quality chairs. These chairs ticks in the list of both quality and affordability.
The Alera chair has soft polyurethane pads for added elbow support as well as height and width adjustable arms. This amazing feature will surely amplify the comfort offered by the office chair.
Moreover, the chair also takes care of your back. Its adjustable height ratchet back makes it ideal for proper lumbar support. People suffering from chronic lower back pain will find much respite on this chair.
The item weighs 25 lbs which I don't think is very heavy to move around.
The chair around $150 which is affordable for almost everyone. Overall, I have to say that this is one of the top chair for writers who are looking to get one in this price ragne. Read my full review here to know more about this amazing chair.
Pros
Great lumbar support.
Adjustable arms.
Cons
Build quality should have been better.
CLICK TO CHECK PRICE ON AMAZON
 3. Steelcase Leap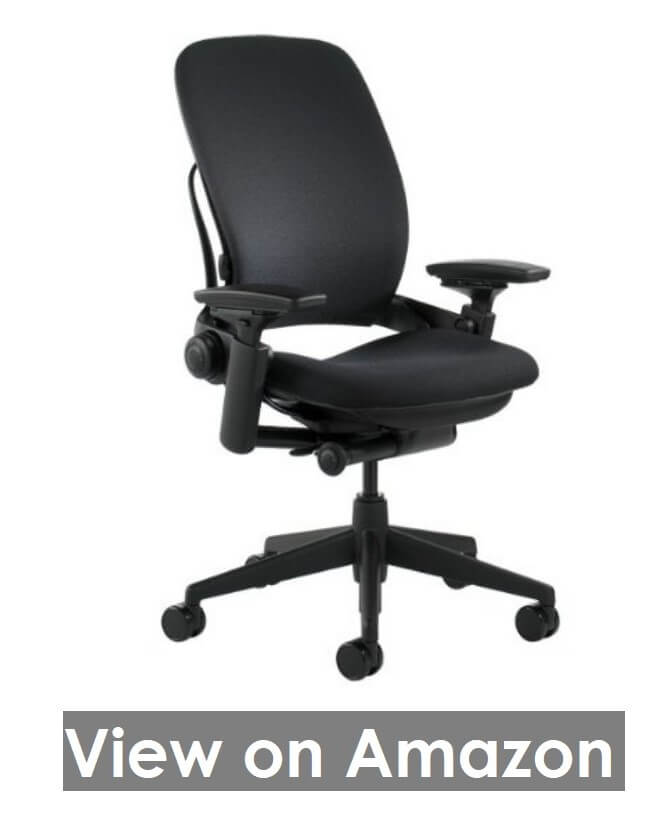 Designed by Steelcase Design Studio and IDE, the Leap chair is all about making the next leap in comfort. It offers greater flexibility with lots of impressive features. This chair is Steelcase's best-selling ergonomic chair. Its live lumber technology flexes with one's movements making it ergonomically comfortable.
The live back adjusts with the natural shape of the spine and changes it's shaped to one's convenience making you stay comfortable all day long. The natural glide system of the seat makes it possible to glide forward enabling a person to recline and still stay oriented encouraging more varied postures without a static load on the spine.
This is a boon for writers as it offers comfort in the pre-writing stages of reading and note-taking as well as post-writing stages of copy editing and proofreading. The chair is up to 98% recyclable by weight and manufactured from 30% recycled content. The chair provides exceptional comfort and support and promotes a healthier posture.
This is a heavy-duty chair and comes in a variety of colors ranging from burgundy and gray to navy blue and camel. The chair's total comfort features offer extreme breathability by allowing for better airflow to maintain a balance of heat and moisture.
The product dimensions are 15.5-20.5" (Seat width), 15.75-18.75" (seat depth), 7-11" (Arm Height) and 13-20" (Arm Width). The weight of this chair is 48 pounds which isn't very heavy in my opinion. You can easily move it in your room or office without much effort.
A premium chair comes at a premium and that's the same case with Steelcase's Leap chair too. It costs around $900 which is quite expensive but If you have a high budget, then you won't any issues with that.
Pros
Dust and Moisture Resistant.
Highly Durable and Sturdy.
CLICK TO CHECK PRICE ON AMAZON
 4. Duramont Ergonomic Adjustable Office Chair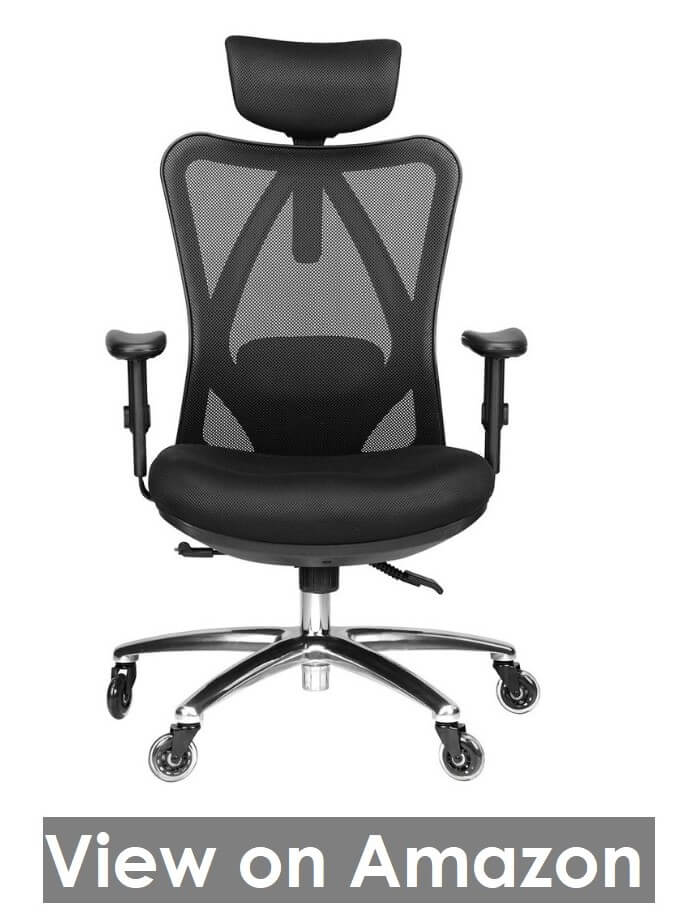 The numerous adjustable features of the Duramont chair provide the user with a very personalized comfortable seating position. The chair offers minute adjustment options like the ability to adjust headrest height and angle, the lumbar support height and depth, the armrest height and distance from the seat and the seat height, as well as the backrest tilt which can all be done as per one's convenience.
The chair has a breathable mesh back that acts as a support and keeps the back cool and comfortable by preventing a build-up of moisture and trapped heat.
This chair also provides the adjustable lumbar support allowing a person to sit in the position that makes his back feel most relaxed and allows one to work for long periods of time.
Installing the chair is quite easy by following the manual provided by the manufacturer. If you want to install yourself, you can choose the option of "Expert Installation" in Amazon and they will take care of that.
This chair is durable and has been made from the highest quality materials which include premium materials like a soft cushion seat, sturdy arm, and headrest as well as stylish rollerblade Caster wheels.
With these super smooth wheels, even the most vociferous of readers can glide around their study or office to fetch reference books and encyclopedias to spice up their writing on the go.
The weight of the product is 45 lbs and moving this chair won't be a difficult task for anyone.
The chair comes at a very reasonable price and it has a rating of 4.4/5 from more than 600 reviewers on Amazon. This is no secret that it is one of the top chairs at this price range.
At last, I just want to say that this is a great chairs for writing desk at an affordable pricing.
Pros
Comfortable seating.
Cheap and affordable.
Cons
Armrests feel wobbly sometimes.
CLICK TO CHECK PRICE ON AMAZON
 5. Essentials Racing Style Leather Gaming Chair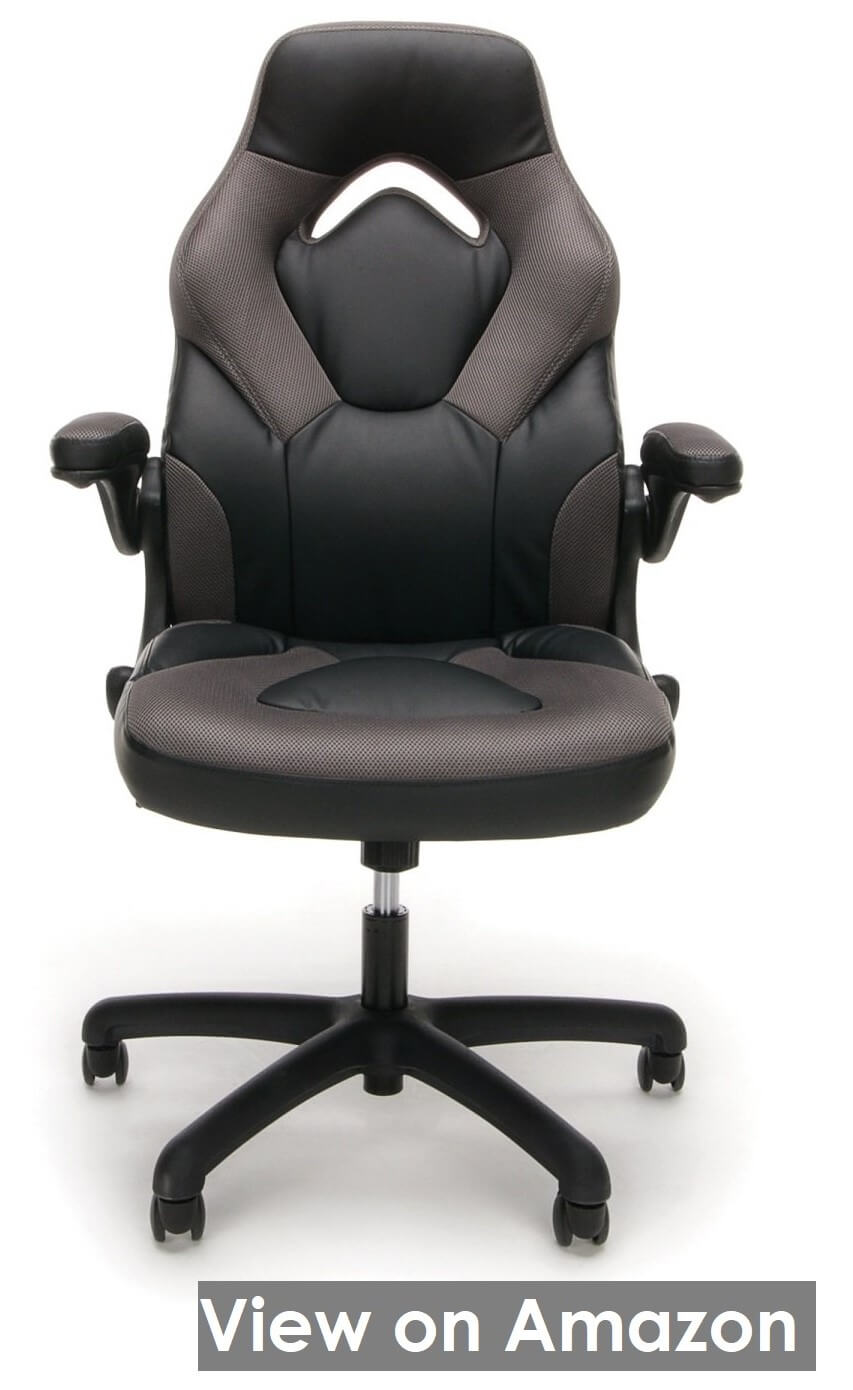 This Gaming Chair is designed by OFM (Official Furniture Marketing) and will impress any gaming chair enthusiast. Taking it to a whole new level with the ESS-3085 series, this line of chairs has made its mark in the world of office chairs.
I know you are looking for the best chair for writers but there are many writers out there who play games while they are free. If you are one of them, then it would be a perfect choice of chair for you. Even If you aren't a gamer, this chair is perfectly suitable for writers.
Before I talk about anything about this chair, let me tell you that this is the CHEAPEST chair on this entire list and it costs less than $100. If you have thought that there won't be any good chair under $100, then this chair will surely prove you wrong.
Okay, enough of boasting about this chair. Let's talk about it in detail.
The Essentials Racing Style Leather Gaming Chair is designed in an ergonomic race car style chair that provides comfort during the intense gaming session and therefore makes it the ideal chair for use during long workdays.
The product has been made with high-quality materials including the integrated padded headrest, padded arms, contoured segmented padding, and high back, all intended to provide high-performance comfort.
The seat height adjustment, tilt-lock, tilt-tension control, and 360 degrees swivel are some of the additional features this chair comes up with. The thickly padded arms can be lifted and flipped up or down for uninhibited movement and provide excellent support for arms during typing and writing by hand.
Not only the material but the soft thread leather and contrasting color mesh gives it a completely modern and high-quality feel.
The dimensions of this chair are 30.5×28.2×44.5 inches. The chair weighs 38 pounds and the maximum weight capacity of this chair is 250 pounds.
Pros
Perfectly suitable for both gamers and writers.
The cheapest one here but comes with good quality.
Cons
Tilt back adjustments are not available.
CLICK TO CHECK PRICE ON AMAZON
 6. Steelcase Gesture Chair
The Steelcase Gesture Chair is one of the best chair designed to support a great range of technology helping a writer to cope up with the demands of modern-day writing and editing work.
These types of chairs are perfectly aligned with the movement of the body hence providing exceptional comfort and support. It comes with a feature of intuitive adjustments making it easy to operate and respond to the user's adjustments immediately.
The front knob of the chair helps control the height and depth and the back knob helps control tension and variable backstop. There is no headrest available in Steelcase Gesture, you need to keep this in mind.
With the unique feature of a 3D live back, gesture adjusts automatically to the spine movement and synchronizes itself to support a great range of back postures.
The arm placement towards the backside of the soft edges of the chair adds to the comfort it provides. The chair comes in various colors and one can choose the chair color in accordance with his office decor.
The chair weighs 74 pounds and it is the heaviest chair on this list. If you are planning to get this chair to use it from one place and don't move around a lot, then the weight of this chair won't be a concern for you.
The pricing of this chair might be an issue for many people. It costs a little over $1000 which very expensive but again, it is a premium chair and we have to invest a good amount for a premium chair.
Pros
Superior Cushioning
Wide Range of Colours.
CLICK TO CHECK PRICE ON AMAZON
 7. High Back Executive Office Chair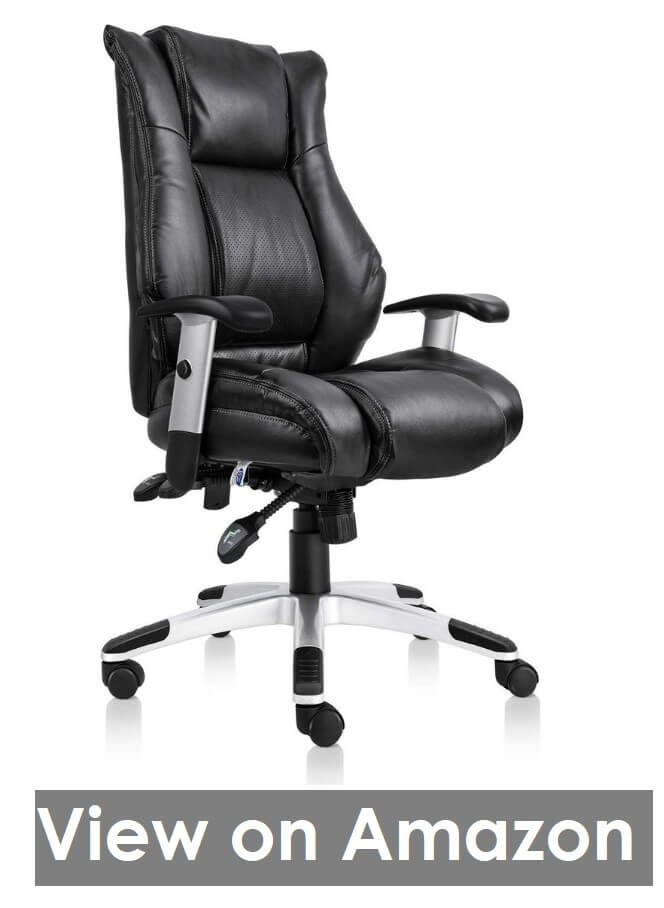 Manufactured by Smugdesk, a company known for the culture of innovation with a strong track record, this executive office chair has a reputation to live up to your expectations.
The High Back Executive Office Chair comes with a backrest that helps in maintaining the natural curve of the spine. The back nicely supports waist and high-density cushions reduce the pressure on the back and legs.  This means you can do all the reading for your writing projects without needing a break.
The chair features a 360-degree movement of the seat that automatically adjusts itself to the various postures of the human body.
The product is durable and adjusts itself accurately to the heights of the user. Not only the height but this chair has a unique mechanism of adjusting the tilt and locking feature which enables the user to work comfortably without the need for adjustments all the time. The wheels of the chair are made of PU casters which makes it scratch proof even on hard surfaces.
The armrests of the chair are also adjustable adding to the comfort of the users and fitting the requirements of users with diverse needs and tastes.
The assembly of the chair is very simple and straightforward requires no additional tools. In fact, almost anyone can assemble this chair in a few minutes and start using it straight away. This chair also comes with some spares such as extra screws which is a huge convenience for frequent users.
The chair weighs only 19 pounds making it the lightest chair on this list. The High Back Executive Office Chair also comes at a very affordable price. It has a rating of 4.6/5 from more than 300 reviewers on Amazon which tells you the popularity of this chair.
Pros
Great neck support.
Reasonable and affordable pricing.
Cons
Gets sometime to get used to it.
CLICK TO CHECK PRICE ON AMAZON
 8. Sihoo Ergonomic Office Chair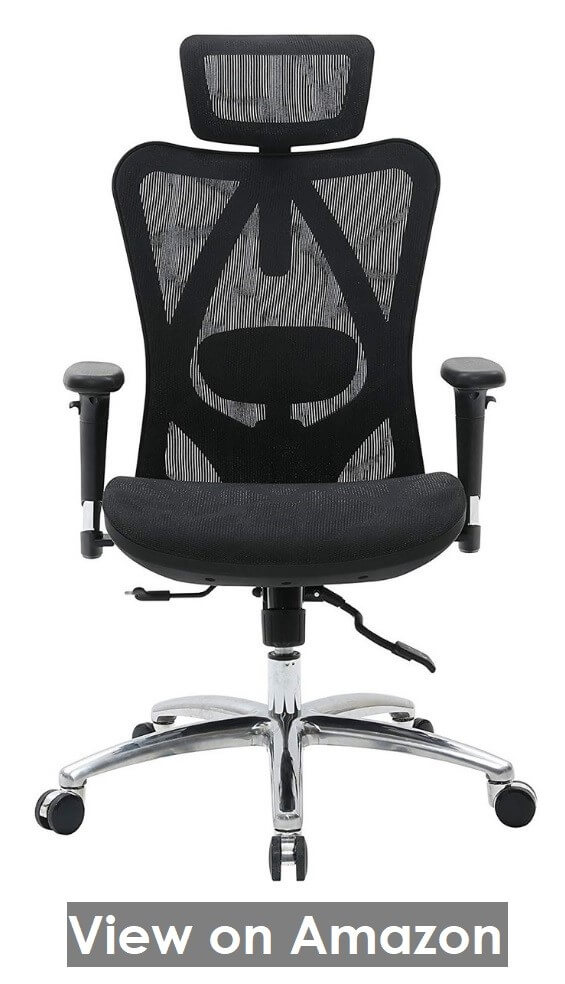 The Sihoo Ergonomic Office Chair is again one of the affordable chairs which offer a lot of features a writer would need.
The design of this chair is based on the human body's dynamic digital model which enables designers to exactly predict the needs of a person at work on a desk and what can ease their strain.
The close-fitting of the chair helps release the spinal pressure and thus provides a relaxing and soothing experience even if the nature of work is very intense. The ridge of the chair has been designed keeping the human spine in mind and both are in perfect symphony. The product comes with the flow waterfall arc seating designed to provide thigh support to the user.
The unique features of the chair include the adjustable head restraint and lumbar support allowing the neck and back to lean easily. This helps prevent the damage caused to the spine on ordinary office chairs that excessively straighten the back or make the user crouch abnormally.
The 3D adjustable armrest adjusts itself as per the different office applications on the 90 to a 120-degree range and an arbitrary backrest can be used for multiple work positions. Thus this is a very good chair for writers who need to do a variety of tasks like drawing, type, write with hand & make calculations.
The chair has an aluminum base and the double frame design that makes it steady and durable. The casters of the chair move freely without making any noise.
The product weighs 48 pounds and the dimensions are 30×26.5×14 inches. The chair comes in 3 ranges- Mesh chair, With Footstool and without Footstool.
Pros
Excellent spine support.
Perfect adjustability.
Cons
May not be suitable for tall people.
CLICK TO CHECK PRICE ON AMAZON
Final Words:
So, these are the Best Chairs for writers you can get in the market now. I have picked these chairs after spending a good amount time in research. So you have to keep in mind that these are not randomly picked chairs. If you have any questions to ask, feel free to comment below. I'll get back to you as soon as possible.