10 Best Office Chairs For Long Hours: Buyer's Guide
Did you know that every working soul spends around 6-8 hours a day at the workplace? And unless you work in sports, construction, agriculture, and the like, chances are you spend those hours in a chair, right?
Unfortunately, not every chair will be a faithful companion throughout all those hours. A chair with bad quality and  features can hurt you more that it helps. If you're tired of an achy back and sub par chairs, you're in the right place. Today I'll help you find the best office chair for long hours at a very reasonable price.
It could be the workplace or a home office. Either way these chairs are perfectly suitable for long hours with minimal breaks. Without further ado, here are today's top contenders.
Top 10 Office Chair For Long Hours
1. AmazonBasics Leather Padded Mid Back Office Chair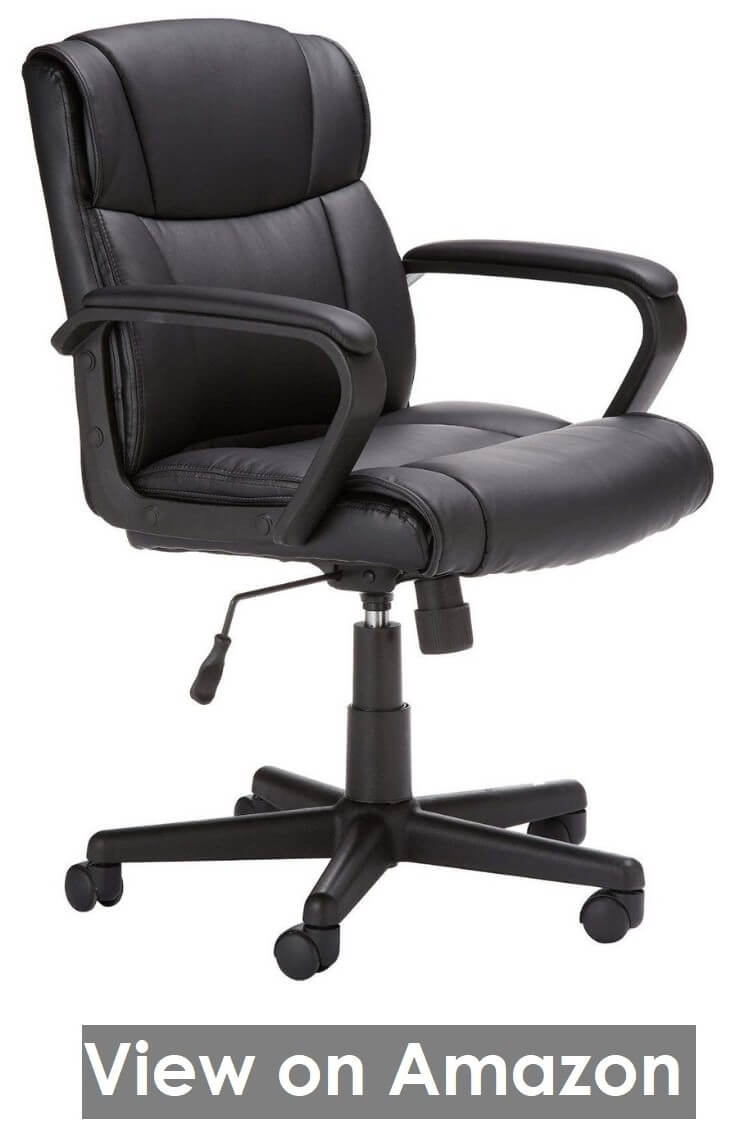 Fact: no one wants a chair that'll cause any trouble after prolonged use. This budget chair from Amazon promises to make hours on your bum seem like quick minutes.
If you see "AmazonBasics" on any product, you may want to go for it. That's because Amazon is huge – they don't just put their name on the line for any odd product. However, this does not mean that there aren't any caveats.
This AmazonBasics Leather chair is relatively small at 27 x 25.8 x 39.2 inches. The chair is mid-back – meaning it will only support your, well, the middle of your back. It might sound uncomfortable, but mid-backs have their merits.
The faux leather does great for comfort. Even if it supports half of your back, there's enough support to keep you working endlessly. But what the Amazon basics lacks in the back is more than made up for by a super comfortable seat.
But as always, don't hold your expectations too high. The Basics chair can give away in just 1 year according to some customers but it depends from person to person.
Apart from being super comfortable, the chair is lightweight at 30 pounds (13.6 kg). This makes it ideal for all the multitasking and rolling around you have to do daily. You can also carry around the chair just fine. More to that, you can swivel, rock back, and raise your seat according to your height thank to its pneumatic controls. It is all a matter of angling the lever to change the chair's adjustments.
You might be thinking:
There are no flaws in this budget chair, Right?
Unfortunately, no.
For any office employee or a person that stays glued to his or her chair, this is ominous. Still, you have to consider all your choices. Some customers have reported that armrests of this chair aren't up to the mark, but it's not that bad really. But you have to remember, this is a budget chair – there are some little compromises you may have to make.
Other than this, you won't get any complaints about its assembly or any other stuff.
If you are a programmer looking to get a chair for your home office, then this might be a good choice for you.
To sum it up, you get a fairly comfortable chair that can last longer if you use it wisely (at least for the price). Remember, the weight limit on this chair is 275 pounds. Pile on any more and you'll put the sensitive components at risk of damage.
Pros
Cheap and affordable.
Leather is of high quality and suitable for long hours of use.
Cons
Not suitable for rough users.
CLICK TO CHECK PRICE ON AMAZON
---
2. Mid-Back Mesh Chair by Flash Furniture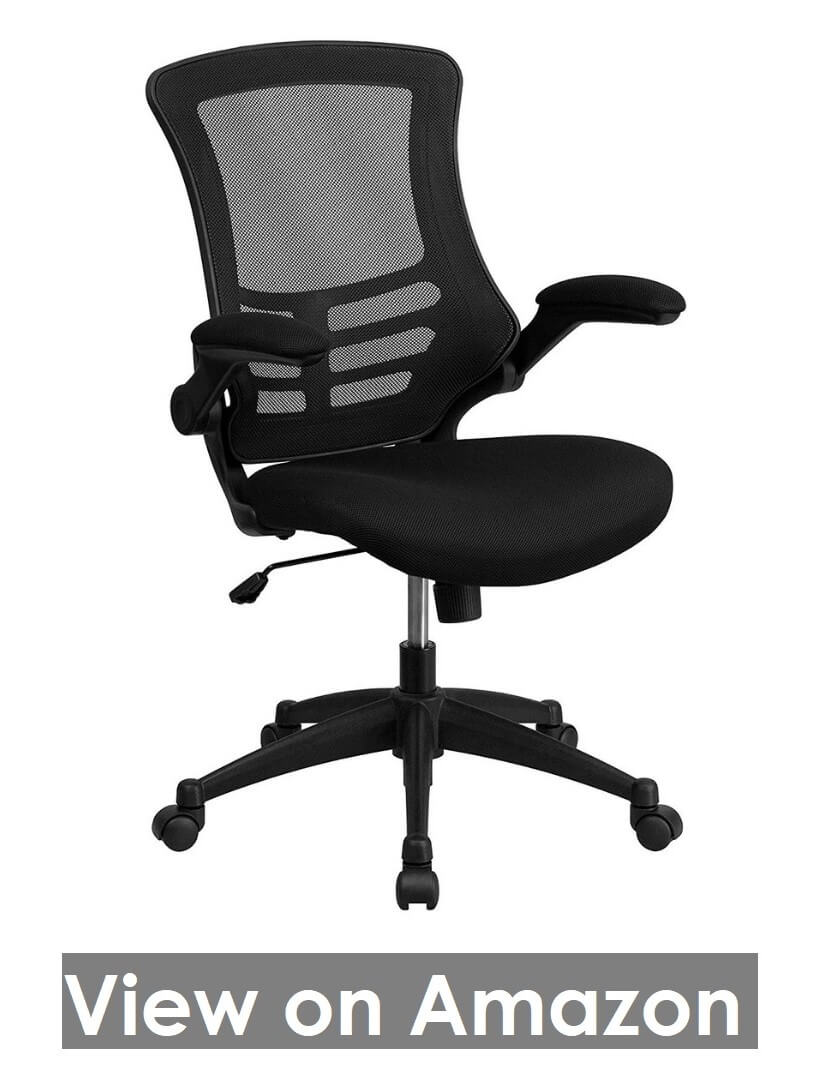 AmazonBasics Mid Back chair could be your companion in winters. But for those hot, humid summers, consider buying the Mid Back Mesh Chair by Flash Furniture for all the right reasons.
First, it's larger than the previous one at 25.5 x 24.5 x 41.2 inches. And it weighs almost exactly the same as the AmazonBasics chair at 30 lbs (13.6 kg) which is not that heavy in my opinion. As for the heavy lifting, be sure you're not over 250 pounds because things will get weary on the chair's end, you know.
Assembling it is as easy as pie. It takes around 20 minutes as William has mentioned here. That's not something to worry too much about. Ironically it's the most appealing and major features that you have to watch out for.
So, why is this chair best suited for summers?
That's courtesy of its mesh back which translates to zero sweat stains on the back of your shirt. Instead, you'll be all cool and cozy even if you work 10 hours a day in sunny Texas.
The chair has plenty of adjustments to make up for its price. For example, you can lower or increase the height of the seat, lock the position of the backrest, flip-up the armrests, and swivel at will.
However, all is not well guys.
The height of the chair does not rise considerably. That could be a problem if you have a very high desk. There's no tilt-lock mechanism as the manufacturer claims, and the armrests do not stay in the middle position.
Comfort-wise, the chair does a commendable job. However, here too, certain aspects like mediocre cushioning will make you forget the waterfall seat's benefits for your blood circulation.
Overall, for what it achieves, this is a very good chair for long hours at work without any doubt.
Pros
Build quality is good.
Swivels smoothly.
CLICK TO CHECK PRICE ON AMAZON
---
3. Modway Articulate Vinyl Office Chair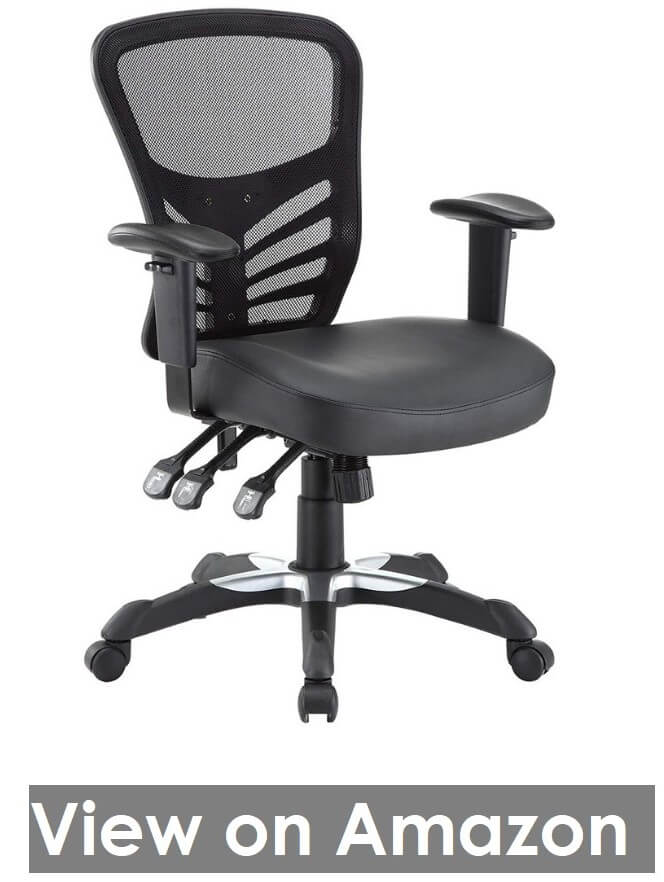 As the name suggests, Modway Articulate Vinyl Office Chair is really sleek and articulate piece of craftsmanship. But before you get all hyped up, lets clear a few things up. The Modway might be sweet, but it can't give you the articulations a $1000 ergonomic chair would. For the time being, let's just say that it's predominantly featured here for its price.
First thing's first, it is a big and slightly heavy chair for the average joe. The dimensions of 22.5 x 25.5 x 43 inches can accommodate you well even if you weigh slightly over 250 pounds. And when you are that strong carrying around or skidding a 31 pounds (14 kg) chair would not be a problem for you or for anyone for that matter.
Here's the deal:
This chair has adequate features to make up for its price. You get a lumbar support system to save your back from long hours of work. There's also tilt mechanism, height adjustment, and seat adjustment. All of these features make up for more than 3 adjustment options so you can find your sweet spot.
Moreover, the seat never hinders blood flow, which is one of the features you'd want if you hate leg cramps.
The armrests can also be adjusted. However, some customers have complaints about both of these. According to them, the seat cushion is not what it is advertised – and the armrests are way flimsy.
I'd say, any chair would give away if you don't use it appropriately. Putting your weight on the armrests as you get up may be one the many causes of armrest breakages.
Also, every 3 months you may need to tighten up the screws and bolts of this chair as they can loosen up with time. I don't think it'll take a lot of time to do that. Even if you are student, the Modway could be your perfect choice.
Pros
Base is sturdy.
Highly ergonomic.
Cons
You'll have to go easy on the armrests.
CLICK TO CHECK PRICE ON AMAZON
---
4. Serta Executive Office Chair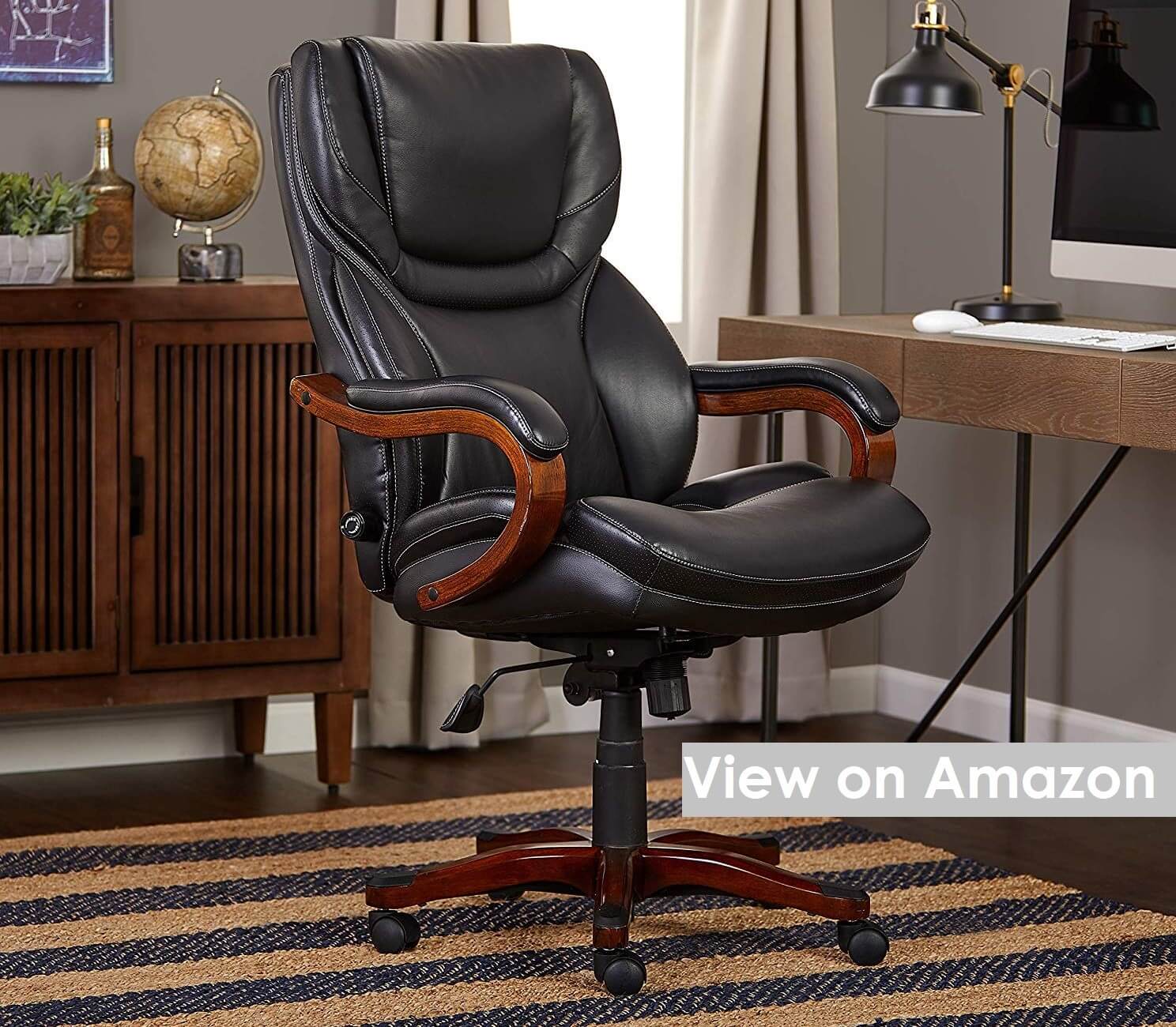 This is the first premium chair on this list and one of the most deserving for the title Best Chair for long hours. While the rest of the chairs may be for short to medium height people, Serta Executive Office Chair is built for tall people.
People 6'5" tall and weighing 350 pounds have had no problems using it at all (Source). This means it's more than safe for people under 300 pounds.
Lets get into the meat of it. For an executive chair that can be used for long hours in an office, this one does really good. However, you should keep in mind that it is not one of those lightweight chairs. It occupies considerable space with dimensions at 30.5 x 27.2 x 47 inches and it weighs 56 lbs (25.4 kg). Yep, a big chair for big boys.
Construction-wise, the chair is extraordinarily sturdy. It's base comprises if hardwood while the surface is made of bonded leather. So, you can expect it to live longer than any other chair in the same range.
But here's the kicker:
Many customers have mentioned its shipment distance from China puts the chairs at a higher risk of damage. This  fact makes up a lot of cases for faulty or damaged parts. For example, you may get one of the holes of the bolts an inch shy than the radius of the screw. Or, your chair's gas cylinder may stop working after a few uses.
Worse of all, you may get half a chair shipped. Yes, that's happened to some. But if this happens, you always have the unflinching support of Amazon. I would suggest you return the product or ask for a replacement.
There can't be any reservations on the comfort levels of this chair. It is indeed multi-layered and the extra cushions to the sides of the back plus its adjustable lumbar system do great in keeping you comfortable for the day. However, if I go on to compare its tilt mechanism with other chairs, I'd say it's almost non existent.
But don't worry. You won't need one since the back is really high and very well placed. The Serta is definitely a greta pick for the top office chair for long hours.
Pros
Executive in the true sense.
Extremely comfortable and sturdy.
Perfectly suitable for tall and heavy people.
Cons
Might be slightly expensive for some people.
CLICK TO CHECK PRICE ON AMAZON
---
5. Alera Elusion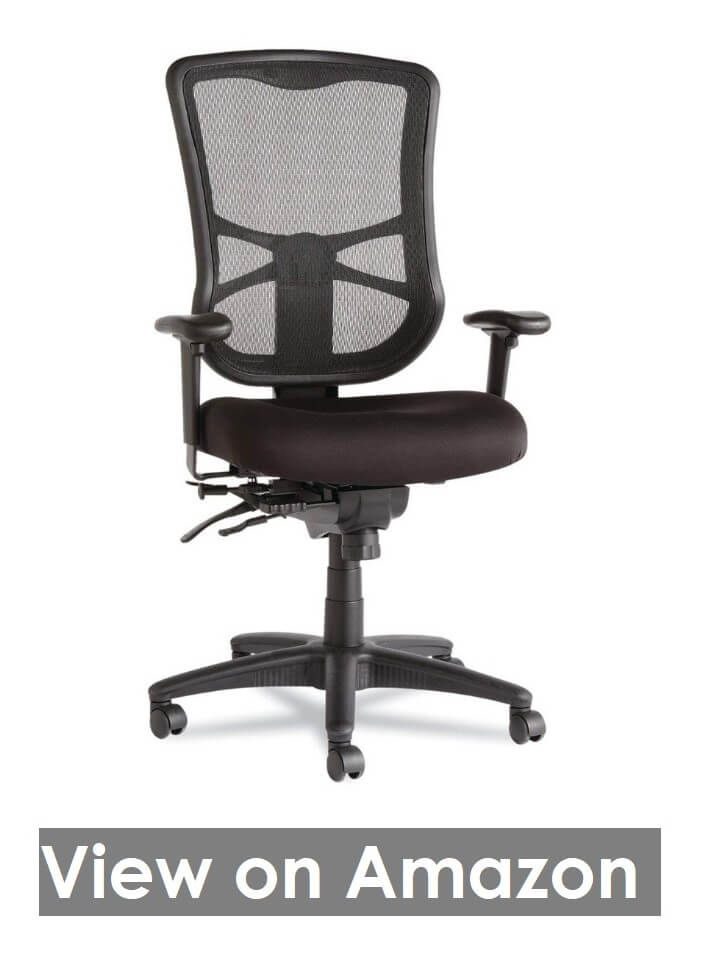 Alera Elusion attracts a lot of customers on Amazon. In fact, it is personally one of my favorite chairs which I openly recommend for my readers on HuntChair. As it stands, I have no hesitation when I say it's one of the best office chairs for long hours. Keep reading on to know why.
Starting with the basics, the chair is 56.2 pounds (25.5 kg) heavy and has dimensions of 26.2 x 24.8 x 15.8 inches. That means you can easily fit in it if you're an average or slightly above average person. If you're not, then this chair might not be a perfect fit for you. But if you weight over 300 pounds You should definitely consider giants such as the Serta Executive Office Chair.
So, what makes Alera Elusion so special?
Well, there are many things to praise about this chair it could take quite a while. But my personal favorite is the wide range of adjustment options. At the current price, you get a complete tilt mechanism, armrests and seat height adjustability, a mesh back for use in summers, casters that roll smoothly like butter, and a lumbar support system.
Savvy, right?
Indeed. However, all of the said features come with their own downfalls. For example, the lumbar support system is not that savvy. You can't expect it to be as ergonomic as a $600 chair after all now, can you?
Next, the outer material is not that premium. After significant use, you may experience the back mesh stretching, thus, exposing the lumbar system. That could hurt the small of your back for all the wrong reasons.
Also, the armrests are not adequately padded and they get wobbly as the chair gets older. Talking about the seat cushion, it works great for a year or so. After which it starts to sag down. Some customers have reportedly said that its cushion could be nothing but memory foam, which decreases the height of the chair further as you sit.
All in all, if I count the strengths of this chair, then it all boils down to some creative adjustment options. Even the seat and the backrest move separately. So, for its price, it's not a bad deal at all.
Pros
Great value for money.
Highly adjustable.
Seat angles are flexible.
Cons
The build quality could've been better.
CLICK TO CHECK PRICE ON AMAZON
---
6. BestMassage Ergonomic Office Chair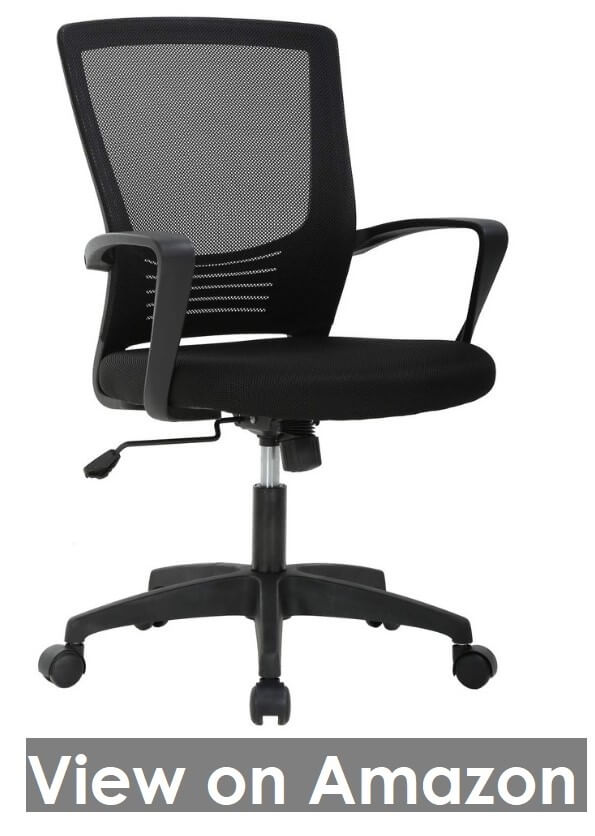 The BestMassage Ergonomic Office Chair is a tough competitor  – especially when you consider the fact that it comes under $100. If your budget looks similar, consider going for this one. However, be ready to compromise heavily as you would anything with a discounted price.
Starting with its dimensions and weight, you'll find things a bit awkward here. The chair overall stands quite small at 18 x 12 x 12 inches, but it weighs around 40 pounds (18.1 kg). To be honest, this worries me a bit because I prefer wider and lighter chairs. But If you are okay with it, then you won't have any issues.
But don't mistake the small stature for an uncomfortable experience. This beauty is among the most comfortable chairs in this range. The back or the lumbar system is extremely supportive. For your backache, it could provide moments of peace, but that's not all.
Now:
As you already know by now, the mesh is for the purpose of keeping your back cool in summers. Although it wears off with time and starts showing signs of stretches, it still performs well. That could be a relief for you in those long hours of heat.
After its size and weight, two of its most important parts fail to impress me: its armrests and the seat. The armrests cannot be adjusted and they are quite low as compared to other chairs. If you are small and petite, you may have a hard time resting your elbows.
Worst yet, you may experience that stinging pain in your shoulders.
Next, I don't like its seat as well. While it's long lasting, it is also relatively stiff. Probably that's why it lasts longer.
Apart from these shortcomings, the chair has nothing wrong at all. For example, it has the usual tilt lock mechanism, height adjustment, 360-degree casters, and a firm base.
All of these features are sufficient, in my view, for a chair at its current price. If you're on a tight budget, it's definitely one of the best computer chair for long hours in my opinion.
Pros
The cheapest chair on this list.
The build is somewhat sturdy.
Relieves back pain.
Cons
Doesn't have many adjustment options.
Might not be suitable for big people.
CLICK TO CHECK PRICE ON AMAZON
---
7. Lorell High-Back Chair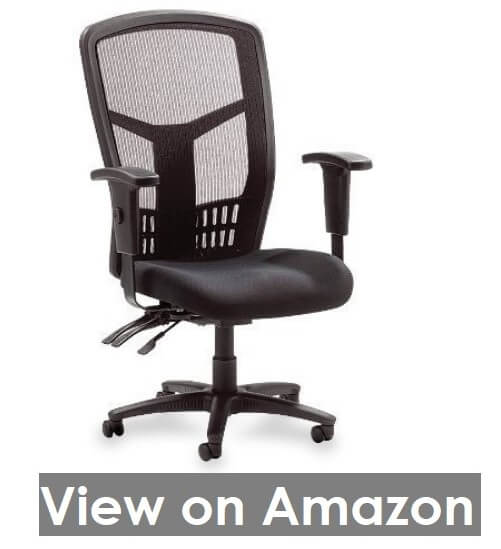 Here's a nifty, high-back chair with possibly every type of adjustment option you can think. It is hands down one of the top rated chairs on Amazon.
The Lorell High-Back Chair is as roomy as it is heavy. At 31.9 x 23.8 x 14.4 inches, it can accommodate you even if you're 6'2" and 250 lbs. The chairs weigh 48 lbs (21.7 kg) and it is a fairly portable chair I would say.
Coming towards its features, the one that glares is its adjustments. You get an infinite tilt lock mechanism on both the front and back. You also get armrests that can be height adjusted and width adjusted.
With that, the height of the seat can be tweaked and so can its tilt to help you find that sweet spot. All in all, you can bring it to your preferred calibration in a matter of seconds. Once you do that, working for hours may not be a problem.
But here's the catch:
Some customers are not happy with their seat material. And indeed, that is a problem to tackle. A mere 2" foam is installed in the seat – it may not hold your weight for long and you may feel the hard plywood supporting it.
This could be a blessing for you if you live in hotter regions as you won't want to sag in the seat. Coupled with this, the mesh back will keep you cooler. However, you may have to pay back harder with back pain.
The sad news is:
After using it for 2-5 years, it starts making loud noises and creaks. Next, the pneumatic base sort of starts to lose its firmness and also makes sounds as you sit in it.
That's obviously something that may happen to every chair. But for now, the Lorell High Back Chair is a good comfortable chair for long hours behind the desk.
Pros
Highly adjustable.
High back.
Cons
Slightly expensive for its features.
CLICK TO CHECK PRICE ON AMAZON
---
8. DJ·Wang Grey Modern Desk Chair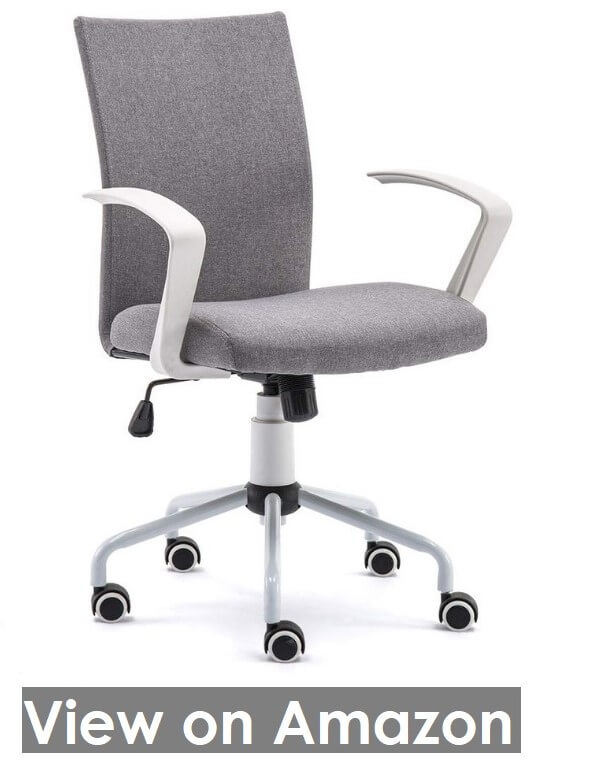 Enough of all those heavy and huge chairs – lets move on to something a nit more lightweight. DJ·Wang Grey Modern Desk chair is here to provide you comfort at your desk at a very affordable price.
I know this post is about finding a comfortable chair for the extra workload. But I've included this here chair because it is comfortable for shorter periods. But if you take small breaks, then you won't have any problem.
The chair stands small at 18.2 x 17.8 x 48 inches and very light at 24.5 pounds (10.6 kg). So, if you're buying this for your son or daughter, you'll find them overjoyed. But this does not mean you cannot use it.
Even if you're 220 lbs, this chair holds up quite good. You would be surprised how efficiently it takes heavy loads.
Onto the downsides,
Adjustment-wise, the chair lacks details. You can only control the seat height and the tilt. That's it. Yes, the armrests are detachable, but they are ridiculously cheaply made. For some customers, the broke off right in the first week of use.
Talking about the seat, it is relatively soft and manageable. However, the backrest poses a bit of a problem if you lean too much. Few of the customers have complained about the backrest not being very supportive.
I haven't talked about the assembly of the rest of the chairs much, but this one has my attention. Why? Simply because of almost all the negative reviews which state the misalignment of the holes and the parts of the chairs. The assembly is only easy when these holes align and I see it may be hard.
Pros
Stylish look.
Cheap price.
Cons
Limited adjustment options.
CLICK TO CHECK PRICE ON AMAZON
---
9. Serta Smart Layers Verona Manager Chair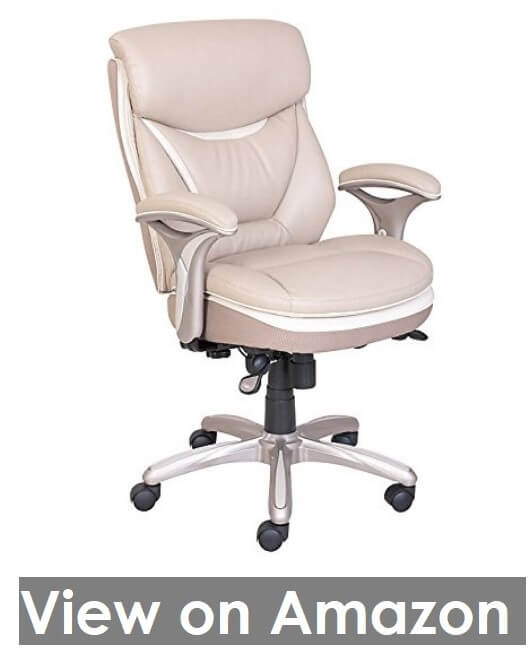 For small people even under 5", Serta Smart Layers Verona Manager Chair is a blessing in disguise as one of the best budget office chairs.
At 28.2 x 23.5 x 16.5 inches, the chair can aptly accommodate you well if you are a small person. You'd have your feet touching the ground in its lowest setting and probably that's what you want. But more to this, the chair's performance is satisfactory in all major areas.
Starting with comfort, it is super comfortable. The memory foam installed in it never disappoints you. However, you may see divots in certain areas because of a lack of enough padding.
As it happens with many layered chairs, there aren't many adjustment options on the Serta. The worse happens when you cannot control the tilt of a chair. The same is the case with this one. You simply cannot have your way with the tilt. Also, its seat sinks and pushes the sitter forward. So, you'll have a hard time sitting firmly in one place.
But that can be coped with if you sit properly by placing your boot farther towards the backrest. This happens to be the perfect ergonomic position for most. However, it is also true that one cannot sit in this position all day long.
There aren't many things about this chair that will put you in wow. Similarly, there aren't many to worry about. At the current price, it's just a fair balance of features for small people and that's it.
Pros
Can accommodate a variety of body shapes.
Very comfortable.
Cons
Slightly expensive for its features.
CLICK TO CHECK PRICE ON AMAZON
---
10. Ergohuman By Eurotech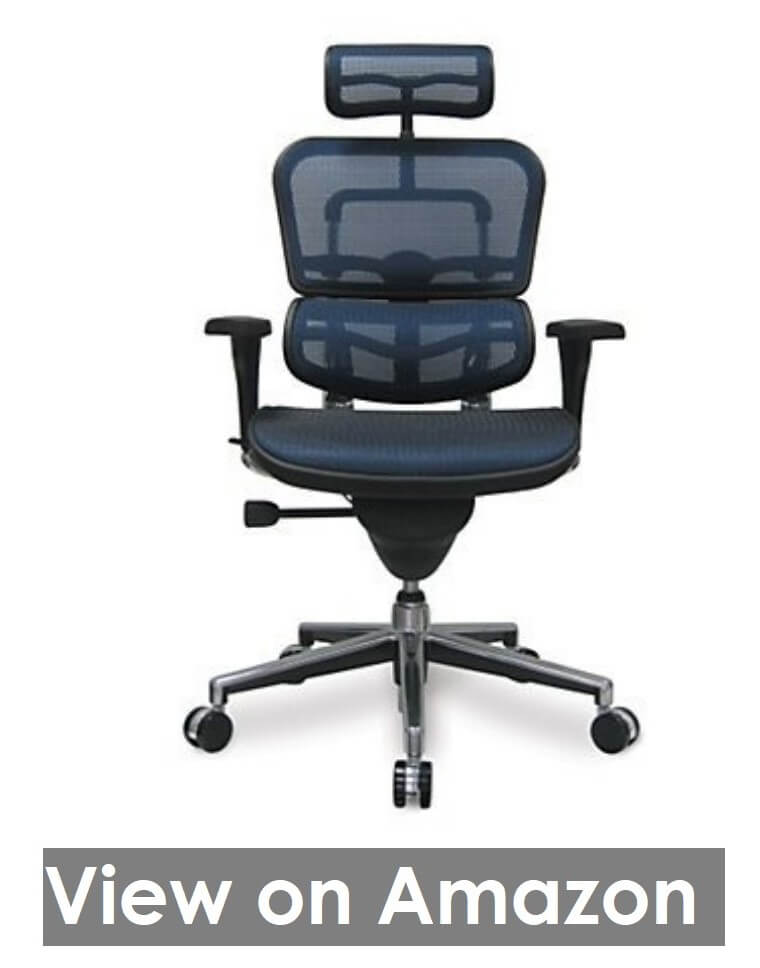 The Ergohuman by Eurotech is in itself a premium, expensive chair that can be tweaked just as your heart desires.
It is huge (26 x 27.5 x 51 inches) and heavy too (64 pounds). So, if you're a tiny person, beware. However, if you're anywhere near 6" or higher, weighing 200 lbs or slightly more, then the Ergohuman can accommodate you perfectly.
I understand that your priority is ergonomics since you work many hours a day. Lucky for you, this chair is entirely adjustable. You can tweak its seat height, back tilt, armrests height, position, and headrest.
The Ergohuman has a very prominent and appropriately positioned headrest that you can bring forwards or take backward to suit your posture. The material used is mesh throughout. So unlike the other chairs I've touched on so far, this one will keep your back cool as well.
Want to know the best part?
One of its commendable features is its functional Lumbar support. It really helps you stay very vigilant and supports the small of your back like no other chair. However, as some customers have pointed out, the seat mesh is hard enough to make your groin sleep. Likewise the gap between it and the lumbar support kind of pushes you until you feel the bar.
That could either be a problem with the quality of the material or the weight of the person. You could not know for sure if you will have the same problem or not.
The chair does have a tilt and lock mechanism at three different settings. It works great when you've just started using it. However, the mechanism seems to get unruly as the seat ages – it keeps on deviating.
Overall, the chair is perfectly sturdy and comfortable. This chair is available in multiple colors and all of them cost around the same price.
Pros
Adjustment features are great.
Premium.
Suitable for long hours of usage.
CLICK TO CHECK PRICE ON AMAZON
---
Conclusion
There is no exact definition of a good chair. However, I've done all the legwork to find out what could the best office chair for long hours. I would suggest going for an affordable option if your budget is tight.
But if you have a decent budget to work with, then make sure you invest in a great office chair to save your back. After all, can you really put a price on comfort, health, and your well being? If you have liked any of these chairs from list, I would love to hear your thoughts in the comments below.