6 Best Chairs for Farmhouse Table: Buyer's Guide (2019)
If you have a Farmhouse where you spend time on a regular basis, you may want to have a decent chair to sit with your friends or your loved ones for dinner, lunch or even for fire pit. If you have landed here to find the Best Chairs for Farmhouse table, then you are exactly at the price.
After some good research, I have picked the top 6 chairs for you which would be perfectly suitable for Farmhouse. Let's discuss those chairs in detail.
 Top 6 Chairs for Farmhouse Table
 1. Florence Dining Chairs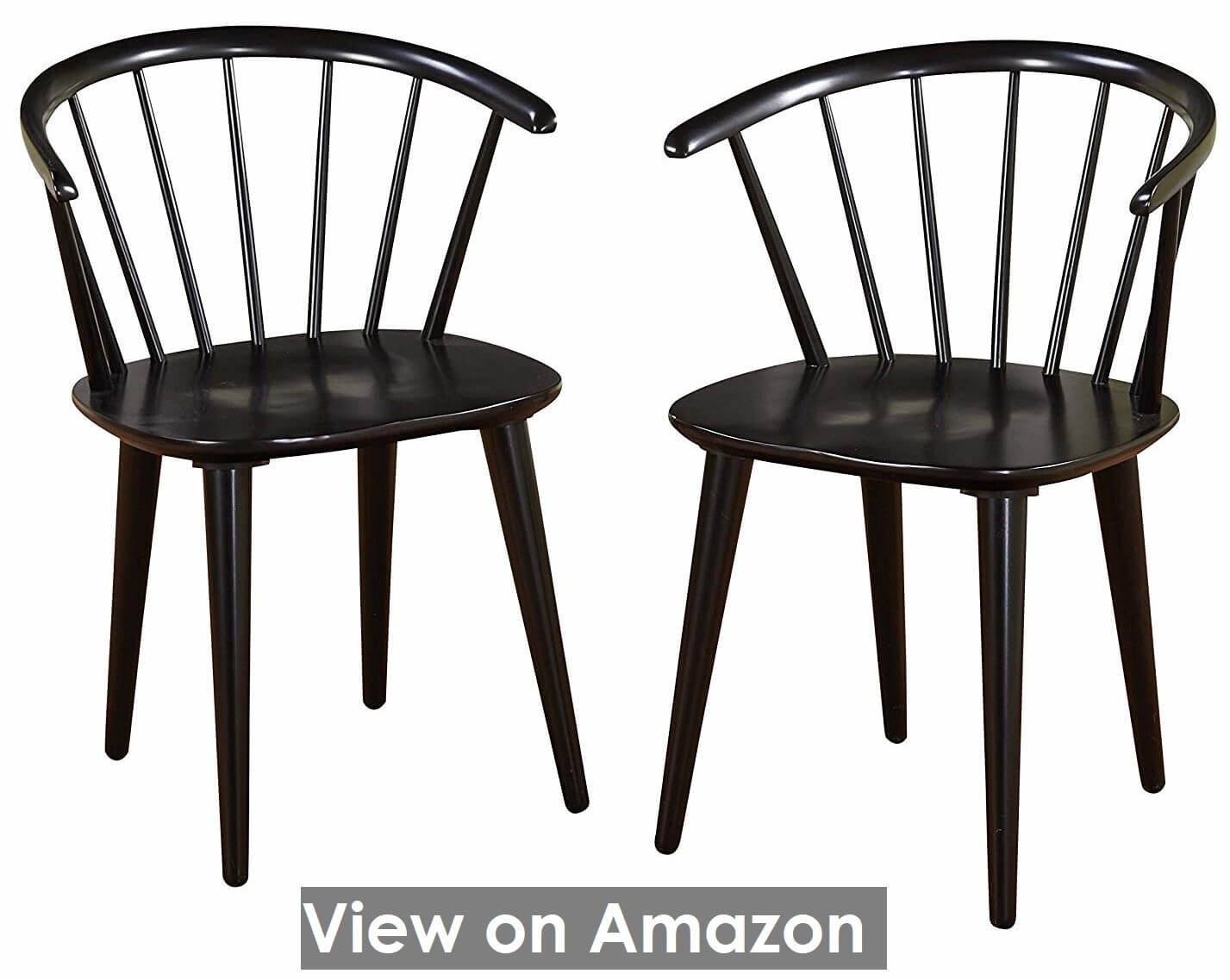 Talk about mid-age classic chairs with a modern fervor and you have these Florence Dining Chairs.
At 21" X 20" X 30", a single chair weighs approximately 13 lbs (5.9 kg). You actually get a set of two and that would make the final weight to be somewhere around 26 lbs. Overall, the chairs have a small height with small armrests, but a spacious seat.
All design features considered, Florence Dining Chairs perfectly blends in around your farm table. Their mid-century looks are right on point. Its crescent-shaped Windsor Back and slightly protruding armrests cannot be avoided and this merge has, in fact, an effect on its size mentioned above.
Build-wise, your investment in them would not go in vain as the Rubberwood is known to withstand high pressures. This also adds slightly to the comfort of the chair since the material has somewhat tenacity. The manufacturer claims big about its durability and now it seems why.
As it stands with every product, not everything is perfect though. Yes, you can lean back considerably without worrying about tripping over, but if you get chairs with poorly fitting screws, you may have one or two of the legs hovering slightly above the floor. That's a bummer, but happily, the chances are low.
Next up, although the chairs are relatively small, if your farm table is not high enough, the arms of the chairs would pose a hurdle in getting it under. They could have been a little lower and if you're a DIY person, fixing this should not be a problem. Please don't ever try to use force in sliding them under because for some customers that turned out to chip off the paint.
All in all, at this price, this set of chairs seem to be a reasonable investment only if you can avoid the said shortcomings.
Pros
Stylish and modern looking.
Comfortable.
CLICK TO CHECK PRICE ON AMAZON
 2. Solid Elm Wood Dining Side Chair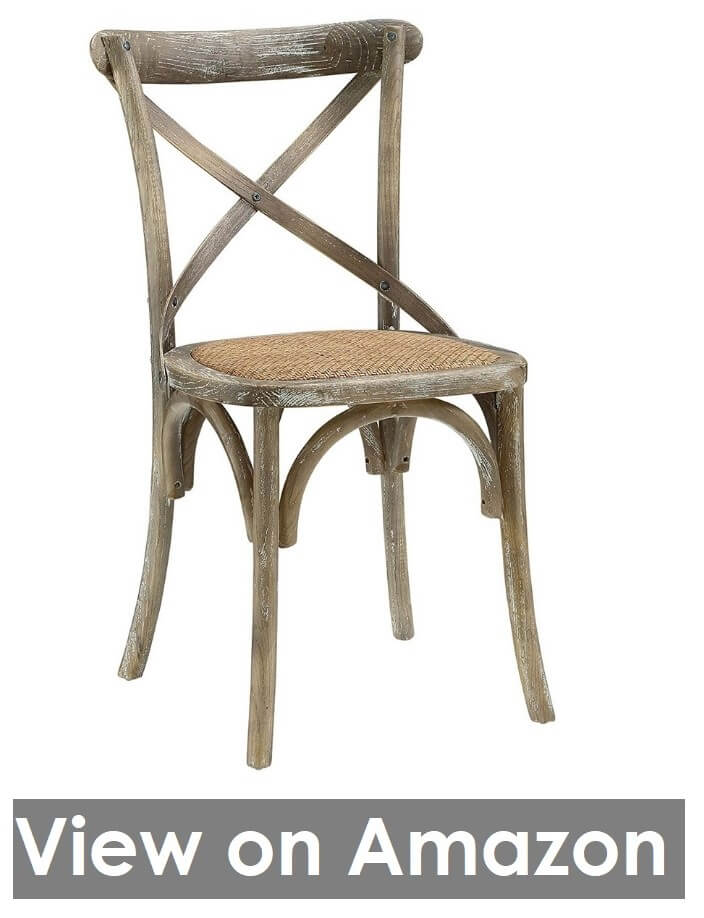 While the previous chair packed a classic punch, the Solid Elm Wood Dining Side Chair will transport you to "the bustling streets of Vienna", as the manufacturer says. It is one of the perfect farmhouse chairs in my opinion.
First, it is super light at 10 lbs. Add this to its 21" x 19.5" x 34.5" dimensions and what you get is a chair that it can be easily carried around and slid under the table. This aptly makes it suitable for other purposes too, for example, it can also work as your desk chair (occasionally).
Talking about its design, let me tell you that its rustic look would add to the theme of your farmhouse. After all, a little off-browns and reds are what you need to spice up such interiors. Not to mention, the look is equally enhanced by its French style.
Just by the look of it, like me, you'll also get their claim about transporting you to Vienna. However, it's worth mentioning that the color of the chair is not exactly what's shown in the picture. You may find it too reddish, almost too in-the-eyes reddish.
Steering towards comfort, which is one of the main aspects, this chair does extremely fine. The seat comes with a meshed cane, which is padded underneath for added comfort. Although you can't expect to feel like you're on the clouds, for a dining chair, it works just fine.
The manufacturer claims the chair to be very sturdy since its made from elm wood. That is true to only a certain extent. Under light to medium use, your chair(s) will be fine, but expecting it to take tons of weight might be asking too much of it.
The pricing of this chair is very affordable. This is one of the best chair for farmhouse table you can buy at this price point.
Pros
Great French style suitable for your farm house.
Blends in quite good.
CLICK TO CHECK PRICE ON AMAZON
 3. Winsome Wood 89999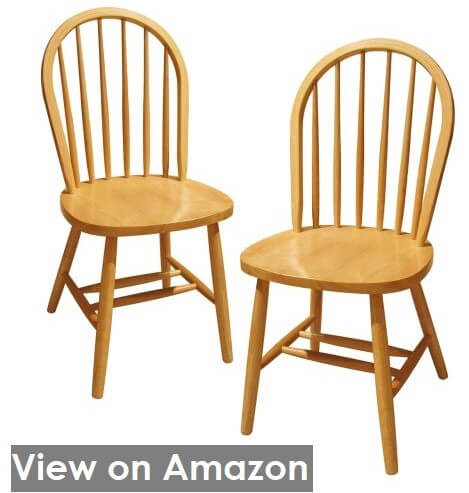 Do you have a dine-in kitchen on your farm? If yes, then the Winson Wood 89999 should be in your cart right away.
I said that because 17.25" x 16.5" x 37" makes it a small chair ready to fit in everywhere around your table. However, unlike the other chairs I've so far discussed, this one is slightly heavier at 30.7 lbs. Of course, this doesn't mean you have to call a crane to lift them.
The maximum weight this chair can handle is 100 kg i.e 220 lbs. If you are lower than that, you won't have any issues or else you have to find another chair.
The main thing in Winsome Wood 89999 is its looks other than its material. Simple beech woodcraft is all that meets the eyes. This simplicity and it's oak color is all that will accentuate the looks of your farmhouse table as they are mainly made of oaks.
Coming towards the material, beech is known for sturdiness. This chair is relatively sturdy but can't bet on it too much as its mediocre joints are mainly stapled, screwed, and wedged. Some customers have reported snapping at the joints as a weighted person sits on it.
Although this model does not pack all the ergonomic features you are looking for because, it is just a dining chair, there are certain things to drool over. For example, made of wood, it is precisely comfortable. You don't need any cushions with it.
Beware, though. There are some customers that have reported uneven legs. Wobbling is the last thing you'd want.
At the current price, Winsome Wood 89999 is as good as its weakest joint. But you can't expect a dining set of this price to be perfect. Overall, this is a very good chair farmhouse table.
Pros
No assembly needed.
Looks great.
CLICK TO CHECK PRICE ON AMAZON
  4. International Concepts C02-213 Windsor chair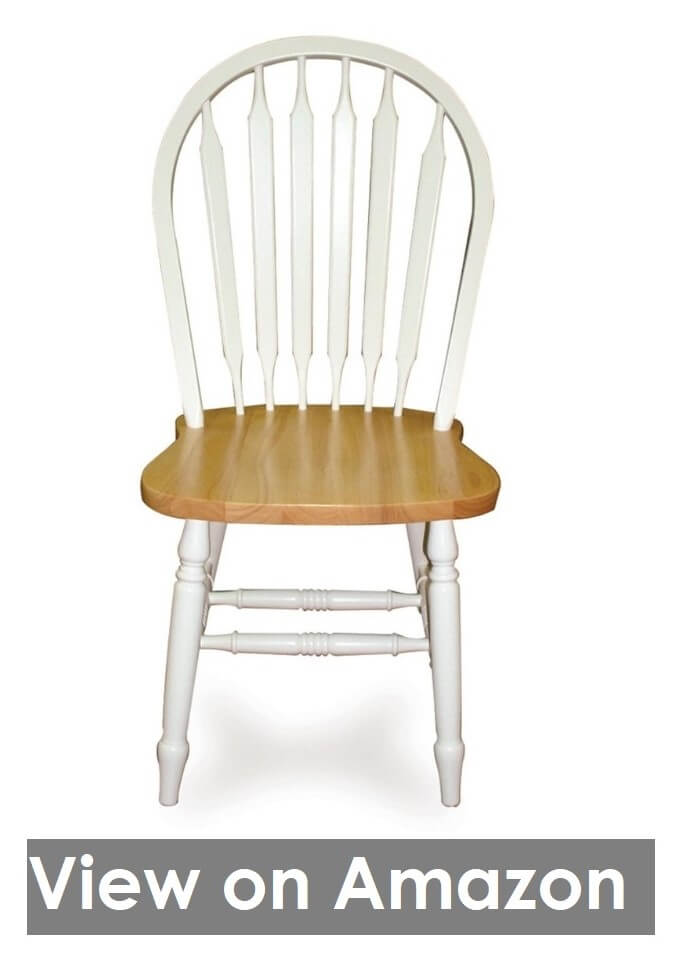 Here's another arrowback chair i.e International Concepts C02-213 Windsor chair. It is a good chair for a farm table and this one's got my attention more than the previous one.
The dimensions of it are 21" x 19.5" x 38.1", which ultimately makes it larger than the previous one. However, it is much lighter (18 lbs) and has a stark white added to the natural oak color. That means you get to move it around just fine and have your guests commending your choice.
Like the previous model, the chair comes assembled and if you have to buy more than one, you'll get separate packages. Although this saves you a lot of time, some of the customers have complained about broken spindles and legs – courtesy of the shipping. But if your chair wobbles, then it's definitely a manufacturing fault, which again, some customers have reported. You should return it immediately if you notice something like that.
Strength-wise, the chair is very sturdy – almost of the same group as maple. But here again, it is as sturdy as its weakest spindle and joint. For some, the chair gave away even when children used it.
Overall, for its price, the chair is not too bad, but it's also not too good. Getting a fully intact piece depends on your luck and only your luck.
Pros
Sturdy as compared to the rest of the chairs.
Not too big or small.
Cons
Joints may cause some pain.
CLICK TO CHECK PRICE ON AMAZON
 5. Christopher Knight Home 302241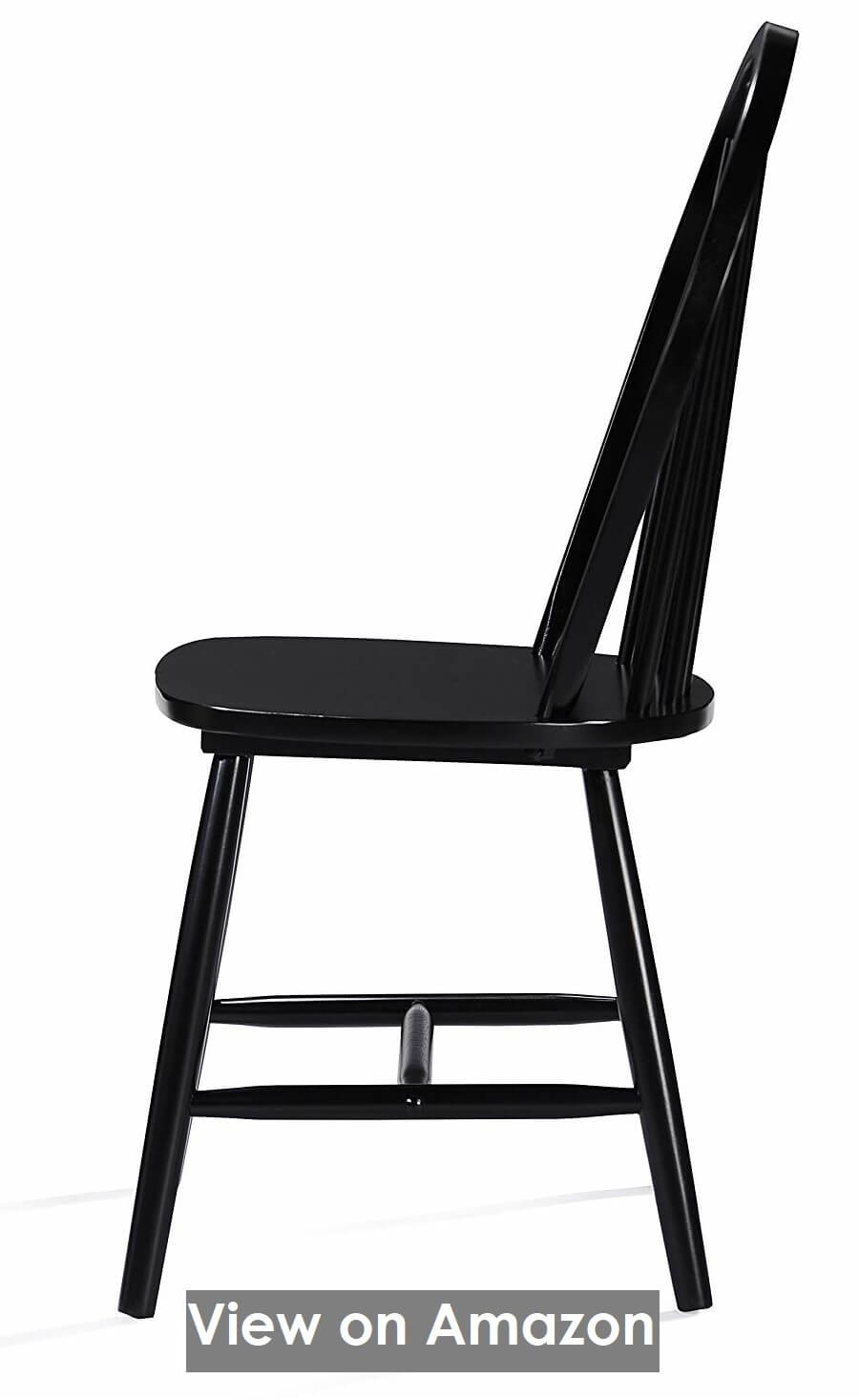 If I put Christopher Knight Home 302241 poetically, I'd say it's an imperfect perfection. Does this mean anything? Read on.
At 28.8 pounds and 19.7 x 17.9 x 36.2 inches, each chair in this set of two weighs is slightly heavy, but they are relatively small. Heavy and small might not be your thing, but sometimes classic furniture items are built this way. Let's not get carried away because there are some caveats. Not in the chair's design, though.
A round spindle back goes perfectly with antique furniture and there's no denying in that. You can easily use them with your farmhouse furniture and they'll add up to your "in the woods" experience, I tell you.
It's the structure itself or the material that is at certain flaws. For example, although the customers have applauded the comfort of the chairs because of the rubberwood, the same material has been crafted to contain manufacturing flaws. If you are one of the unlucky, you may have a flawed piece with unfitting screws and the chipped paint.
That would be the last thing you'd want, right?
What you'll want exactly is a piece of mind and I tell you that you'll have it when you assemble the chairs. It is fairly easy, although there's little mentioned about it. Just a few screws and your work will be done.
When it comes to relying on its strength while leaning, you can have that liberty to some extent. Don't expect it to bear the weight of an impossibly obese person because it isn't simply built for that.
The pair is worth your money only if you are okay with some flaws this chair comes with.
Pros
Black matte finish is just gorgeous to look at.
Comparatively sturdy.
Cons
Certain craftsmanship issues.
CLICK TO CHECK PRICE ON AMAZON
 6. Hesperia Windsor Dining Side Chairs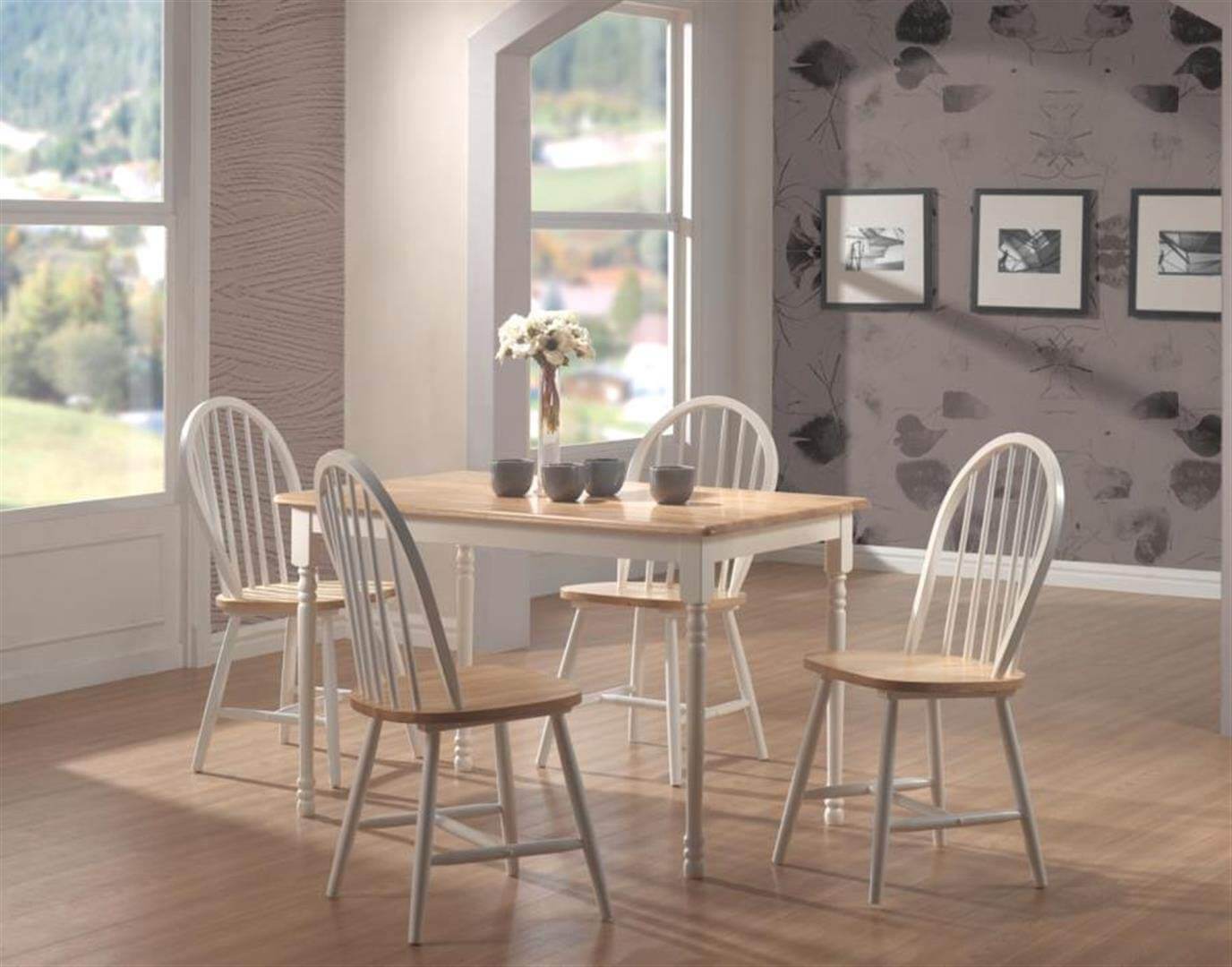 Windsor has many country styled arrowbacks and this one is one of themand it is a decent dining chairs for farmhouse table you can get today. I reviewed a few more above. There isn't much difference in all of them, including this one.
The slight difference is in the weight and dimensions. These chairs are very heavy (50.7 lbs) and quite small (18 x18 x 36 inches). So, if you are not tiny, you may want to consider buying other dining chairs.
You won't find any discrepancy in the design though. A bucolic look is what these chairs render to a table and the surroundings. Thus, no matter where you put them in your farmhouse or around the table, they will add a raw look, which indeed a farmhouse is worth.
The legs are angled and trendy as they claim. I like this aspect and its two-toned color. However, the quality of both of these is something that nags at me.
For some customers, they wobbled and broke right after first use. But again, that could be because of the transportation aspect. This gives us the window into the toughness of the chairs – and they aren't tough.
Next is the comfort level. Let me tell you, it is fairly comfortable. For a petite chair like these, comfort can hardly be.
But that's where these chairs would give you surprises. And beware, comfortable does not mean it can take any weight. Although the weight limit is 250 lbs, some customers have reported that it can't even take 225 lbs.
This set of 4 chairs would do great for your farmhouse table only if you don't use them quite often.
Pros
Assembling is quite easy.
Fairly sturdy.
Cons
Can only live up to less than 1 year
CLICK TO CHECK PRICE ON AMAZON
Conclusion
So, this is all about the Best Chairs for Farmhouse Table. I hope I've served your purpose well. Give or take, the chairs are best in their own terms. There isn't any dining chair out there that wouldn't have any shortcomings. If you have doubts or suggestions for me, I would like to know that via comments.