10 Best Desks For Video Editing: Buyer's Guide
If you are a Video Editor or YouTuber who spends most of his time editing videos, you probably already know about the importance of a good desk.
An organized desk meant for the purpose can save you both time and energy which translates to increased productivity. In this post, I'm going to talk about some of the best desks for video editing which promise to boost your productivity at very reasonable pricing.
Note: I have already talked about some of the best chairs for video editors on HuntChair. You should take a look see if you are looking to get a good chair to go with your new desk.
Without wasting any time, let's get started.
Top 10 Desks For Video Editing
 1. SHW L-Shaped Home Office Wood Corner Desk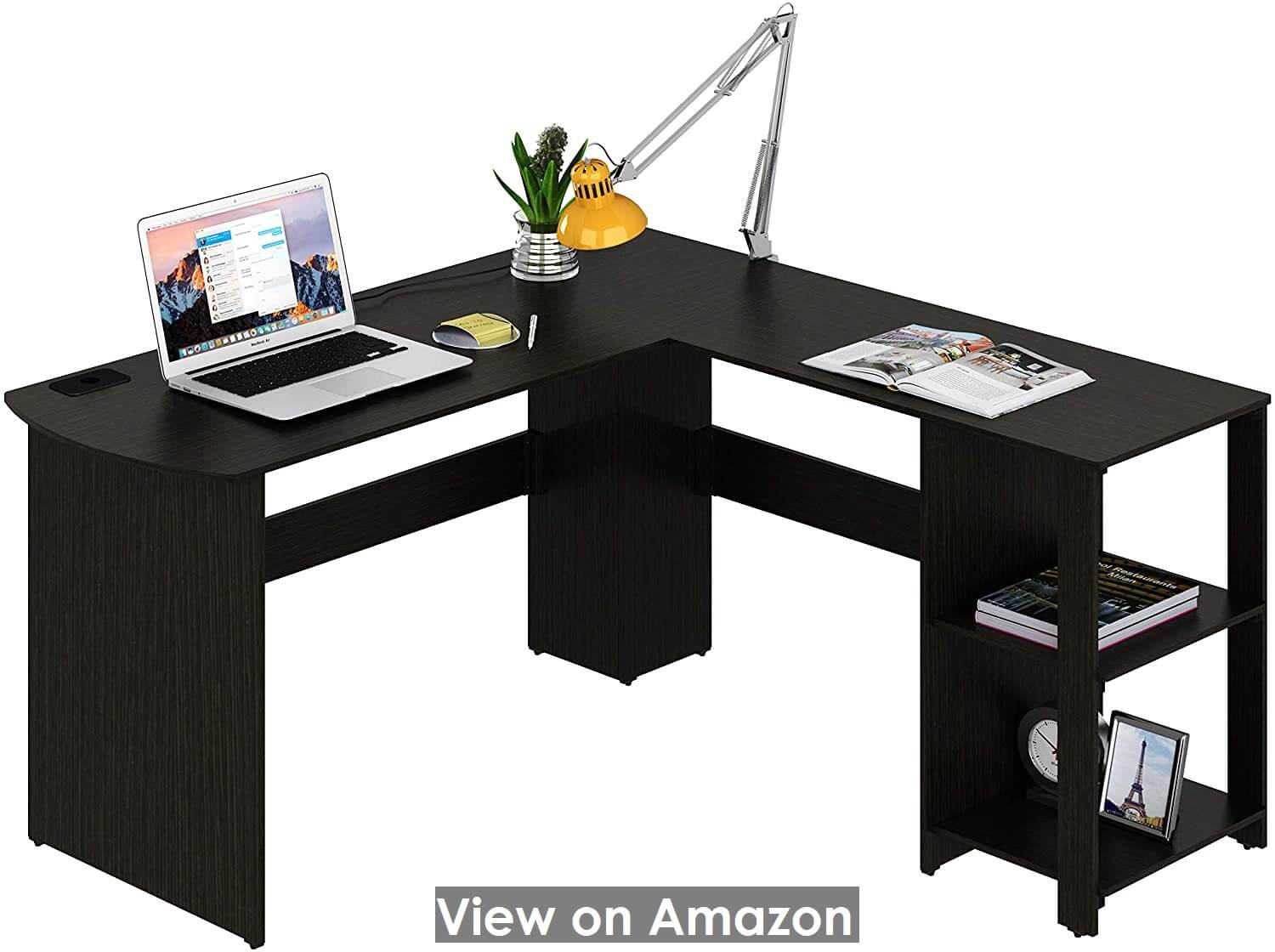 The SHW L-Shaped Home Office Wood Corner Desk is without a doubt one of the best L-shaped video editing computer desks on the market right now. A good L-shaped unit would be ideal if space is really a major priority. If that's the case, this model will not disappoint.
You can fit up to 2 large PC computers or 4 laptops. You could also use the space for other editing equipment for easy and convenient access.
Despite all this, you do not exactly have to give up an entire room in order to fit the desk. It is surprisingly compact which allows you to enjoy all the space benefits without having to give up too much of your own space. It is, therefore, one of the best options out there if you want an L-shaped desk but don't have a lot of floor space to work with.
The open shelves also offer additional space for the same purpose which is definitely an added bonus if you have a lot of stuff you need around you for your work.
When it comes to construction, this model also stands out with its beautiful and bold dark wood finishing design. The material used for this desk is Espresso and wood grain laminated Environmental particleboard.
While this might not be the largest desk on the market, it is pretty decently sized and might be a great option worth considering if you are looking for something to share with a roommate, colleague or even your child. The separate spaces created by the L-shape make this a lot easier. You can edit your video as your kid does homework or as your friend games away.
Pros
It has great aesthetic appeal.
It is very spacious.
Easy to setup.
Cons
The plastic material could have been better.
CLICK TO CHECK PRICE ON AMAZON
---
 2. Modern Corner L Shaped Glass Desk By Walker Edison Furniture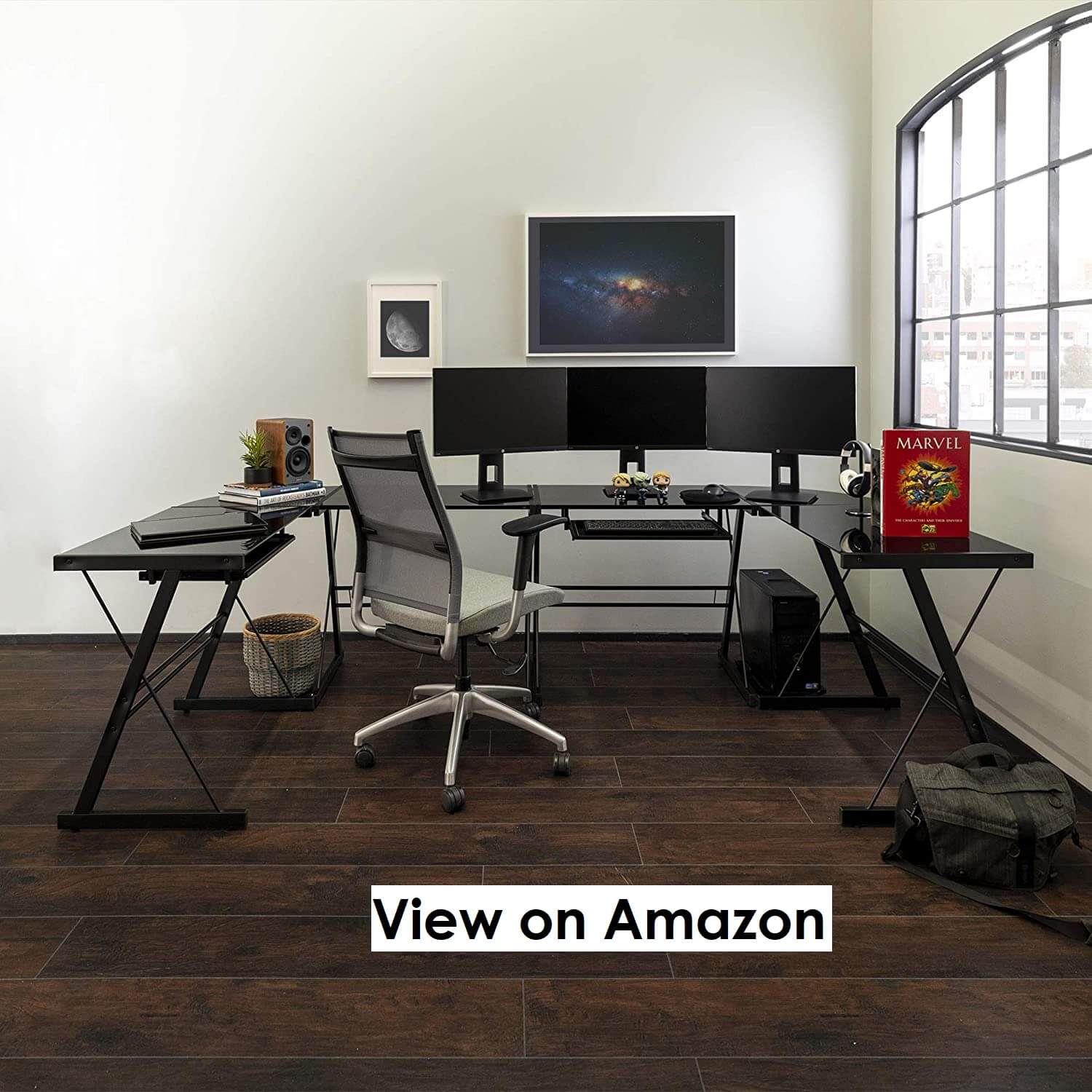 At first glance, this video editing desk is as appropriate as it gets. With its minimalism, it has a way of turning any space into a futuristic computer hub. Totally awesome if that is the theme you are going for with your editing space. Even If you are a programmer, this desk is also suitable for you.
The Modern Corner L Shaped Glass Desk by Walker Edison Furniture is the perfect combination of functionality and aesthetics that your work station is desperately missing. And the best part is – it offers all this in the most subtle and effortless way.
See this is not like most other desks that are flashy and full of compartments and dimensions that aren't always necessary. It is a simple L shaped unit with a spacious glass surface and sturdy steel frames. Super simple but she definitely gets the work done.
The unique minimalist design makes it a great option if you are looking for something that will blend in perfectly with your space. However, if you want something that stands out, they come in white frame options for some contrast. Whatever the case, it is a great looking desk that will offer a lot in the way of aesthetics to your space.
One of the best things about this desk that makes it ideal for editing is the sheer amount of space that you have to work with. It can accommodate a lot of monitors side to side with its wide space and even stacked with its high maximum weight capacity of over 100 pounds. You can have all your toys around you as you work for convenience.
This desk has a good rating by more than 6000 happy customers which makes this one of the best selling desks on Amazon right now. One of the major reasons for this is that it provides a lot of good stuff at a very low price.
Overall, I have to say this is definitely one of the best desks for video editing at this price point.
If you still have any doubts or questions regarding this table, then I would definitely suggest you watch the below video.
Video by: TheNStew
Pros
Beautiful design.
It is fairly portable (57 lbs).
Easy to setup.
Cons
The keyboard tray is a little cramped.
CLICK TO CHECK PRICE ON AMAZON
---
 3. Atlantic Gaming Desk Pro
The Atlantic Gaming Desk Pro is a great model if you are tight on space but still want to make the most on the little that you have. This desk has pretty compact dimensions. But don't let the size fool you – this bad boy comes with several nooks for extra storage including a phone charging stand, speaker stands, under-desk basket, controller stands, a cup holder and a headset hook.
All these help by organizing up space on the main desktop for your laptop or computer while having the most important tools for your editing needs conveniently close to you. Need a cup of Joe for that all-nighter? It's right there. Need some headphones to review your final edit? You don't have to look very far. And the best part is that everything is just an arm stretch away.
Despite its compact size, this desk can actually hold up to 2 computers (1 PC & 1 Laptop) at the same time. One would be on the main work surface while the other on the raised stand behind it. This comes in pretty handy not only for editing but also for gaming which is pretty amazing.
This desk has a very good rating of 4.6/5 as reviewed by more than 1600 customers. If you ask me, it offers great values for the money. Again, I want to say that this is a very good desk for video editing at this price range.
Pros
It offers convenient storage features.
Suitable for small spaces.
Cons
Can take a lot of time to setup.
CLICK TO CHECK PRICE ON AMAZON
---
 4. Ameriwood Home Dakota L-Shaped Desk With Bookshelves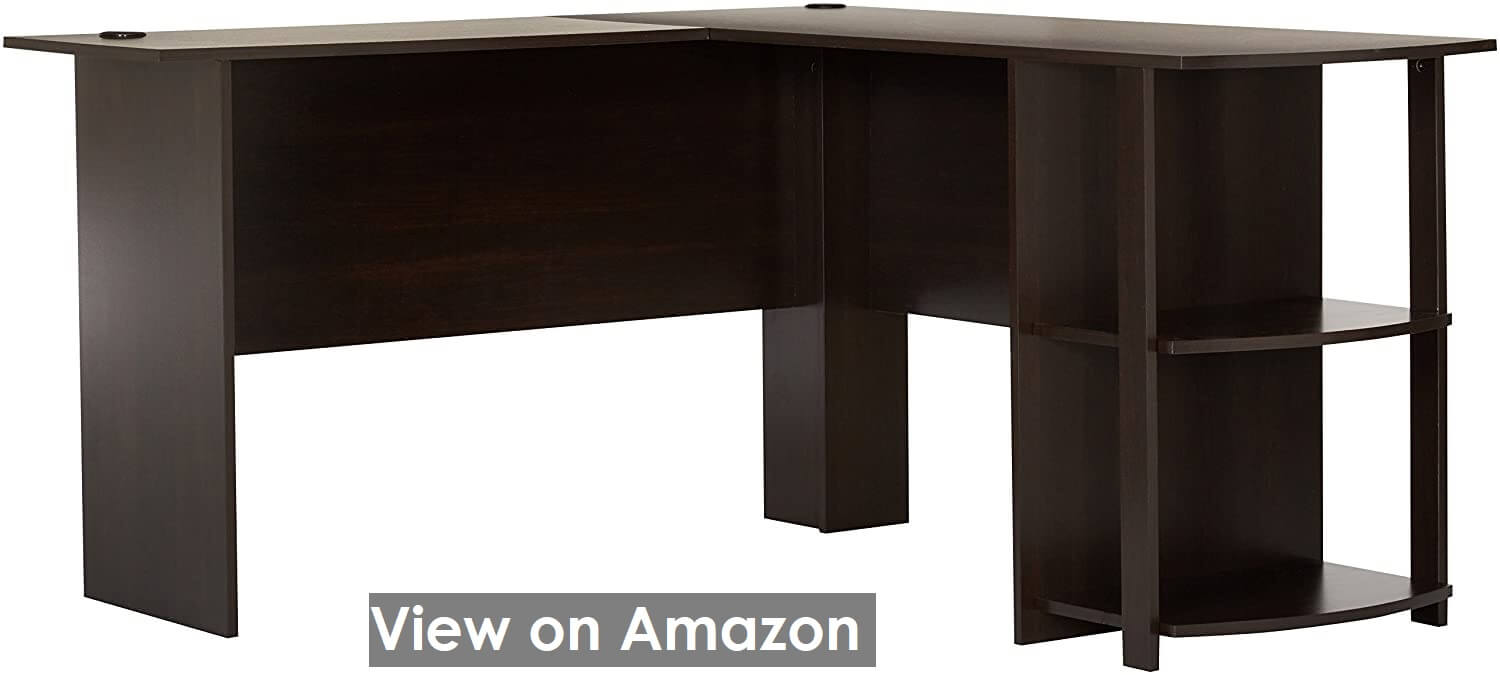 The Ameriwood Home Dakota L-Shaped Desk is yet another editing desk you should seriously consider if extra storage is a huge priority for you. In addition to all the desktop space, you get with this unit, you have 2 open side shelves to store all those extra knick-knacks whether it is your camera, film books or whatever else you would like to have around your workspace for convenience.
This desk is also a great option if you are looking for a decently constructed unit with a mid-range budget. It is made from laminated particleboard and MDF which though is not as strong as wood or steel still gets the job done.
Let's talk about the design of the desk.
By this point in our reviews if you had a penny for every L-shaped editing desk you saw you could remodel your entire home office or even gaming room too. So what is it that makes this particular model stand out? The answer is simple -space.
Most of the desks with this design are space-hogging monsters that will take up a huge part of the room which is not convenient if you are working with limited space. However, this model comes with compact dimensions ensuring that you could easily find space for it more or less anywhere in your home.
Just don't keep it anywhere where there may be kids running around as those sharp edges, though aesthetically appealing, are a recipe for disaster.
So, how much of your editing equipment can this desk hold? The desktop can support up to 100 lbs, while each side shelves can hold up to 35 lbs. A total of 170 lbs is the overall capacity of this desk. While this is not the highest weight capacity on the market, it is still pretty decent for the price point and will hold at least 2 average-sized desktop computers if you need multiple monitors to get the job done.
One underrated feature that definitely makes this desk a great option for your editing needs is the wire grommet. This will help you keep things nice and organized by preventing wire tangling which is a real nightmare.
This desk is rated 4/5 by more than 6800 customers which tells you a lot about the popularity of this model. The price of this desk is very similar to the previous one.
The Ameriwood Home Dakota L-Shaped Desk can take your Video editing desk setup to the next level with its appealing look and its practicality.
You can watch the below video review by MeTube Galvez to know more about this amazing desk.
Pros
It is very sturdy.
Again, perfectly suitable for small rooms or space.
Cons
The paint and finishing are not durable and will chip with exposure to liquids.
CLICK TO CHECK PRICE ON AMAZON
---
 5. Z-Line Designs Cyrus Workstation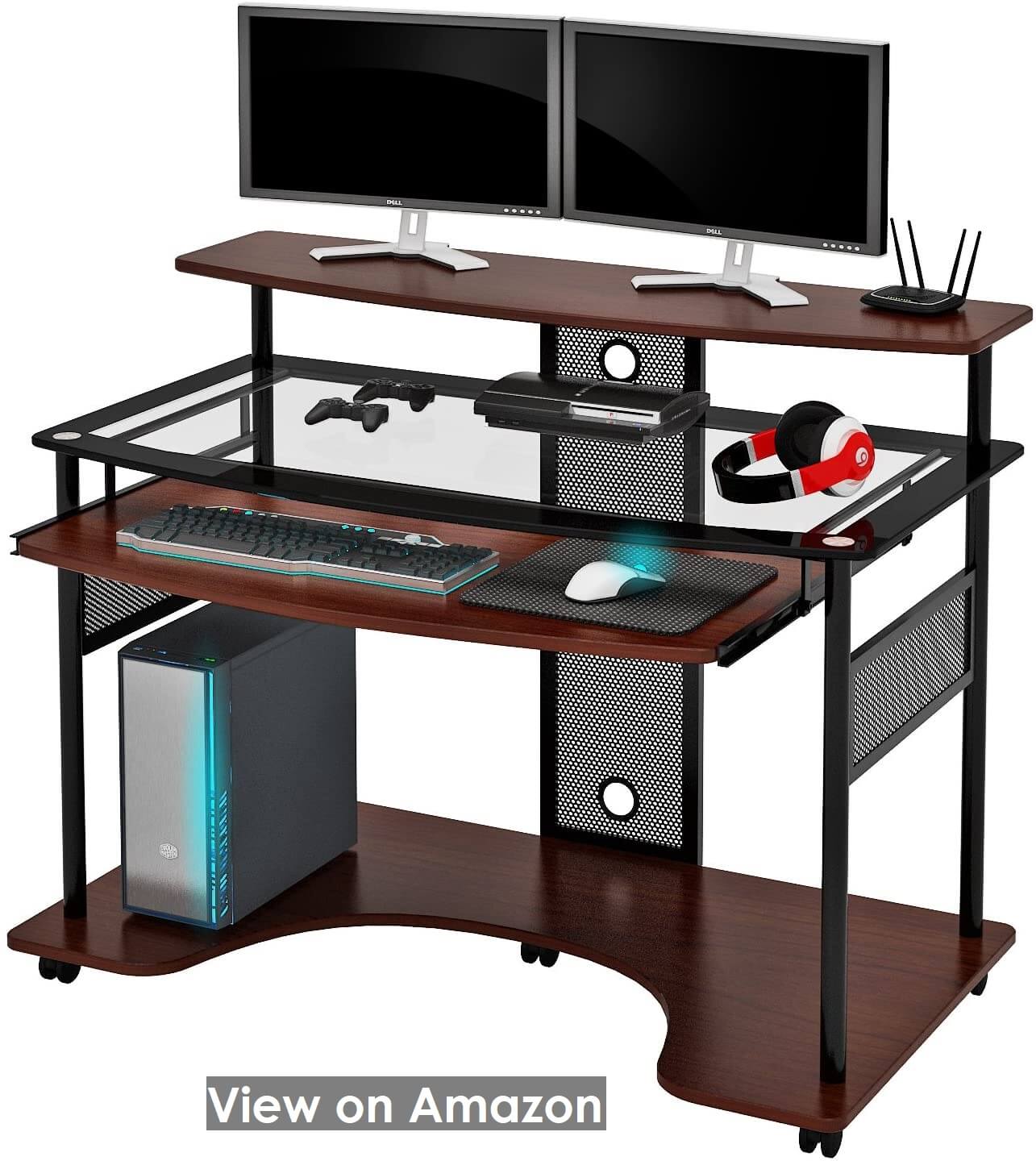 This is the kind of desk you go for if you want something that is flashy but also very functional. The Z-Line Designs Cyrus Workstation Desk combines contemporary wooden themes and glass finishing that will definitely give your work space that classy upgrade you may have been wanting. As far as aesthetics go, this is without a doubt as good as it gets.
You are probably wondering right now whether or not it is actually a good idea to store your heavy computer and other equipment on actual glass. Well, with this desk's design you really do not have a lot to worry about. The glass is thick and reinforced by design allowing it to comfortably hold your multiple monitors/ gadgets.
So, what is there past aesthetics with this one? Well, it is definitely a great video editing desk if you are in the market for something mobile. Despite the use of heavy-duty and high-quality materials, this desk is surprisingly light (72lbs). It also comes with caster wheels that are wooden floor-friendly for you to move it around effortlessly.
When it comes to space, the main surface can accommodate one large PC computer or two standard sized laptops if you wish to multitask. The best part is that you get additional surfaces for more devices including your camera, printers, and cables. The pullout keyboard tray also helps save more space as you do not have to have all your equipment crammed up on one surface.
If you want the setup guide for this desk, then this video may definitely help you.
Pros
Unique design.
It is super mobile courtesy of the caster wheels.
Cons
Assembling might be a huge task for some people.
CLICK TO CHECK PRICE ON AMAZON
---
 6. Bush Business Furniture Series C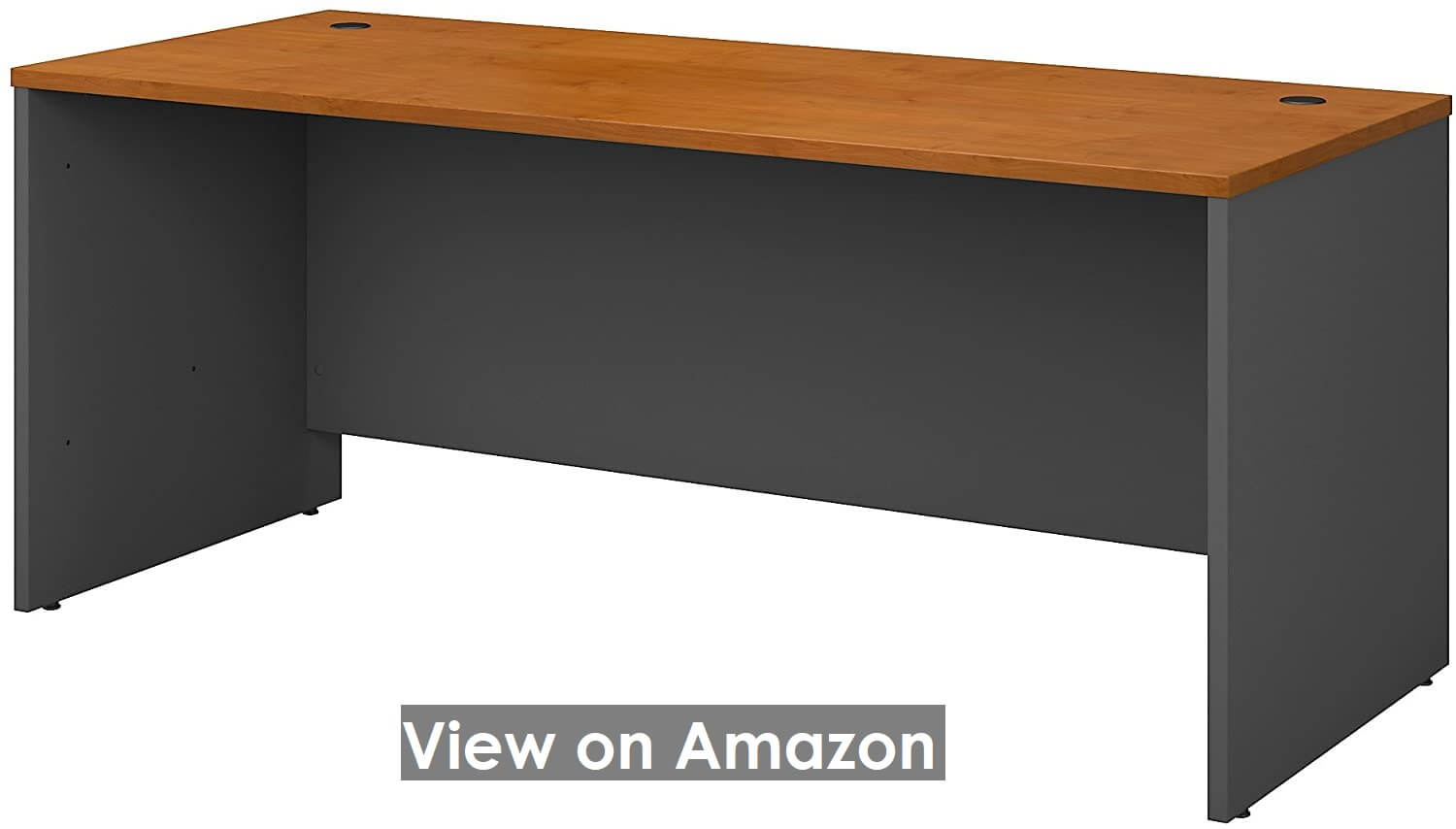 The Bush Business Furniture Series C is the perfect desk to go for if you are looking for multipurpose tasks. The basic shaped unit has a lot to offer in this case with bold and professional aesthetics.
The desk also has a lot to offer in terms of surface space. The large L-shaped desk can accommodate several computers at the same time with plenty of surface space left for your keyboard. And if you have used a keyboard shelve, you know that they are not always the most comfortable so it is nice to have space for it on the same level as your arms and the rest of the desk for some comfort.
In a nutshell, if you want a space that will be great for editing, gaming, homework or any other kind of work then this is the unit for you. With its design, aesthetics, space, and storage, you get to enjoy a multipurpose unit that is definitely worth the investment.
This is the highest rated desk in this entire list which has the rating of 4.7/5, rated my more than 250 customers. It has an expensive price tag still, it is one of top desk for video editing in the premium category for sure.
Pros
It is quite solid.
Lots of space.
CLICK TO CHECK PRICE ON AMAZON
---
 7. IRONCK Computer Desk 55″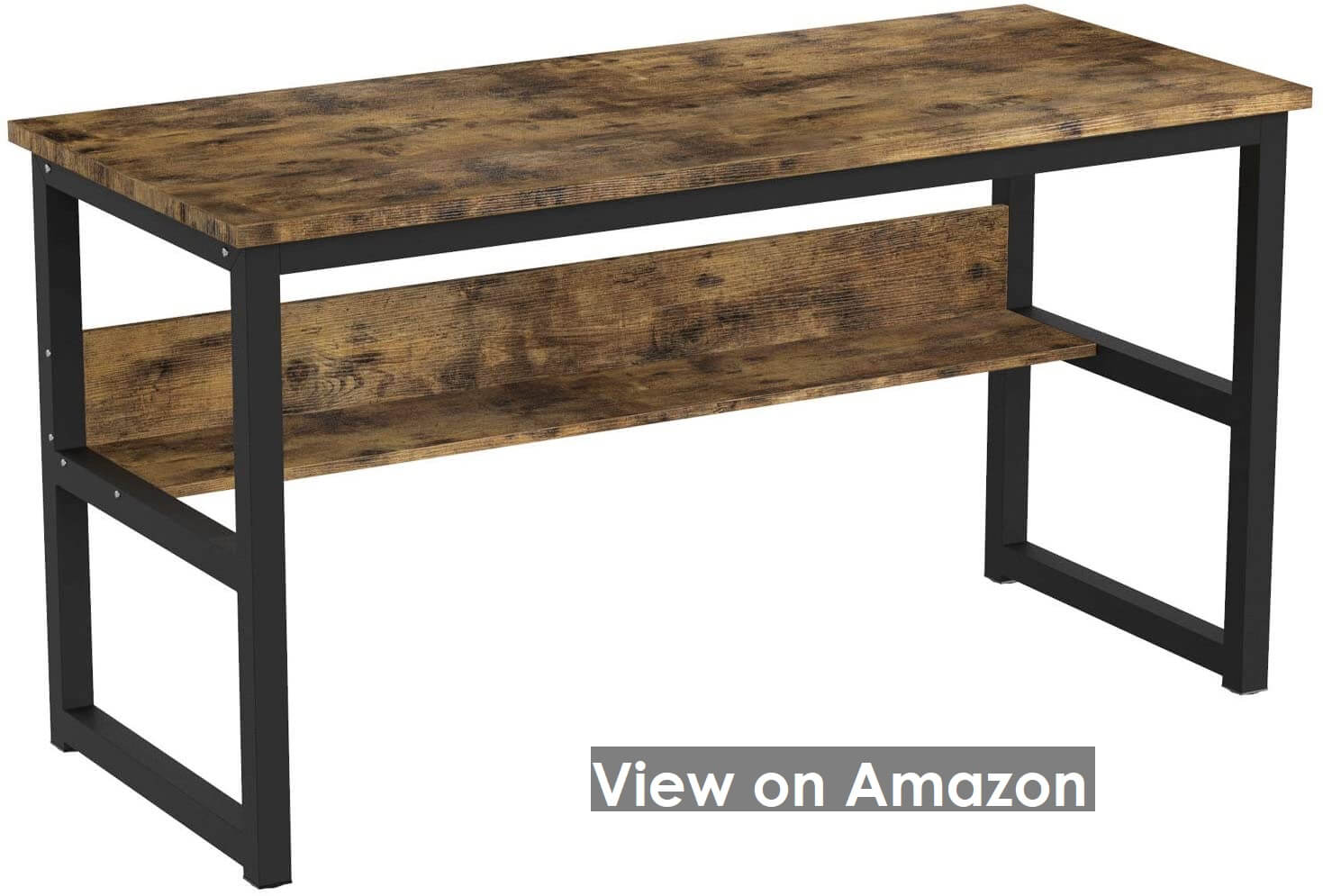 The IRONCK Computer Desk is one of the best minimalistic options on the market and is a great model to consider while shopping if working space is a major priority for you. The desk has plenty of surface space for all your equipment. The strong construction also means that you can very comfortably load it with as many devices as the space will allow without you having to worry about the desk crumbling under all the weight.
The best part is that you get to enjoy all this without having to compromise on floor space in your home which is a problem with many smaller desks. It is also perfect if you simply cannot spare any room for an L-shaped video editing desk in your editing station.
The desk also stands out with its long shelf underneath the main working surface. You can use this for anything from storing extra equipment to keeping books and albums of your work. It is also a handy little nook for you to store that cup of coffee or used bowl away from all your precious electrical equipment.
When it comes to aesthetics, this desk would be a great option for you if you are in the market for something rustic as evident by the wooden surface and tan finishing. This would make it particularly awesome for a neutral home office theme. It would also work with spaces that have earthy vibes to them.
Pros
Minimalistic yet practical desk.
Easy to assemble.
CLICK TO CHECK PRICE ON AMAZON
---
 8. Tribesigns Modern L-Shaped Desk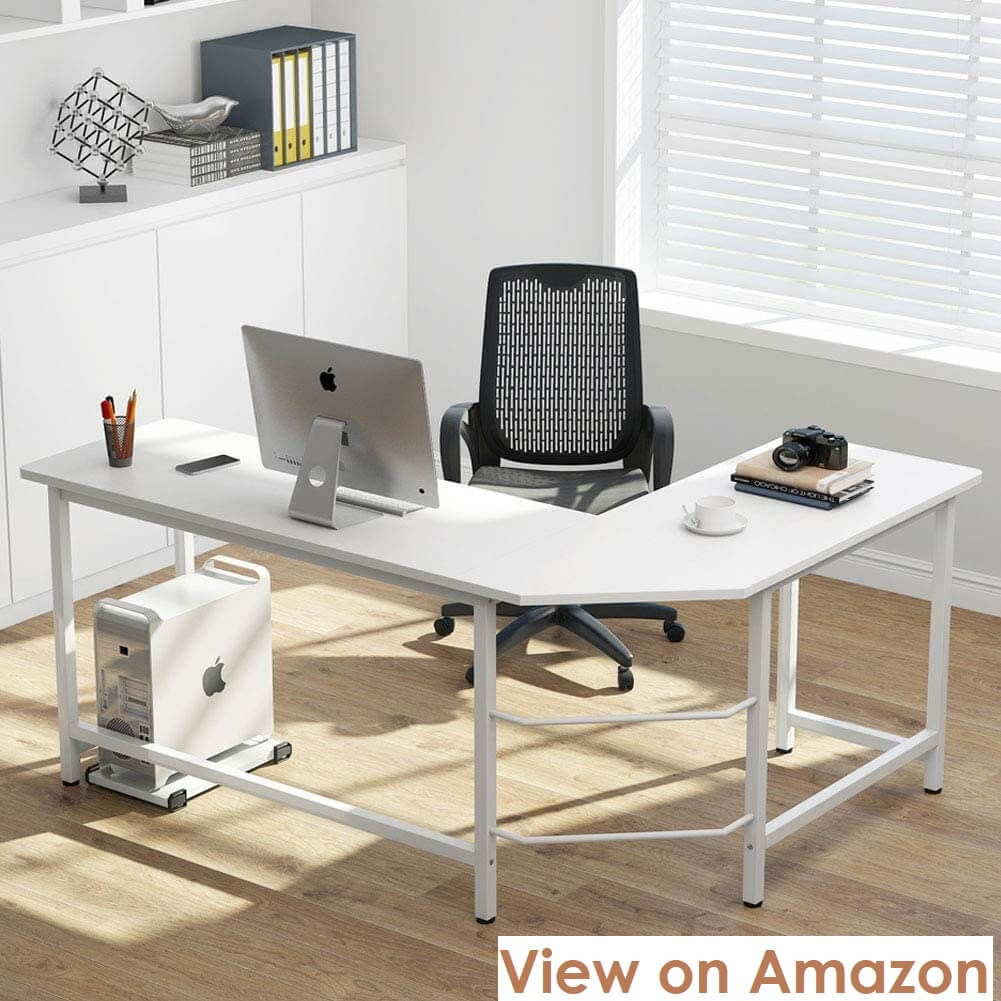 This Tribesigns Modern L-Shaped Desk is ideal if you are looking for plenty of space to store your equipment, gadgets, coffee cup and more. The spacious L-shaped unit measures 66.14 inches in length on the long side, 49.21 inches in depth and 29 inches in height. This is complemented perfectly by the high weight capacity of 450 pounds (204 kg).
So what exactly does this mean for you?
This means that you can have several computers and laptops as well as additional equipment like printers for all your editing needs. Keep in mind the are no open or closed shelves available on this desk which might be a problem for those who are used to shelves and drawers.
However, it is important as you consider this option to make sure that you have actual space for it in your office. It is designed to be a corner piece but you can pretty much set it up anywhere in the room where you feel it perfectly serves both an aesthetic and functional purpose.
It is also a great model to look into if you want something sturdy and reliable. This desk features high-quality materials for both the desktop board and the frames ensuring that you have a unit that will stand strong for a very long time.
With the sheer size of this thing, you would think that setting up will be nothing short of a real-life nightmare. This couldn't be further from the truth. The M style buckle design makes assembly super easy and accurate so you don't have to keep looking for that missing screw or angling yourself into weird positions trying to hold different parts in position.
When it comes to aesthetics, this is a pretty simple unit and this is actually a great thing when it comes to designing an office space. It offers you the freedom to go with any theme for space with the simple finishing of the desk allowing a seamless flow. If you want something more flashy then you are in luck because the model does come with other desktop finishing options including light tan wood for a beautiful contrast effect.
The desk is rated by more than 1800 customers with an average rating of 4.3/ 5 which makes it one of the best desks for video editing under $200.
Greg Salazar has explained about this desk in a perfect style. Do watch his video below to know more about this desk.
Pros
Comes with a foot rest bar and CPU storage space.
Has appealing design.
Cons
It does not come with any shelves.
CLICK TO CHECK PRICE ON AMAZON
---
9. Prepac Wall Mounted Floating Desk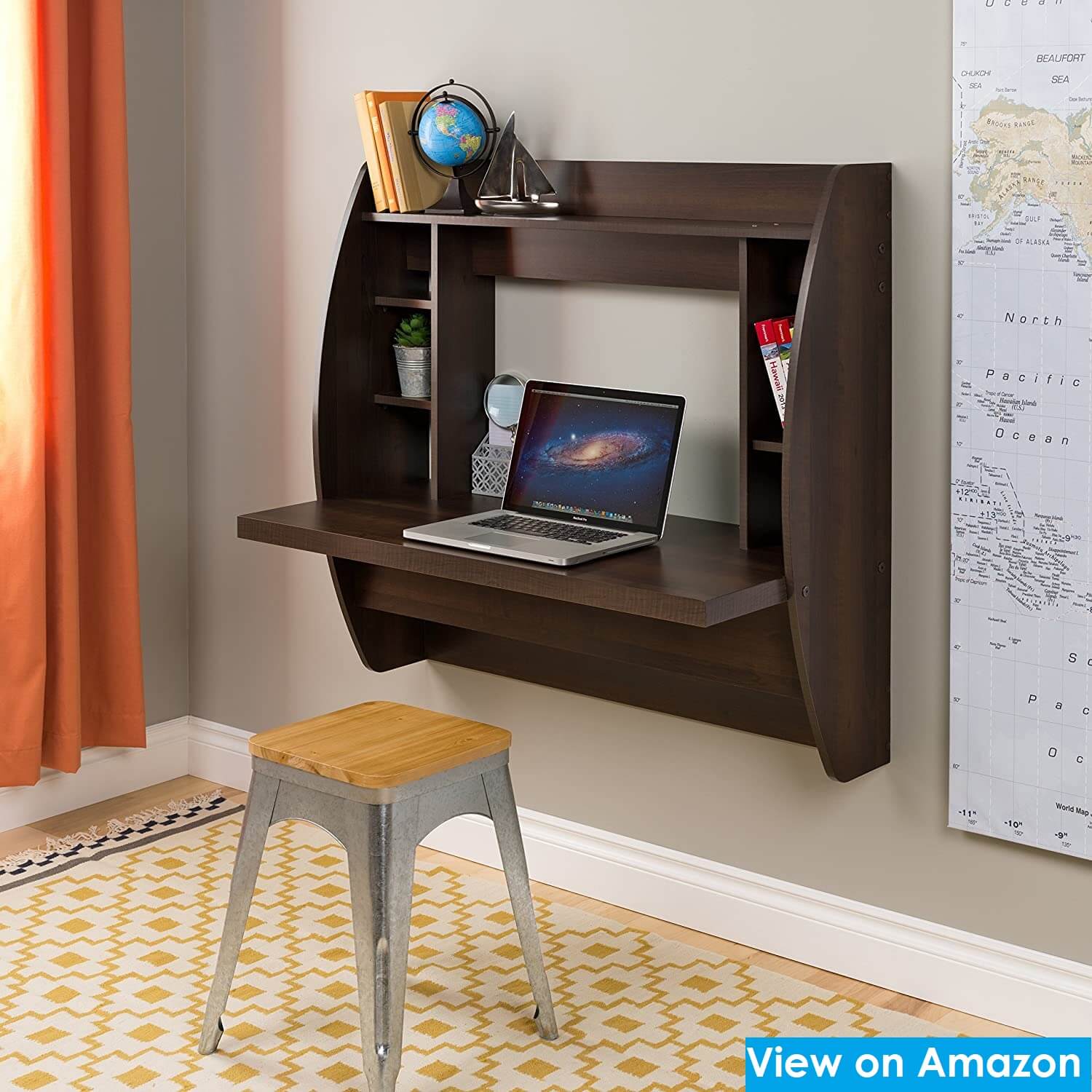 What makes the Prepac Wall Mounted Floating Desk stand out?
Well, how about we start with the fact that it is literally floating off the ground. The Prepac Floating Desk is designed to be mounted onto a wall as a combined shelving unit and work station. First off, this design offers great aesthetic value and is therefore ideal if you are looking for something that will be more of a statement piece than anything else in your video editing station.
The floating design also has its functional benefits. The first is the fact that it will require significantly less space than a traditional setup desk would need. You could, therefore, consider this if you are working with very limited space especially in home office settings. You could just set it up in that awkwardly empty nook or that already crowded spare room and just like that you have a fully functional office space.
The design also offers a lot of storage space. This is done through the shelves that are installed as a part of the single desk unit. For the most part, they are not large enough for something like an extra computer, a printer or any other large equipment. However, you could use it for smaller gadgets including cameras, lenses, and cables. The shelves could also serve as additional aesthetic pieces where you can add anything from a photo frame to a flower vase.
With its 27" wide by 20.5" tall dimensions, the surface should accommodate most standard size PC computers and laptops. There is also enough space on the surface to fit your keyboard. However, you might not be able to have several devices running at the same time in the same space so this might not serve you well if you use multiple computers to edit simultaneously.
Pros
The desk doesn't require much space as it mounts on the wall.
Offers multiple functionality.
Cons
It can only accommodate one computer at a time.
CLICK TO CHECK PRICE ON AMAZON
---
 10. South Shore Axess Desk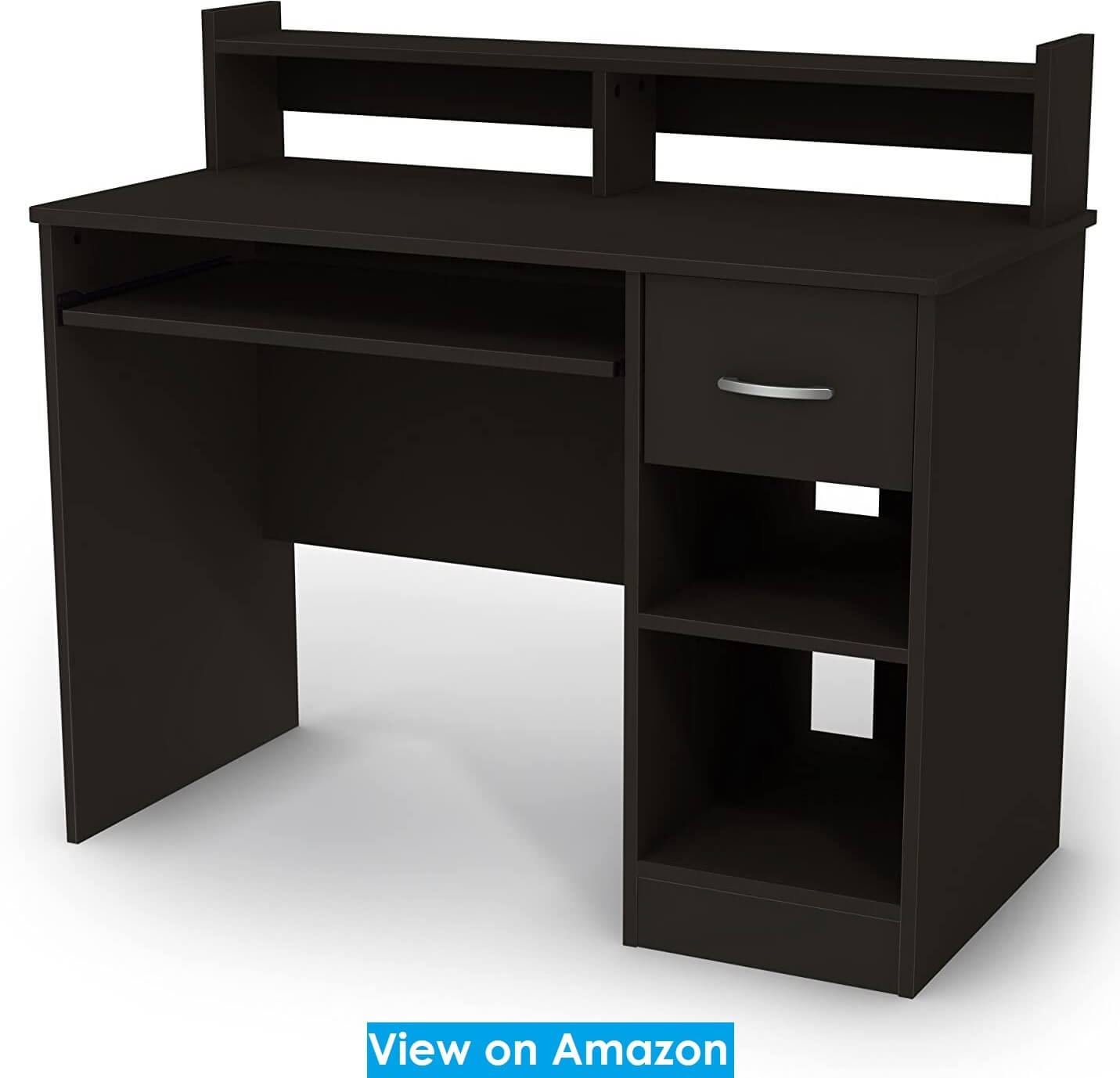 This South Shore Axess Desk is a nice and compact little option that you can definitely consider if you are strapped on a tight space in your home office. With its 19 x 41 x 37.8 inches dimensions, it will fit most spaces comfortably offering you a comfortable yet organized working station.
One of the more notable features in its design is the presence of multiple storage spaces. You have 1 closed drawer, 2 open shelves, a keyboard tray, and an additional work surface over the main space. With all this, you get to conveniently store anything you might need for the editing process in a neat and easily accessible way.
When it comes to aesthetics, this desk has a whole lot to offer in the visuals department for your space. The simple black finishing gives the desk a nice and elegant finish that will fit in in any room you place it. The model is also available in a variety of other colors including white and tan brown if you want something livelier for your space.
Although the desk is designed to have a wooden look to it with the finishing, it is actually made from laminated particleboard. The synthetic material makes it a whole lot more affordable than a real wood desk while still offering the same awesome aesthetics. You could consider this if you want the look but not the price tag.
The desk price is affordable for most of the people. This desk is rated by more than 3500 customers and has average rating of 3.8/5.
Pros
It is compact and space- friendly.
It is light and easy to move around (67 lbs).
Lots of storage options.
Cons
Laminated coating might start to peel very early after usage.
CLICK TO CHECK PRICE ON AMAZON
---
Conclusion
Video Editing isn't a simple job. It takes lot of time, patience and hard work to complete the task. A perfect desk could be your companion while doing this task. I hope you found this list of the Best Desks for Video Editing useful. One of the above options is sure to be the ideal desk for you. If you want to see some other desks that are not on this list, do let me know in the comments below. I'll get back to you very soon.