6 Best Glider For Twins: Buyer's Guide
If you're a mom, you probably know that nursing a single baby is quite easy. However, the real pain comes when you have to nurse twins and are tired of switching back and forth between your babies to nurse them on your glider one at a time.
The good news is that there are gliders suitable for nursing twin babies, without the extra hassle and inconvenience of nursing in turns. But just like any other product in the market, not all of them offer good value for money.
That's why I've created this post to help you find the best gliders for twins out there. This article will equip you with all the information you need to make a prudent choice when buying comes to order.
Let's hop to it, shall we?
 Top 6 Gliders For Twins You Can Buy
1. Baby Relax Hadley Double Rocker Chair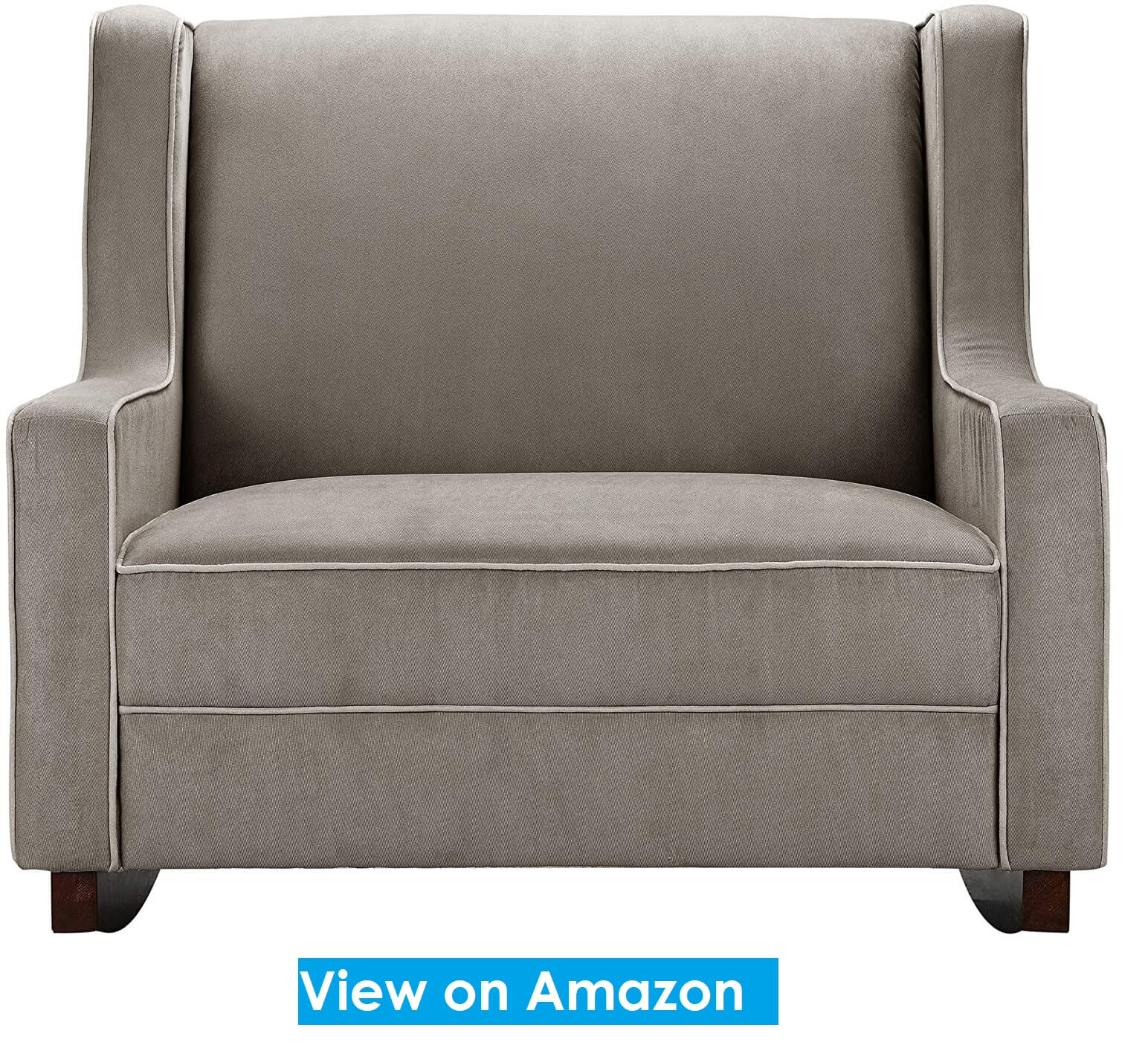 The Baby Relax Hadley Double Rocker Chair is almost one and a half times bigger than a normal rocker. Because of this, it serves perfectly well if you want to nurse both babies at a time or if your spouse wants to do that with you. Believe it or not, you and your spouse can comfortably fit in together with your twins on either side.
Important Tip: You should know the difference between a glider and a rocker before settling for one from our selection.
Its overall dimensions are 41.25 x 34.75 x 37.25 inches. The 33 x 22 inches seat tells enough of the story of accommodation. The headrest, too, is wide enough to fit two adults sitting side by side each holding a baby.
This chair tips the scale at almost 70 lbs (31.8 kg), which is heavy, I agree, but is no deal breaker because I doubt you'll need to move it around constantly.
With regards to material, the chair has a two-toned contrast welting, which in all honesty is not the best, but it's fairly okay. It's not like we expect it to last for generations, but you can rest assured it will last long enough to nurse all your kids and even your grandkids. The subtle contrast in its welting gives it a clean-cut look – or as I'd like to call it- a signature mommy look.
Its rocking feature, which is a great add-on, works perfectly well on hard floors. However, if the floor is a lot harder and thicker, it can be a
bit difficult to rock. For some mommies, even rocking the chair can seem like a difficult task purely because of its size and weight. Not only is it ginormous, it's also quite heavy.
All things considered, the Baby Relax Hadley Double Rocker chair is a really good glider for twins at a reasonably fair price. I would highly recommend it if you're looking for something a little over $300.
Pros
It is wide enough for two adults
The fabric is comfortable.
Rockers are made sturdy.
Cons
You've to buy the ottoman separately.
CLICK TO CHECK PRICE ON AMAZON
---
 2. Naomi Home Odelia Swivel Glider Rocker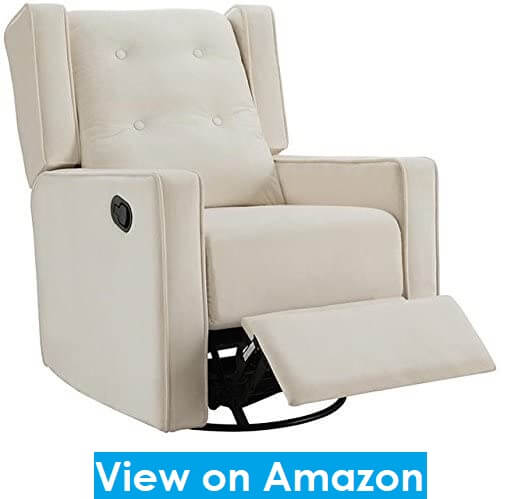 Very heavy and yet very sturdy, the Naomi Home Odelia Swivel Glider Rocker is many things wrapped up in one square chair. It rocks very well and also swivels 360 degrees. However, it comes with some caveats.
First, at 103 pounds (46.7 kg), the chair is quite heavy. But the heaviness is no big deal, because the chair would otherwise be sliding all over the floor.
Its dimensions are 37x 30x 41.8 inches, big enough to accommodate a to-be mom pregnant with twins or any mom who's nursing twins. The seat height from the floor is 20 inches. The clearance means your feet can freely touch the floor whenever you need to.
With regards to comfort, the chair is super supportive and comfy thanks to its spring core foam and soft to touch upholstery. You can pretty much sink in with your twins and rock or swivel as your heart desires. Best of all, the cushion of this glider would be easy to clean.
The rocking and swiveling features work pretty well. You don't have to put in extra effort in rocking, thanks to the ball bearings in its core assembly. Swiveling is also made easy because of these balls.
Perhaps what I loved most about this chair is the pop-out footrest. All you have to do to erect it is pull the dedicated latch to its right, and let your feet enjoy the comfort while you nurse your babies. The only downside is that the footrest might give away after plenty of use in the future.
Overall, this glider cum swiveling chair is the perfect companion to nurse your little ones.
Pros
Reclines completely.
Does not cause strain marks on floor or carpet.
Cons
Armrests can be a little hard.
CLICK TO CHECK PRICE ON AMAZON
---
3. Baby Relax Mikayla Upholstered Swivel Gliding Recliner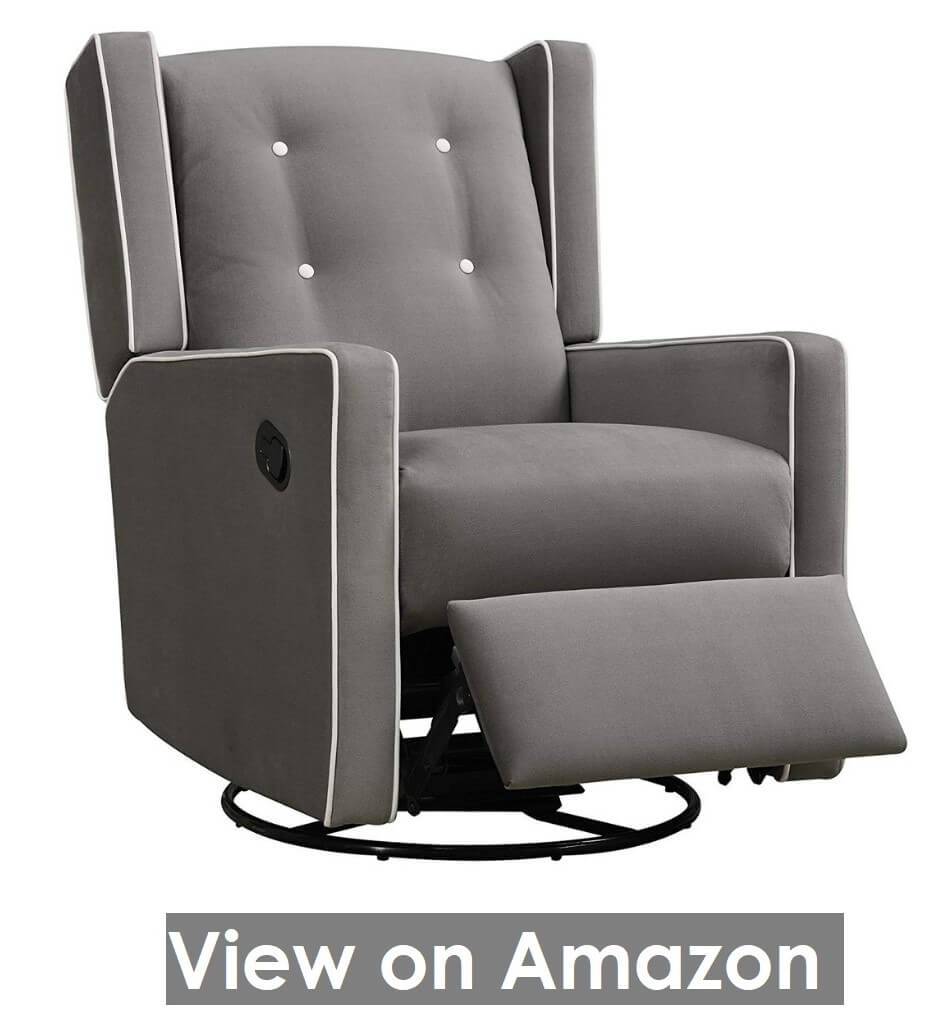 Yet another square recliner cum glider, the Baby Relax Mikayla Upholstered Swivel Gliding Recliner is the perfect solution for nursing twins. Here's why.
At 37x 30x 41.8 inches, the chair is wide enough, just like the Naomi Home Odelia model we talked about. If you're a bit skeptical about its space, know that its square shape allows wider arm space. This simply means you can easily hold two babies for such times when you're putting them to sleep.
As with carrying capacity, it has a limit of 225 lbs., so whether you are small or big, the chair will comfortably handle your weight and that of your babies thanks to a sturdy frame that can take pretty much anything.
With regards to design, it comes in mocha microfiber, gray microfiber, and grey linen. There are four buttons tufted in the upholstery and the whole chair is embellished with welt trimming.
I loved the fact that you can easily swivel in it, or rock it back and forth without major force. And the best feature is definitely its complete almost flat reclining. As soon as you recline it, the footrest pops out on its own. Of course, if you don't want the footrest, you can nudge it back inside relatively easily.
All things said, we can confidently say this is one of Best Glider for Twins under $300 price category which offers good value for money.
Pros
Softer than many other recliners
Assembly is quite easy.
It can go all the way down to almost laying position.
CLICK TO CHECK PRICE ON AMAZON
---
 4. Babyletto Toco Upholstered Swivel Glider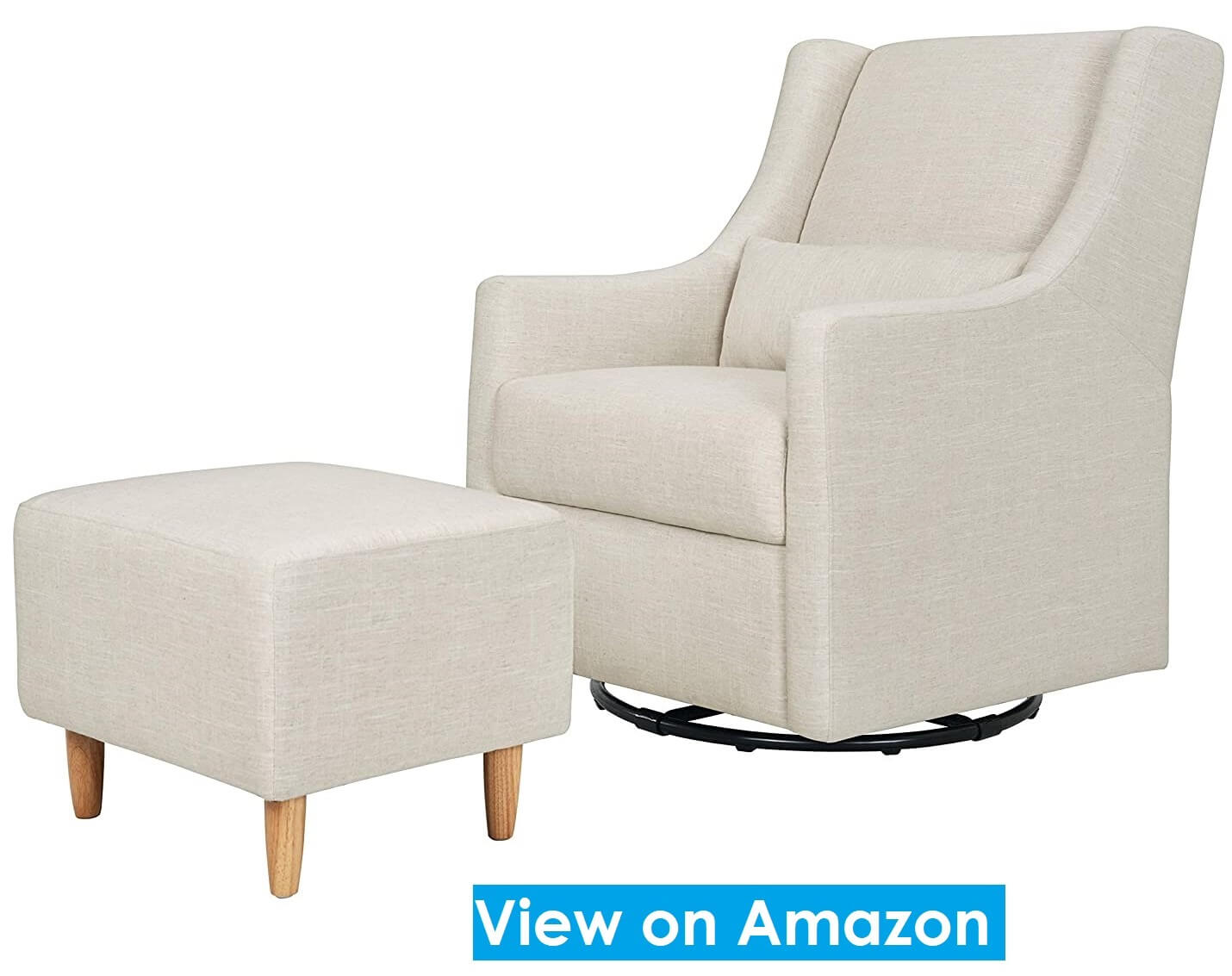 Babyletto Toco Upholstered Swivel Glider is what I call a complete nursery package. It is a little expensive, but is hands down one of the best nursing chairs for twins. It has all the gliding and swiveling features, as well as a beautiful stationary ottoman. Of course, we won't forget to mention its simple wingback design that accentuates a nursery's traditional look.
At 88 pounds (40 kg), it doesn't weigh much, so you can easily change its position whenever you need to. But most importantly, its dimensions of 33.6 x 26.5 x 38 inches is what you should focus on. I agree it may not be wide enough at a glance, but it's wingback design along with the slanting armrests give you enough room to nurse twins.
What's more? The armrests do a pretty good job of helping you manage the weight of holding two babies at a time. All you have to do is rest your elbows on either armrest and nurse your little ones just fine.
The whole chair has a personalized touch because it's handmade from the frame all the way to the upholstery. And what makes it even better is the fact that the manufacturer did not use any harmful material in its production. There are no chemicals or flammable upholstery.
The chair is even polybrominated diphenyl ethers and formaldehyde-free. So you can rest easy knowing its 100% safe.
Its gliding and swiveling features  are beyond impressive. You don't have to apply any extra force. However, its stationary ottoman might pose a hurdle in doing that.
You might want to consider a moving ottoman with a chair like this one. But who has the time and space to keep two ottomans? This is possibly the only discrepancy in the design and function of the chair.
What's also a bit annoying is that it's a bit noisy when you glide it, even right in first use. All things come with flaws after all.
Pros
Has a decent space to accommodate twins.
It has a sturdy base.
Cons
The ottoman is not of high quality.
It is quite expensive compared to other options of this list.
CLICK TO CHECK PRICE ON AMAZON
---
 5. Babyletto Tuba Extra Wide Swivel Glider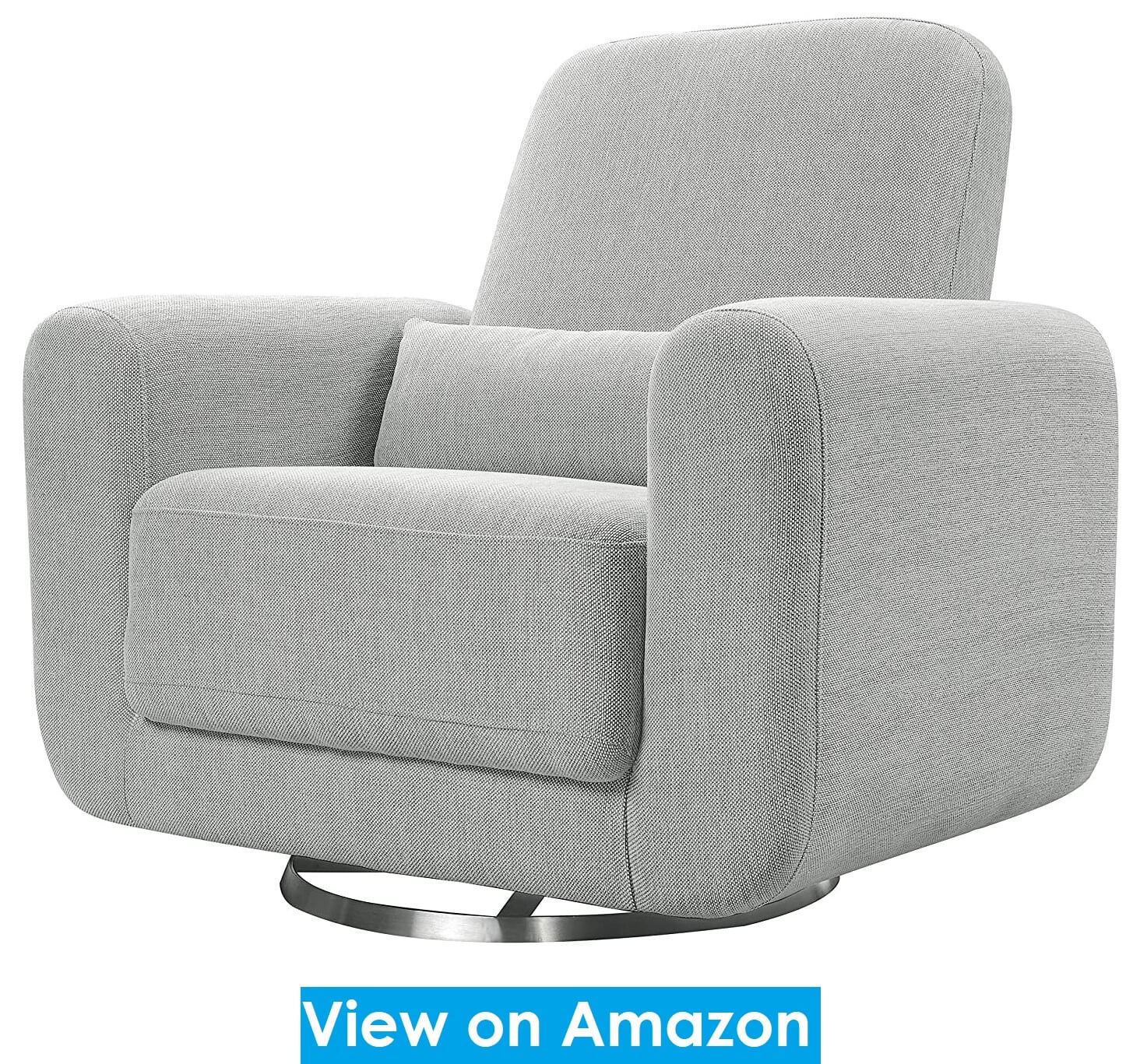 A chair and a half. That's how wide the Babyletto Tuba Extra Wide Swivel Glider is. It is one of the best gliders for nursing twins which falls under the premium category. It even comes with its own lumbar support pillow.
At 101 pounds (45.8 lbs), you may not want to move it here and there, especially, when you've gone through a C-section. It is heavy and large. Practically, it is made for you to just sink in with your twins and nurse them.
Its dimensions of 39.8 x 35 x 38 inches will accommodate you and your two babies pretty well. And since it accomodates up to 300 lbs, you can heave a sigh of relief if you're heavy (No offense, though).
Design-wise, the chair is modern with its sleek rounded edges and brusheded stainless steel swivel base. On top of that, you can choose from either winter grey weave finish or green seafoam finish. Both of these finishes are great to touch and durable.
Its swivel motion is just perfect. However, you might have problems rocking it because
a) there's no foot support,
and
b) it's hard to rock.
For the former, you'd have to buy a separate ottoman, probably Babyletto's revered swivel ottoman, and when you do, the latter problem would automatically solve.
This chair, too, comes with all the promises of safety like most of the Babyletto's products. There are no harmful chemicals used when making it, so your babies are assured of safety.
However, there are a few shortcomings. The first one being its short backrest and seat height. It's almost as if the manufacturer built this chair for short people because some customers who are 5'2" have trouble fitting in. Plus, if you're going to nurse your babies alone, it would make sense, but anyone else sitting with you will find the backrest utterly short.
Pros
Harmless for your babies.
Comes with a lumbar support pillow.
Cons
No ottoman offered with this chair despite charging a high price.
CLICK TO CHECK PRICE ON AMAZON
---
 6. Sleepytime Rocker With Walnut Legs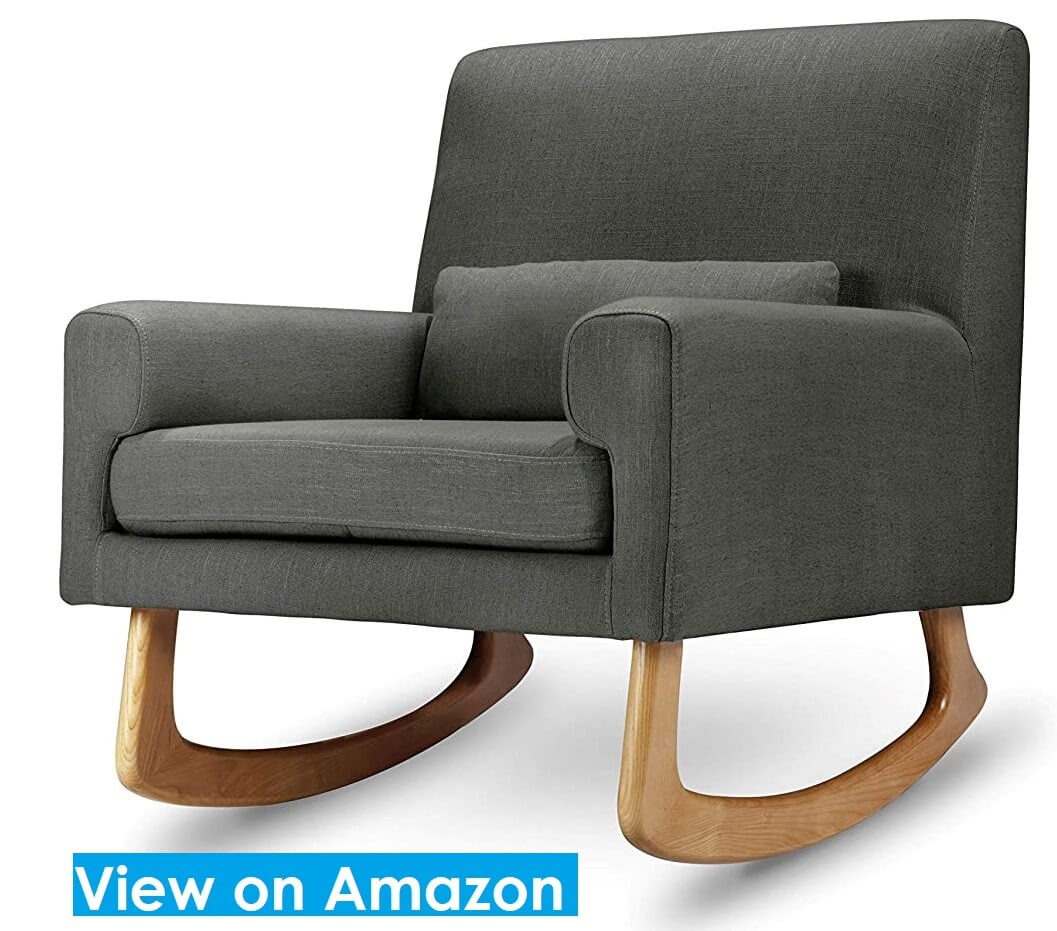 Not your usual glider, the Sleepytime Rocker with Walnut Legs is sassy and it delivers on its promise.
Plus it's ultra light! At 50 pounds (22.6 kg), you can easily change its position, direction, or place it wherever you want.
Don't worry, though, it won't lose its footing if you're heavy and tall.That's because the chair is practically suitable for taller people.
At 33.9 x 32.7 x 29 inches, you and your twins can easily fit in. But what's even better is that its deep seat allows a tall person to sit comfortably.
Not to say that short moms won't sit in it. They will, but they won't be able to experience its ultimate comfort, even though the chair comes with a removable lumbar pillow. Looking at the bright side, though, if you are short, you can sit with your legs crossed in the huge seating space.
Its hardwood legs can only rock- they have no swiveling motion. Honestly, the chair is pretty basic when it comes to these functions. However, it is quite efficient in rocking.
The upholstery is a combination of three types of polyesters with 75% polyester, 10% linen, and 15% viscose. And all of this plus the fabric are chemical-free and compliant with safety protocols.
The chair comes in three parts and you can assemble them in less than 60 seconds, even if you do it alone.
Pros
An unusual design, perfect for contemporary indoors.
The sturdy design makes it last longer.
Minimalism at its best.
Cons
Might be slightly uncomfortable for short persons
CLICK TO CHECK PRICE ON AMAZON
---
Buyer's Guide For The Best Gliders For Twins
Now that you've looked at our top 6 chair recommendations, here are some things you should consider when choosing any chair from the above list.
1. Elbow Support
Before looking at anything else, you should check whether your desired chair has elbow support or not. This is important because you'll be nursing twins and holding them together at the same time.
You'll have to do this sometimes, trust me, and it can be an arduous task. What the elbow support does is that it takes some of that weight from your hands and makes your work easy overall.
The armrests of a chair are, in fact, its elbow support system. So, first, look if your chair has them. Second, see if they are not too far away. And third, make sure they are comfortable.
2. Bottle Feed Or Breastfeed?
The kind of feeding you'll do will determine to a large extent the way you hold your babies. If you are going to bottle feed, then obviously you'll have to hold a single baby at a time. If you're breastfeeding, as I said, sometimes, you'll have to hold both babies together.
However, during bottle feeding, you could use your partner's help to feed the other baby when he/she becomes fussy. In this case, you should be looking for a chair like Babyletto Tuba Extra Wide Swivel Glider with armrests wide apart so that both of you could easily nurse two crying babies.
3. Seat Width
Obviously, this is a no-brainer. You're going to nurse twins and for that, you'll need a roomy seat. The seat width should be 33 inches or even more.
Anything less than this will make you feel cooped up in a small space. Also, if your partner's going to help you, he or she won't feel comfortable sitting with you at all. He/she might not even be able to sit with you at all.
So, watch out for the seat width. When it comes to seat width, Baby Relax Hadley Double Rocker Chair is my choice. Do let me know (in the comments below) which would be your choice from this list.
4. Space For A Wide Glider Or Chair
Do you have the right space for a large chair or glider? This is the question you should ask yourself before you even think about buying a nursing chair for twins. That's because crowding your nursery would eventually make you leave other important stuff out.
And you wouldn't want to do that.
Therefore, if your nursery has a small space, you can always go for a chair like Baby Relax Mikayla Upholstered Swivel Gliding Recliner. It will take lesser space than most of the double recliners. However, if it looks too big for your space, you can choose a single recliner and nurse your babies one at a time.
5. Height And comfort
The height of your glider should be enough so that you can rest your feet easily on the ground. You can use high chairs with ottomans but shorter ones are better in the sense that you have complete control over them. However, at the same time, chairs with a high seat rock and swivel better.
Unlike shorter ones, you only give your ottoman a push, and your chair rocks back perfectly.
So, always look for a chair that has a seat at a comfortable length for your height.
Final Words
There you have it; the 6 best gliders for twins. We handpicked the best options for you. We did this to minimize the confusion new moms go through when looking for a glider.
Which chair should I buy? What should I consider when buying one? Which is the best glider for tall moms? These are some of the questions we strived to answer. We would like to hear your thoughts about the above-mentioned gliders in the comments section below. Happy nursing!