How To Make Adirondack Chair Cushions?
An Adirondack chair is plenty comfortable as it is, but there are a few accessories you can add to make it even more comfy.
One of the best additions is cushions. You can buy them or make them yourself; it's easier than you think. In this quick guide, we explain how to make Adirondack chair cushions and the different materials you can use.
How Do I Make My Adirondack Chair More Comfortable?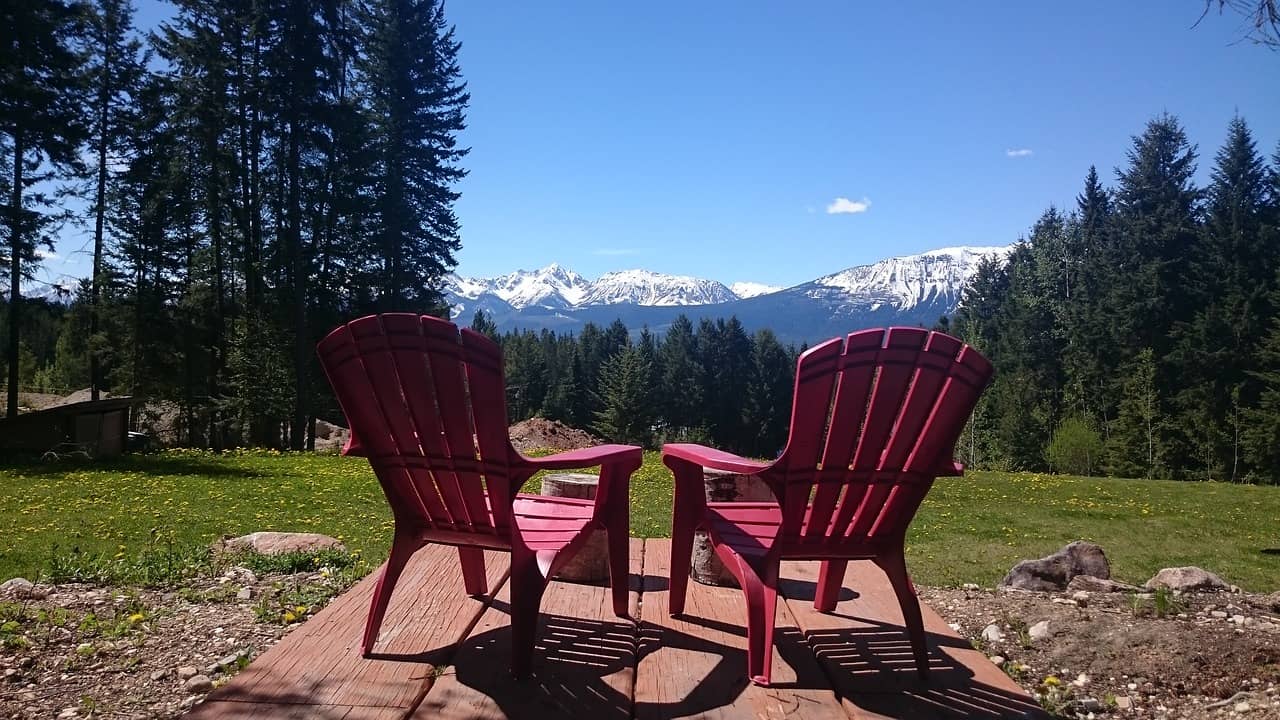 Before we explain how to make your own chair cushions, let's look at some of the other ways you can make your Adirondack chair more comfortable.
One of the most common upgrades is adding a footstool, also called a footrest or ottoman. You can buy an Adirondack that comes with a footrest or you can buy a footrest separately like this wooden one from Plant Theatre.
An ottoman lets you lounge more comfortably on the Adirondack chair.
Another great addition is a clip-on cup holder like this one from SERO Innovation. It provides a more secure place to put your drinks.
If you want a wider surface for food and drinks, get a side table to go with your Adirondack chair. One of the best ones online is the Camco Large Adirondack folding side table.
Other additions include a headrest pillow, armrest pads, and cushions.
Which Are The Best Fabrics For Adirondack Chair Cushions?
The cushions you make need to be resistant to the elements.
For the cushion covers, you need a waterproof or water resistant fabric that dries quickly. It'll keep the filling from getting wet and developing mold or mildew.
It's also a good idea to use a fabric that doesn't fade quickly in the sun. Heavy duty outdoor rated polyester fabric is one of the best materials to use for the cushion cover.
Other great options include:
Marine vinyl, which has high UV resistance as well as antifungal and antibacterial treatments to prevent mildew.
Polypropylene, a fast drying fabric that has high UV resistance, thus doesn't fade quickly.
Olefin, a strong fabric that is resistant to stains, mildew, UV, and wear.
Acrylic, which is known for its quick drying, high mildew resistance, and soft texture. It is, however, more vulnerable to stains.
When shopping for an outdoor fabric, look for the term solution-dyed on the label or description. Solution dyed fabrics have color added while the fabric is still in liquid form.
This makes the fabrics much more colorfast and resistant to fading.
Also check if you can get a fabric that has stain treatment. It'll make the cushions easier to clean and maintain.
Best Adirondack Chair Cushion Filling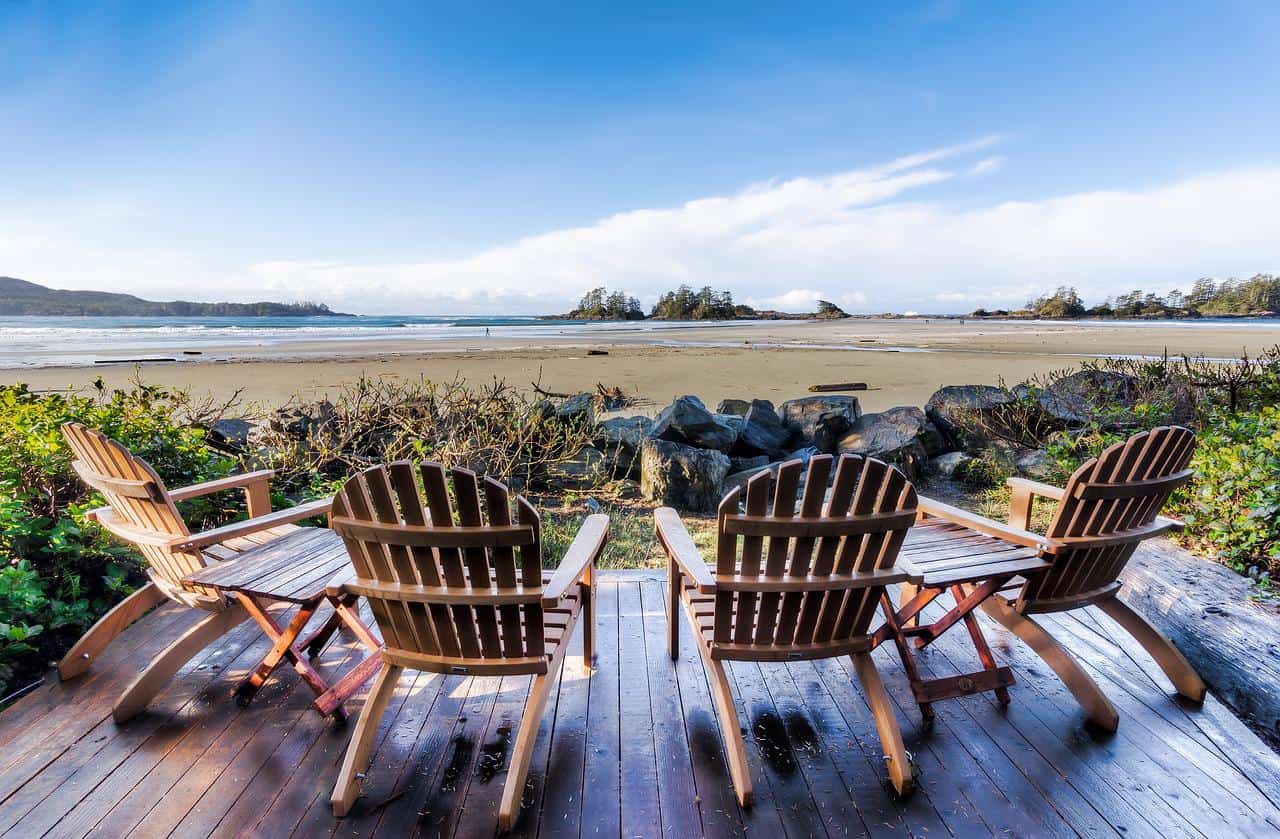 As for the filling, polyester fiber is the best option for most people. It gives the chair a nice plush feel and it's easily available.
You can also use high-density polyurethane foam padding. It'll be firmer compared to a fiber-filled cushion, but it'll last longer.
For added comfort, especially for seniors, look for high-density memory foam. This is a type of polyurethane foam with superior pressure relief.
Make sure you use a waterproof cushion cover to keep the foam padding from absorbing water and deteriorating quickly..
By the way, if finding these materials and sewing your own cushions sounds like a big hassle, you can buy ready made Adirondack chair cushions online.
Plant Theatre sells foam cushions with a removable headrest pillow. We also love these colorful poly fiber tufted cushions for Adirondack chairs.
What Size Are Adirondack Chair Cushions?
Once you decide which materials you'll use, the next step is determining the right size for your cushions. This will help you order the right fabric and padding sizes.
There's no standard size for Adirondack chairs. The best way to determine cushion size is to measure the depth and height of your specific Adirondack chair.
Use a tape measure to check the depth of the seat and the height of the backrest. You'll also need to measure the width of the seat and backrest.
Use those measurements to make perfectly sized cushions.
Tip: Draw a sketch of the bottom and backrest of the chair and note the different measurements. It'll make it easier to cut fabric and padding to the right size.
How To Make Adirondack Chair Cushions?
Once you have the measurements, get to work sourcing the materials you'll need.
Check if there's a fabric or DIY store near you that sells fabrics and filling. You can also search for the materials online.
You'll need to estimate how much fabric you'll use for the cushions, and then order a slightly bigger roll to account for any errors during sewing.
If you are getting poly fiber filling, how much of it you get depends on how dense you want the cushions to be. Because it's cheap in most places, order more than you think you'll need. You can always use the leftovers on other projects.
And if you are going with foam padding, get a large sheet of it and cut it to size.
Once you have all the materials, it's time to get started with the sewing. You can use a sewing machine or hand sew the cushion.
Here are some tips that will help.
To get the perfect padding size and shape lay the sheet of foam against the chair and use a pen to make an outline of the chair. Then use scissors to trim the foam along these lines.
Use the cut foam to make an outline on the fabric. Cut the fabric 2 further inches from this line to ensure you have excess material to stitch the fabric plates together.
You'll also need to add a couple of inches between the backrest and bottom part of the fabric to allow the cushion to hinge at this point.
Remember to sew on the inside of the fabric so that when you turn it inside out, the stitches and excess material are not visible.
Don't forget to add ties to the cushion to secure it around the chair.
For step by step instructions on how to sew Adirondack chair cushions, here's a great video.