7 Best Desks for Triple Monitors Setup: Buyer's Guide (2020)
With all the live streaming action of today's game, you cannot rely on a single monitor. That is true especially for games that are heavy on the graphics and gameplay. You've got to have multiple monitors to experience the true thrill on a 180-degree canvas. Many gamers today moving towards triple monitors and I know that's the reason you have landed here to find about that.
I agree that finding the Best Desk for Triple Monitors is a bit hard. Some are huge enough to not fit in your room, while others cannot bear their weight for long. But that doesn't mean you should stop looking for it.
There are, in fact, better choices out there and in this article, I'll take you through a list of desk you can consider buying for yourself (or anyone).
Let's dig in.
Top 7 Desks for Triple Monitors in 2020
  1. Modern Corner L Shaped Glass by Walker Edison- Best Selling 3 Monitor Desk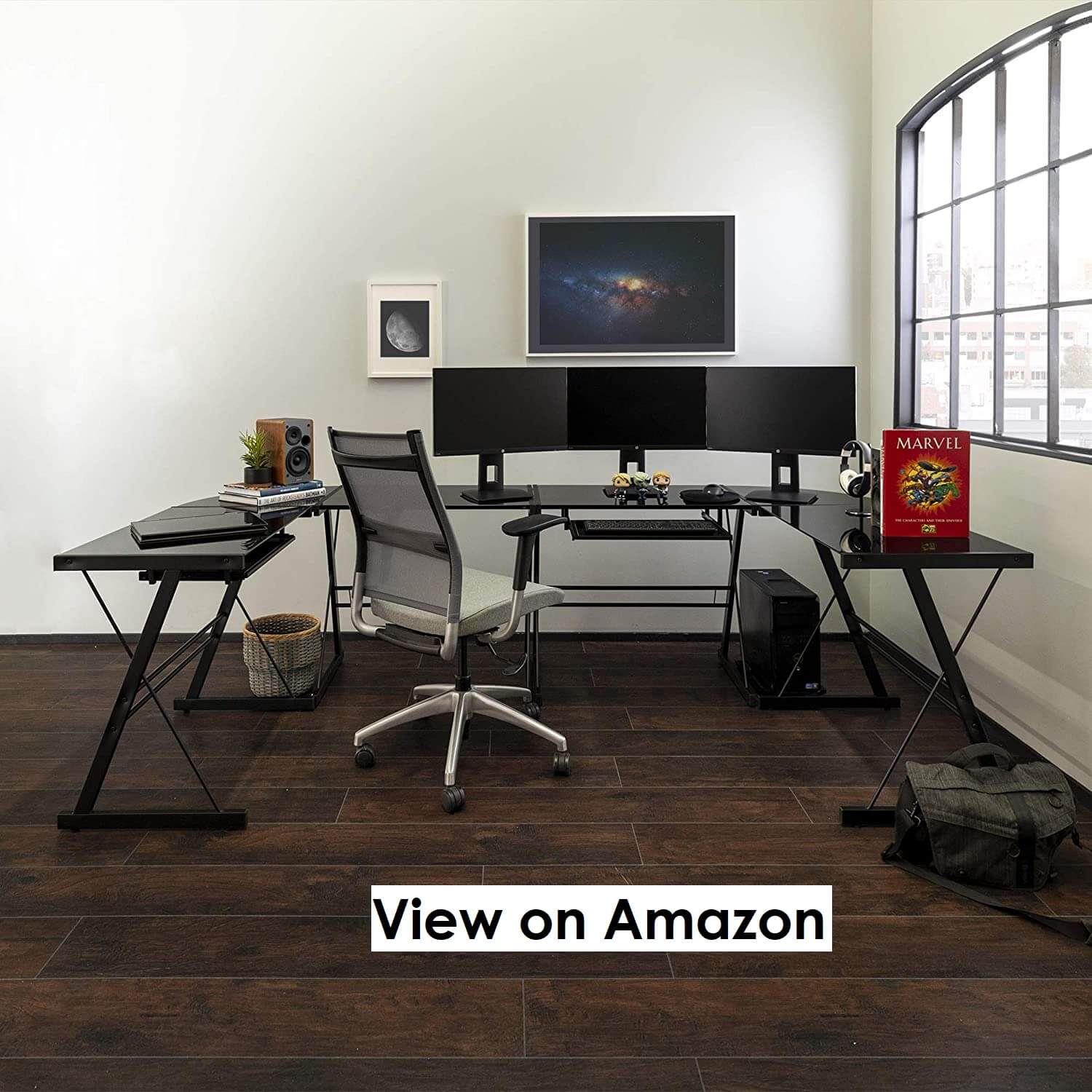 The Modern Corner L Shaped Glass by Walker Edison is the kind of table you should consider because of its shape.
For me, and I know for a lot of gamers out there, L-shaped works great since you can have a middle space for your main monitor and the side panels for the rest.
That way, you get to concentrate and also comfortably control everything without straining too much as the side panels are always in your reach.
At 20x 51x 29 inches, this desk has the right dimensions. However, only right for an average person. If you're taller than 5'11", then you'd have a problem accommodating your legs under the keyboard compartment.
The desk is lighter than most available in the market.
At 57 pounds (26 kg), it won't be a problem assembling it and also carrying it around. But despite that, the glass is so good that it can hold a weight of some 100 pounds.
That ultimately means more monitors. However, do remember that scratching the glass from the bottom will be visible on the top despite some models being "blind".
Other features include a dedicated space for your CPU unit so that it does not poke around when you're gaming. Its legs are hollow, which enables you to drill holes for extra things you want to install.
But at the same time, it doesn't have any built-in spaces for drawers, etc. You'd have to do without them. You'd also have to struggle with cable management because there aren't dedicated spots or holes to help you separate them.
It costs somewhere around $150 which is worth considering for sure as it offers decent features for its pricing.
Overall, This is a very good 3 monitor computer desk in my opinion.
If you want to learn more about this desk, I would recommend you watch the below video.
Video Credits: TheNStew
Pros
It is quite sturdy.
It provides a large workspace.
Offers easy mobility.
Cons
No cable management.
Keyboard tray is small.
CLICK TO CHECK PRICE ON AMAZON
 2. GreenForest L-Shaped Corner Desk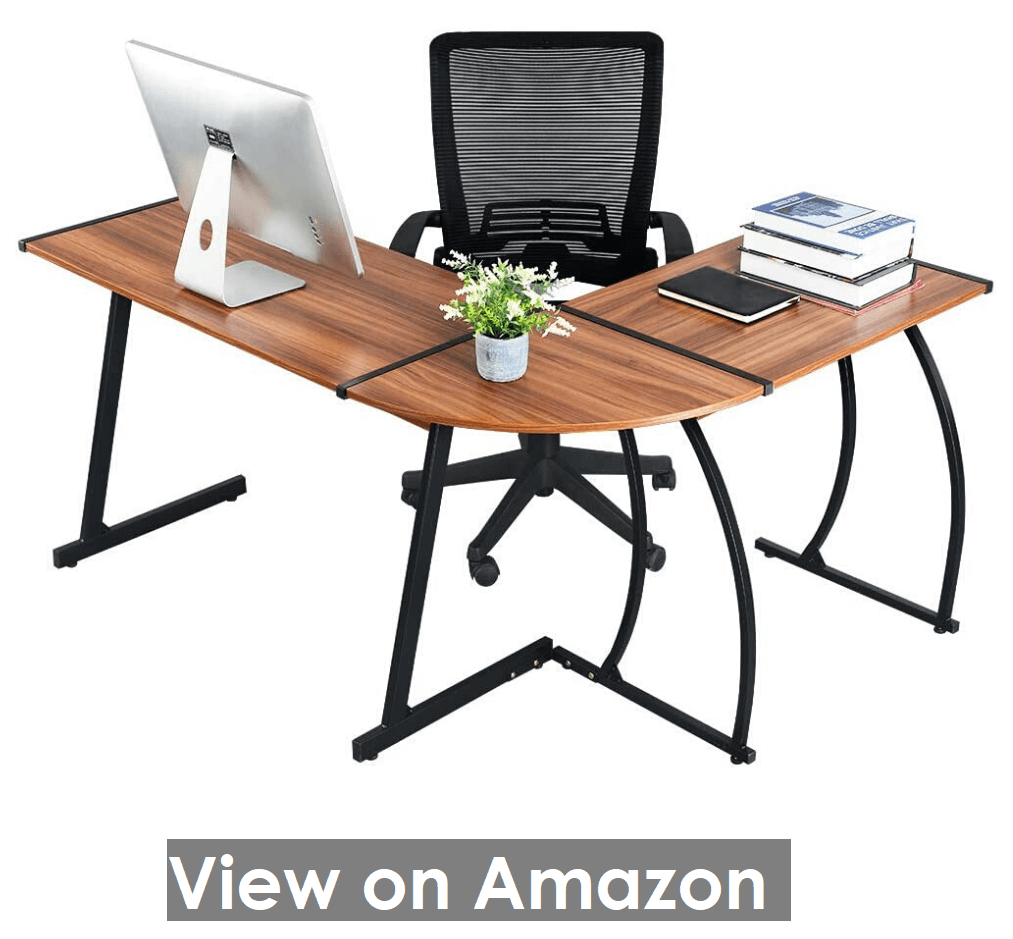 I've met some gamers who are also environmentalists. So, if you care about your environment, too, which you should, then GreenForest L-Shaped Corner Desk should be your pick.
It's smart, elegant, and made to last, although a small number of users might not agree with the latter.
Talking about its dimensions, at 58.1 x 44.3 x 29.13 inches, the desk can easily accommodate your legs even if you are above 5'11". The sole reason for this is that it doesn't have any keyboard slot, which sometimes is a bummer for any gamer.
Still, you can pretty much play your games easy and relaxed.
P.S: If you are a video editor, then you should check this article where I have talked about some good desk for video editing.
I did mention that it is made eco-friendly and we should thank its P2 particle board for that. Apart from being that, this board is extremely sturdy. It won't give away easily even with heavy use for 2 years.
You won't have to shop for any other table to hold your towers or multiple displays. You can easily upgrade your station and I know that's the kind of freedom you'd want.
There are some downsides, however.
Assembling this desk might not be very easy especially If you are doing it for the first time. If that's your case, then the manual of the manufacturer might come handy for you.
The desk is well-priced and provides great value for money. It has the rating of 4.2/ 5 which is rated by more than 3200 customers and that's the reason I think it is one of the best desk for triple monitors at a very low price.
Pros
Eco-friendly, sturdy board.
Built to last for long.
The middle part is perfect for curved LED's
CLICK TO CHECK PRICE ON AMAZON
 3. Vitesse 55 inch Gaming Desk- A Highly Rated Triple Monitor Desk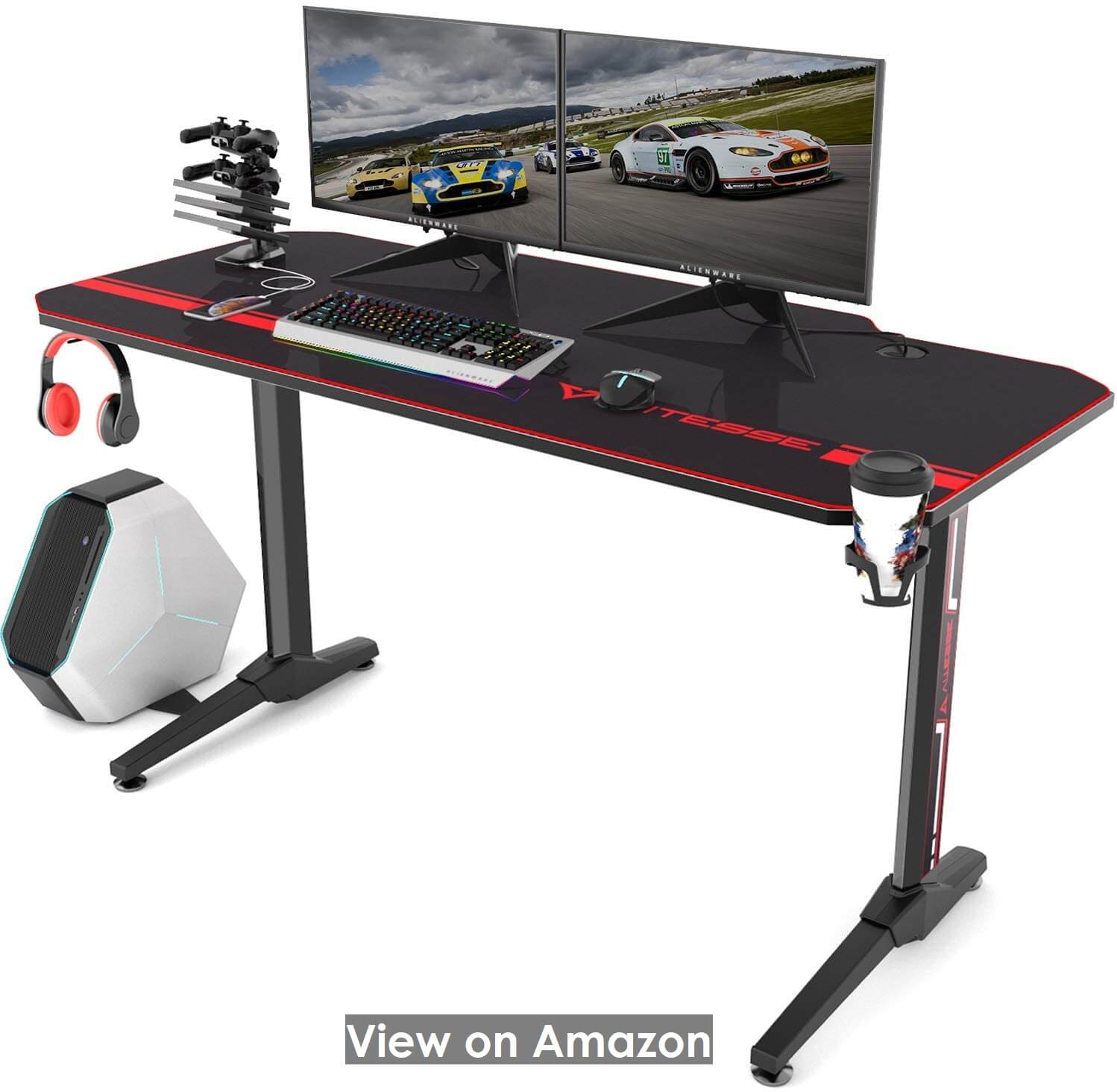 The Vitesse 55 Inch Gaming Desk is not an L-shape desk, but it does what you want it for. Its T-shape has enough work area for you to place two to three monitors side by side and enjoy an uninterrupted display of your favorite game. There's more to it, however.
I'd talk about the dimensions first, of course, which are 55.1 x 23.6 x 28.5 inches. For a table with no keyboard tray, these dimensions are just fine. Your legs won't hit the top board anyway.
Then comes its weight and assembly. Both are extremely likable and manageable. Since it weighs 60 pounds (27.2 kg), you won't have problems changing its place.
For that, though, you'd have to disassemble it, which means separating it into two halves. Mind you, these two halves can join together just fine. And that's what I like about this table. As soon as you put both halves side by side, everything falls into its place. The nuts, bolts, and screws, every part aligns perfectly.
For some, that might not be the case. But that's like once in a blue moon.
You even get a variety of sizes from the manufacturer. There are two colors available i.e Black and Red. You can choose any of them. Both of them costs almost the same.
If that doesn't convince you enough, then let me tell you that this table also comes with a dedicated cup holder, a headphone hook, and a dedicated USB gaming handle rack charger. You can also use the latter to store your joystick.
This is one of the top-rated desks on Amazon which has a rating of 4.8/ 5 rated by more than 500 customers. The major reason for that is, it provides tons of value which is excellent in my opinion.
Here's a video review of this amazing desk.
Video Credits: Jaaydoubleagames
Pros
Plenty of room for your keyboard and mouse pad.
Stylish neon design.
Great value for money.
Cons
Assembly directions are not friendly.
CLICK TO CHECK PRICE ON AMAZON
4. Arozzi Arena Gaming Desk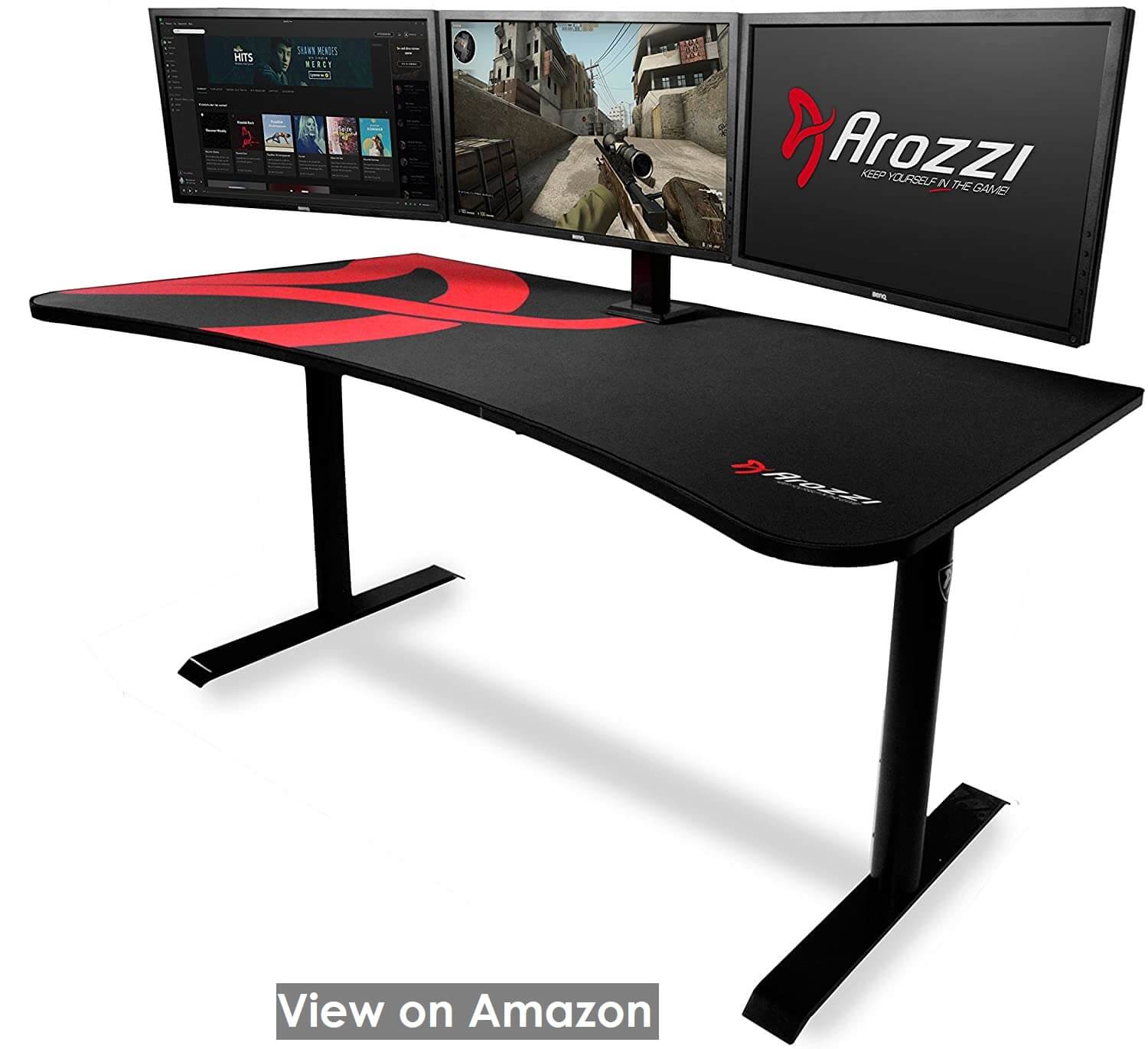 The Arozzi Arena Gaming Desk stays true to its name. It is a gaming arena in its true sense. Playing games on this one is more immersive than any other table so far.
There are some caveats, though.
Yes, the desktop is super-extended with a 5'3" width, and that's precisely what I meant when I said you'll experience more immersion in your games. Other dimensions are also encouraging at 32.2 x 63 x 31 inches.
So, yeah, this table will have no issue allowing your gigantic monitors and your feet.
Its story doesn't stop here, however. And that's particularly why it stays on this list. Unlike other desks here so far, this one comes with height adjustment. You can set it at your desired height with minimum hassle.
Along with that, I like its cable management. There are definite 3 cutouts from where you can pull the cords and hide them underneath the desktop. That's clutterless gaming for you.
You even don't have to own any mouse pads as it comes with a dedicated stitch edges padding that extends throughout. The foremost benefit of this feature is that you'll have no hindrance in taking your mouse anywhere on the table. For a gamer like you, this freedom of movement is everything, right?
But not so fast because the desktop can be very wobbly if subjected to pressure, especially, the joints. And there are 3 of them.
At last, I just want to tell you that this is one of the perfect triple monitor computer desks at a very reasonable price of just a little over $200.
Here's a review of Arozzi Arena Gaming Desk by Caleb Yum.
Pros
Next-gen table focusing on style.
It can hold immense weight.
The cup holder and headphone hook is very helpful.
CLICK TO CHECK PRICE ON AMAZON
5. VADIM Computer Desk
Another L-shaped desk, the VADIM Computer Desk is superb for its price. By that I mean, you shouldn't expect too much from it. If you've a huge budget, do consider other desks.
If you don't, then this desk would work just fine.
The dimensions are neat. With a wide tabletop, having dimensions of 54.5 x 35.4 x 29.1 inches, you can place a TV, monitors, and other accessories like you want to. There's plenty of room for everything.
The steel frame is relatively sturdy, but the fact that it is very thin makes the desk a bit wobbly. So, even though it will accommodate your things and be fine with the weight, it will wobble with even the slightest jerk.
The desk does not come with a dedicated mousepad. This is a major bummer. But since you're a gamer and you probably have a mousepad, that shouldn't be a problem.
Coming towards other accessories or extras, there are none. There's no cable management, no extra USB ports, nothing. With its price, you get a sleek wooden table. But yes, the manufacturer has taken care of your tower.
Pros
Budget friendly desk.
Looks great with other furnitures.
Cons
Takes some time to assemble it.
CLICK TO CHECK PRICE ON AMAZON
6. EUREKA ERGONOMIC Z60 Gaming Desk- A Perfect 3 monitor Gaming Desk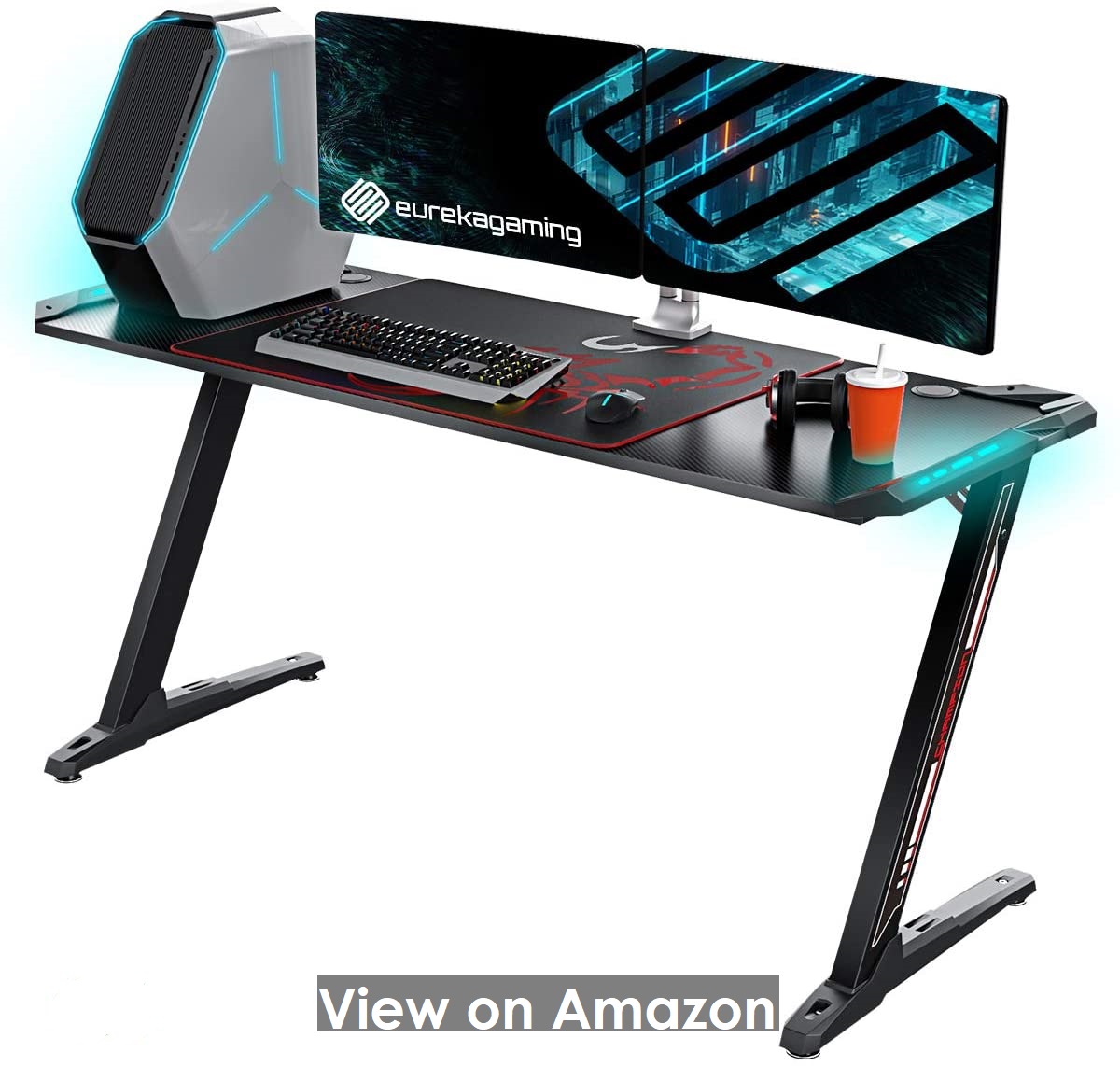 If you skipped the previous one for the sake of buying a better desk and you have the budget for it, then meet Eureka Ergonomic Z60 Gaming Desk. It is one of the best 3 monitor gaming desk you can buy right now. But it's not perfect, obviously.
First thing's first. You get a beautiful, expanded 60 x 24-inch desk to keep your monitors side by side. The room is enough even if you want to set them in a diagonal.
However, I don't think you'd like to place them that way because of its T-shape.
Other than this, it has a 30.9 inches height, which again is perfect for anyone – even for a tall person. So, it does win in this department. You'd love how roomy this desk is. Once assembled, though, you may not want to move it here and there since it weighs 62 pounds (28.1 kg).
That said, the highlights of the desk are dedicated and dynamic RGB lights to its sides. With your RGB keyboard and mouse, this could be another addition to a seamless and immersive gaming experience. That too, without seeing the clutter of your wires, thanks to its efficient cable management.
For what it's worth, the only bummer is that it doesn't have a keyboard tray, a cup holder, or any other accessory. In its simplest form, you don't even get a tower holder. You'd have to buy this stuff separately, and let's be honest, they don't come cheap.
Keeping all of these things in mind, if you can afford its primary version for its super sturdy frame, carbon feel, ergonomic design, and a whole new look, then you should go for it right away.
Pros
It could last at least for a couple of years.
A truly gaming desk.
Assembling it is a breeze.
Cons
Installing mounting arms is a pain.
CLICK TO CHECK PRICE ON AMAZON
 7. ELEGANT Computer Desk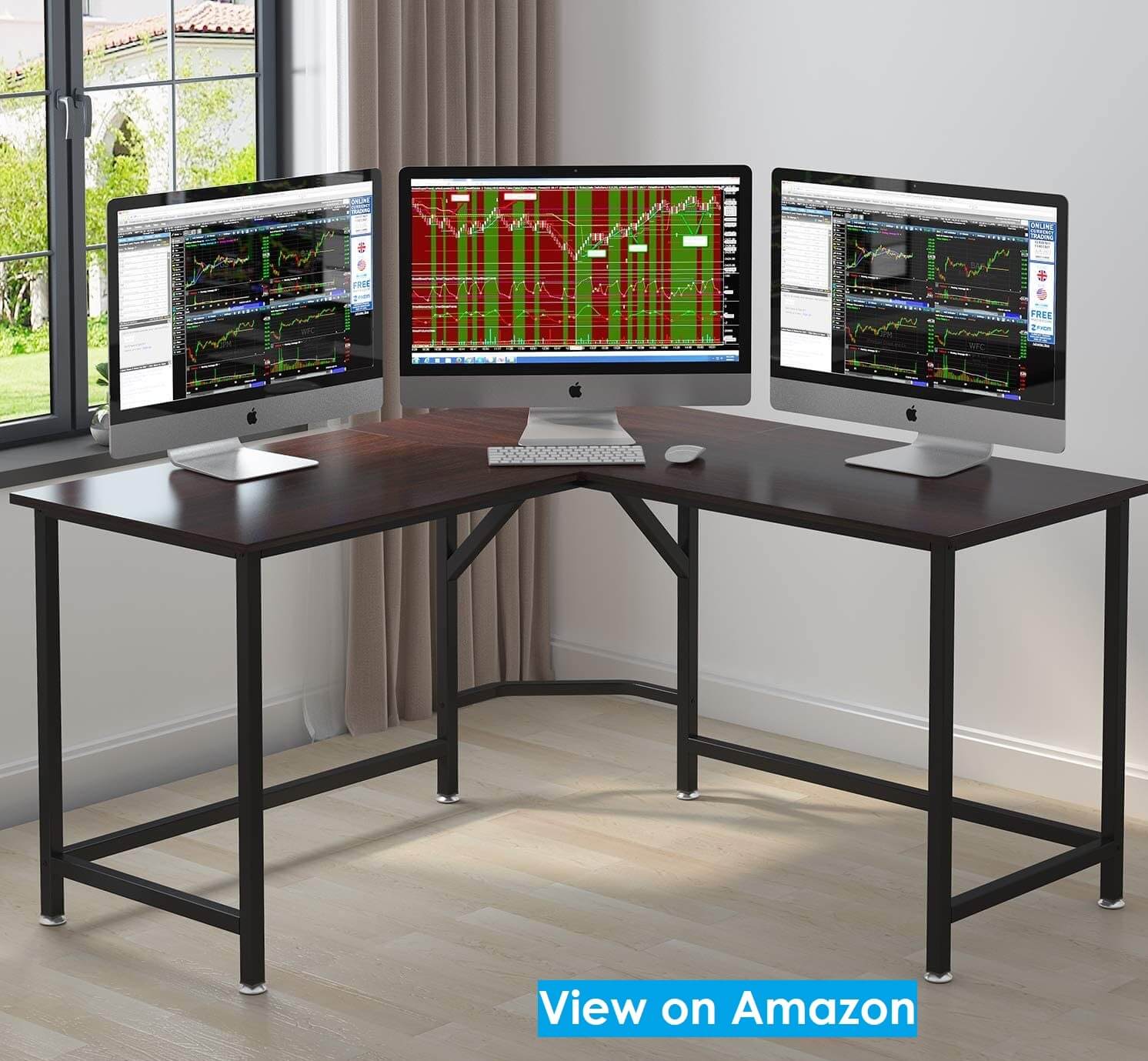 Ok so, neon lights, buff looks, and weird-looking frames are not your things, Right? If yes, then the ELEGENT Computer Desk should reach your expectations with all its simplicity. Just like the name says, it is pretty much elegant.
That means there isn't much to say about it.
The desk is adequately wide with 55 x 55 dimensions and a depth of 24 inches. For a gamer that doesn't spend much time playing, which is an anomaly, this should do the work.
Its frame should also work fine to bear a heavy load – almost 450 lbs. That ultimately means more than one monitors and a lot of other stuff – books, lamps, coffee mugs, and juices, etc. Even indoor plants.
Both sides of this table have approximately equal lengths, which means you don't have a choice when it comes to choosing the longer side according to your needs.
So, altogether, manufacturers of Elegant table have mostly concentrated on its material, and thus, sturdiness. Plenty of environmental protection went into making it, and, since it is a simple piece, assembling it is a breeze. Overall, It is a very good desk for triple monitors without any doubt.
Pros
Simple and elegant.
Good build quality.
Cons
May not be suitable for pro gamers.
CLICK TO CHECK PRICE ON AMAZON
Conclusion:
Enjoying your games on a triple monitors is a lot more fun than a single monitor. But you must have any of the Best Desk for Triple Monitors which should easily hold those monitors. You can't rely on a generic desk to do that task. If hope you may have found the right desk for yourself from this list. If you have any suggestions or questions, do let know via comments right below. Cheers.