How To Paint Wooden Chairs Without Sanding?
Many of us love painting but hate sanding. Sounds crazy? It depends, but, if you ask a professional wood painter their most detested part of restyling is, chances are they'll say 'sanding' without any second thought. It's just messy and a mindless kind of work.
The mere thought of sandpaper is tormenting. Wooden chairs are one of the common household items (you can use them around your farmhouse table or fire pit), and we ought to learn how to paint without sanding. Doing so can save us a tone of time.
In case you are wondering, can one really paint wooden chairs without sanding? Yes. You surely can. Get it from the experts. However, you first need to prepare a particular piece of furniture properly.
I prefer to use an oil-based primer to prepare the wooden chairs for the new paint. This primer works well with a brush as compared to paint sprayers. That's not a big deal though, but, first things first. Here is a guide on how to paint wooden chairs without sanding.
Selected Videos
Step By Step Guide On How To Paint Wooden Chairs
Step 1: Wipe It Down
Use a clean soap towel to wipe and prepare the surface first. A degreaser may also come in handy at this point. Other cleaners like TSP can also work, I just stated the ones I prefer. In case you had damaged peeling veneer, a putty knife can get used to remove it. You are now ready to get going.
Step 2: Brush And Paint With Oil-Based Primer
For this, kindly follow the manufacturer's guidelines which are pretty easy and let your piece of furniture dry completely. You can also add the Floetrol paint conditioner to help minimize brush marks. Thin the latex paint in accordance with manufacturer instructions and you're ready to spray your furniture.
I would recommend two coats of paint on every chair for optimal results. The last layer of paint protects the colour and allows for easy cleaning and dusting.
If your chair is made of a dark stained piece of wood, you may need to brush on a coat of fusion concealer or spray it with shellac in order to prevent the stain from bleeding.
Now, either wait for the chair to dry then use it or top it with a coat of polyurethane. I wouldn't recommend that though, especially if you also dislike to wear and tear on your pieces of furniture. And that's it.
Step 3: Use Milk Paint And Bonding Agent
A bonding agent is simply a milk-like substance that's used as a primer to help make the make paint adhere to your project. The most common types of milk paints are homestead house and Miss Mustard Seed and my most preferred bonding agent is Miss Mustard Seed's Bonding Agent.
Once you garner all these, mix an equal amount of bonding agent with your milk paint. The mixture will ultimately depend on the size of your project. If the number of chairs to be painted is many, a larger amount is need and vice versa.
As you'll see, painting your furniture using this method is pretty easy and the resultant grip is amazing.
Step 4: Paint With Chalk Paint
Well, in my opinion, this is arguably the most common and popular way to paint all sorts of furniture without sanding. It produces an amazing matte finish. Chalk paints are the cornerstone of the painted furniture industry that we know today. But, how do we go about this kind of painting?
First open the chalk paint can.
Stir the paint to achieve your desired mixture.
Pour it into a clean glass jar.
Get a spray bottle and fill it with water.
Start painting your piece of wooden chairs. Spay your brush now frequently if your paint begins to get too thick.
Step 5: Paint With A Mineral Paint
Just like the chalk style paints, no prime or prep is required in this method as well. It strongly sticks to almost all types of furniture, your wooden chairs are no exemption. As an added advantage, some brands of mineral paint, such as Fusion are waterproof, so durable, stain proof and as if that's not enough, they don't require a topcoat.
To proceed with the painting exercise, just follow the former's procedure, the only difference is that in this case, you'll be opening a mineral paint's can and not chalk paint can.
Step 6: Use A Liquid Sander
This is probably the least know method of painting wooden chairs without sanding. Once the liquid is applied to the surface, a chemical reaction takes place thus gripping onto the paint you apply. However, you ought to use this in a well-ventilated area, thanks to its awful smell.
Simply brush or wipe it down the surface but be keen to paint within the prescribed time as indicated in the directions.
Prime, paint a small surface and allow the paint to dry.
Using your fingernail, scratch the surface to ensure that the paint adhered to the chairs properly.
Do's And Don'ts While Painting Your Wooden Chairs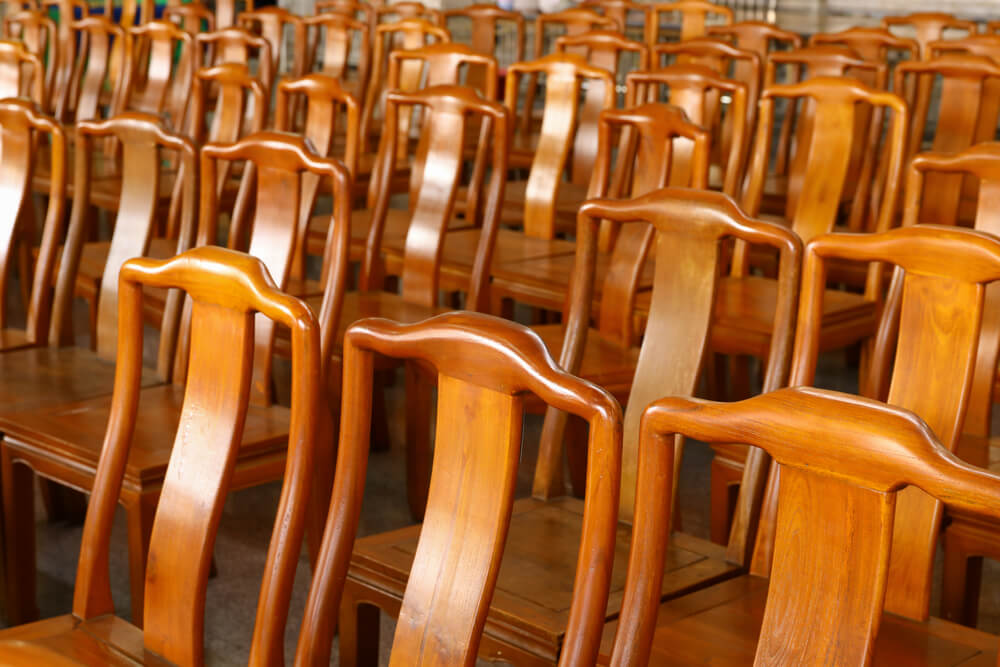 Never paint without protective eyewear. Additionally, always wear gloves when working with paint and related chemicals.
Ensure you paint in a well-ventilated area. Setting up a spray shelter booth may be advisable.
Be keen to read labels and adhere to the manufacturer's instructions on usage.
Always start loading your brush with a moderate amount of paint. You know it's too much if you can't see the chair's texture and tool little if you can see spaces between the fibers. Use the right amount, one that looks full but not saturated.
Never fiddle and touch the painted surface with the aim of fixing every imperfection.
Five Other Ways To Paint Furniture Without Sanding
1. Use A Chalk Paint
It is very hand down, most usual and famous way to paint anything without much sanding. The great mass appeal of chalk paint is fantastic matte finish but no prep promise.
I like to show argue that the chalk paints are the cornerstone of the painted furniture industry since we are aware today. As Annie Sloan's Chalk Paints are becoming more and more popular, there are lots of such paints which hit the market.
2. Use A Mineral Paint
Mineral paint is like the chalk style paints. It requires not prime or prep. The stick is very pretty than anything. For more bonuses, the Fusion brands are long-lasting. Moreover, it is waterproof and stains proof. Besides, it does not need a topcoat.
3. Use Milk Paint And Bonding Agent
I have said that the antique desk of the post is not pre-sanded. I would like to apply Miss Mustard Seed's Milk Paint in Trophy gets mixed with some parts of the bonding agent.
The Bonding Agent is a type of milky substance which works as a primer to aid adhere the milk paint for your protection.
The grip is very amusing and very simple to use. Mix the same parts of bonding agent to your milk paint. Especially the Bonding Agent is needed on the first coat.
4. Use A Bonding Primer
Best quality bonding primers state no sanding is essential and may stick to a glossy surface such as tile, metal, and glass, etc. There are some famous primers in the market like B.I.N, Kilz, and Zinnser.
They are popular for excellent binding power. If you read any of my regular blogs, you will know well that I am a fan of BIN Shellac Primer.
This is my favorite stain and odor blockage including bad bleed although it has all. The best type of primers may take cost somewhat more but well worth.
If you like to have the best quality primer before like to paint with a famous paint, sanding would not be a must.
5. Use A Liquid Sander And Deglosser
Liquid sandpaper or degasser is not a famous method to escape sanding furniture. The liquid is used on the surface. When you use a new paint, a chemical reaction happens and grips on the new paint.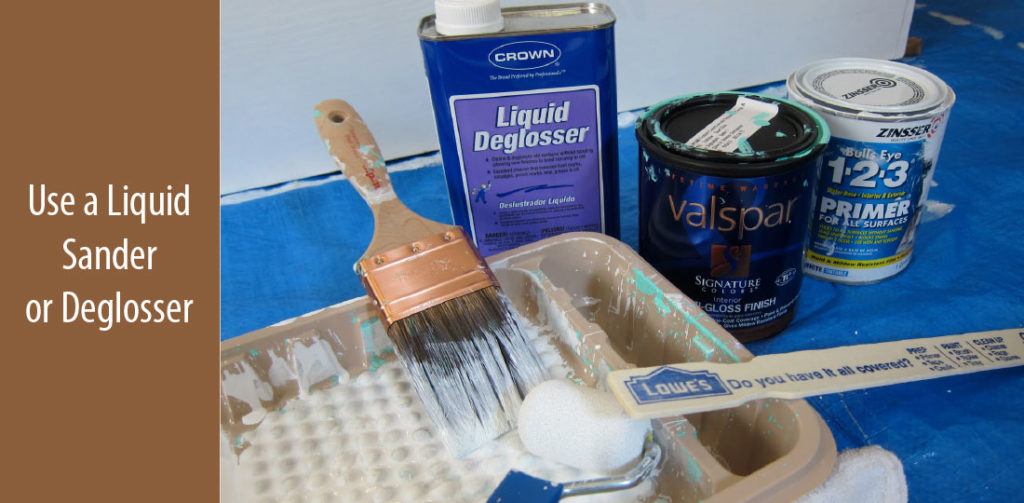 The Bottom Line
If you have ever wondered how to paint wooden chairs without sanding, this easy guide is for you. Hopefully, we shed some insights on how to give your wooden chairs new life with just a can of paint and a few handy tools.
As you can attest, painting wooden chairs without sanding is one of the easiest DIY projects you'll ever come across on this planet. However, it can also easily mess you up. That's why you ought to adhere to the prescribed instructions.